Discussion Starter
•
#1
•
11th SS-Freiwilligen Panzergrenadierdivision 'Nordland'

The summer of 1943 saw the final step towards consolidation of the three Scandinavian units in the Wehrmacht. The veterans of SS-Panzer grenadier Regiment 'Nordland' was sent to Grafenwohr Training Area in Bavaria to form the core of the new 11. SS-Freiwilligen-Panzergrenadierdivision 'Nordland'. At first given the name 'Varangians', after the Viking bodyguards of the Byzantine Emperors, Hitler overruled Himmler and ordered the division to keep its regimental name, 'Nordland'. While the division retained its old name, the two newly formed Panzergrenadier regiments received new names.

SS-Panzergrenadier Regiment 23 was made up of Norwegian and Swedish volunteers and named 'Norge' while SS-Panzergrenadier Regiment 24 was comprised of Danish troops and named 'Danmark'.
As 'Nordland' was fleshed out not all the volunteers were from Norway, Denmark or Sweden. Over 1,200 Romanian Volksdeutsche (ethnic Germans from Romania) were added to the strength of SS-Panzergrenadier Regiment 24 'Danmark' alone.

Commanded by SS-Gruppenfuhrer Fritz von Scholz, the new division was attached to SS-Obergruppenfuhrer Fleix Steiner's III (Germanic) SS-Panzerkorps and detailed for training and anti-partisan duty in Croatia.
(from SS Nordland )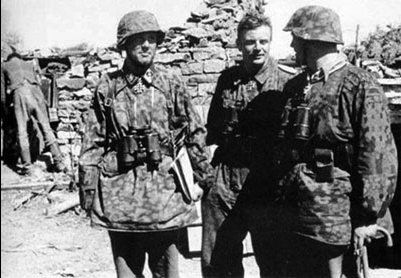 Hi guys,
Here below is one of my collection, SS panzergrenadier division 'Nordland' MG34 gunner, Oberschutze.
Thank you for browsing.
All the best,
William