The latest in my collection of John Ford movie figures are from the cavalry drama, "Sergeant Rutledge", starring Woody Strode. Strode, a regular in John Ford westerns, plays 1st Sergeant Braxton Rutledge of the 9th Cavalry.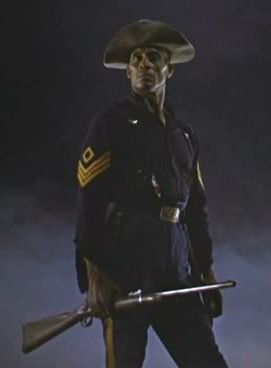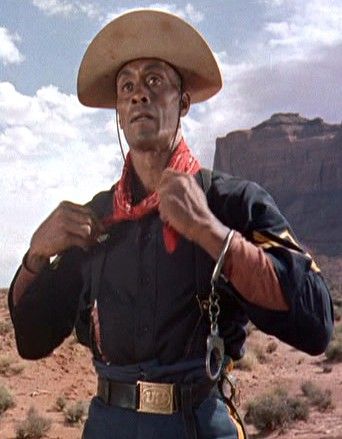 The story follows Rutledge at his court martial for the murder of his commanding officer and the rape and murder of the commander's daughter. Told in flashbacks during testimony, we follow Rutledge through his arrest by Lt. Cantrell (Jeffrey Hunter) and the pursuit of Apache raiders. There are many action sequences where we see the squad of Buffalo Soldiers led by the Lieutenant and the 1st Sergeant, as well as the drama of the court martial. Ford uses the rape and murder of a white girl to show the racial tensions among the court, the participants and the spectators.
Here are the three figures I did for this set - 1st Sgt Rutledge, 1st Lt. Cantrell and a "rookie" Bufflao Soldier: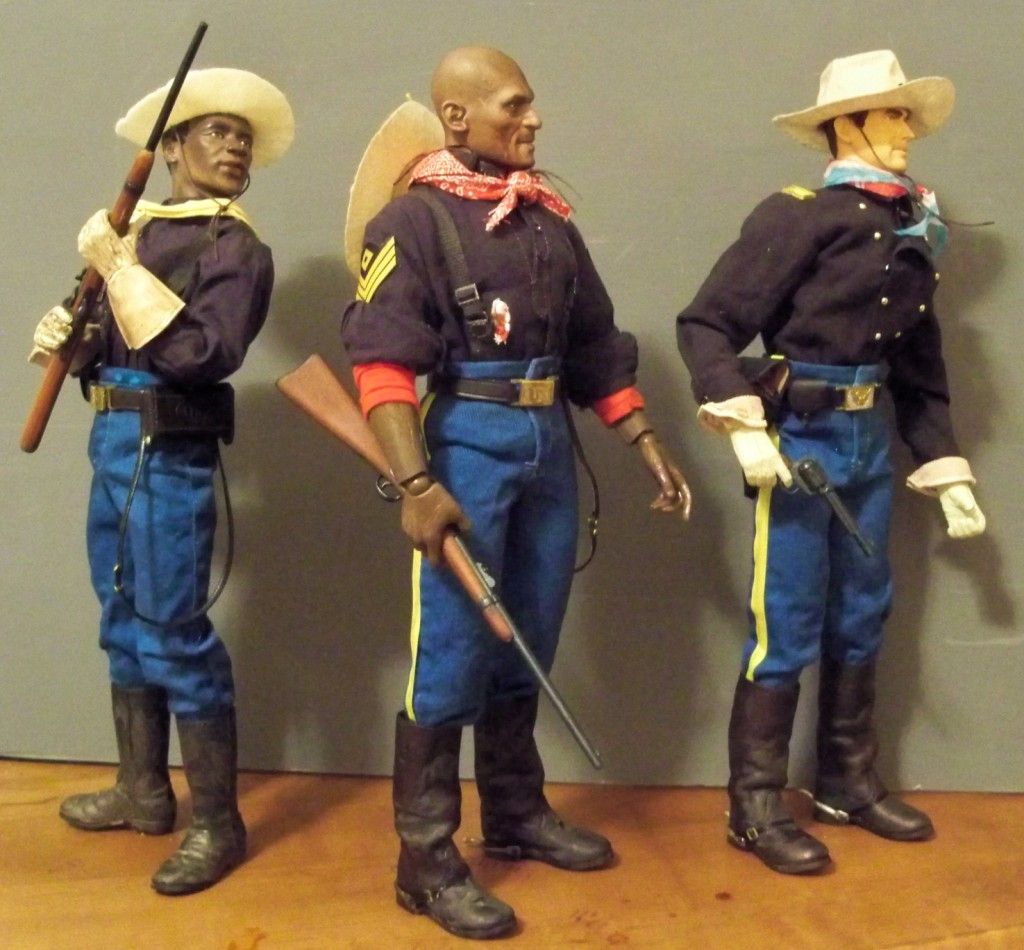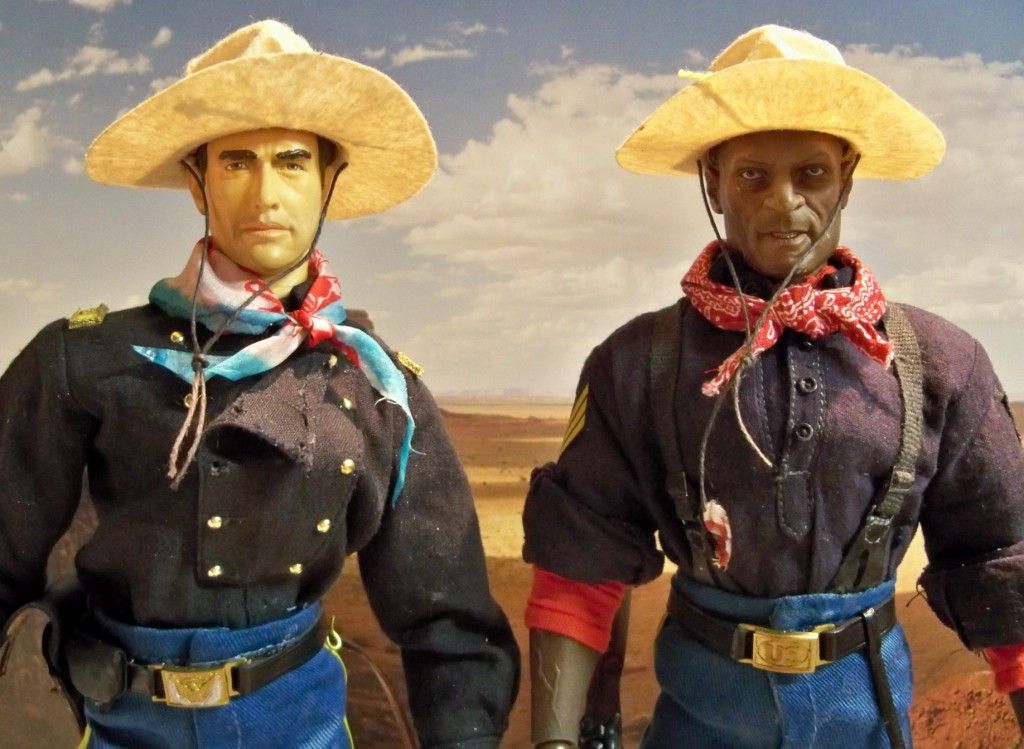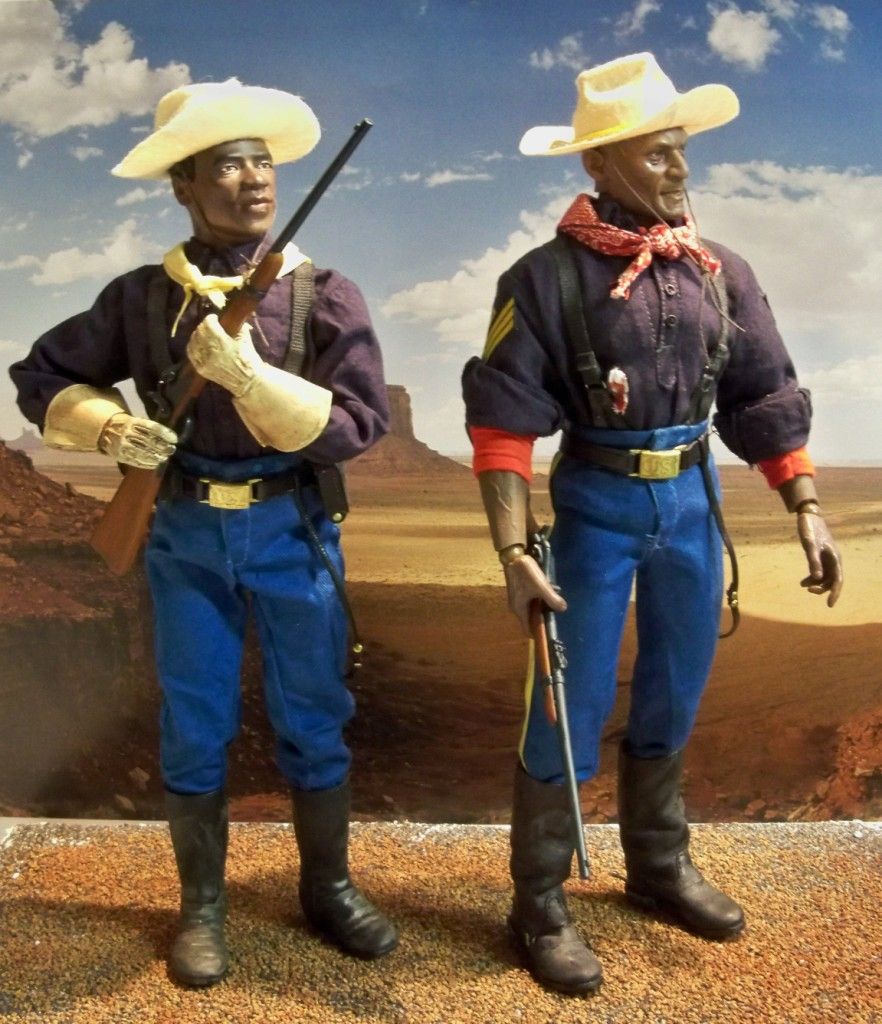 When CM Toys came out with the muscular black figure (later released as the "Gladiator Instructor"), I wasn't the only one who commented on the resemblance to Woody Strode. I swore I wouldn't spend that kind of money on a single bare figure, then BGT conspired against me with items like the cavalry hat and red long johns, not to mention the Trapdoor carbines, which are all perfect for this bash. So the figure was ordered, and while I'm thrilled with Sgt Rutledge, the figure leaves much to be desired. The pose he is in is as good as it will get - the rubber skin is too limited in how you can naturally contort him. Besides being tough to dress ( a minor point) this particular guy is too muscular. I had to completley cut off his stomach and calves to fit the trousers and boots.
The other two figures are DML, Cantrell having a passing resemblance to Jeff Hunter. The shirts and 2 hats are BGT, the rookie's hat is by Gordon, and the trousers are re-dyed DS. The last piece I needed was the sergeant's neckerchief, supplied by AJ Clothiers. The belts, holsters and saber slings are scratch-built, with the enlisted belt plates made from photo-etch "US" glued over a plain BGT buckle. Finally, the rookie's McKeever cartridge box is the new BGT one - just as they used in the film.
If you haven't seen the movie, it is another that I have always enjoyed. Besides the action and the drama, it is also one of the few movies showing proper U.S. Cavalry dismounted skirmishing tactics, with every 4th man taking the horses to the rear while the others form the skirmish line. Set in the vistas of Monument Valley, it is well worth your time.