Discussion Starter
·
#1
·
The Trench :
This is a another long term project that is finally coming together.
It's still a WIP , with more detailing to add , and I'm going to make some more alternative sections so that I can vary the arrangement of the set for different shots.
I'm also making a Vickers emplacement .
As some of you might have seen before , I have a small number of Great War Tommies , and had long wanted to make them a suitable set to be photographed in .
This set is based on pics taken in Flanders in 1915 by Harry Colver , of the 5th York & Lancs: there's a book of his pics available from Pen & Sword : " Flanders 1915 ".
The watertable was very high there , so the trench walls mostly had to be built up with sandbags .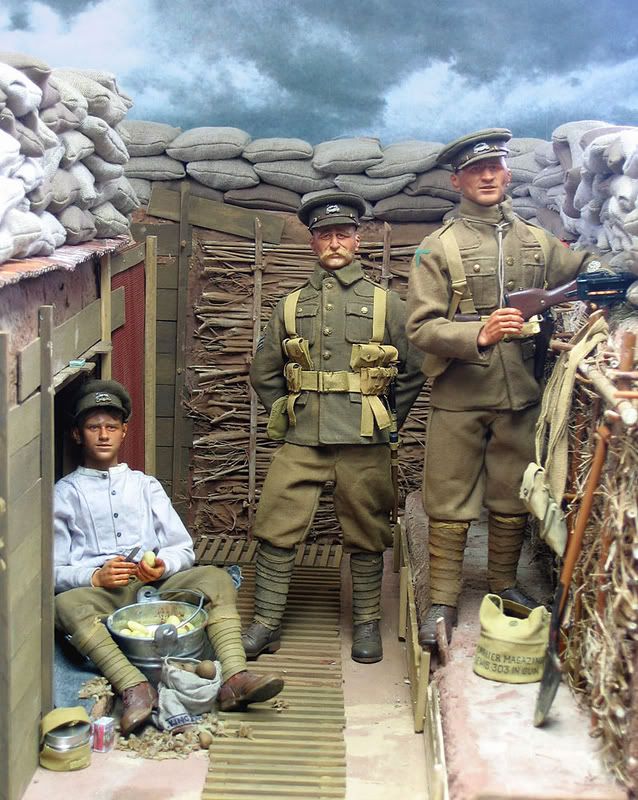 Making it has been a bit of a process , but I finally put in enough work to make it worth showing .
The walls are made from insulation foam scrounged from various skips and a builder friend : the buff stuff with the silver paper on both sides. Carved with a breadknife and surform , then surfaced with filler and paint , with all sorts of sand and dirt thrown in.
It's a messy business , and was mostly done in the shed with the vacuum cleaner on hand , but once you have the earth surface on it's relatively clean , and of course very light, which means I can easily store it in the attic.
The revetting is :~
1) brushwood ( made from dried cow parsley --Lots of it about locally at this time of year ) held in place with slightly thicker twigs bent into staples and rammed into the earth wall.
2) Planking made from balsa.
3)Wire mesh from Halfords : the aluminium diamond pattern used for filling holes in motors.This has been given a coat of rust-coloured paint .
4)Corrugated iron made from cardboard packing from Mike Gale . Thank you Mike : you seem to be able to find the right size .
The sandbags are sewn from unbleached linen and filled with….sand ! When I ran out of it I used lentils or bran , but they don't lie down so well. I bought a sack of clean dry kiddies sand from the Early Learning centre : much the easiest sort to use. I could still make about another sixty and find use for them .
Fred's got the spuds to do:
The point of the set is that the layout can be changed by moving the walls or reversing them , and relaying the sandbags. I shall build alternative revetting on the other side .
The floor still remains to be made : at present it's all sat on a large piece of muddied MDF , which is not quite realistic : I want a slightly worn and hollowed floor with the duckboards stuck down.
Of course this represents high summer.
The unspeakable squalor of the wet and muddy conditions would be almost impossible to portray in a moveable set : it would have to be a permanent scene .
In this one the CSM is trying out a trench periscope , seeing what Fritz is up to. Given Fritz's dominant marksmanship at this period , he may get the top shot off in short order....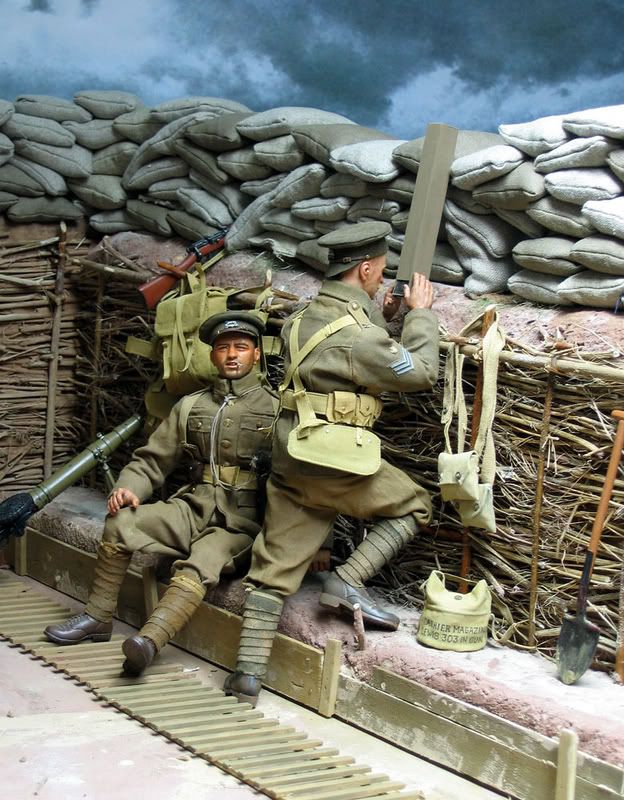 The chaps are a bit of a mixture , and are not consistently badged for these shots . The eventual plan is to concentrate on my local battalion , the 5th P.of.Wales' Own Regiment (West Riding ) , a Territorial battalion which despite it's title was largely recruited in York ( a City NOT in the West Riding ), and contained many lads from my own village.
Theye were part of the 49th Division , an all Territorial division that went out in early 1915 .
The dugout is big enough to put a couple of figures in :
" Ee Mam , it's just like home ... ! "
This is 1915, before the issue of the steel helmets and respirators , though the PH gas helmets in their little bags are in evidence.
I still have a lot of research to do on this unit ; and only wish I could get the uniforms more easily. It's crying shame that there's still not a basic Service Dress on the market .
At this date the coloured Battle Insignia had not really emerged , but this battalion started to use a green T on the upper sleeve , probably in 1916 , but perhaps earlier .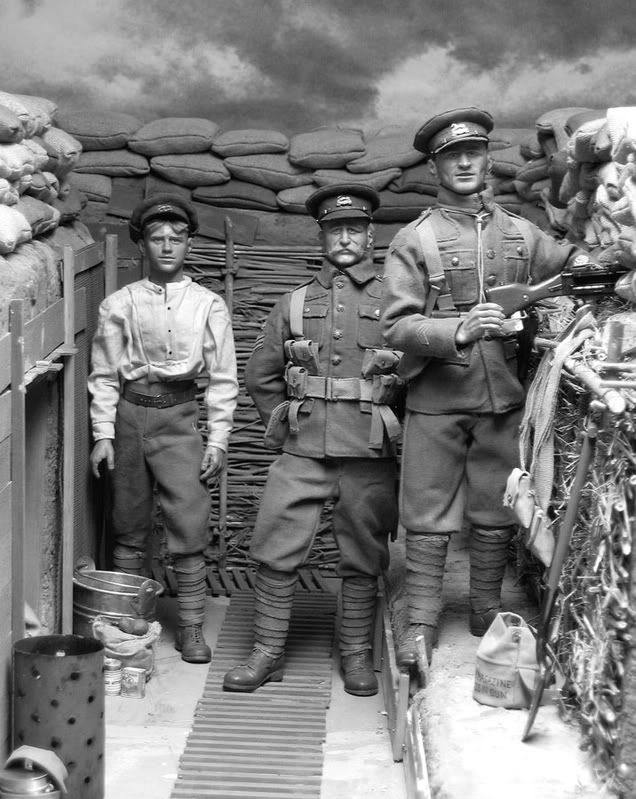 Still lots more to do .
*************************************************************