Discussion Starter
·
#1
·
Some folks noticed that the 85th Foot figure I posted here recently had "real" hair , so I thought I would post a quick rundown of my method .
You can use Doll's hair ( sold in most Doll's House shops ) , Crepe hair from a Theatrical supplier ( or Joke shop ! ) or use Funfur , either bought from a Draper's , or from an old soft toy .
This technique only works for fairly long hairstyles : it would be tricky to try it for short styles , as it might end up looking rather patchy .Since I'm heavily into Napoleonics at present , it's proving pretty useful .
On to the Wigging : you need the hair , a bald HS ( you can carve down the hair on a vinyl head , and carve/rout it off a resin head ) , a contact glue ( clear spirit based ) forceps and fine , sharp scissors , and a fine comb .An old toothbrush is really useful for combing the hair after you've fixed it .
Fix the HS on a suitable stand so you can work round it , and taking a tuft of hair , comb it out , cut the end clean , and apply a blob of glue to the head , starting at the nape of the neck : push the cut end of the tuft into the glue , and adjust so that it's flowing in a natural direction .
After a few tufts , working round the head , it should look something like this :
Here's a second head I worked on at much the same time : you have to ignore the ridiculous appearance at this stage : the tufts can be quite big , and keep them densely packed , because you are going to shed some of the hair later :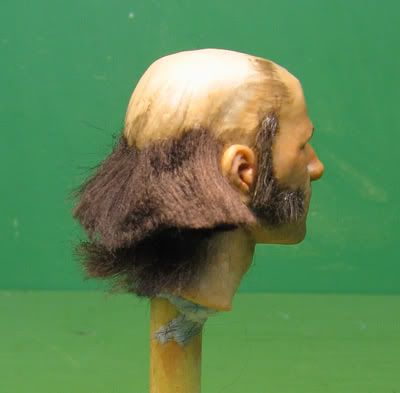 Here's the first head again , with the whole back and sides done :
Keep adding tufts to the top , until you have hair radiating naturally all over , remembering to do the front before the very top , so that the hair overlaps properly .
Once it's all on , you have the " Struwelpeter " look :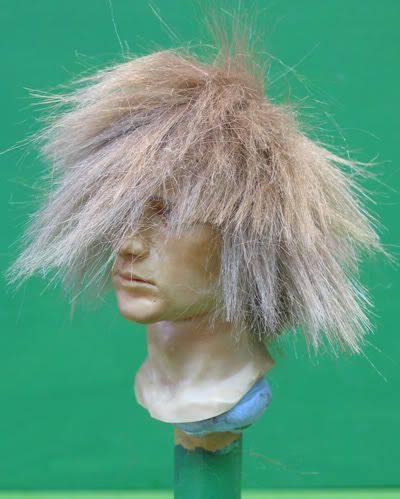 I thought this guy could join a prog rock band :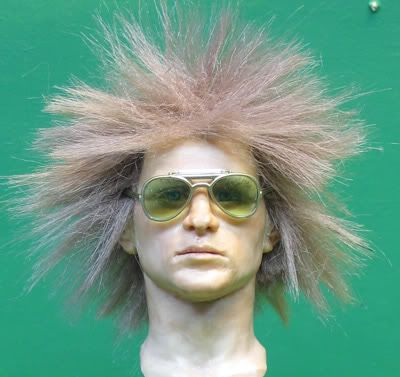 Do not Despair , dear reader , we can get this under control .
Once you are happy all the glue is dry , You can rough trim it , then gently wash the head with a little detergent , and comb it into position :Now you can trim it to length :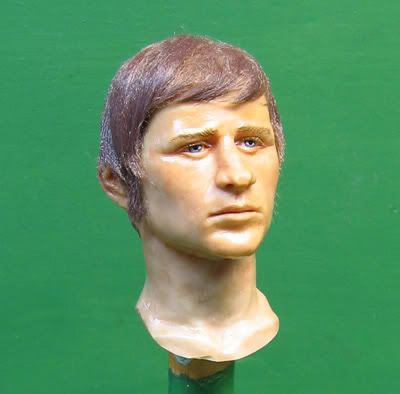 Let it dry : a little gentle heat is fine , and actually seems to help the acrylic fibre " set " in position .
You can now comb and style : you will shed some hair , but that should not matter if you got it on thickly enough to start with . A little hairwax , or even hairspray , should get it to stay where you want it :
And here's the other head before trimming , wet and trimmed , and finished: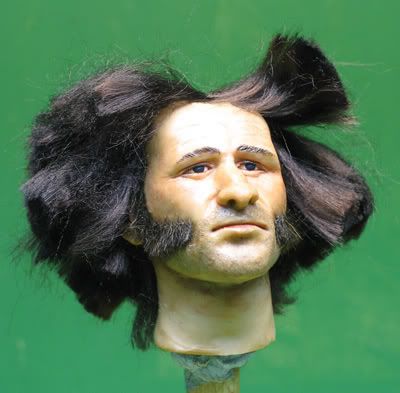 Lastly , here's where I got the hair for the first head : Little Leo , from a Charity shop .
NO SOFT TOYS WERE HURT IN THE PREPARATION OF THIS TUTORIAL ( Well not much , and he had plenty to spare .............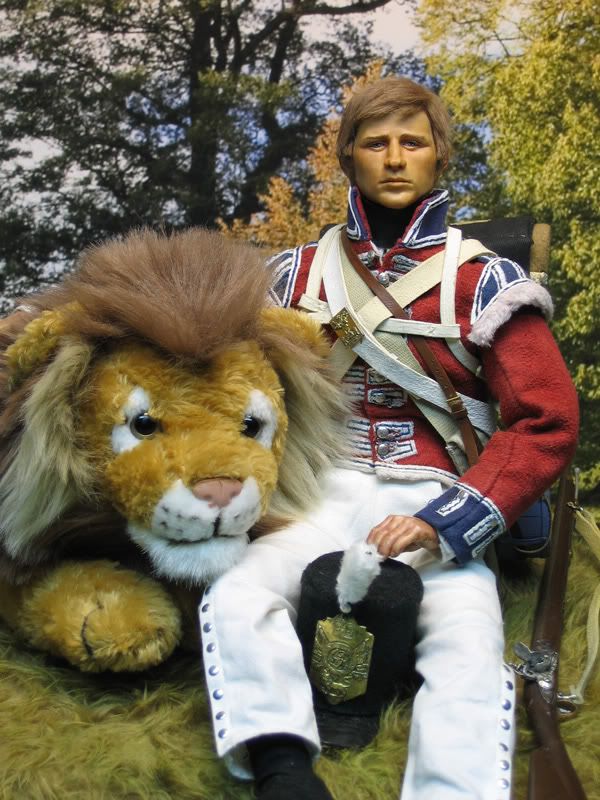 zzzzzzzzzzzzzzzzzzzzzzzzzzzzzzzzzzzzzzzzzzzzzzzzzzzzzzzzzzzzzzzzzzzzzzzzzz