Discussion Starter
·
#1
·
Capital R Games and Historical Military Simulations Group are proud to announce its Vietnam-themed game, "Operation: SNAFU."
When: 1200 April 25 - 1200 April 26, 2009
Where: Lanexa, VA
Who: US Army infantry for registration only.
How Much: $45 pre-registration only, registration now open.
Why: Join Foxtrot Company as they get sent into the **** to stir up the hornet's nest. S-2 says that there should be minimal contact with NVA elements but, really, WTF does he know?
SNAFU is a 24 hour Vietnam-themed airsoft event that provides attendees with tactics instruction, historical immersion and education, an involved casualty system and a whole different way of looking at airsoft.
SNAFU will run from 12 pm Saturday, April 25 until 12 pm Sunday, April 26. The event pits US Army elements, staging out of Firebase Charlie Romeo in the Trang Bang region, against a dedicated People's Army of Vietnam (PAVN) cadre. Attendees will be expected to spend the night in the field at Firebase Charlie Romeo... however, R&R overnight passes may be issued to local players on a case-by-case basis. Anyone issued an R&R pass is expected to be back in formation at 0800 Sunday April 26.
Registration is now open for US Infantry players only. This event is a PRE-REGISTRATION game only. You must pre-register before the event and be fully paid in order to attend. Registration fees are non-refundable. Registration closes April 18, 2009. Players must be 18+ years of age with a wavier, 16-17 years of age with a parental signed waiver, 14-15 with a parent attending. But what does your registration fee get you?
- 24 hour immersive event with integrated camping.
- Field instruction in subjects such as map reading, compass orientation and radio usage.
- Operational orders and full briefings with hands-on mission planning.
- Chance to win raffle prizes donated by SNAFU event sponsors.
- Full BBQ meal at conclusion of event.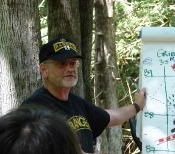 John "REMF" Robison will be part of SNAFU staff, providing much of the instruction. John Robison was briefly enlisted and is a Retired US Army officer and graduate of RANGER school. Jump qualified he also completed the Jungle warfare course in Panama and both the 101st and 9th ID RECONDO schools. He served as the training officer for the 1st Brigade RECONDO school for 3 cycles. He retired from the Army in 1977. Currently he has a training and consulting business and conducts Management and Leadership workshops for a wide variety of clients. He has three grown children and a wife of 62 years. (31 for her and 31 for him) He resides in Sammamish Washington where he collects WW2 uniforms and equipment and builds replica Airsoft Garands as a hobby.
Josh "Ranger" Warren will be part of SNAFU's staff as Captain of Foxtrot Company. Josh is a former U.S Army Ranger serving from 2001-2005 with C Company 2nd Ranger Battalion. Josh served 5 combat tours during his service in support of the Global War on Terror in both Iraq and Afghanistan. He is now in a commissioning program and will be commissioned as an Infantry officer in the U.S Army in the summer of 2009. He has been reenacting since he was 13 starting with the Revolutionary War and eventually moving to both Vietnam and WWII. He has been organizing events in the Pacific Northwest since 2006 as a member of Battlesim.
Other notable SNAFU staff will be announced as soon as their attendance is confirmed.
SNAFU is a themed event, thus it has stricter uniform and equipment requirements than your average airsoft event. Having such rules helps set the mood and mentality of the game. Most items required for SNAFU are readily available in military surplus stores, sporting goods stores and online and for low cost. We will also have a limited supply of gear available for a small rental fee.
UNIFORM REQUIREMENTS
1. US Infantry
# Olive Drab BDUs. Slant pockets not required but preferred.
# Any ALICE web gear, including M1956, M1968, LC1 and LC2. No modern vests or plate carriers allowed.
# Steel pot helmet with Mitchell cover, OD boonie hat, or doorag/bandana for head gear.
# M16 with triangle handguards, XM177, any M4 Carbine with carrying handle but no external attachments, or a wood stock M14. Only the M60 is allowed for SAW use.
# Anglehead flashlight.
Foot Wear
The SNAFU Area of Operations has tough variable terrain with lots of undergrowth and fallen foliage. Sturdy foorgear that provides ankle support is required. Black or jungle boots are recommended for US Army.
Eye Protection
Eye protection that offers ANSI Z 87.1 or higher impact protection is required. This includes tactical goggles, paintball goggles and shooting glasses. Mesh wire goggles are allowed. Eye protection must provide both frontal and side impact protection. BCG glasses are NOT allowed as eye protection.
Water
All players must have at least one canteen or water-bearing device of water on-person during the game. Drinking water will be provided fand located at the firebase for US Army players. It may not be hot in April in VA, but be sure to hydrate your body at least 2 weeks prior MINIMUM.
Safety and Game rules will be posted soon.
Be sure to guarantee your spot at the first East coast Namsoft event of the year! Paypal is preferred for your $45 fee to
[email protected]
. When you pay your registration fee, be sure to include the following information:
Name
Location (Address, City, State)
Age
Capital R Games and HMSG look forward to seeing you troops in the **** this April!