Discussion Starter
·
#1
·
Another of the old Sideshow Toys series many of us enjoyed was their "Six Gun Legends", and my personal favorites were the Crazy Horse and Custer figures. They both have excellent hs and detailed regalia, as well as some fine western weapons that, until recently, were available nowhere else. While working on my Captain Brittles, I used one of the cloth SST Custer bucksin jackets, and figured a way to improve the look of the cloth fringe. I cut each fringe in half, then randomly shortened some to give them a worn look. Using Fray Check liquid, they were preserved, shaped, and weathered, which (imho) makes them look more like leather. I liked it enough to work on the buckskins on both of these figures, and added more fringe to the bottom of Custer's jacket (as detailed by Doug McChristian in an article for the Company of Military Historians) using extra material from inside the front edges, and adding Battlegear buttons. I couldn't resist re-painting the weapons, and added wood grain to Crazy Horse's Henry and hatchet - and replaced the molded tack work with real brass - and Custer's Remington Rolling Block. I'm one of those that really doubts George carried two white-handled revolvers on campaign, or ever owned a white-handled Webley Bulldog, but left them as Sideshow intended. An extra Bulldog got repainted for use with a future figure.
So here are the slightly upgraded figures, as I will display them: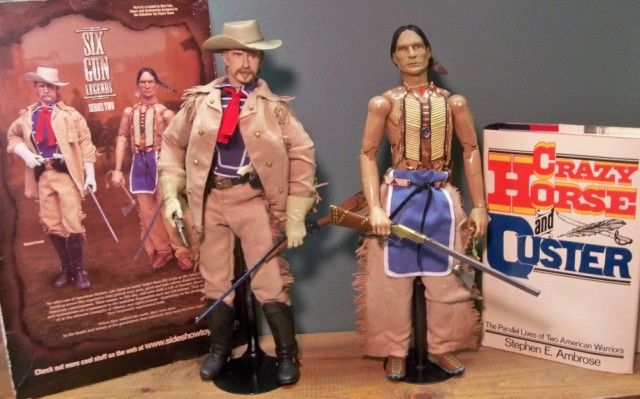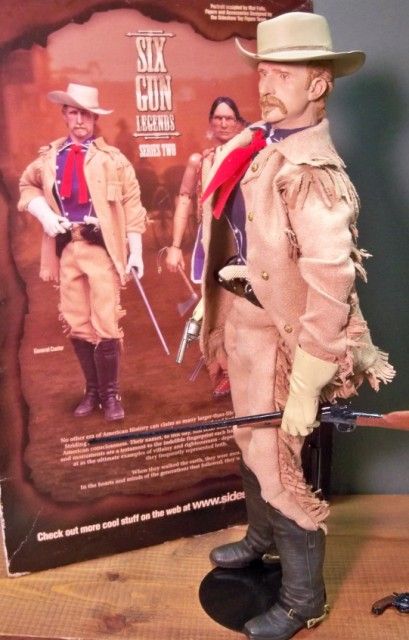 I noticed something while taking these pics. On the box art, the prototype Custer jacket HAS fringe along the bottom, while none of the ones I own do. Let me know if you have one that came with fringe on the lower edge, or it may just be another "1/6 what if?". Thanks for looking!