Many of you have seen the thread I started here:
http://www.onesixthwarriors.com/forum/showthread.php?t=81158&highlight=custom+scar
Well, the wait is over for all of you eagerly waiting to see the finished product. He is finished! What was once the lamest cinematic Predator to ever show his FACE on screen, is now the best Predator figure ever. Check this out. As my brother would say, it's a perfect execution of a bad design.
It all started when I saw this on eBay: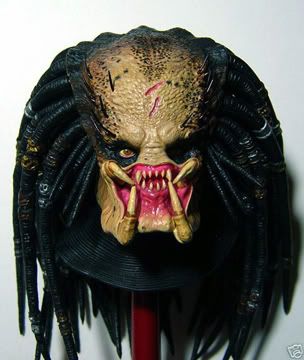 I thought I could do that even better, so I took a Hot Toys Elder head, which is what HT repainted to create their AniCom exclusive head. Repainting alone wasn't going to cut it with me though. I resculpted the mouth so that he now has the correct number and size of teeth on the upper and lower jaw, repositioned the mandibles into a more Scar-like pose, and resculpted the forehead (or is it twelvehead in his case) to give him screen-accurate skin texture and scar. For the resculpting work I used Quick Wood putty, a two part putty with a working time of about 15 minutes.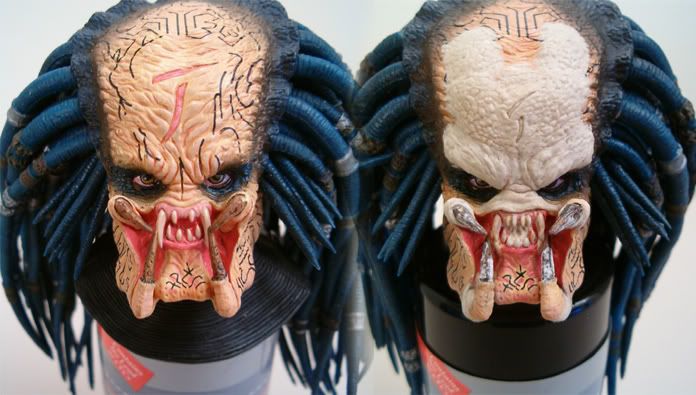 Painting the head was fun, but those damn dreads were a friggin' nightmare. I'm still having flashbacks from the dozens of hours I spent just on them. If I ever do that again, I will invent a better way for sure.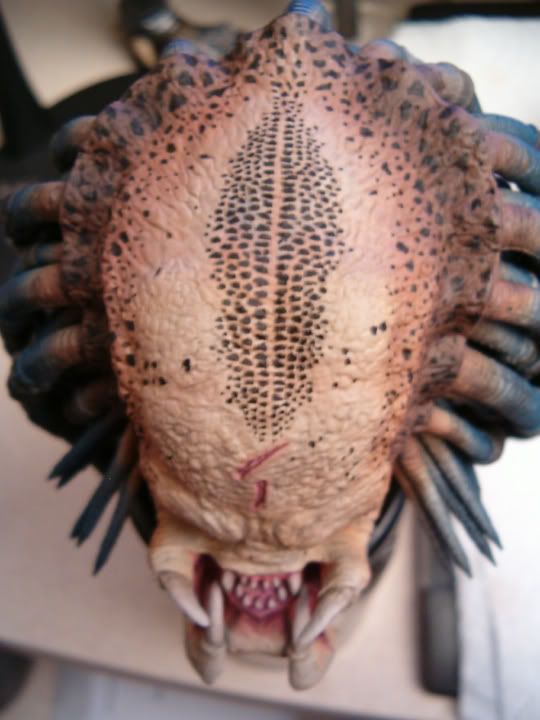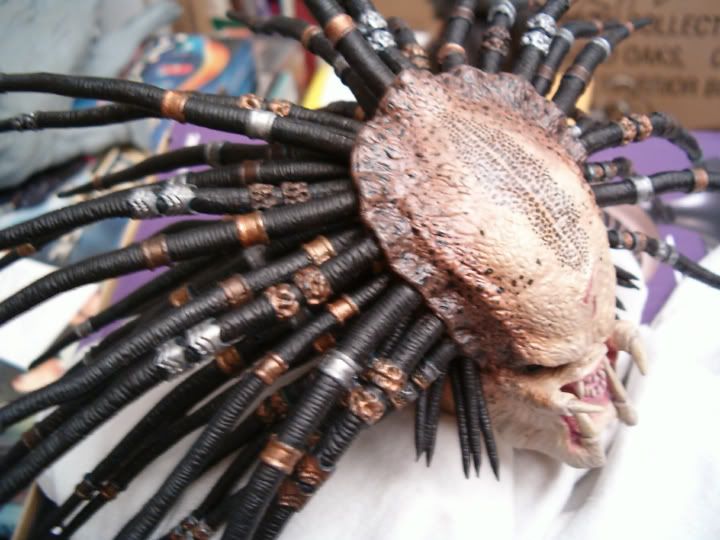 Of course I couldn't go this far and not use the Elder's quills, and paint them black. It was pretty stressful drilling into my fine paint job, but God gave me a steady hand for this project.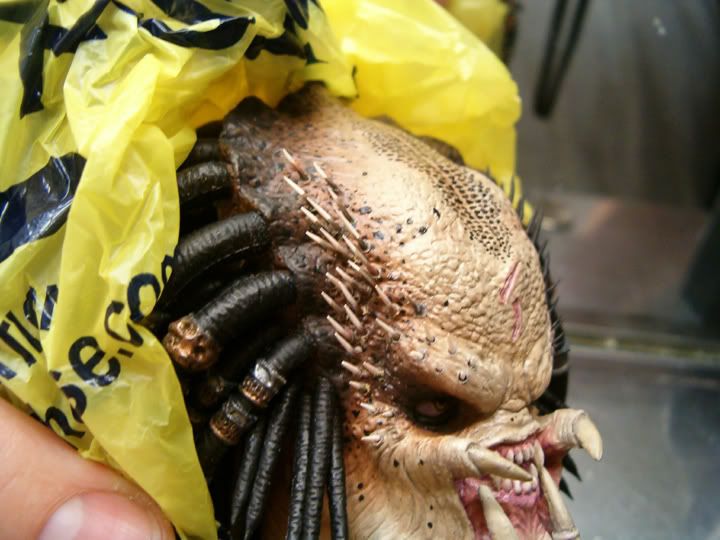 Hard to believe that the head on the right started as the head on the left, but it's under there.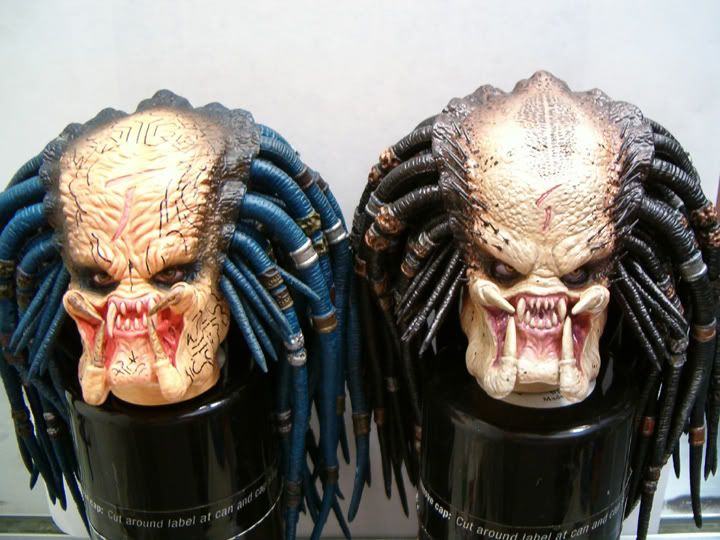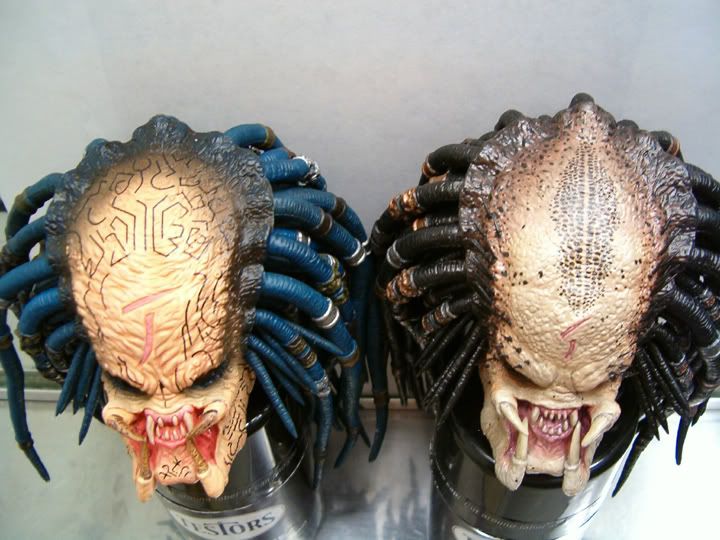 After puting so much work into the head, I couldn't just put it on the Elder body as it was. None of the flesh tones matched anymore and the paint aps were very basic- pretty much just black on orangey-tan. So I repainted any areas that would be visible around the armor including the hands and feet.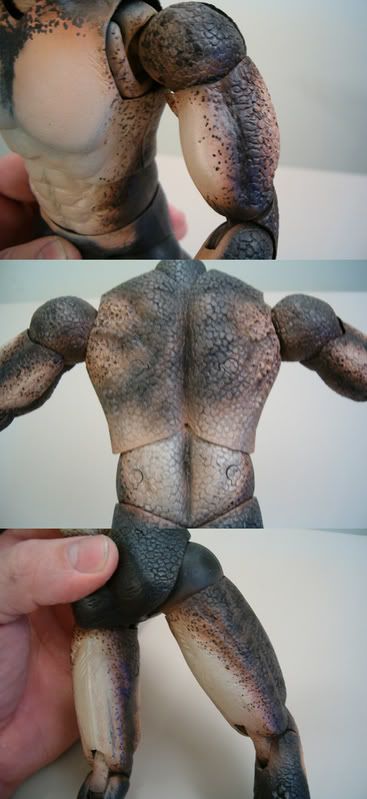 Being that I started with an Edler, there were good and bad things about the armor. It didn't have the cannon mount which was actually a good thing as the cannon had been knocked off by an Alien when it stabbed him in the shoulder and jumped on his back before the rocket-sled tunnel escape scene. Unfortunately, it also didn't have the abdominal armor that only the Scar Predator had. With no chance of eBaying that piece or the Scar armor, I borrowed my brother's unbuilt Scar armor, removed that piece, and recast it.
Left: original piece. Middle: Mold made from Quick Wood putty. Right: Clear resin recast primered gray. Bottom: finished/ mounted recast.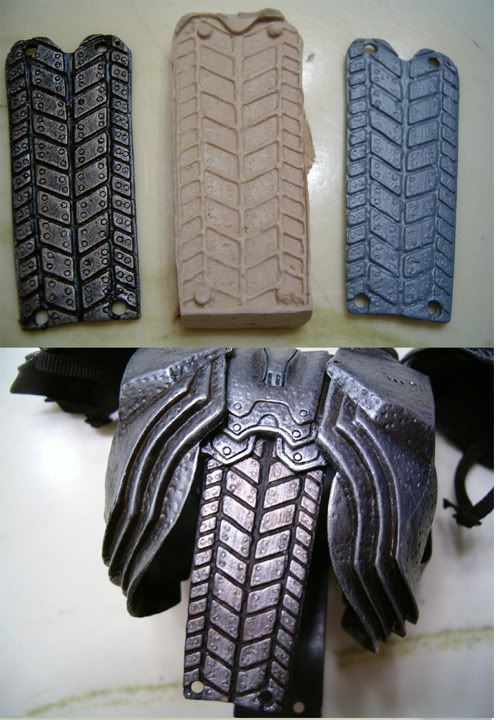 The recast peice is actually as flexible as the original vinyl piece.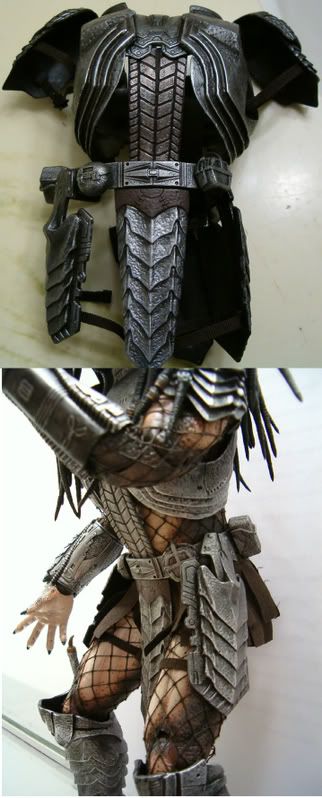 One last thing that I needed to do to make this accurate to the end of the film was to find a way to remove the bomb from his left gauntlet. Turns out it was a seperate piece from day one, and I didn't need to grind it off. A little hair dryer action and I was able to lift up the edges to cut it loose, and I'll be damned if there wasn't already hidden detail underneath. Hot Toys never stops blowing my mind.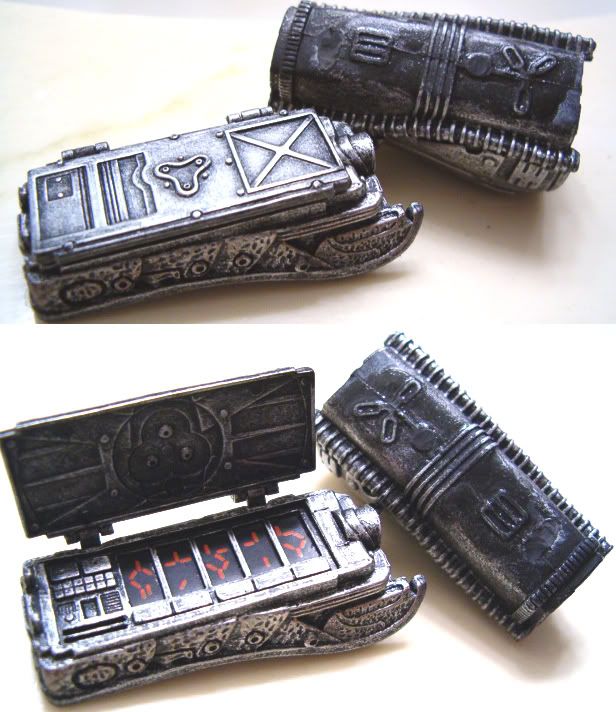 Two weeks later, here he is: One beautiful 'Ugly
[email protected]
%er!'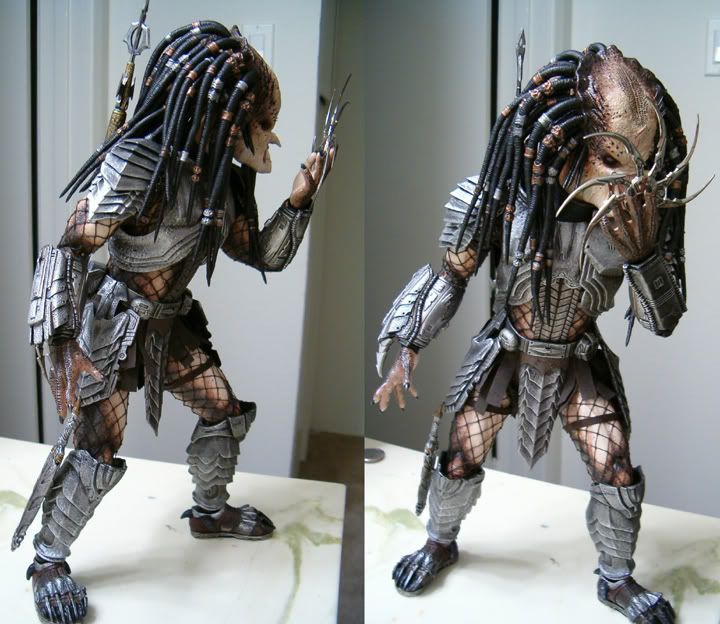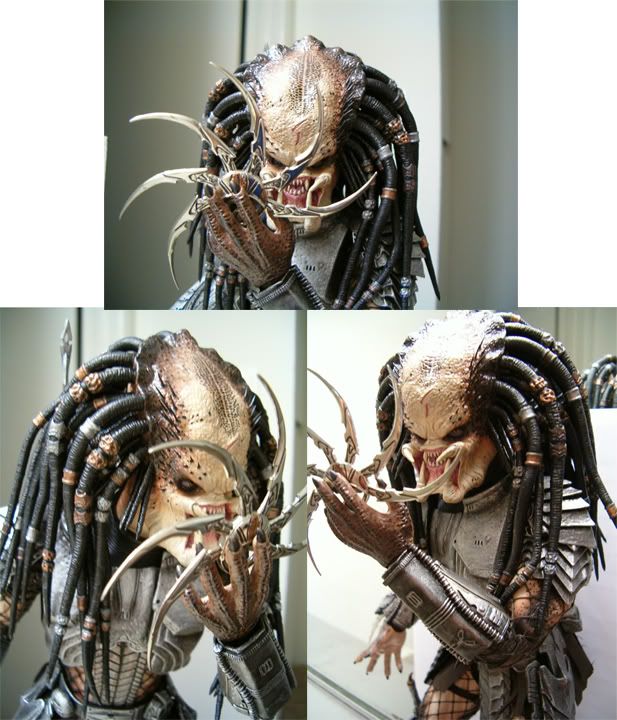 Last thing yet to do is to give him some Predator blood aroung the right shoulder area and build him a nifty base featuring snow and whale bones.
I will add pics to this thread in the near future when that is done.
Enjoy all. And keep your own customs posting. I love seeing what everybody is doing out there.
UPDATE: 7-8-08:
Glad to see this "ugly motherf#@%er" is still getting seen. Thought you might like a few new pics.
I saw this ADI display on
http://www.predatorstuff.com/gallery/?level=collection&id=79
and thought my Scar needed to have his helmet. With no chance in hell of finding a real Scar Helmet on eBay without buying the whole figure for $500 or better, I decided to take a chance on a recast that you can still find on eBay from the same guy. It started like this.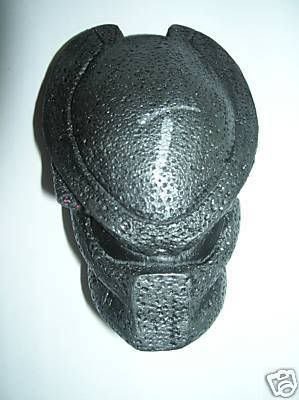 Obviously I couldn't live with the paint job or the heavily pitted texture so I filled in the deep pits, carved out the 'mark of a blooded warrior' on the top, and repainted it.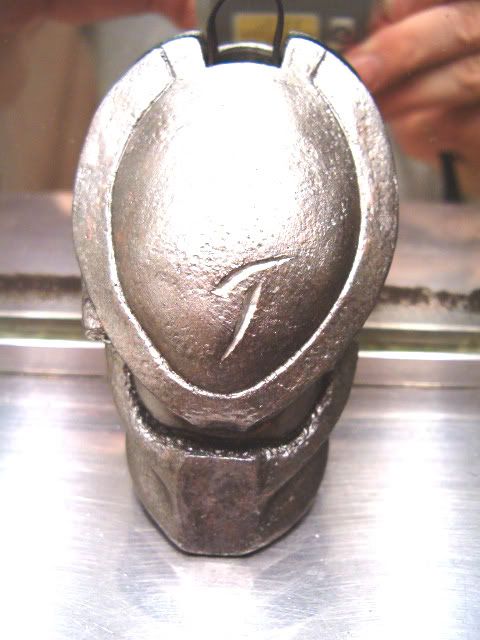 I also mounted it to the belt like it is in the ADI display by simply gluing a loop of cord to the underside of the helmet and hanging it from the small 'pack' on his belt.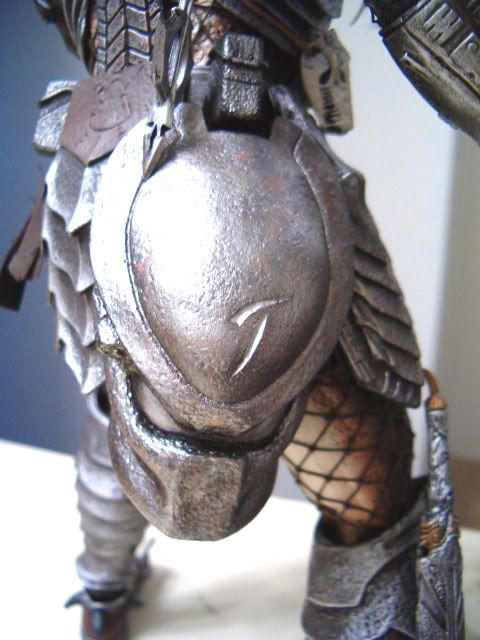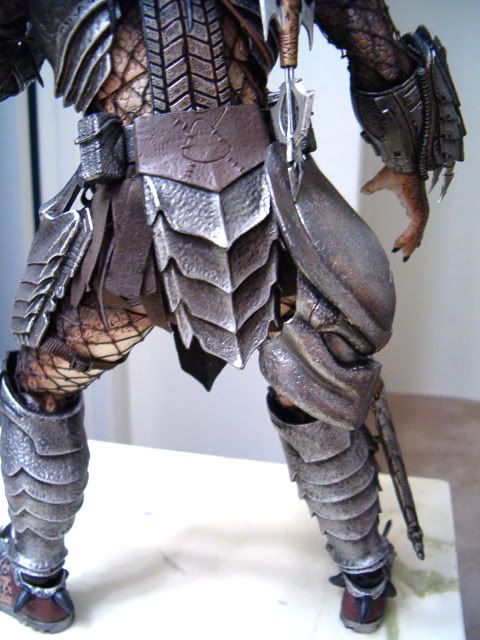 Aside from that, I also touched up the feet after seeing the ADI display, and gave him some blood where the Alien's tail pierced his shoulder.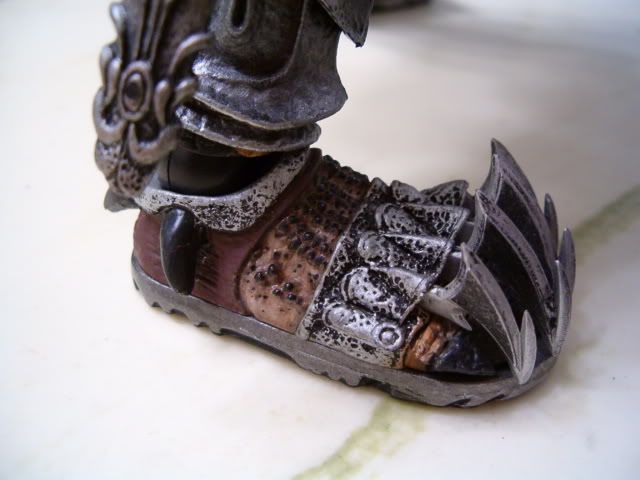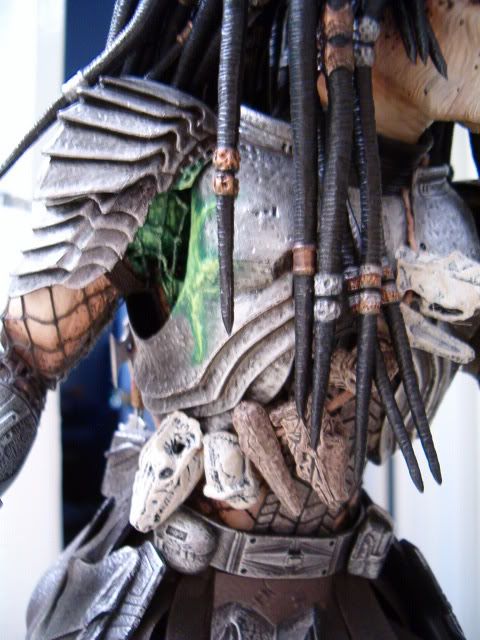 It was surprisingly difficult to pull off a glowing effect. That's about as good as I could get it without it actually glowing.
-enjoy