Discussion Starter
·
#1
·
Ok since most of you were so eager for a tutorial, I decided to try and make one while painting Horst Lerner tonight . So here it is if you guys can give suggestions or ask questions about it fell free to do so.
For the Horst Lerner figure.
First off your materials.
You're going to need the following:
Brushes
: Natural hair brushes. Red Sable or White Sable.
Sizes:
X1 I use Loew-Cornell #4 Flat for base coat.
X2 Red Sable- 00 for whites & detailing with pastels
X1 White Sable 3/0 for eyes
X1 flat 0 for deep shadows and blending
X1 0 round for eyelids
PASTELS
: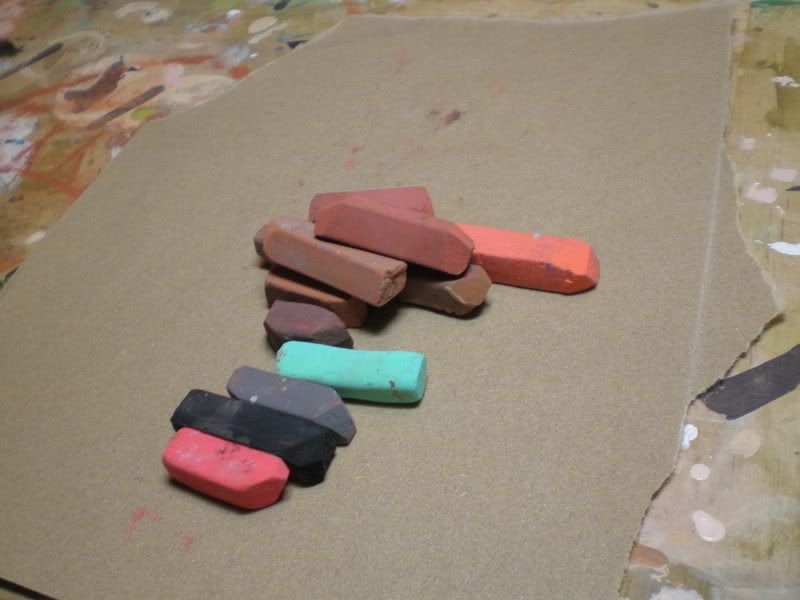 almost any brand of chalk pastels will do.
Colors and areas to apply pastels-Grind them down into powder with sand paper.
Bags of eyes- Light Brown/ Reddish Brown
Lips- Reddish Brown
Beard/ Five O'clock shadow- Light green and/ or Dark Gray
Eyelids- light brown
Ears- Reddish Brown
Chin- Light Red or Reddish brown
Adams Apple- Reddish brown
Cheeks- 1st light brown (sparingly) 2nd after sealing Reddish brown also sparingly within each layer.
Nose- Reddish brown.
OTHERS:
Sketching Pencil or No.2 pencil
Fine Sharpener
Sand paper
Pallet
2 cups
Testors dullcote Future Floor Polish

PAINTS: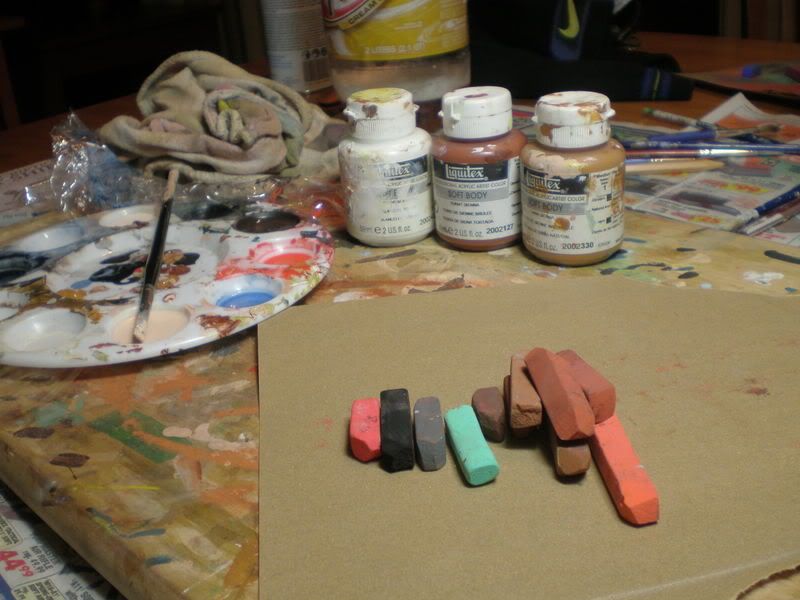 Liquitex Soft body acrylics
For base skin tone
Mix a pea ball of each- Raw Sienna and Burnt Sienna
Add Titanium White until you're satisfied
Now add a bit more than half of water (DO NOT USE SINK WATER)
Mix it and now you have your wash.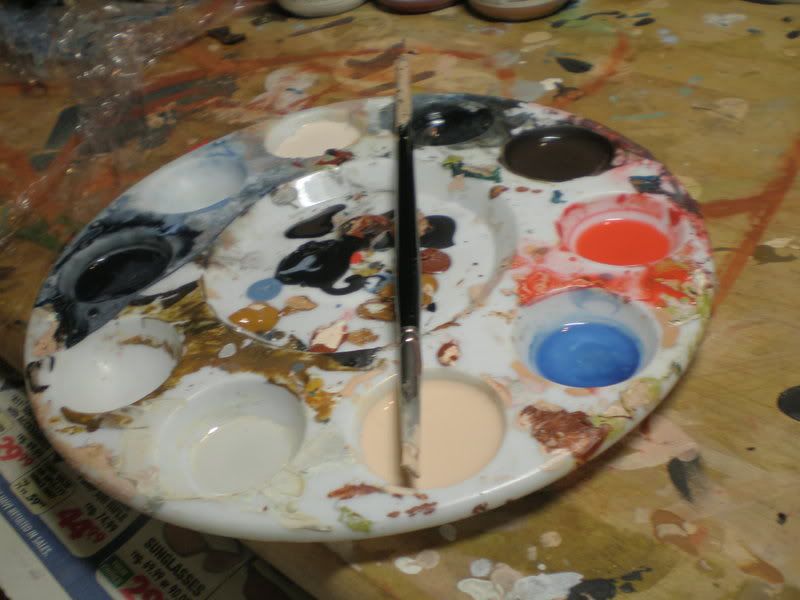 Now after stripping the paint off your head lay down about 20-30
or more layers of the wash. Let each layer dry 45-60 sec.
Stroke downwards over and over eliminate brush strokes as the wash dries.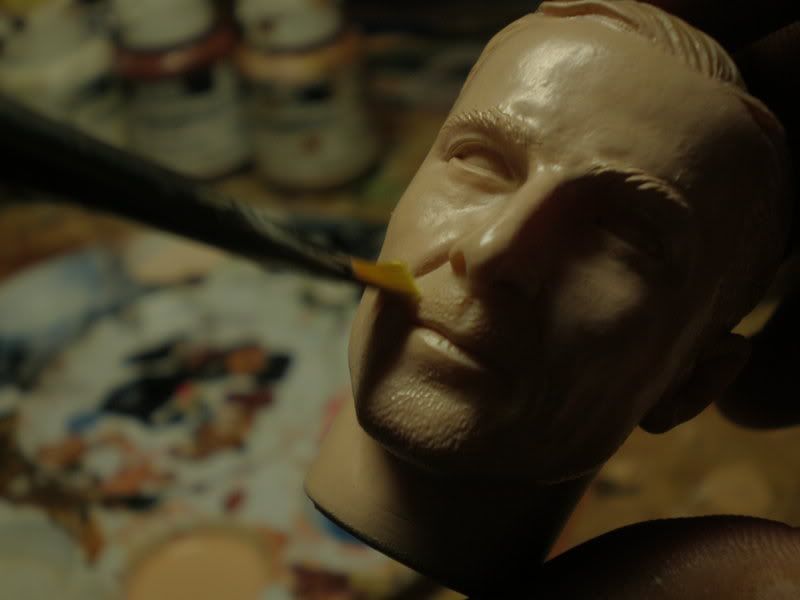 This is what you're aiming for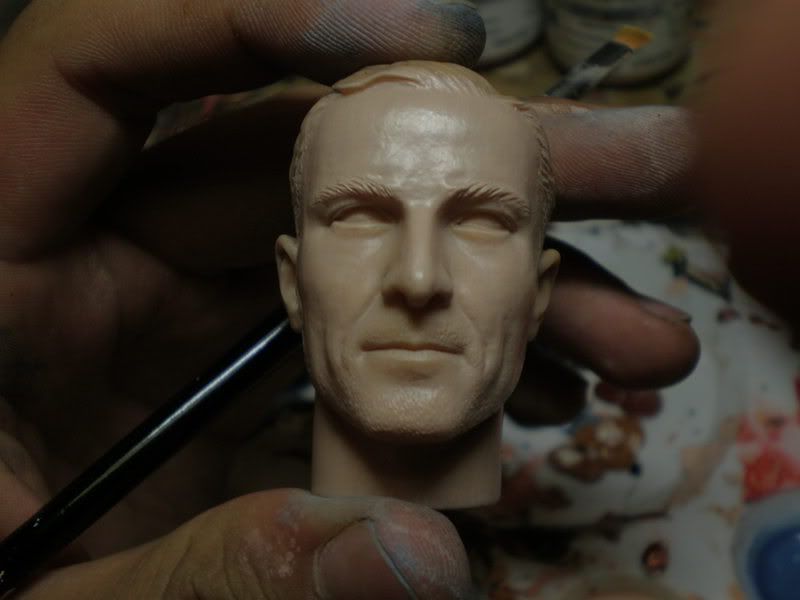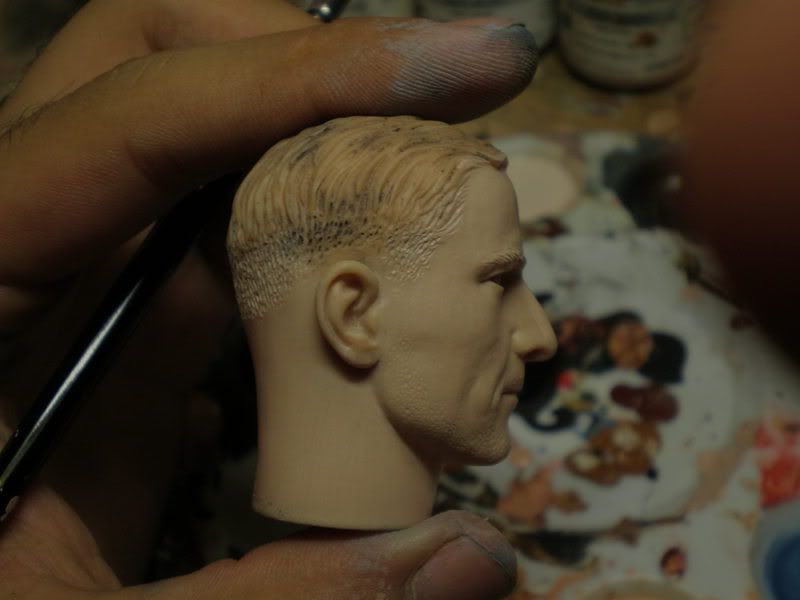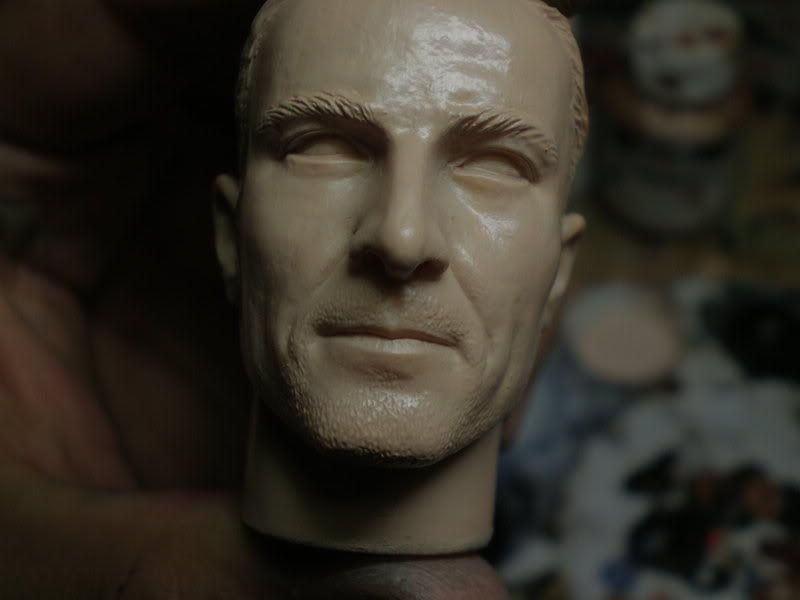 Now apply pastels.
Apply your deep shadows use Reddish brown.
Earlobes, Bags, Lips, wrinkles ,Etc.



Blend them in like so...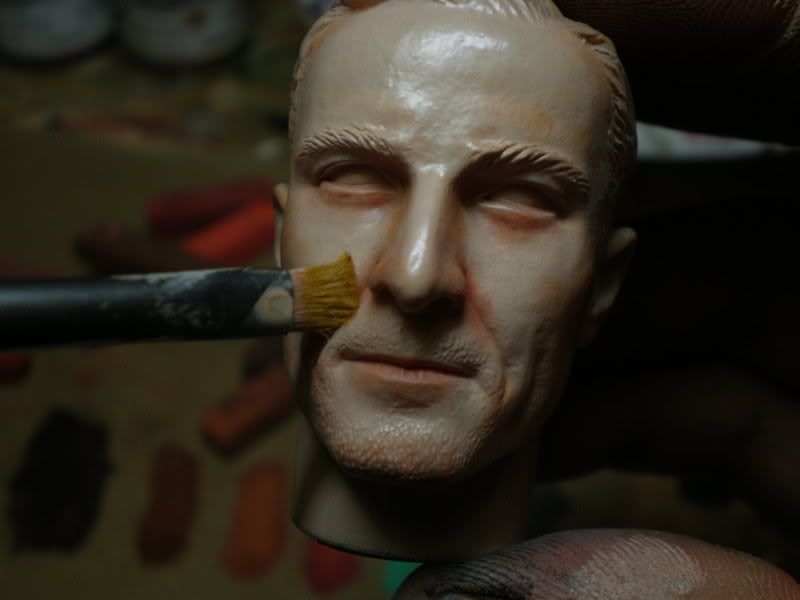 Seal it with Testos Dull Cote (or any other dull coat sealer)
Allow it to dry for at least a minute or two.
Add a layer or two of your wash
You're aiming for this-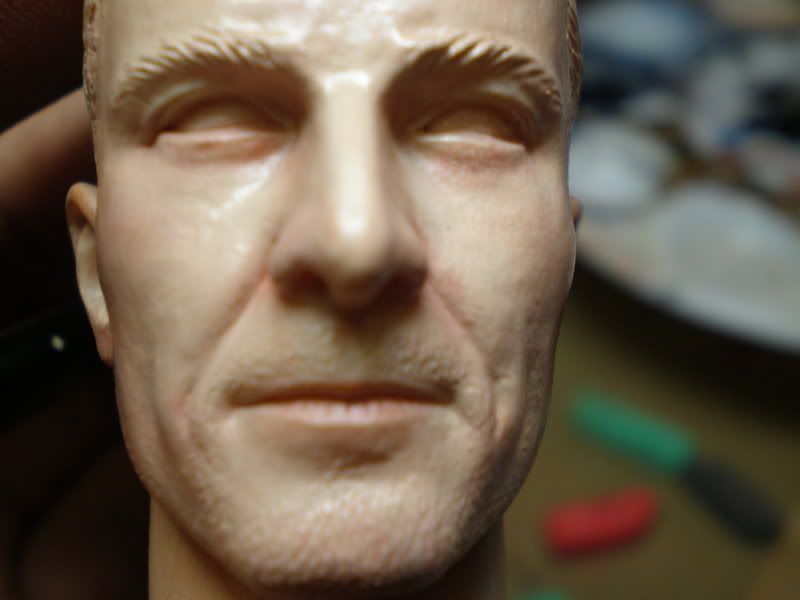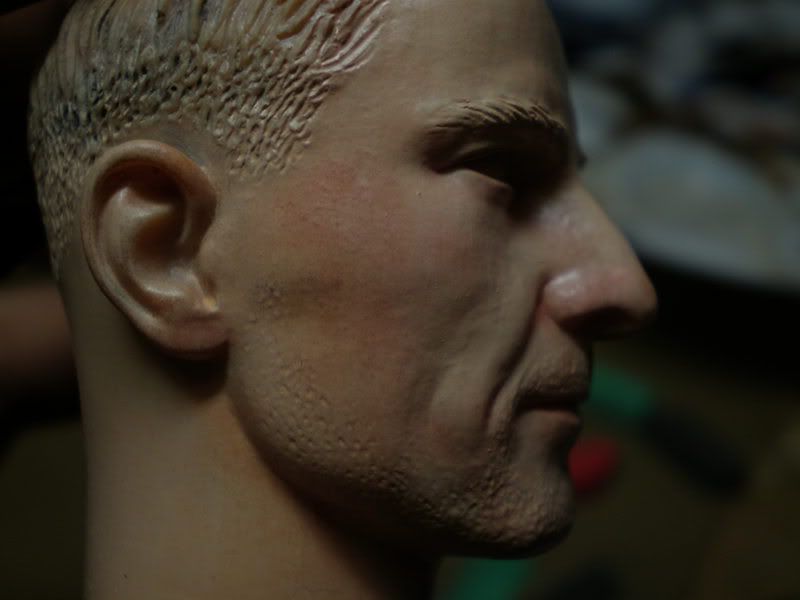 Repeat this process once or twice more it's up to you.

Now using the light green.
For shaven sculpts you want to just use the light green alone lightly. However in this case its the bottom layer.



Aim for this-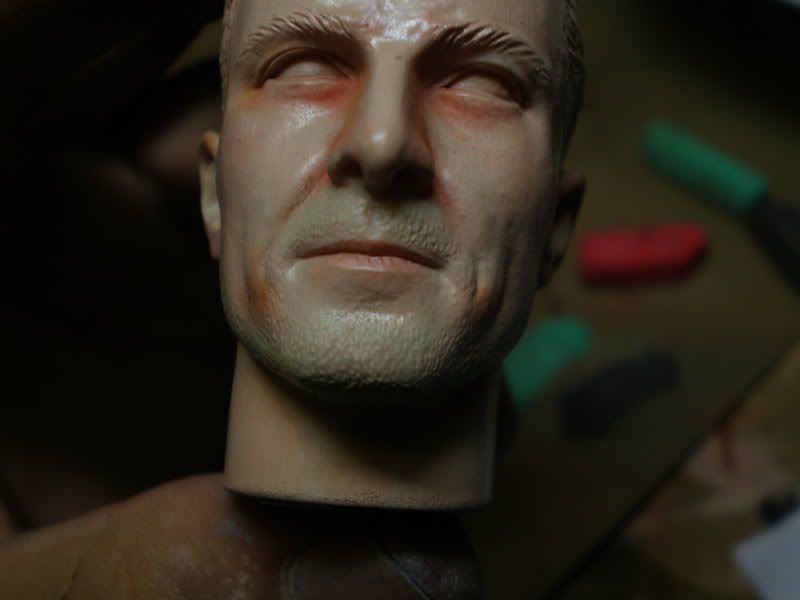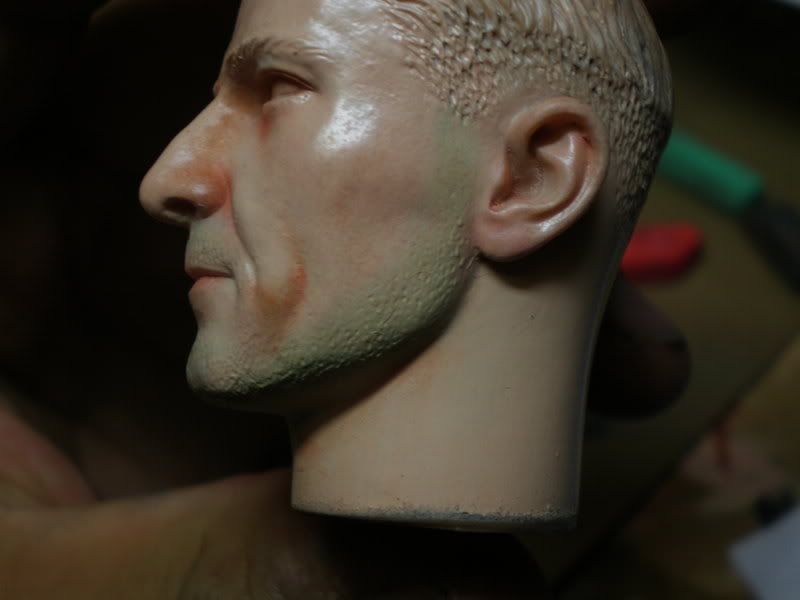 Seal it, then add about 2-3 washes.
Then add a light layer of dark gray, seal it and give it 1 more wash.

At this point I add in my whites.
For more natural whites mix Titanium white with a tiny drop of raw sienna or light grey, your choice.
Mix half water remember DONT USE SINK WATER.



Keep a steady hand and don't touch the lids.

This is what you get.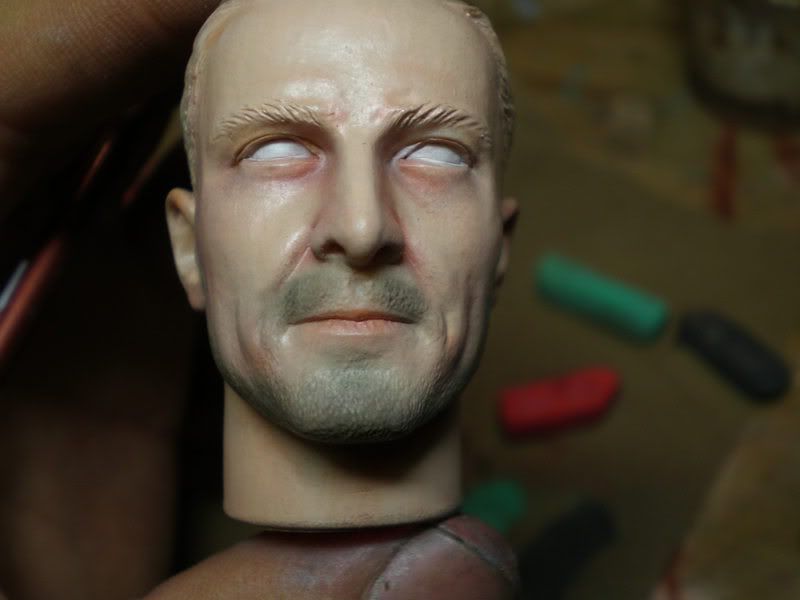 Apply pastels to the short hair.
In this case mix Dark Brown with Black.
Now aim for the short hair all around and the eyebrows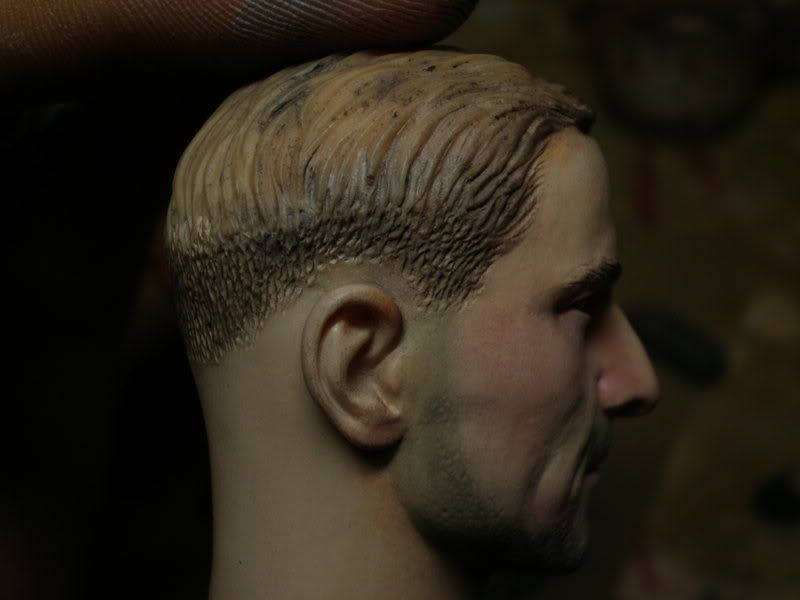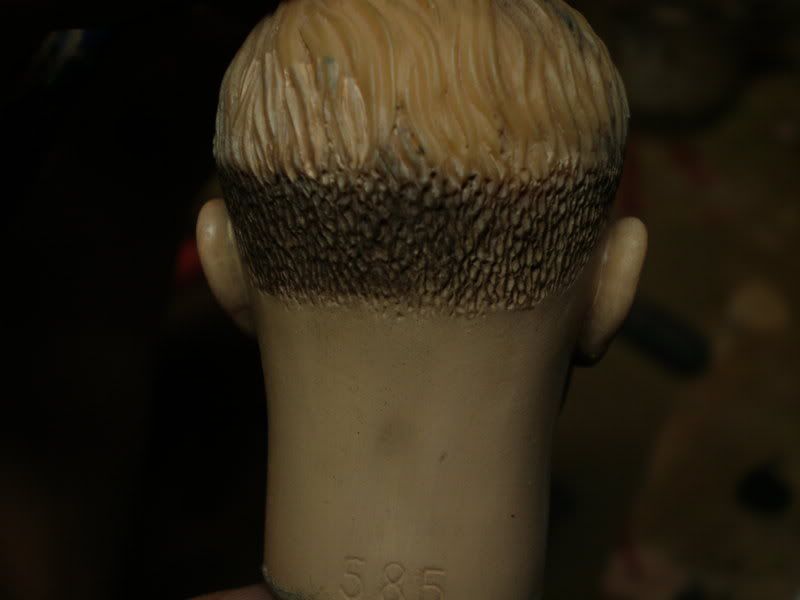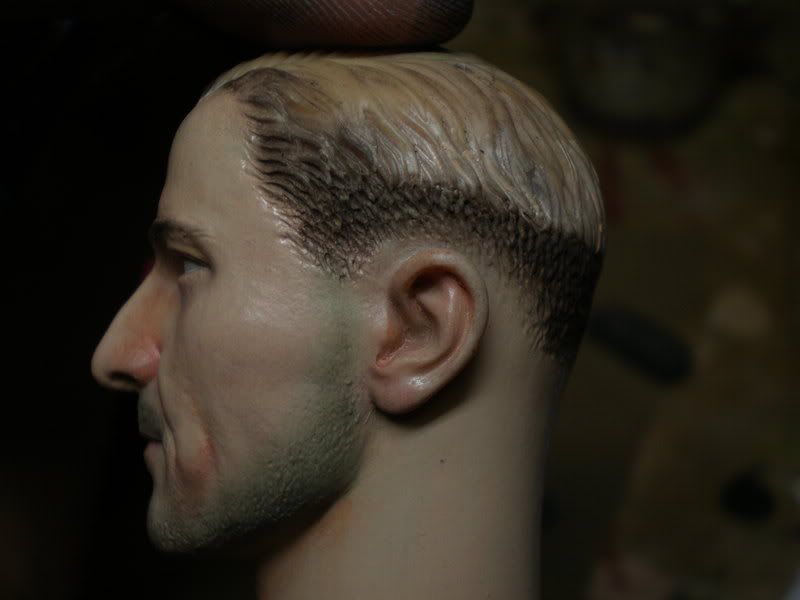 Seal it, Then paint the Hair I mixed dark brown with 25% pure black.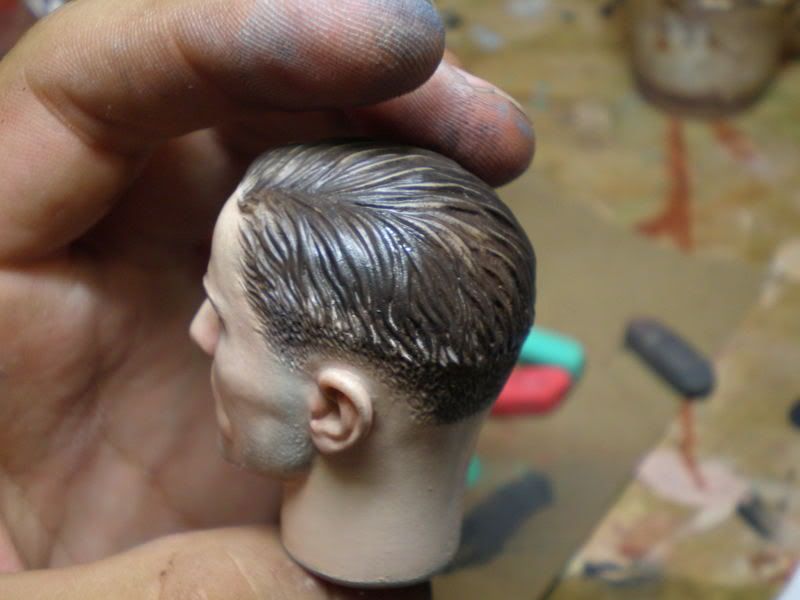 Now .... the hardest yet easiest part, The EYES :wideyes

Sharpen your pencil to the finest tip you can get it to be.

And draw the Irises, start from top of lid.
Make the best circle you can, make your Mamma proud!
:rolling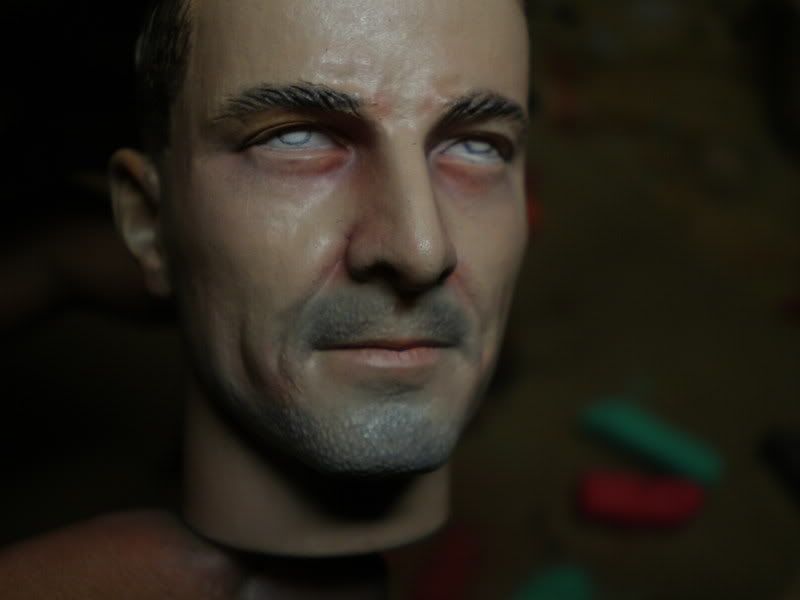 For eyes mix half paint/ half water
Now use a darker version of whatever color you're using.
For this green I just added a little bit of black to make a darker green.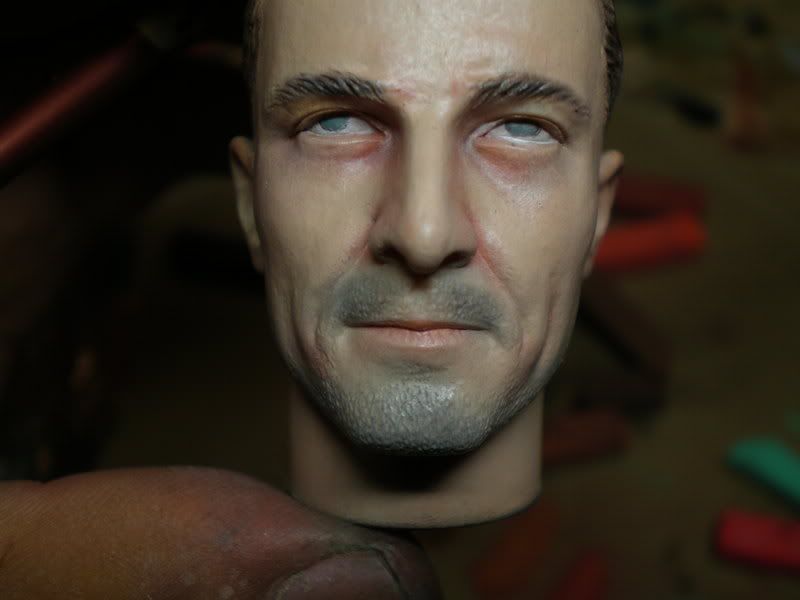 then add a smaller circle of the lighter version.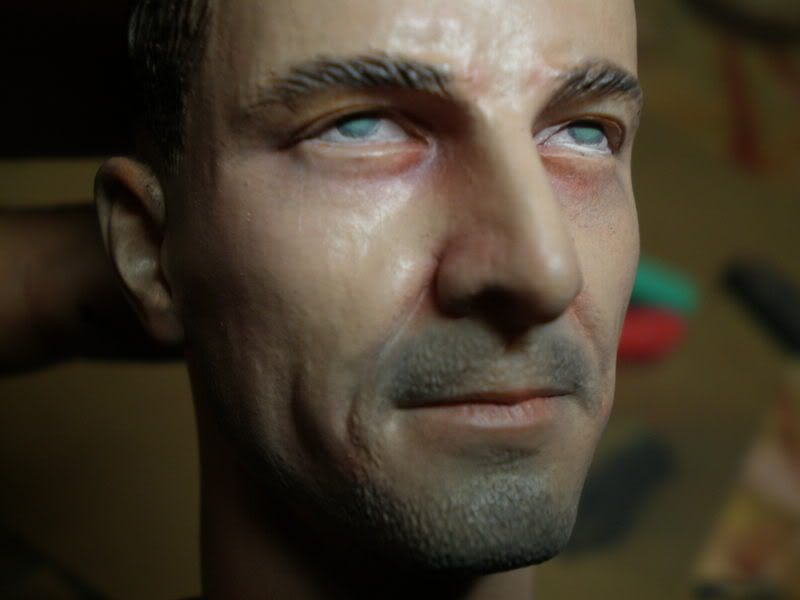 with your round 0 add tear ducts with reddish brown and color eyelid rims avoiding the eyeball itself.
Seal it.



Lastly add the pupil with your 0/3
Let it dry and add about 6 coats of of Future Floor Polish.

Now the results
:cheers
Eh... not too saisfied with this one, but I hope you get the the idea.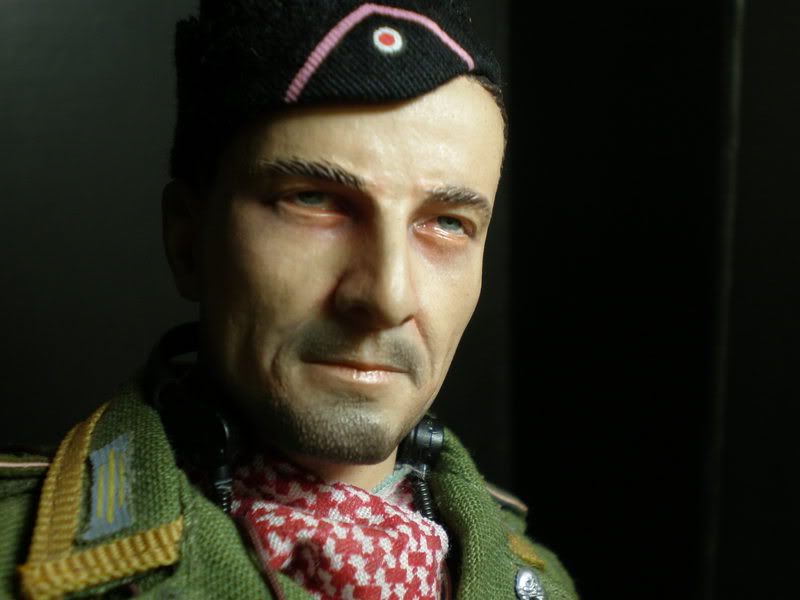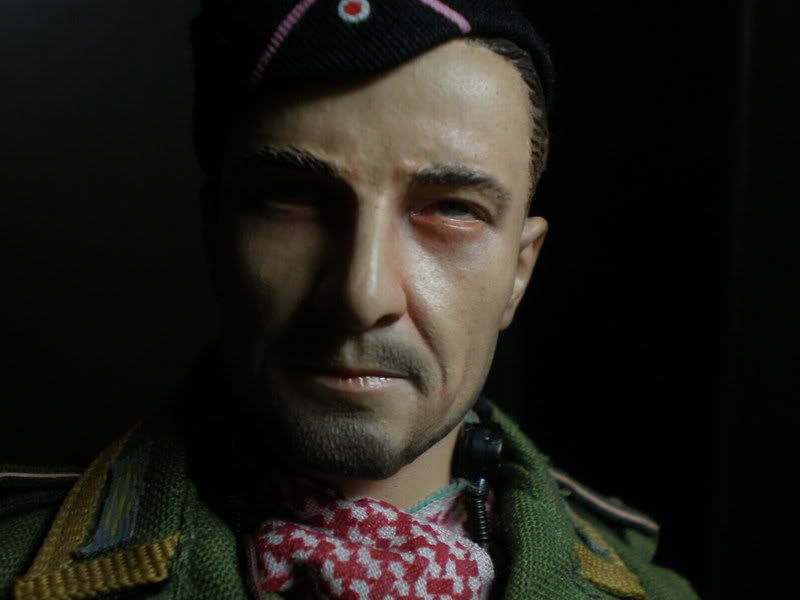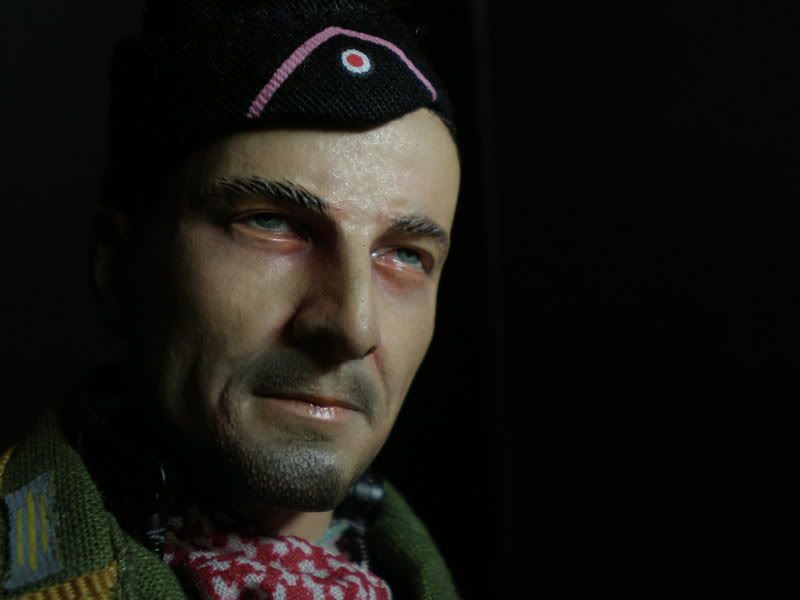 Now YOU try it.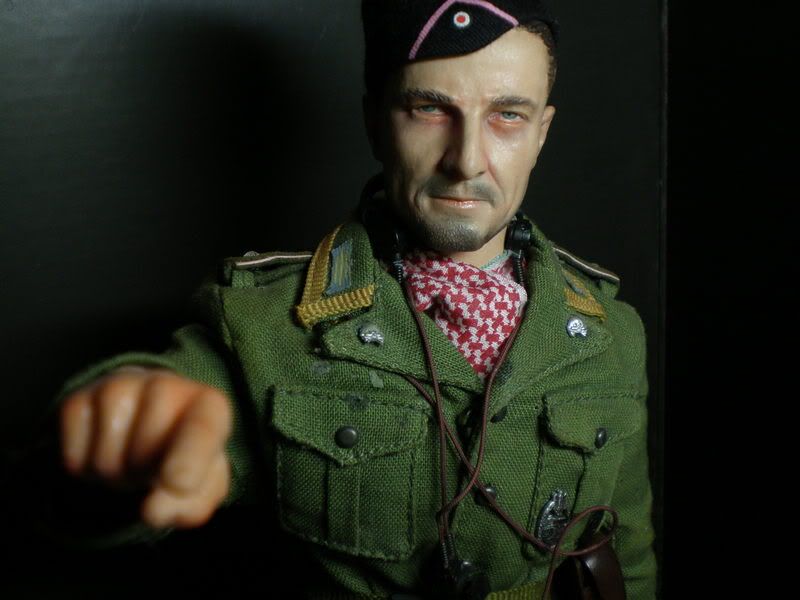 (Sigh.. I need a smoke now...):smoking