Discussion Starter
·
#1
·
Hello, folks. Ian (Idreamoftoshiba) recently asked me if I could make a tutorial on how to make the wall dio's I use for many of my figures. I procrastinated but eventually I finished said tutorial.
I think diorama's really add an extra "something" to a figure. It can add to the whole story of the figure, if you will. But store bought dio's are usually costly and shipping (especially if it's coming from overseas) can make it prohibitively expensive.
So making a dio appeals to two of my personality traits: I like making stuff and I am cheap. Most of my dio's probably cost about 3 or 4 dollars in materials. The only real expense is time. And the little dio's (like the one this tutorial covers) don't take more than about 1 to 1 1/2 hours to make.
Plus in the grand scheme of this hobby, they are easy to make. This isn't like a gun mod like Sir eaton flipflop or Pemgreene make or a Flanela Starcraft Marine.
Enough prattle, on with the show.
For this tutorial, I want to try and copy a dio offered by
SCALE STORE 1/6 12" ACTION FIGURES (1/6th scale vehicles and figures model)
here is a pic of that dio. Looks cool, but I dont like that root thing and I can find no price for it. But I bet it costs more than 3 bucks, especially in shipping from China. I'm not knocking this company at all. I'm glad someone is making bases now. It's about time and they do look very nice.
What you will need: Some All purpose Flexall or other "filler" material. I got this at Lowes for about 15 dollars and it has lasted for over a year, Styrofoam sheet, ruler, wooden skewer, cutting instrument, plastic knife, that yellow spackle thing and a marker
Measure the base you want for your dio. Mine is a 6"x 6" square and cut it. The wall of the dio is in two pieces. The wider one is about 6" high and not as wide as the base by about 2". Use a ruler and marker and cut the wide portion of the wall.
Cut out the tall and skinny piece of the wall. It's about 12" high and 2" wide. Here is the entire base. Now we have to secure it.
Break up the wooden skewers and push them into the wall pieces, joing them together. Offset the walls a bit by having the taller piece a bit forward, so it looks like a pillar.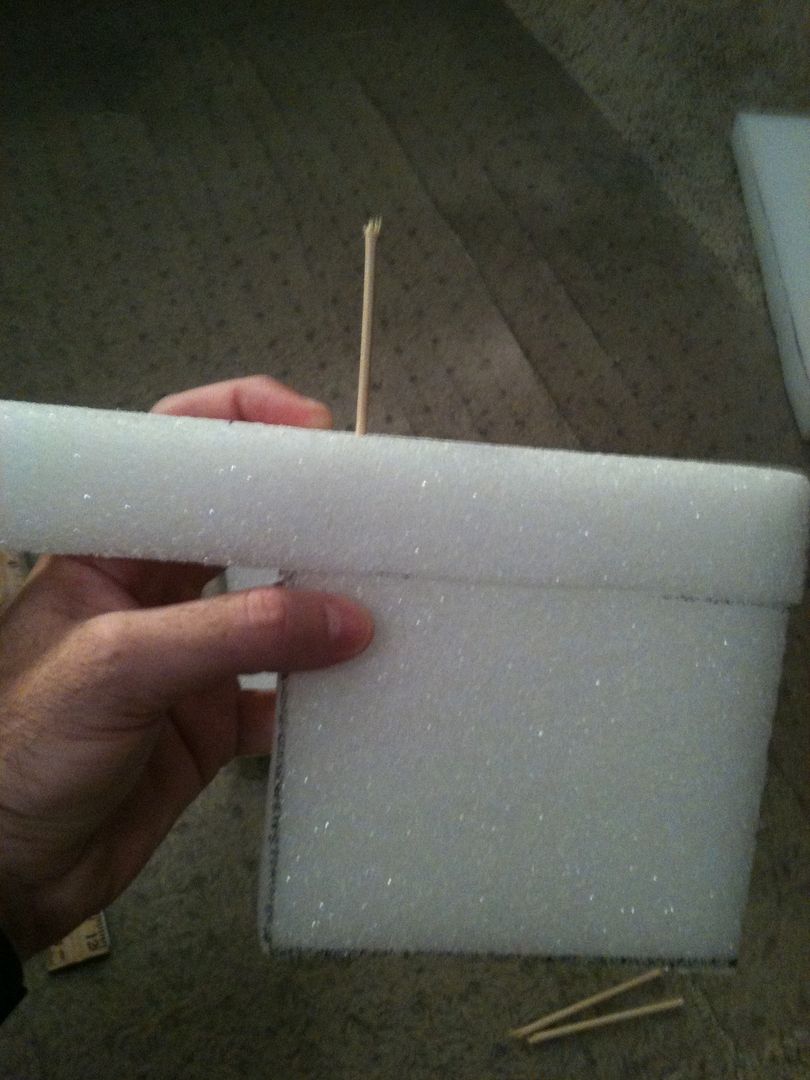 I used three pieces of the skewer. The walls are now joined.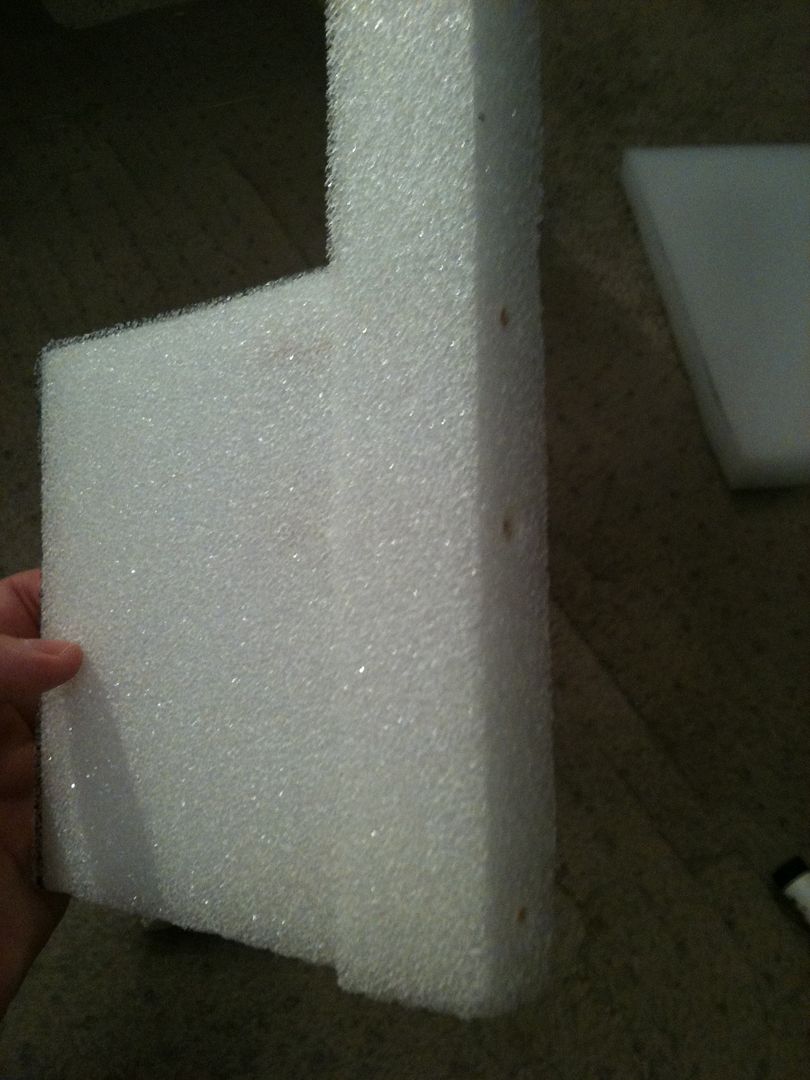 Slather a decent amount of the filler on the base portion of the dio. The dio I'm using as a reference shows that the dirt/sand is pretty deep, so I use a moderate amount. Scrape off the excess and try too make it look uniform-ish. Since I used a good amount of filler, it will have to dry for a few hours. The wall will dry in about 30 minutes.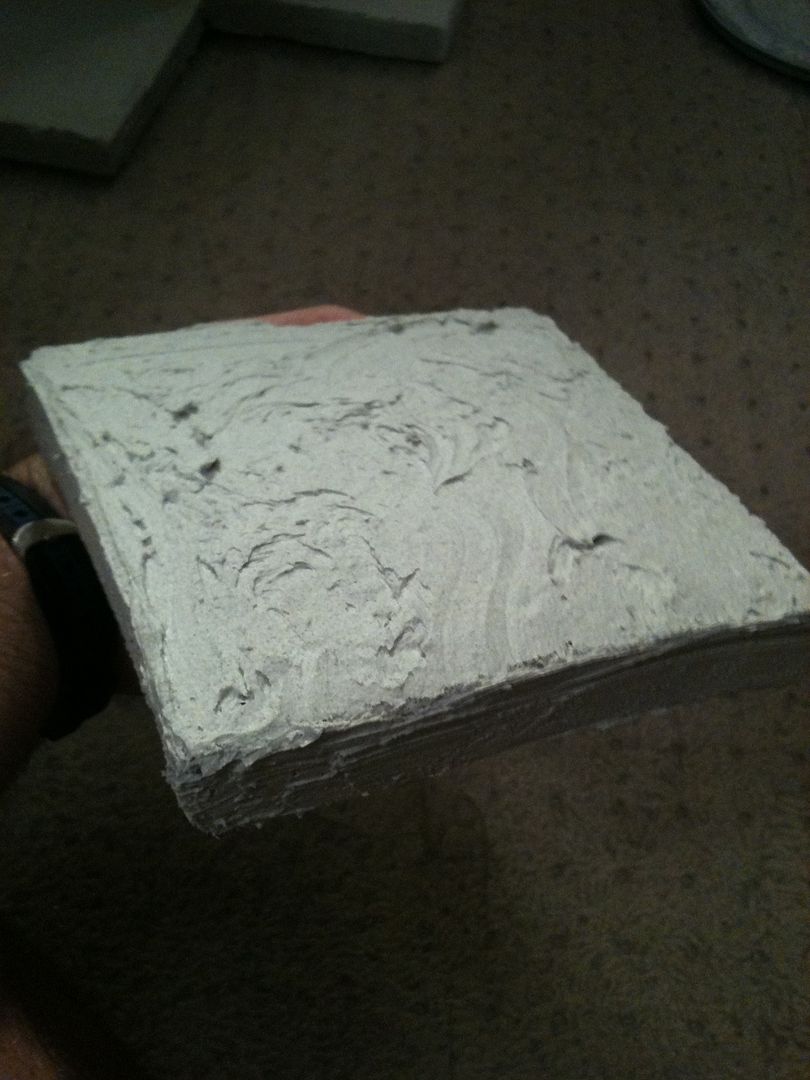 Cover the wall portions with the filler but scrape off a lot of it. Here is a pic before I scraped off the filler.
Here is the wall after I scraped off a lot of the excess. You just want enough to cover the styrofoam. This dries quickly. Once it dries, the two portions are now stuck together.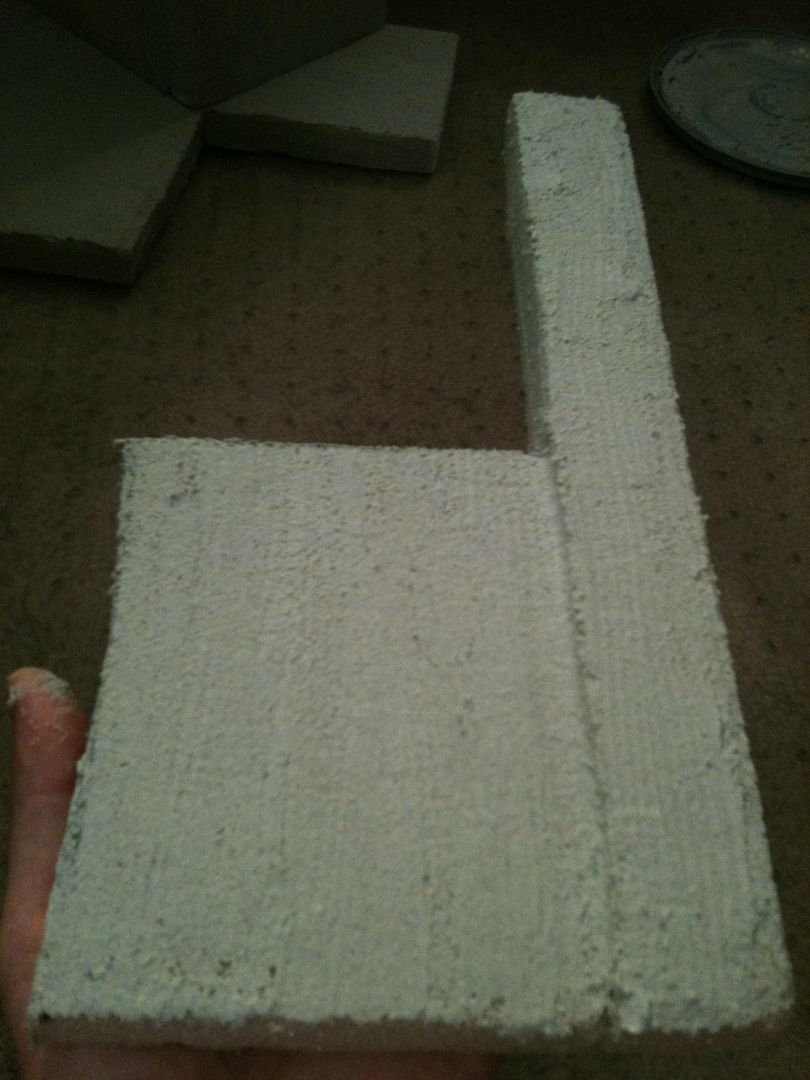 Two more wooden skewers to join the wall to the base. Do this while the base is still a bit mushy, so the wall and the base will dry on to one another.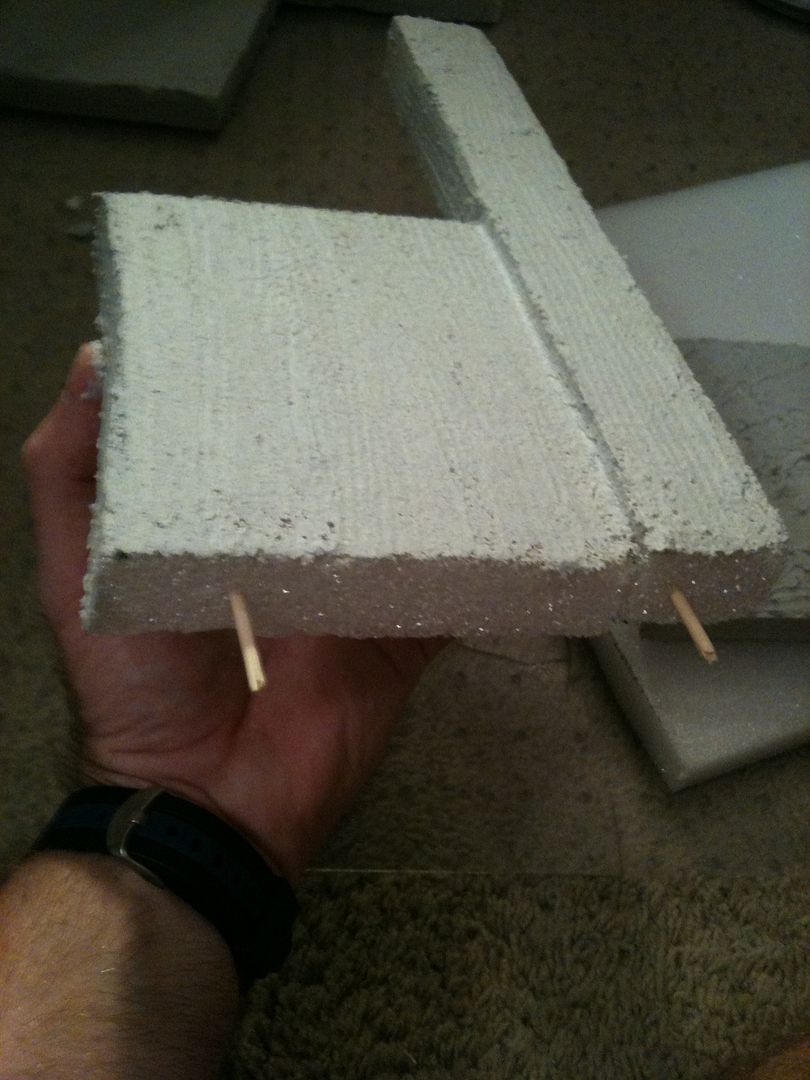 Our unpainted wall dio.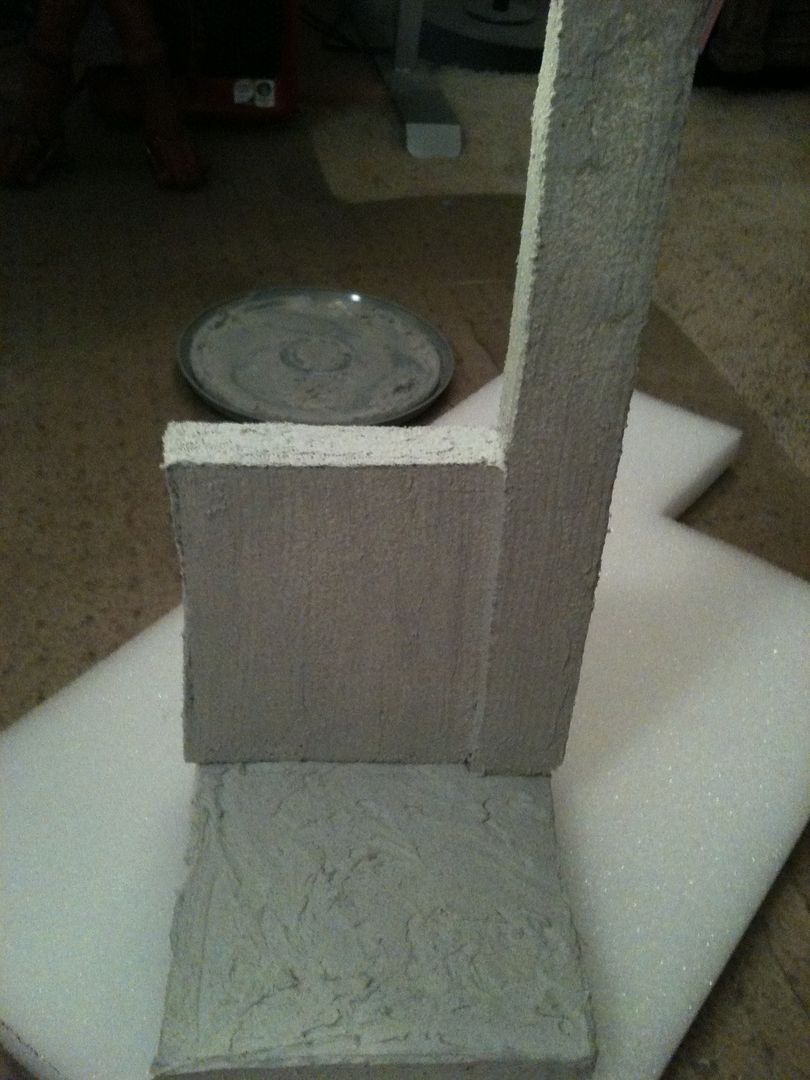 This part is optional. get some sand. It will add to the overall effect.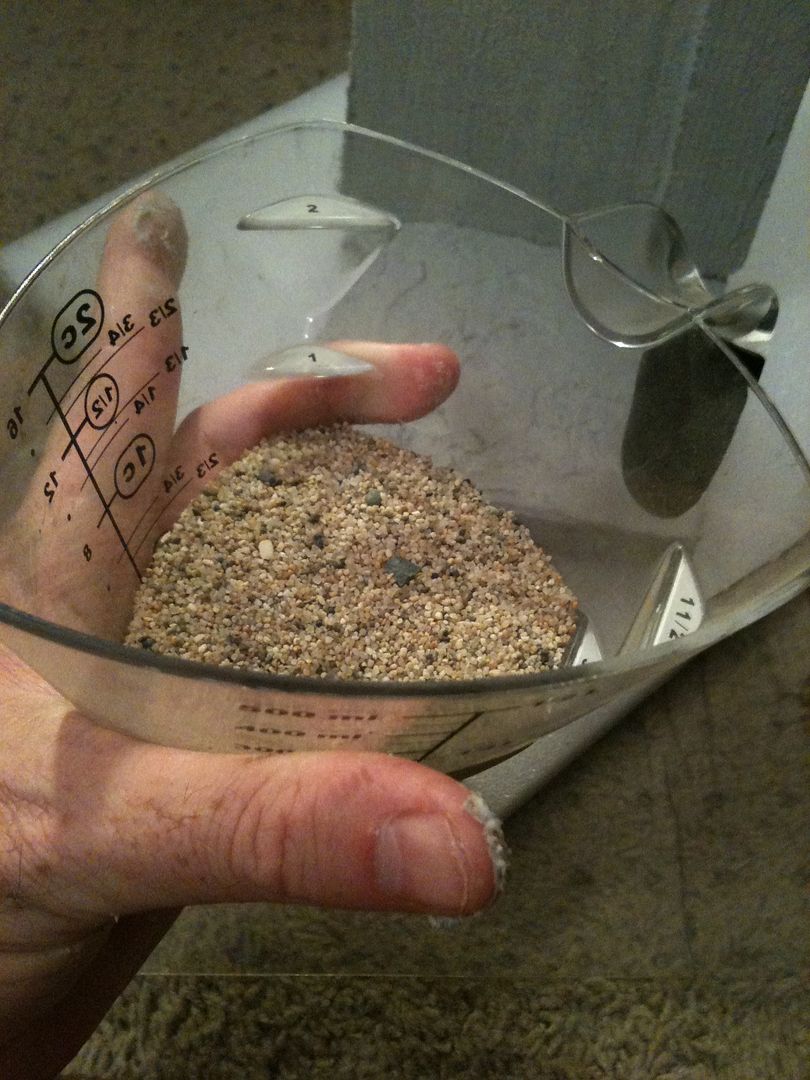 Sprinkle sand on base while it is still wet/mushy.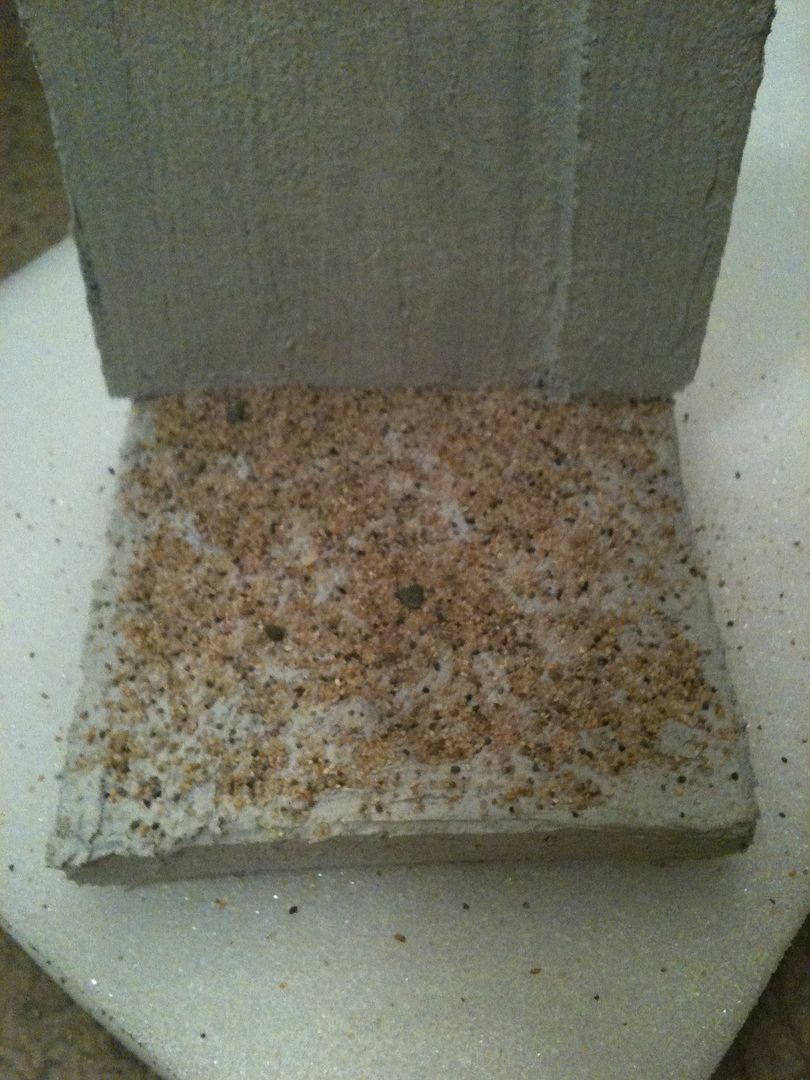 Get some spray glue. or better yet, get some elmers (white glue) and add water and get a spray bottle. Cheap, cheap. Spray the sand, gluing it to the base.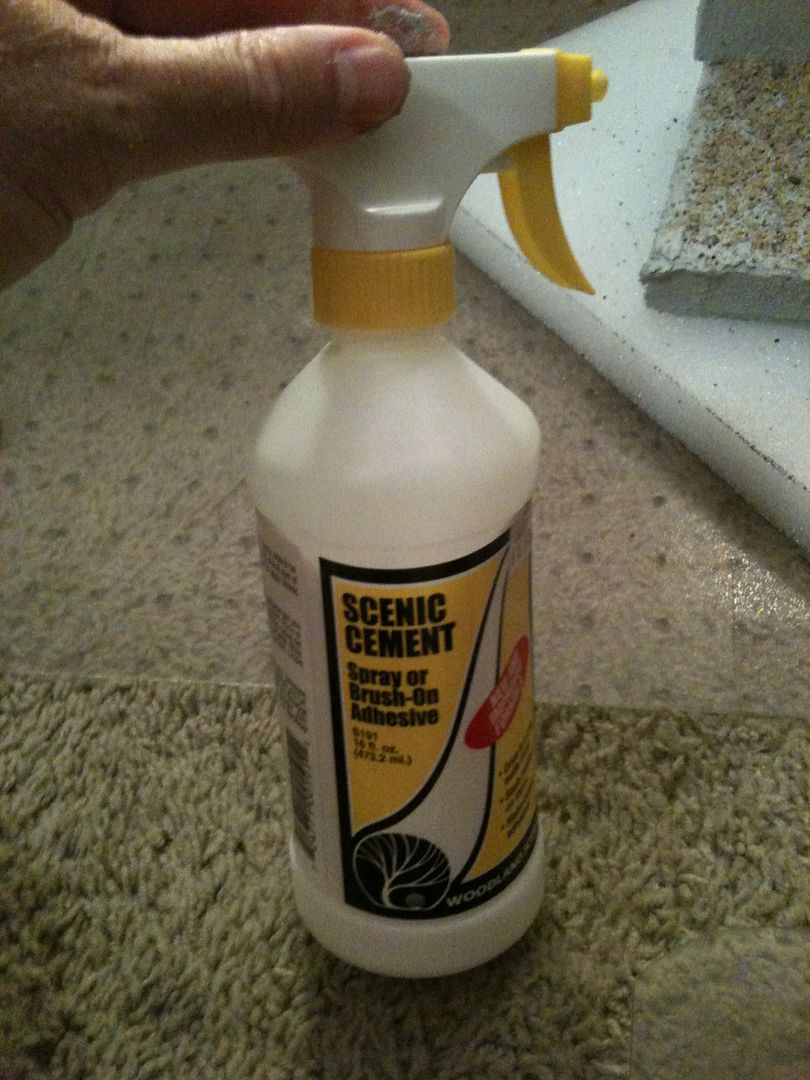 Here is the (now) dried, unpainted base.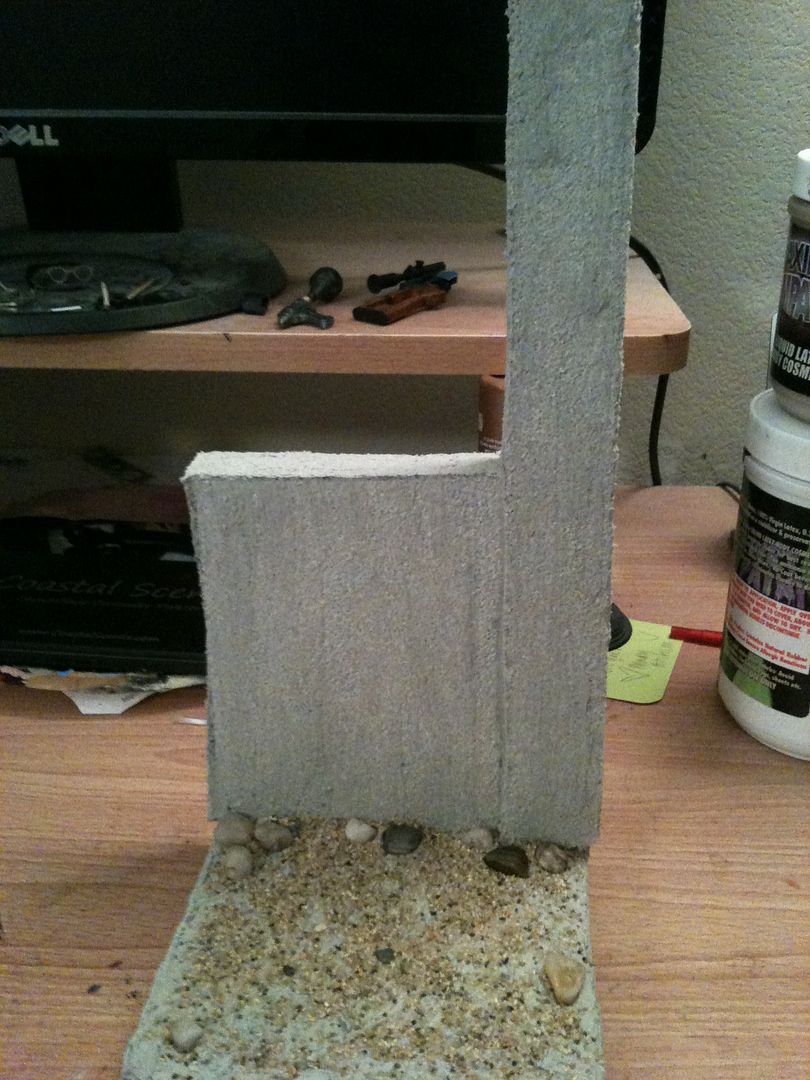 Make some indentations on the wall with the back end of a paint brush, pencil, etc.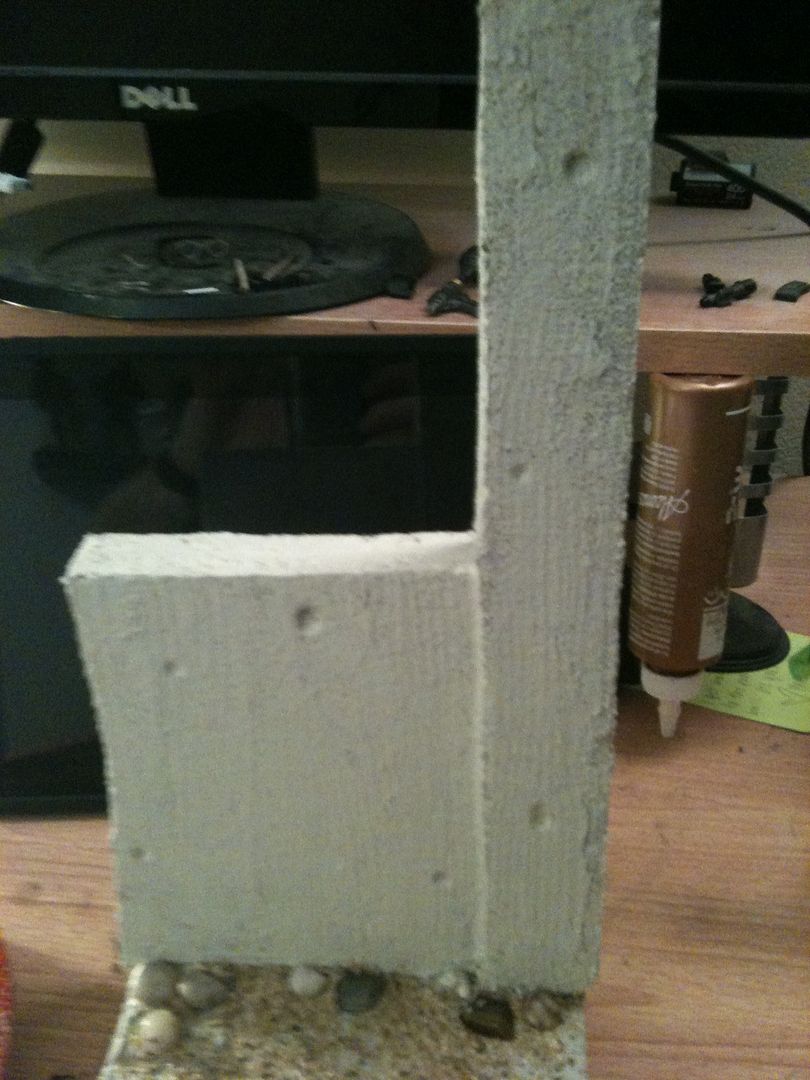 Paint the base. This took me about 15 minutes to paint. I used a white/tan/grey/and a little water mix for the base color for the wall. Then I just drybrushed the wall with some darker tan and brown. For the ground I used a mixture of "desert tan" and "cocoa" and a little water. I'm not a painting ninja, so believe me when I say it's not that hard.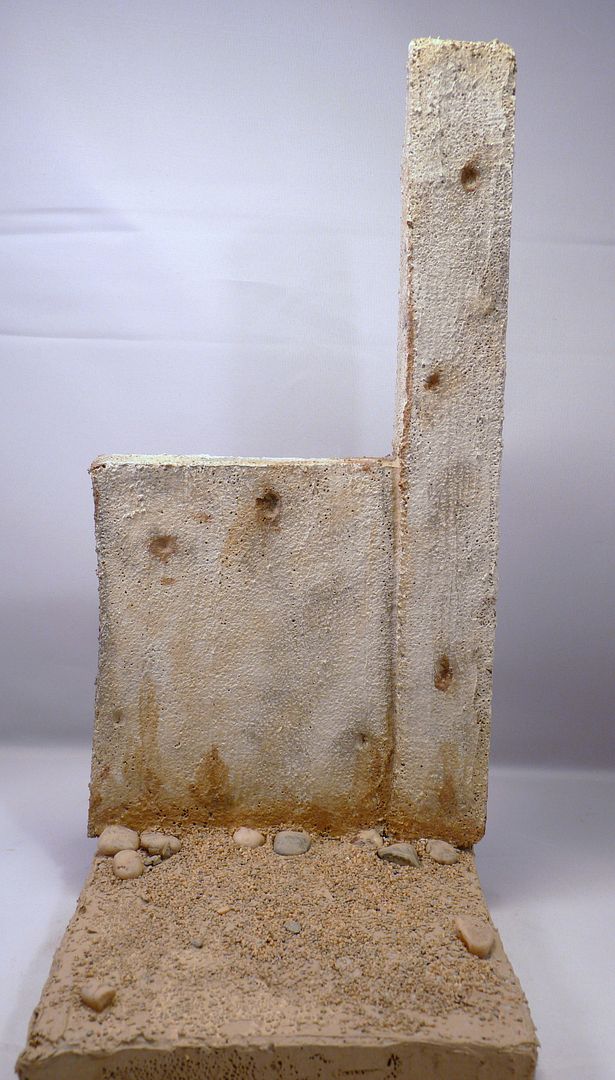 Here is the store bought one again
Now mine, with a figure on it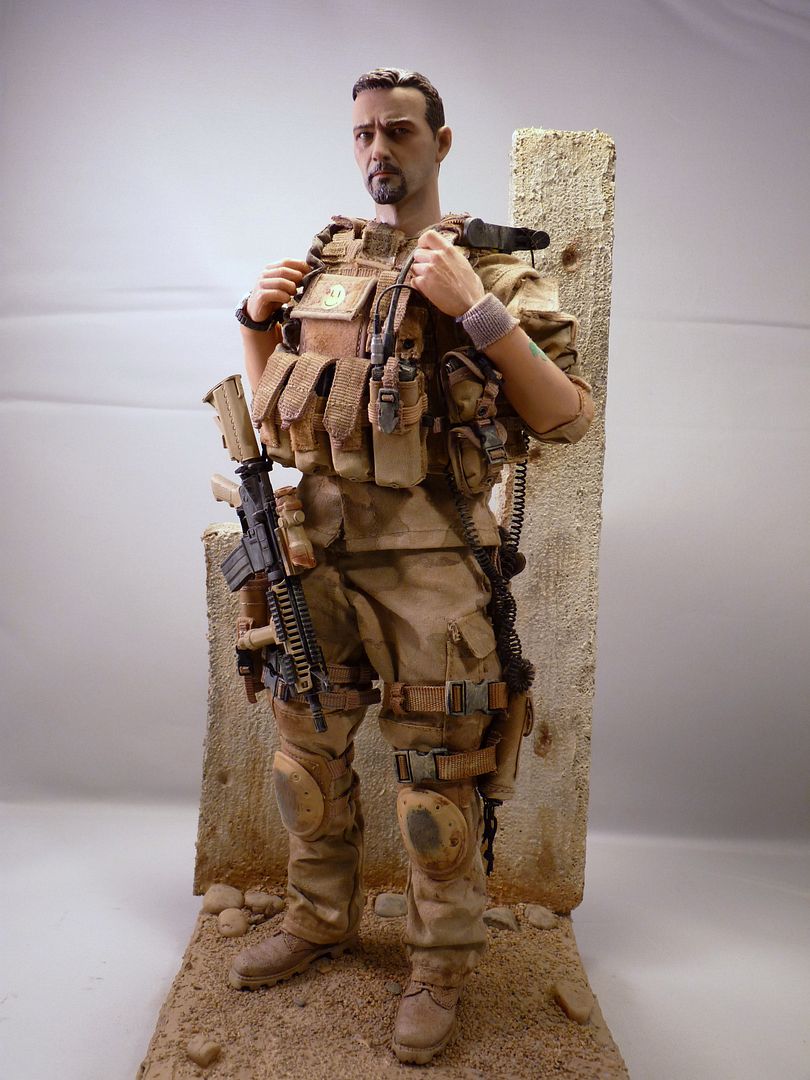 Here are some other bases I've made using the exact same method.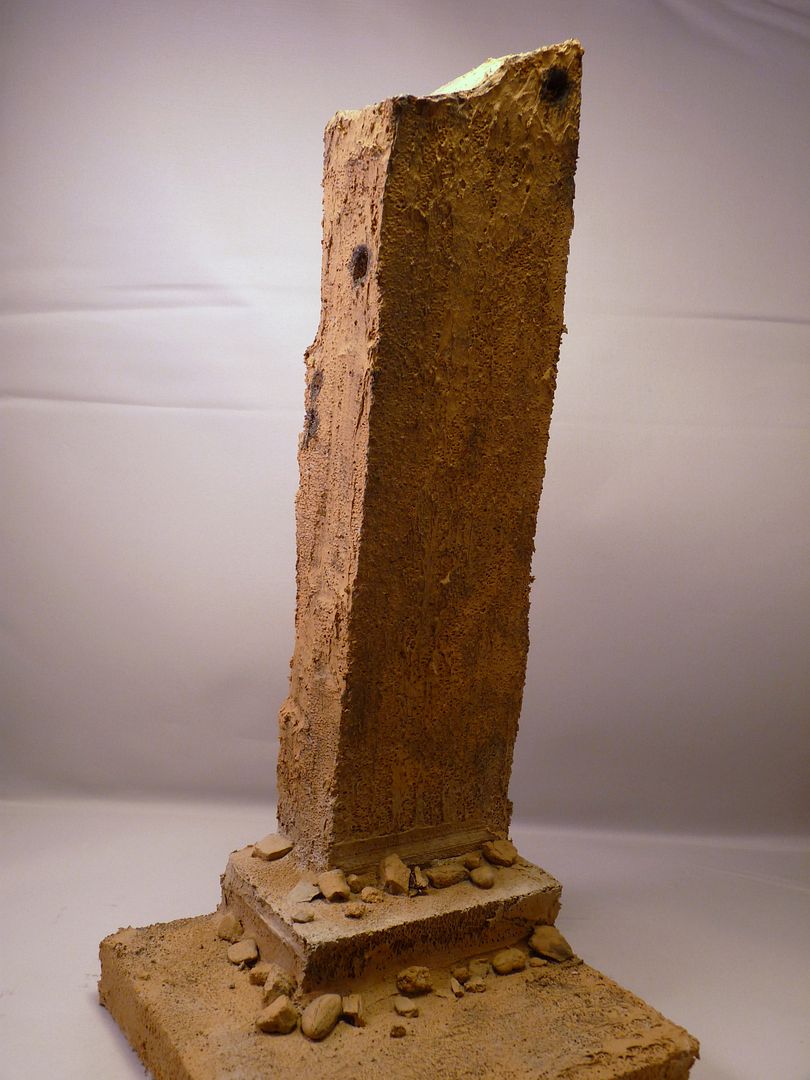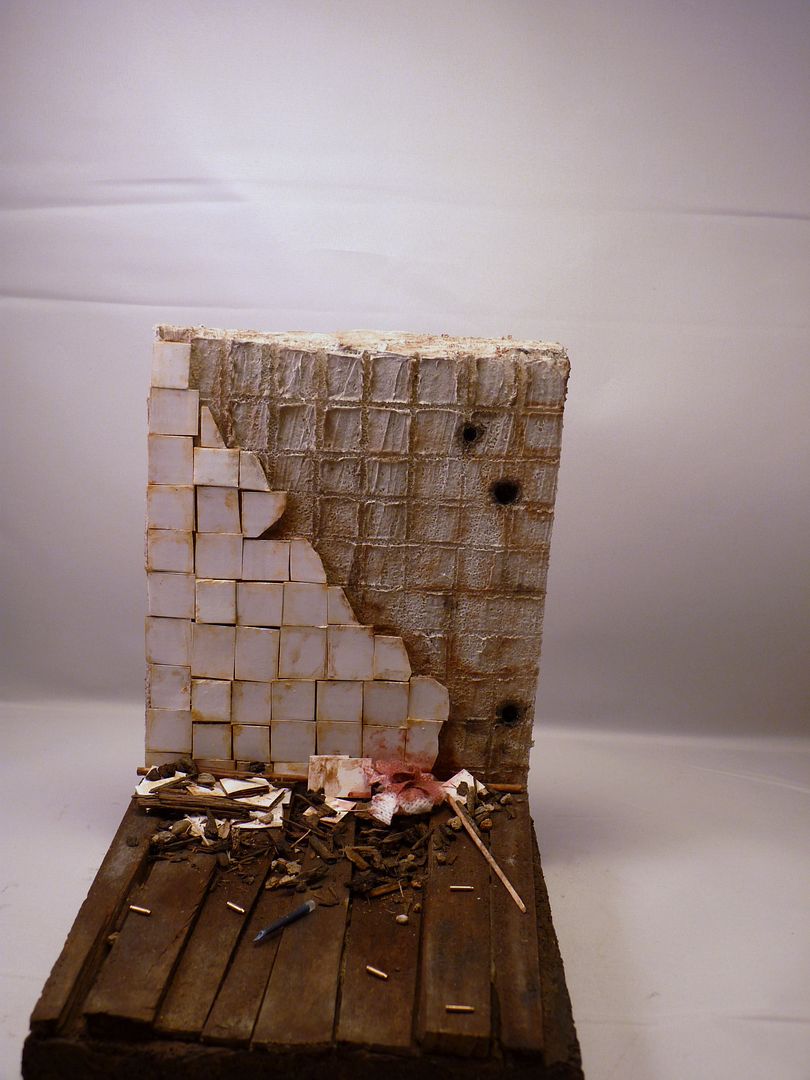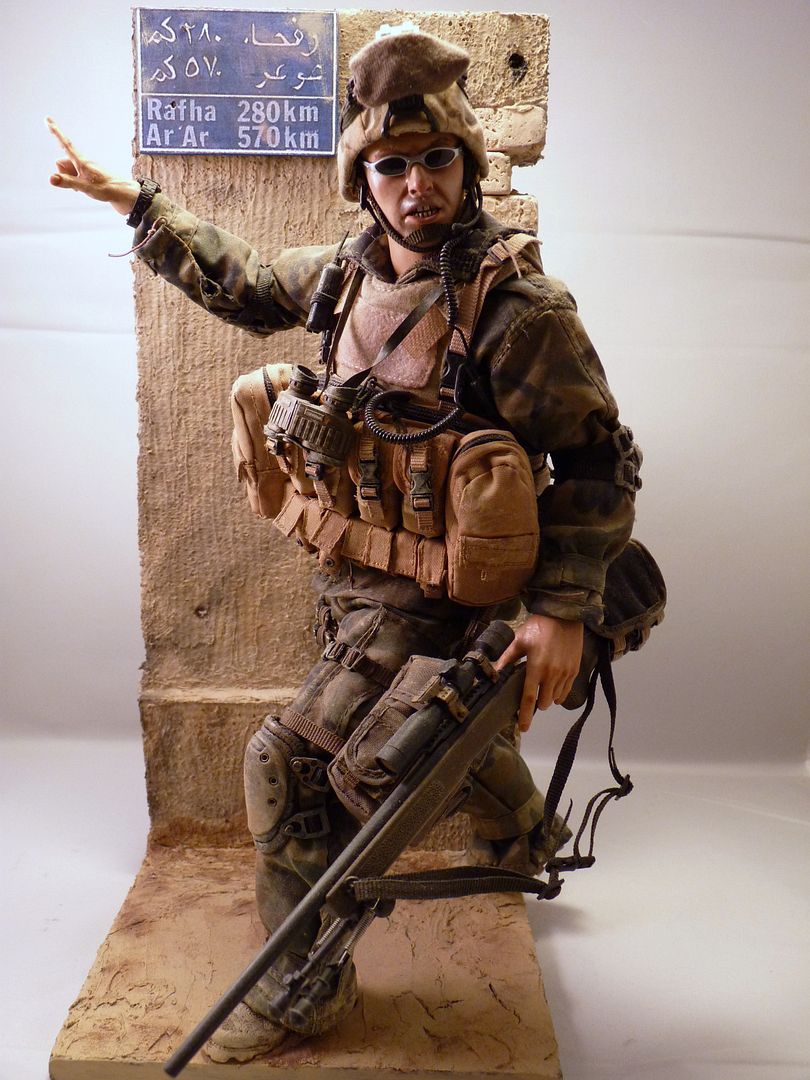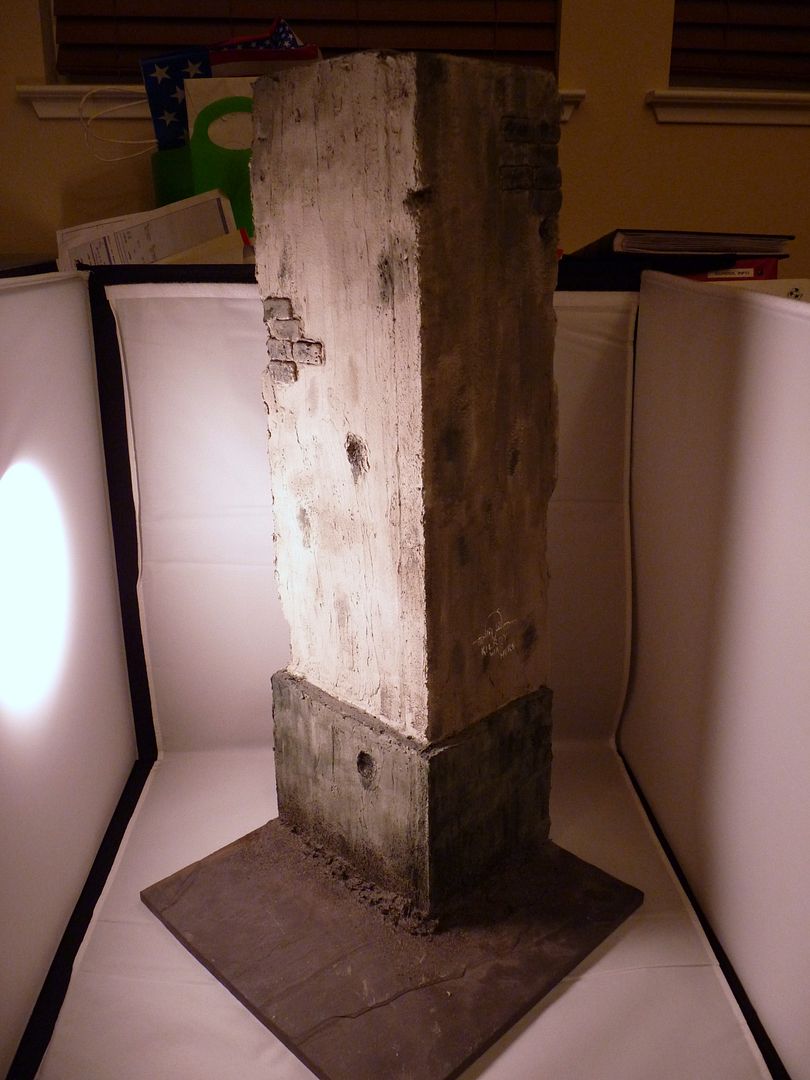 Sorry for so many pictures. It took me longer to make this tutorial than it took me to make the dio. They are fun, cheap and relatively easy to make and they add a lot to the overall appearance of your figures.
Thanks for looking and if you have any questions, please feel free to ask!
Doug