Hey all,
I am back again to show off my latest custom rifle: the
SIG Sauer SIG-551 SWAT with a Surefire M500 handguard
. I have had this one planned for some time now, and finally found some time yesterday to build her. I had initially planned to give her a GL-5140 40mm grenade launcher as well, but decided against it in the end.
The base rifle for this build is the Intoyz SIG-551, while the M500 was cannibalised from the Art Figures SWAT M4. Construction was rather straightforward: First I replaced the scope with a picatinny rail in order to give her an Eotech. Next, I discarded the crappy little mags and modded the one shown from a G36 mag. If you look closely (particularly in the 1st pic), you will see that I have even added the spring to the mag. The bulk of the work, however, was on adding the M500 to the handguard. After removing the light from the M4, it was shaved down to fit the SIG and glued into place. The light/laser combo seen on the LHS was also removed from the M4 and added to the SIG. Meanwhile, the switches on both sides of the handguard were scratch-built from strips of styrene. With all of that done, I gave her a lick of paint, opting for the green to help her stand out a little from all of the black rifles I have in my collection. I still need to give her a little light weathering, but otherwise, she is pretty much done.
Intoyz SIG-551
Art Figures SWAT M4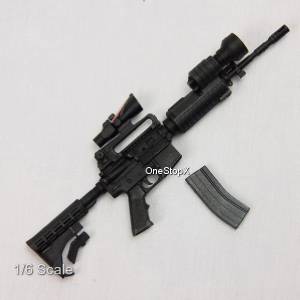 As always, your thoughts, comments, suggestions, and constructive criticisms are welcomed.