Discussion Starter
·
#1
·
Sorry for my English.
This figure represents an officer of the Queen's OWN Highlanders (Seaforth & Camerons) (Reference:
http://www.qohldrs.co.uk/html/colours_parade.htm
)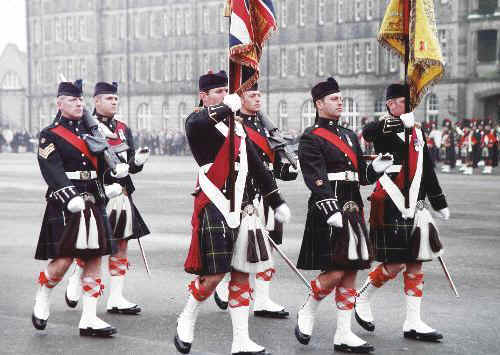 I have always commented that the reason for making modern British is because I like as regiments have managed to preserve their traditions of years, with its characteristic elements. In this case some of those elements are the kilt, sporran, glengarry, the sword Basket-Hilt,...
The figure:
DID: nude (modified and painted legs), gloves, shoes, gaiters(painted and modified to fit better), socks (with red ribbons), kilt (modified the tartan)
The head is a sculptor from Hong Kong named Mayling Chan. I have painted.
The glengarry is custom (purchased on eBay), Tony Barton badge, tie and hackle custom.
The belts and straps are custom. They are of leather. The buckle is custom (tin, wire, putty and a modified badge Tony Barton)
The badge chest is made with several badges and tin. Medal with a badge of Tony Barton modified.
The red ribbon crusade, DML.
The Sporran is also custom (a doll hair, tin, velvet, wire, chains ...)
The Basket Hilt: It's made on a sword DID. The area fist is made of tin, wire, cloth and putty. The merged with putty and wire.
The jacket. It was the most complicated, first find a material whose color was the closest thing to green "Arché," then the realization of the jacket made by my mother. Once I made it I added buttons, patches of the neck (I had done a colleague on behalf of another forum, Unforgiven5150) and the sleeve (ITPT). The shoulder is made with three intertwined threads and buttons bearing ITPT brooches and Tony Barton.