On June 30th, 1853, Brigadier General John Buford rode into the Adams County, Pennsylvania, town of Gettysburg with two brigades of the 1st Cavalry Division and the 3" Ordnance Rifles of Battery A, 2nd U.S. Artillery. Assessing the lay of the land - partly from the cupola of the Lutheran Seminary - it was Buford who determined that "this is good ground" for the Army of the Potomac to defend against the Army of Northern Virginia's invasion of the North. Buford set up his vedette posts west of town, and correctly planned for his heavily outnumbered brigades to fight a delaying action that would allow the various Corps of infantry to move up and stop the gray onslaught. As an old soldier, Buford would plan and fight THE classic cavalry engagement of the war, successfully screening the Army of Potomac's movement and strength from Lee's Army, and causing the advance elements to re-group and deploy, a time consuming effort that allowed General John Reynolds to bring up the 1st and 11th Corps to begin the battle in earnest.
In popular history, Buford was not recognized for this decision until Michael Shaara's novel, "The Killer Angels" became a best seller. But many of the officer's at Gettysburg recognized this, and John Buford has a statue on McPherson's Ridge West of Gettysburg, surrounded by the barrels of Battery A's cannon, one of which fired the opening cannon shot of the battle. On his monument is a plaque that reads:
"In Memory of Major General John Buford, Comdg. 1st Div. Cav. Corps, Army of the Potomac, who with the first inspiration of a Cavalry Officer Selected This Battlefield, July 1st, 1863."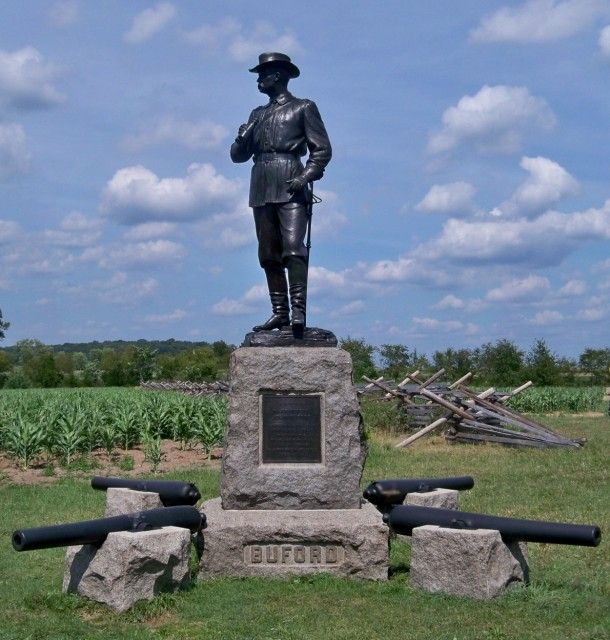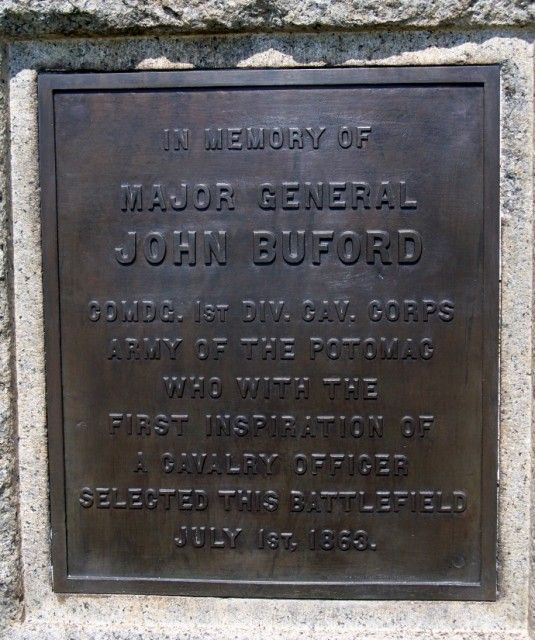 Buford is shown in the statue wearing a pleated blouse that reflects a period sketch, and the descriptions of his "sort of hunting coat of blouse effect", and "the blue hunting-shirt which Gen. Buford invariably wore in the field". The picture is completed with the description of him as "another of the plain-as-an-old-shoe soldier: wore corduroys tucked into cowhide boots..."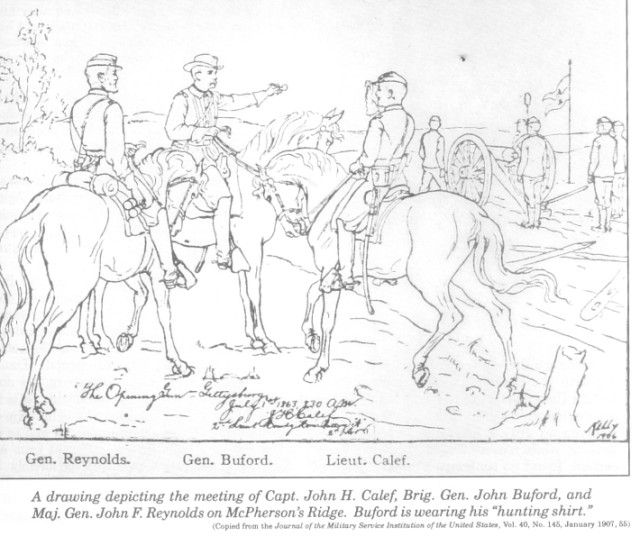 This drawing and the descriptions come from Michael J. Winey's excellent reference, "Union Army Uniforms at Gettysburg". Here is my version of General Buford and his trumpeter.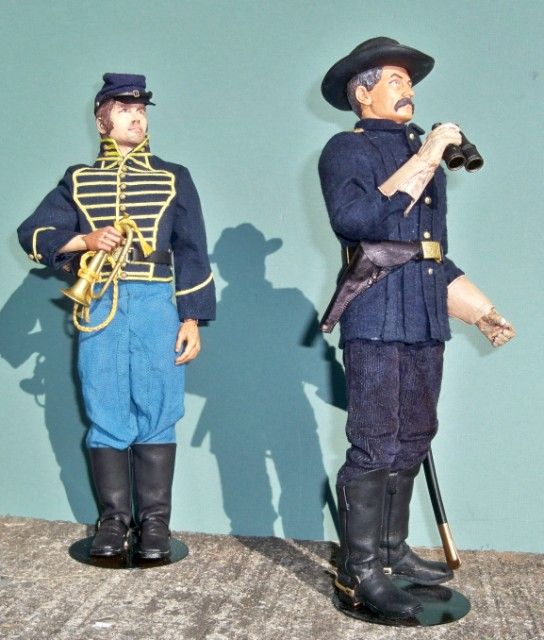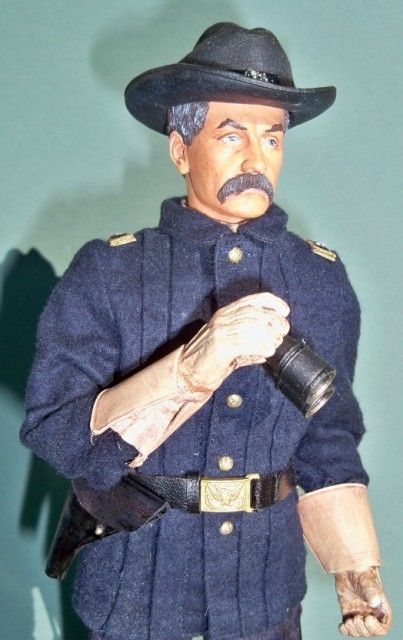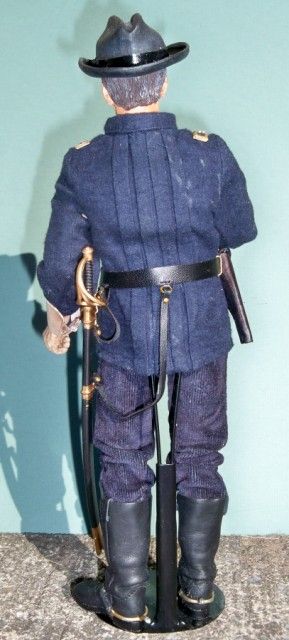 Buford is a DML hs I modified with some Apoxie Sculpt hair and 'stache - and painted his eyes gray. The blouse is made from a BGT IW/SAW 5 button blouse, with strips of material folded and glued in place to make the pleating, front and back. The corduroy trousers are from Old Joe Infirmary. Don't know if his were actually blue, but that is the look I went with. His boots and spurs are also BGT, and his belt and hat are SST. The hat is a nod to Sam Elliot's great performance as Buford in "Gettysburg". His trumpeter is also DML, with mostly BGT uniform and saber, NLM boots and a BGT belt. These figures are now also at the Lincoln Train Museum in Gettysburg, and posed with a SST 3" Ordnance Rifle and my 2nd U.S. Artillery corporal.
http://www.lincolntrain.com/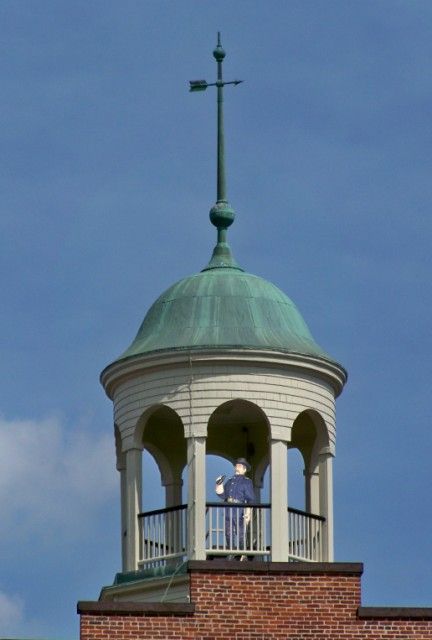 Sadly, John Buford did not live to the end of 1863. Exhaustion and illness took his life. Secretary of War Stanton held such rabid anti-Southern distrust that he withheld Buford's promotion to Major General until he was assured that the border-state Kentuckian would not survive.
For a detailed account of Buford's role in the Gettysburg campaign, I can't recommend enough that you read Eric J. Wittenberg's book, " 'The Devil's to Pay' - John Buford at Gettysburg, a History and Walking Tour."