Discussion Starter
·
#1
·
Hi guys, This might be the first real post I have done here so if I mess up I just wanted to say Sorry.
I have been pretty bored with the hobby lately but I had some time this weekend to set up some figures in the yard. I set up the area before the snow but we got a lot more than I thought (about 12") so my guys got buried with 6' of scale snow but I figured it would be cool to snap some pics anyway. Here are 5 pics I aged with Photoshop CS4 and a great plug in for aging pics. My yard is very small about 27 x 12 so I had to also photoshop the back drops in. Usually I would invite some of they guys by but this was short notice and my PC was down until Friday so I couldn't send out an invite. The MG bunker, Flak bunker Guard Tower and small cafe/building are all scratchbuilt. Everything but the tower is made from the pink foam painted with exterior grade paint I have mixed to resemble concrete.
The pics are of a small stronghold after a major storm. I have about 25 more pics I'll post after I photoshop them.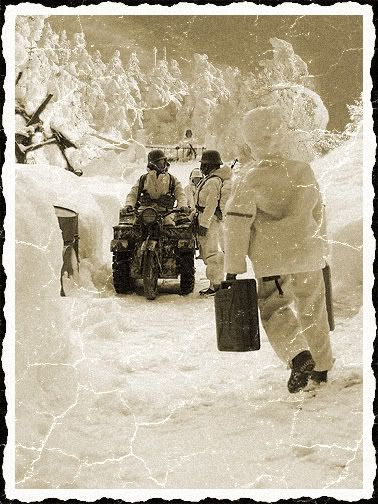 Here is a pic of the yard from my second floor window so you can see how small it actually is and what I have to work with. If I had a larger area I really could go nuts!
I hope you guys enjoy the pics.
John