Discussion Starter
·
#1
·
NEWS FROM THE FRONT
Lots of new Made In The USA (and Canada, Brazil, Spain, and France) projects in the pipeline. Will be spacing them out as the weeks and months progress. Super excited to be able to get more items made by people and less from factories. Yes, the price is a little higher, but the fact that we're supporting a smaller local economy goes farther, in our book.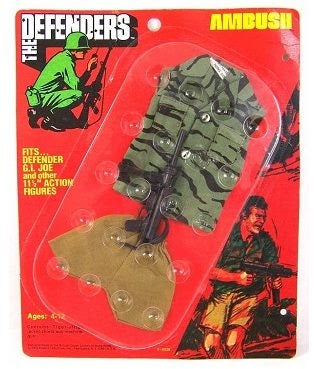 BLAST FROM THE PAST
The Defenders: Ambush Uniform Set
Released in 1975, the set includes: Short Sleeve Shirt, Shorts, and Sub-Machine Gun.
BUY NOW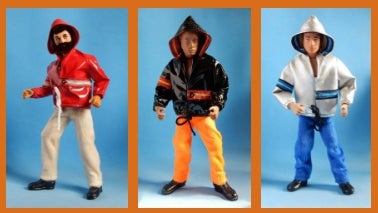 WEEKLY SPECIAL
Louco Por Bonecos Hooded Jacket & Pants Set (choice of Red, Black, or Silver)
On Sale for $22.39 Each (Regularly $27.99 Each)
Click
HERE
for details.
Offer Expires: September 27th, 2017 at 6:00 pm (central). Cannot be combined with any other special or discounted pricing. Sorry - No Backorders or Rainchecks.
​
[HR][/HR]
NEW PRODUCTS ANNOUNCED!
[/FONT][/COLOR]
INCOMING!
[HR][/HR]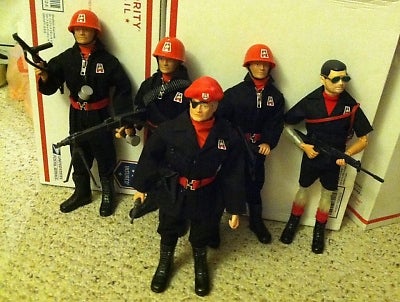 CUSTOM FIGURE OF THE WEEK
Adversaries Squad by Jay Greenough
I took some time to make a cohesive unit out of my Adversaries. I think they came out pretty good. I used a GI Joe club man of evil as the commander. The rest are all "Vince" heads. I wanted to have a joe foreign head looking clone army. The weapons are all European types, lugers, sterlings, MG42 and a knock off FAL.
For larger picture, click
HERE
.​