This diorama portrays a scene from the film, "She Wore a Yellow Ribbon", which most of you, by now, know is my personal favorite. In this scene, Captain Nathan Brittles (John Wayne) has just brought "C" Troop to Sudrow's Wells for the relief of Sgt Tyree (Ben Johnson) and the Paradise River Patrol who have been under attack by a band of Arapahoe warriors. Tyree reports to the Captain that "Ma and Pa Sudrow" have been killed, but their children are safe. After Brittles examines the couples bodies, Tyree asks him to see Trooper John Smith (Rudy Bowman), who has been wounded in the skirmish. They walk over to where Smith has propped himself up against a post.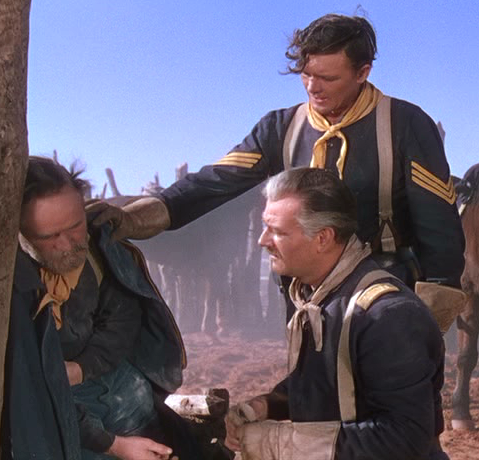 Sgt. Tyree:
Sir, would you take a look at Trooper Smith?
Pvt. John Smith aka Rome Clay:
[mortally wounded] Don't bother about me, Captain. Trust you'll forgive my presumption... I'd like to commend the boy here... for the way he handled this action. In the best tradition of the cavalry, sir.
Sgt. Tyree:
[to Pvt. Smith] I take that very kindly, sir.
Pvt. John Smith:
Captain Tyree! Captain Tyree!
Captain Nathan Brittles:
Speak to him.
Sgt. Tyree:
Thank you. [comes to attention] Yes, Sir. Sir! Sir!
Captain Nathan Brittles:
[realizes that Smith has died] I'm afraid he can't hear you, Captain.
That night, as the troop buries the dead, a contingent of former Confederate soldiers pays honors to Trooper Smith with a small Rebel battle flag made by their commanding officer's wife. It is here we learn his true identity, and why he referred to Tyree as "Captain".
Captain Nathan Brittles:
I also commend to your keeping, Sir, the soul of Rome Clay, late Brigadier General, Confederate States Army. Known to his comrades here, Sir, as Trooper John Smith, United States Cavalry... a gallant soldier and a Christian gentleman.
Rudy Bowman as "Trooper John Smith" (aka Brig. Gen. Rome Clay, CSA)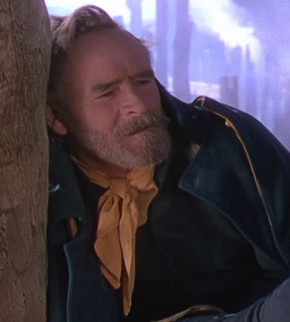 Here is what I did with the scene: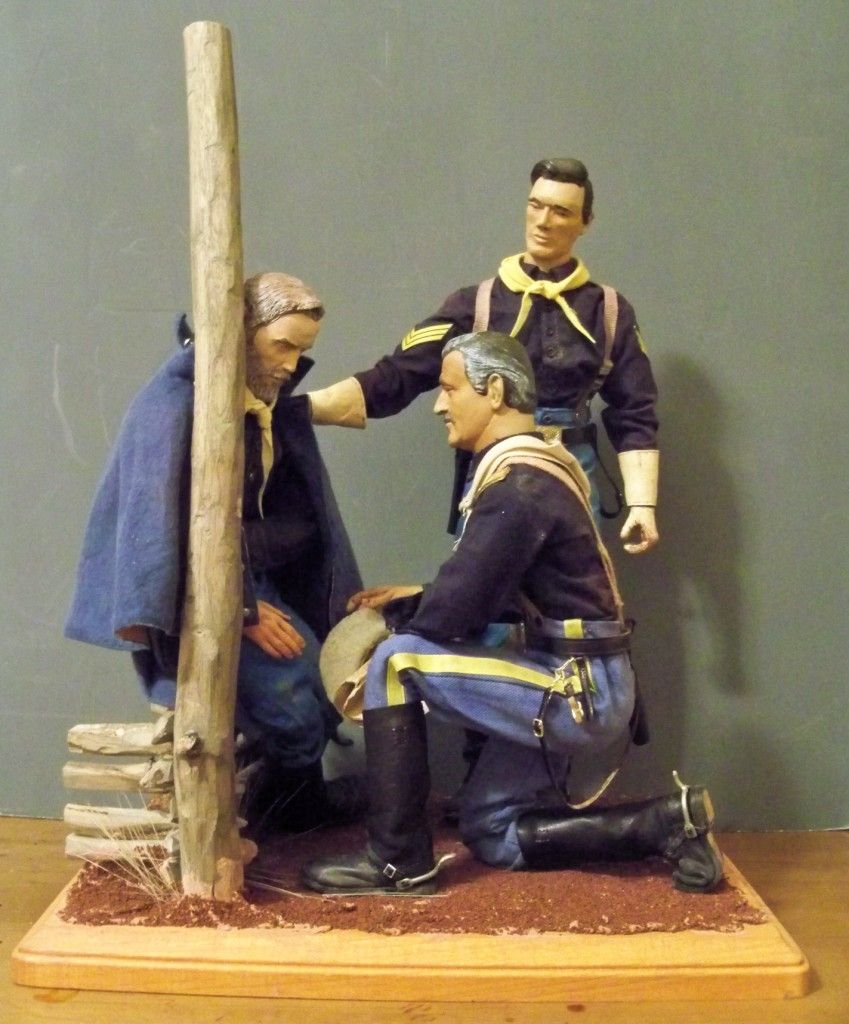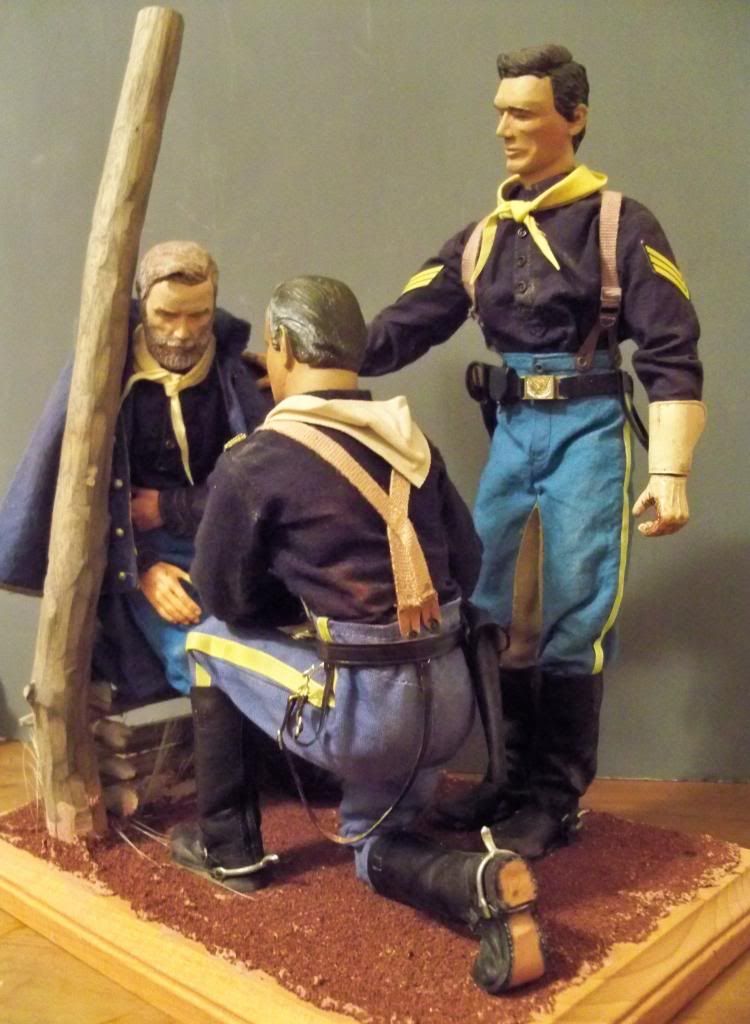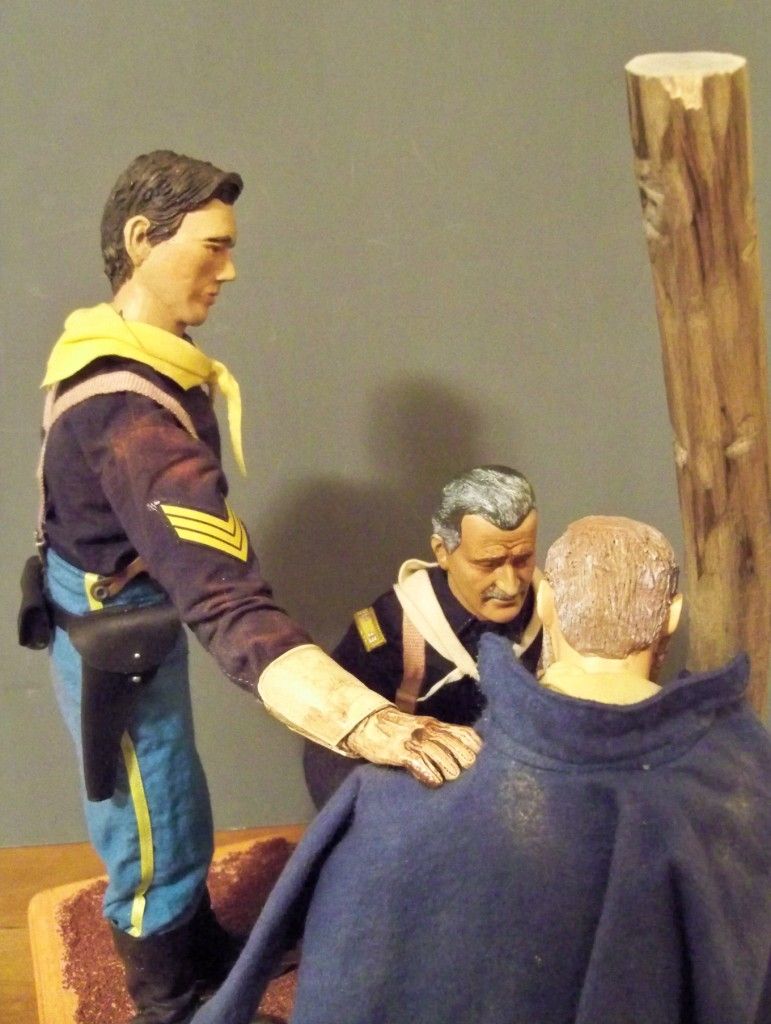 I selected this scene for a diorama some time ago, and did most of the groundwork this summer. It was set aside to finish the "Wagonmanster" figure I did for Paula, the woman who created the fantastic website devoted to Ben Johnson.
https://benjohnsonfanpage.shutterfly.com/
After finishing the figure, I did some more surfing on her site and found a reference to "heroic" Rudy Bowman teaching himself to speak after a terrible throat injury. I already knew the name of the actor, so I did more searching and found a 1949 Reader's Digest article Paula had posted telling Bowman's story. He suffered the throat injury as a soldier in World War I and taught himself to speak using "grunts". Thirty years later, John Ford found a speaking part for him in "Yellow Ribbon". Here is a link to the article - it is worth the read:
https://benjohnsonscreencaps.shutterfly.com/memorabilia/687
I am indebted to Paula for her work, which gives this diorama that much more meaning to me. My estimation of her devotion made me decide to build her "Travis" figure, and karma has repaid me in kind. Hope you like them, and thanks for looking!