The Sideshow Toys WWI "Bayonets & Barbed Wire" series of figures was another wonderful product put out by SST. Their Peter Jackson Collection included figures of American, British, German and French soldiers, and I started buying them several years ago. Eventually I was lucky enough to find the US Army Doughboy and General John "Black Jack" Pershing at reasonable prices. After upgrading the Brotherhood of Arms CW figures, the B&BW boys got the treatment, and yesterday I finally got the last parts needed. Here are the results. I do have the German figures, but for now, I'll stick with the AEF (American Expeditionary Force).
The upgrades include re-painting the helmets, with a textured surface added. The Officer's needed a new chin strap, which was made from leather. The Army tunics all got BGT buttons, painted brown for the darkened bronze. The web gear, including the gas mask case, all got lift-the-dot fasteners, and the plastic SST canteens and first aid pouches were replaced with DiD cloth versions. Bayonet scabbards (on the packs) were covered with cloth and leather tips. The weapons were all re-painted, with wood grain stocks and blued metal. The Model 1903 Springfield Rifles (my favorite version that I've found) had finger grooves added to the fore-stocks, and BGT slings. The figures with puttees got new Battlegear Toys versions. I extended these by buying extras and using half of one to lengthen another to cover the long SST legs. I decided not to weather any of these figures. There will be other WWI figures, and they will get the full treatment.
First up is the 5th Marine Private, wearing his forest green tunic and trousers. I don't have a source for USMC buttons, so I left the SST ones.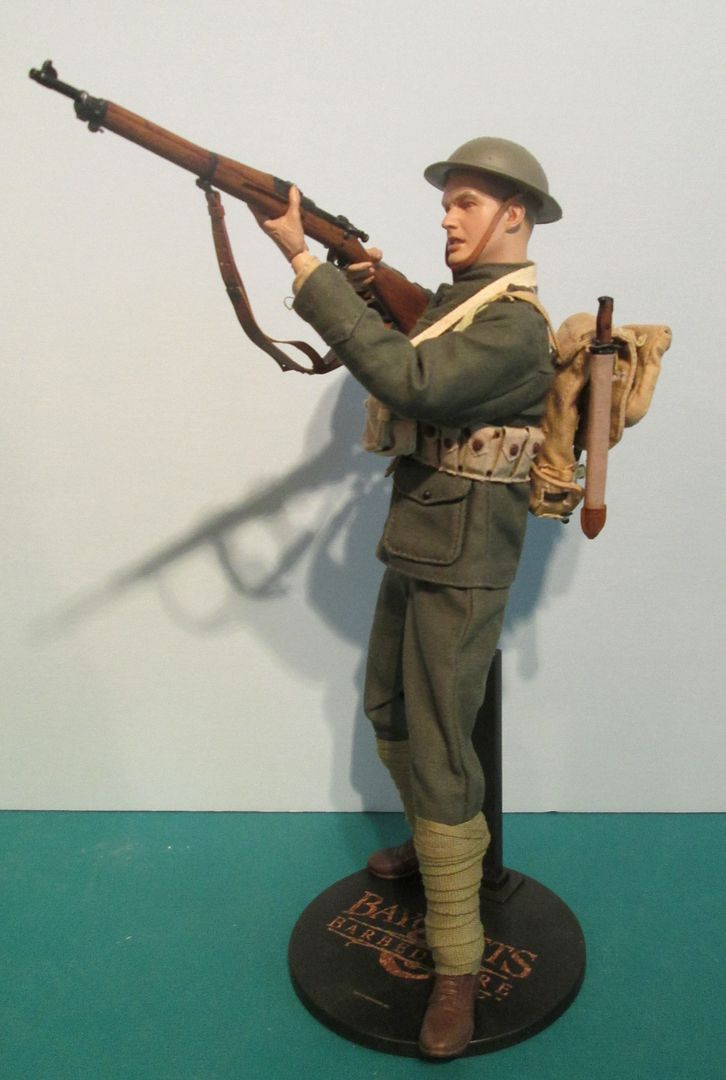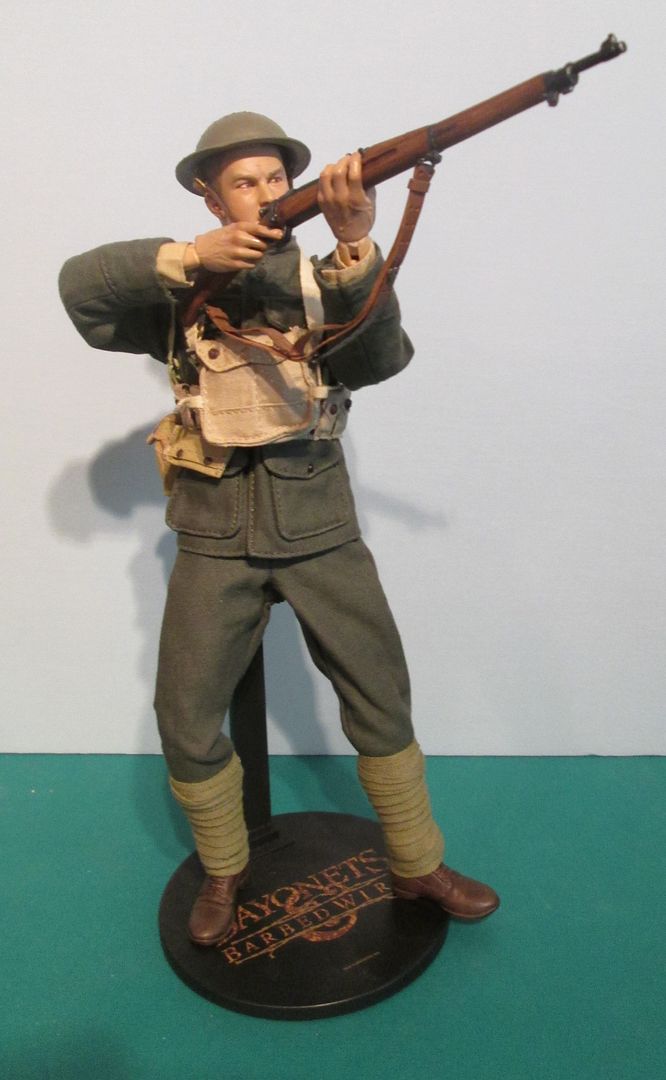 The AEF Infantry Private is a very cool and I like him better than the DiD Buck Jones, except for the lack of detail necessary to keep the cost down. I may stuff his extra cloth bandolier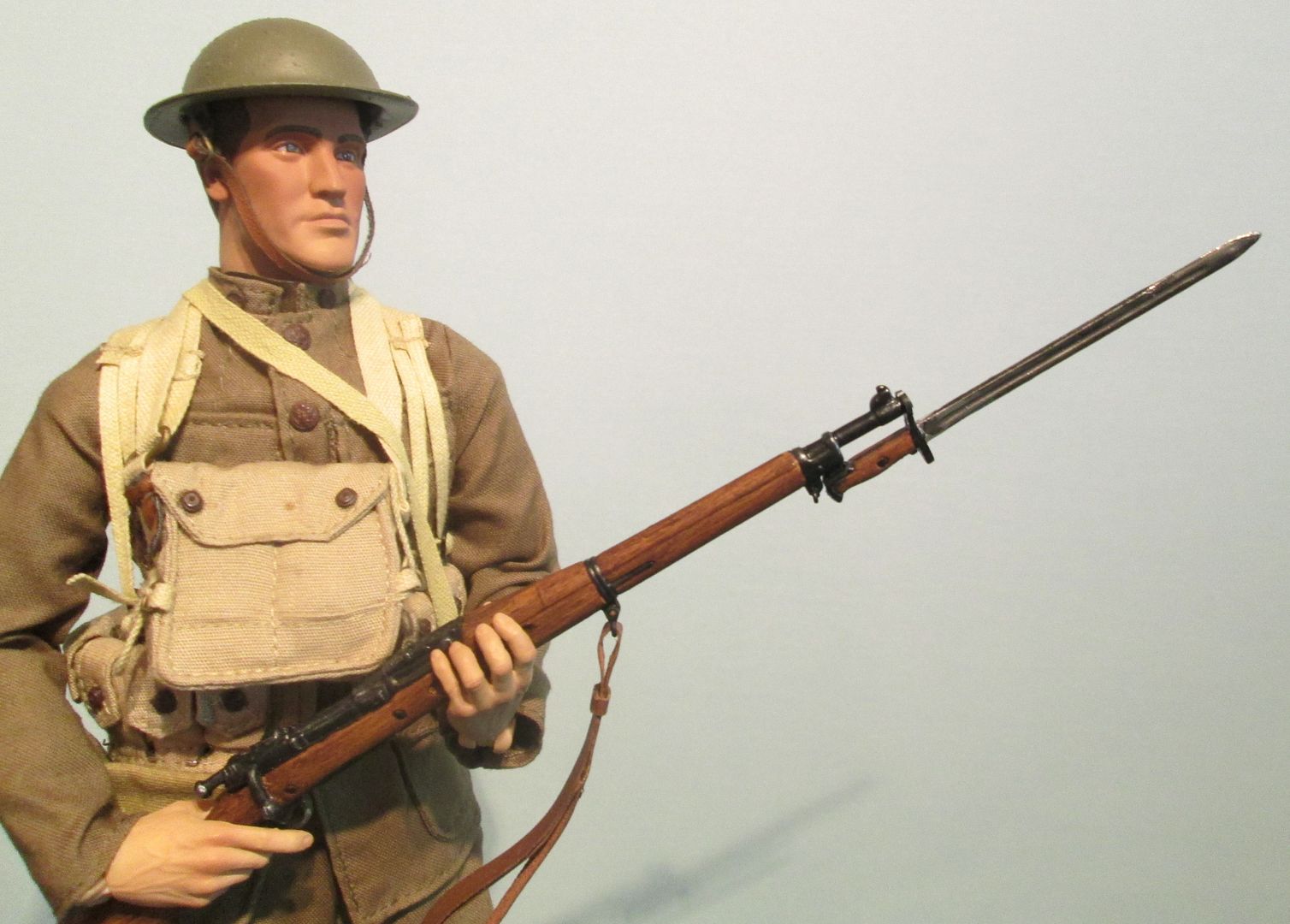 The AEF Officer, with his Lee Marvin mug, got the standard upgrades. Trench coats and walking canes were as much fashion statements as anything. I love that he came with a whistle for taking his men "over the top"!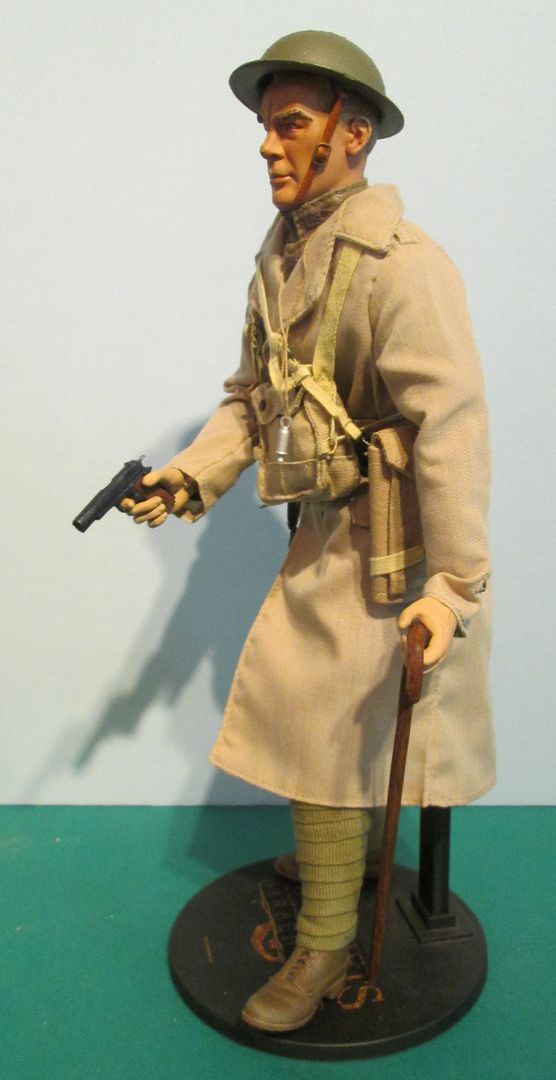 Black Jack Pershing was an unexpected treasure. I think his hs is the best of any of the SST historical figures. He got new buttons, but I also added a DiD Sam Brown belt (with new hardware to match the buckle) and new leather spur straps. I'm sure he had a captain to carry his case, but it was a nice piece, so he kept it.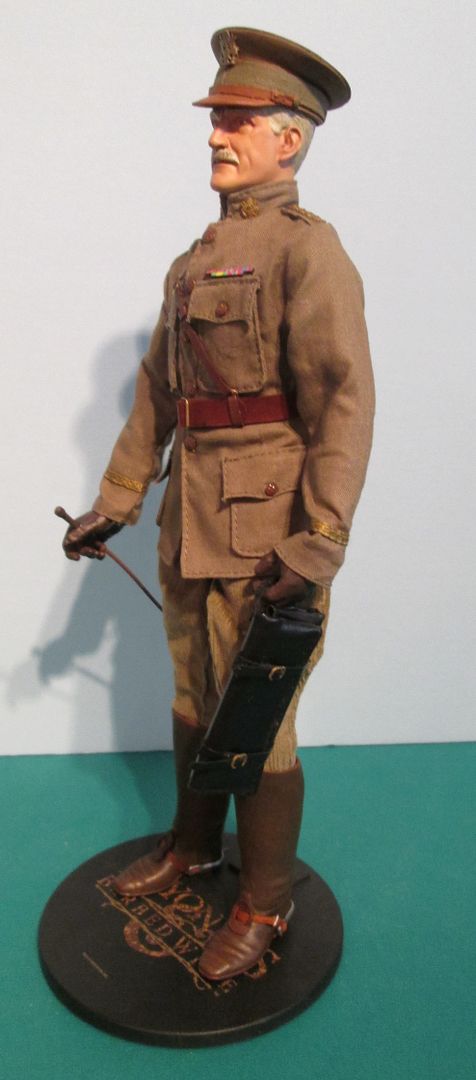 Finally, we come to Captain Eddie Rickenbacker. He was a race car driver and ended up as Pershing's driver. After convincing the Army he wasn't too old to fly, he became America's highest scoring ace in WWI. I promoted him from lieutenant to captain, and added some modified DiD cavalry boots, from their Patton figure. I cut off the sections with the three buckles and straps and painfully added eyelets all the way up. I extended the tongue and laced them up. I love the photo of him leaning on his plane, but that was too much, so I substituted a GI Joe German part, after dirtying it up some more. I made a Medal of Honor for him, but learned that wasn't awarded until 1930.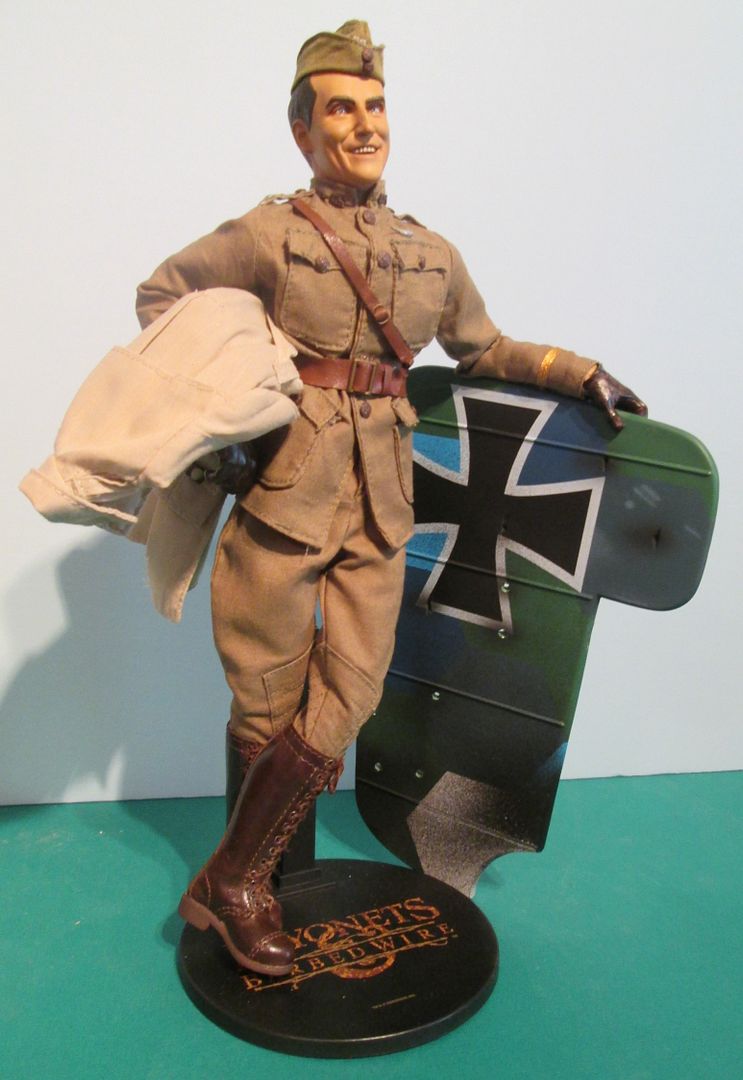 And here they are, all together at last!