Discussion Starter
·
#1
·
"RIO GRANDE" - Kirby, Kathleen, Jeff and the "Reluctant Arsonist"
In the movie "Rio Grande", John Ford creates the third in his "Cavalry Trilogy". The movie was actually made as part of a deal with Republic so Ford could make his beloved project, "The Quiet Man".
The film tells two tales, that of the U.S. Army battling Apache raiders who cross the Rio Grande into Mexico where the Army cannot follow. It also tells the story of Lt. Col. Kirby Yorke (John Wayne), who learns that the son he hasn't seen in fifteen years, Jeff (Claude Jarmen Jr.), has failed out of West Point. Then Jeff appears as an enlisted recruit under his command. Then Kathleen Yorke (Maureen O'Hara) appears, to buy Jeff out of the Army, only to face the opposition of "Ramrod, Wreckage and Ruin" Kirby, and the fierce pride of Jeff. She is also reacquainted with Sgt. Major Quincannon (Victor McLaglen), who had the unpleasant task of burning her home as Sheridan rode through the Shenendoah.
After she and Kirby meet, they walk past Quincannon who bows and says, "Welcome home, darlin'."
She turns to Kirby and says,
"I see you still have that arsonist with you."
Kirby replies, "If you mean Quincannon, he is a sergeant major in the United States Army. Anything he did long ago in the line of duty, he did in obedience to my orders - reluctantly, I might add."
Kathleen turns back toward Quincannon and says, "Oh, the reluctant arsonist."
Here is my version in 1/6.
It is Quincannon who brings Kathleen to Jeff's tent. She is there when the Apache attack the camp to free the prisoners taken earlier, and Kathleen faints when a soldier is shot.
I originally intended to make just Yorke and Quincannon. Then I found a female figure who more or less resembled Maureen O'Hara. I contacted my friend Amy at A J Clothiers who agreed to make up an outfit for Kathleen, with the linen traveling duster. Two days later, it was done, and the figure she used to model it was a lot closer to Maureen, though a brunette. We did a trade and I did what I could to make her a red head with a Sharpie. I added a wedding ring (to Kirby, too) and a hat band and a pair of gloved hands, all the rest is Amy's fine work. The snood works great to control the poly hair into a period look. Amy, I can't thank you enough!
The Yorkes are both DML, Kirby with some padding and Jeff ground as thin as I could get him. Quincannon hs is by JohnneyE4 as a commission, and painted by my friend Gordon, who also made Jeff's hat. Quincannon is on a very padded DiD muscle body, requiring lengthened BGT braces. The uniforms are mostly modified BattleGear Toys and almost all the leather is scratch-built. The sabers are SST, re-shaped and covered with Bare Metal Foil. Kirby's has a BGT hilt. The gauntlets are scratch-built using DiD WWII gloves, and Amy provided Quincannon's bandanna. Jeff's carbine is also BGT.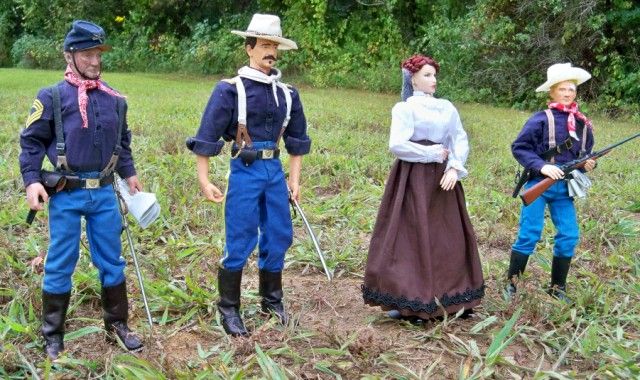 I call this, "Kathleen forgets she's a lady."
Any mistakes are mine, but I hope you enjoy them.