Discussion Starter
•
#1
•
Following the release of the
Iron Man Mark XLII
earlier this year (read our review
HERE
) comes the second entry in
Hot Toys'
new
Power Pose
series, the
Mark XXXV Red Snapper
. The odd marriage of statue and figure, the original idea behind the Power Pose series was to allow Hot Toys to release increasingly complex 1:6th scale figures (so far consisting of Iron Man armors) with less articulation than a full-blown action figure at a more affordable price point. Of course a "more affordable price point" is all subjective as the new Power Pose Red Snapper retails for $254.99 ($100 more than the Power Pose MKXLII cost). While not cheap, I'd imagine the Snapper would be in the $300+ price range if Hot Toys was to include all the bells and whistles.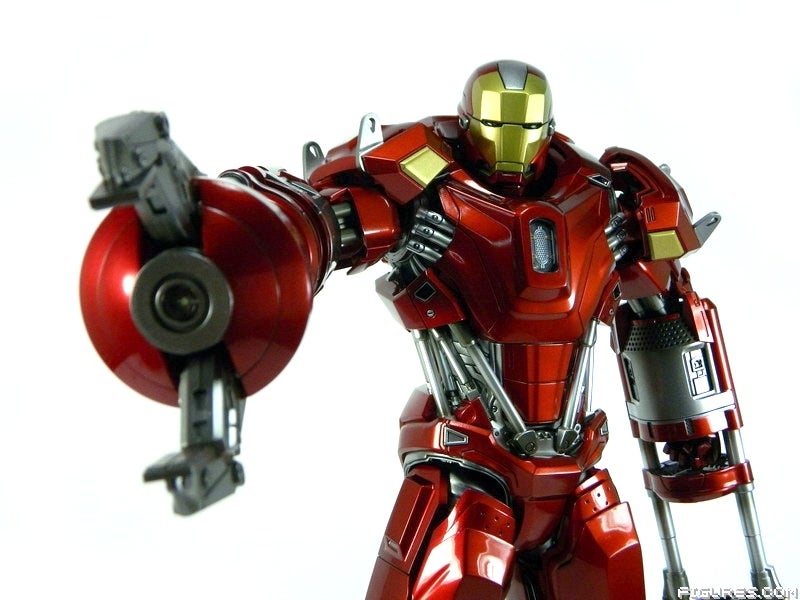 What's interesting with the Power Pose Red Snapper, however, is that unlike the Power Pose Iron Man MKXLII, the Snapper actually stars a good amount of articulation. The whole concept of "Power Pose" as a more affordable static statue/ figure is getting more and more blurred. The Red Snapper is closer to an actual Movie Masterpiece Hot Toys action figure release than the Mark XLII ever was, featuring articulated head, arms, claws, legs, knees and feet. It even comes with a built-in light-up system in the head, chest and clawed arms! Add on a display stand for "hovering mode" and it's pretty easy easier to confuse the Power Pose Red Snapper as an actual Hot Toys MMS action figure. Regardless of its title - Movie Masterpiece or Power Pose release - what fans
DO GET
is an all-new Tony Stark armor, and that in itself is reason to celebrate.
Like most Hot Toys releases, the Red Snapper is packaged to impress - the large figure housed in an over-sized window box with illustrated outer sleeve. The slip cover features a photo of the Snapper in action with a complex geometric design behind it. All the requisite information is on the front, including the figure's name, movie it came from, and who made it. As if Hot Toys themselves weren't too sure that this figure was a pure Power Pose release, "Power Pose" is printed in very small type in the lower left-hand corner - almost as an afterthought.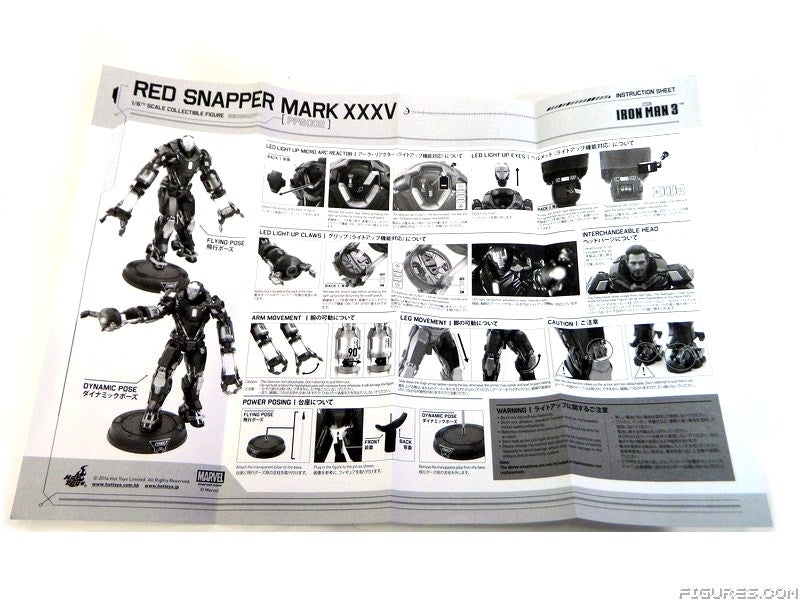 Removing the outer sleeve provides a full window view of the figure, while the back gives an unobstructed look at that
crazy computerized sphere
. Pretty slick. The figure itself removes from the top on stack plastic trays. There is no assembly involved, simply a lengthy process of removing protective foam pads from the armor joints and then pulling out the plastic safety tabs for the multiple light-up features. There are no twistie ties, so that's a small relief, and for the most part getting the Snapper ready to light up is a painless affair. You will want to refer to the
included instruction sheet
, however, to figure out how to access all the light-up access points, such as the head and chest.
Hot Toys even tells you to do so
.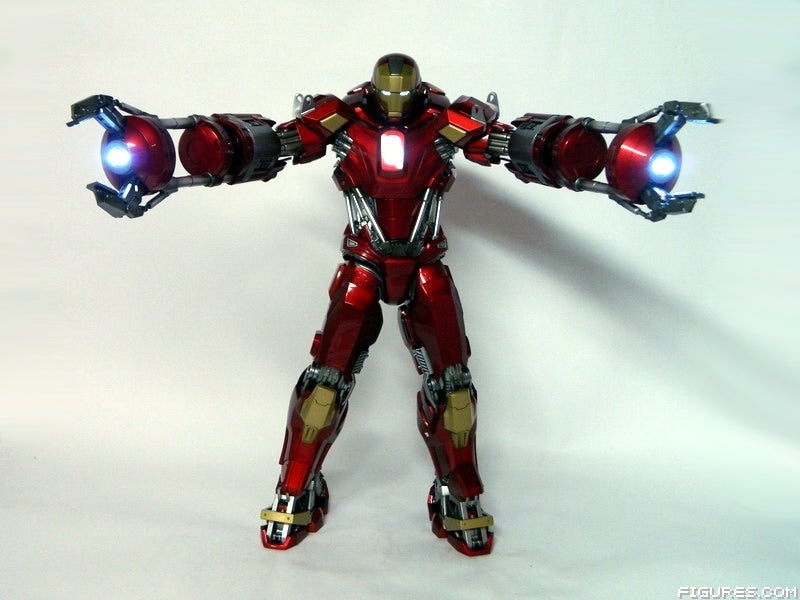 Lighting up the claws is a simple affair, an "on/off" switch easily visible on the
inside of each manipulator arm
. On the other hand, lighting-up the eyes requires that you actually
remove the Red Snapper's head
. Once removed you will find the switch. Flip it on (or off) and reattach. Personally I found this entire process, while easy enough to do, overly complicated. The same applies to the chest. To light up the Snapper's Arc Reactor you'll want to carefully pry off the
concealed back panel
. While I give credit to Hot Toys for concealing both the head and chest light switches so well, the steps required to fully light up the Red Snapper is a very tedious process. And why go to such trouble to hide the head and chest switches if the claw switches are so visible? This isn't a light-up figure were you hit one button to instantly impress your friends, but one that requires four switches flipped - two of which are hidden. I see collectors doing this
once
just to see what it looks like and calling it a day.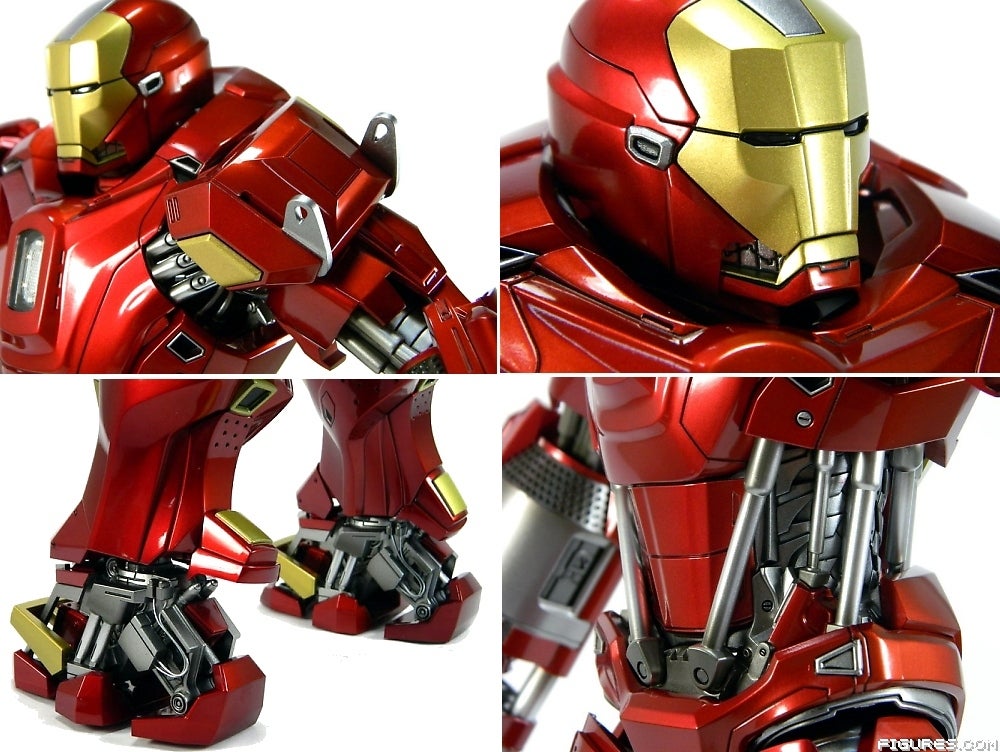 Drawn-out light-up gimmick aside, the Red Snapper figure itself is a thing of beauty. As mentioned at the beginning of my review, I really don't understand why the Red Snapper is considered a Power Pose figure. Sculpted detail is as complex as any Hot Toys Iron Man release, the Snapper starring a plethora of complex pistons and gears. While the Red Snapper feels rather light weight in plastic construction, the gorgeous metallic paint job gives the figure a hefty "real metal" quality. The details and paint apps on this figure are simply flawless. This is quality that Hot Toys is now well-known for.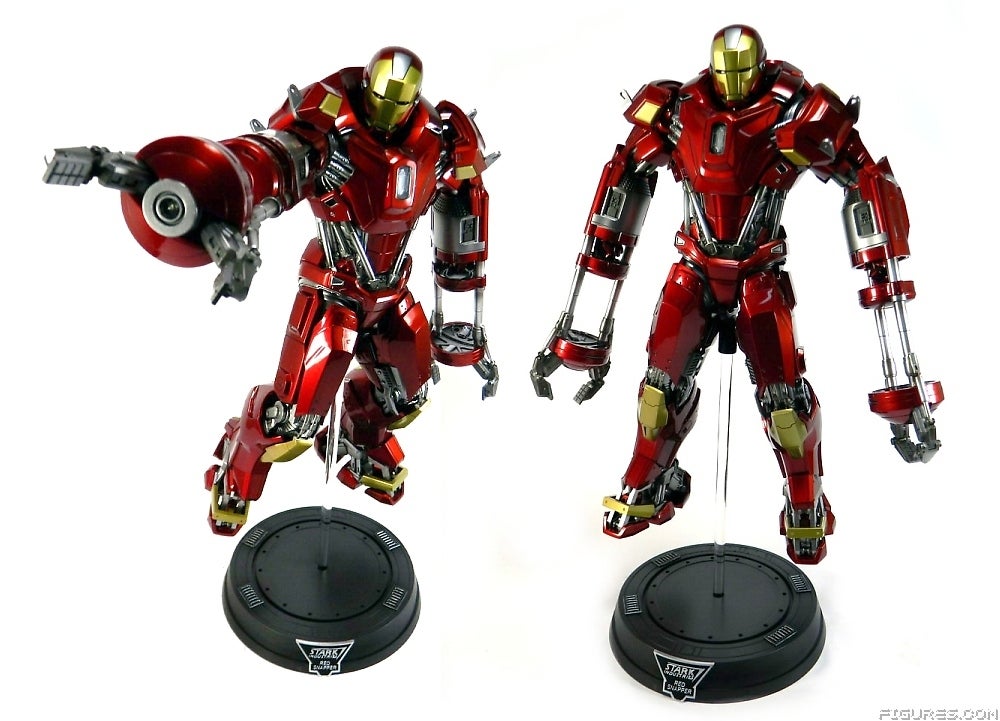 Comparing the Power Pose Iron Man Mark XLII and the Red Snapper is like comparing apples and oranges. Sure, they both feature Hot Toys quality sculpt and paint work, but articulation couldn't be any more different. Where the MKXLII gave fans two static, but dynamic display options, the Red Snapper is fully poseable. This includes a head that moves left and right (and
very
slightly up and down due to the neck armor), full ball-jointed shoulders with hinged shoulder pads and elbows, rotating claws and pinchers that fully open and close, thighs that have a small range of motion, as well as feet and knees that bend. Tack on the included display stand for "hovering mode" and you have yourself a broad range of display options. Perhaps not as many as a Movie Masterpiece figure, but
tons
more than the previous Power Pose release. The Red Snapper truly blurs the line between the two action figure lines.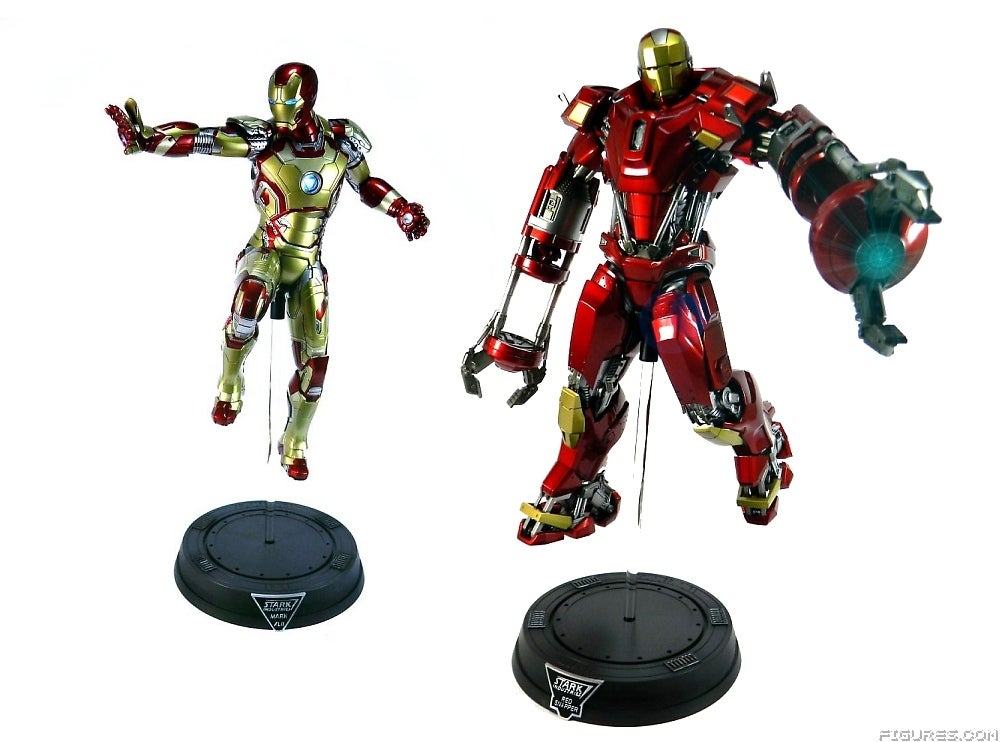 So is the Red Snapper a true Power Pose figure? Hot Toys says so, but I feel otherwise. As I pointed out in my Power Pose Iron Man Mark XLII review, the initial beauty of the Power Pose series was a more affordable 1:6th scale action figure, albeit one that didn't move like a Movie Masterpiece figure. With the Red Snapper, that whole concept goes out the window. $250 is not $150. The Red Snapper can move. The Red Snapper's release defeats the whole original idea behind Power Pose series.
While not good news for those that envisioned a cheaper alternative to Hot Toys' high-end MMS figures, the Red Snapper does provide collectors a brand-new Iron Man armor suit. Unlike the Iron Man Mark XLII, which also saw release as a more expensive Movie Masterpiece Die-Cast action figure, the Red Snapper is
NOT
seeing release in any of Hot Toys' other figure formats. Where Power Pose once offered an
option
to collectors, it has now suddenly become a
need
to action figure completists. Not a great way to build a new brand, but don't get me completely wrong. Hot Toys still knows how to make one heckuva 1:6th scale action figure.
All Photos by Jeff Saylor

Review Sample Courtesy of Hot Toys