Discussion Starter
·
#1
·
Review and Photography by David Yeh
Zach Snyder's 2013 film
MAN OF STEEL
wasn't exactly the hopeful reboot that many Superman fans were expecting, but there is no denying that Henry Cavill delivered a pretty convincing Superman, despite what the story asked of him. For Hot Toys' 200th 1:6th scale Movie Masterpiece Series figure, they gave the honor to Man of Steel's Superman, which at long last can join your Christopher Reeve Superman on your shelf. But you'll need to wait a little while longer for an appropriate Ben Affleck Batman for him to face off against.
Hot Toys continues to deliver grade A quality collectibles and Superman and his Kryptonian pop Jor-El are both available and now shipping. The Henry Cavill Superman reviewed here retails for about $200 or so, which has become the rough norm for these 12" masterpieces.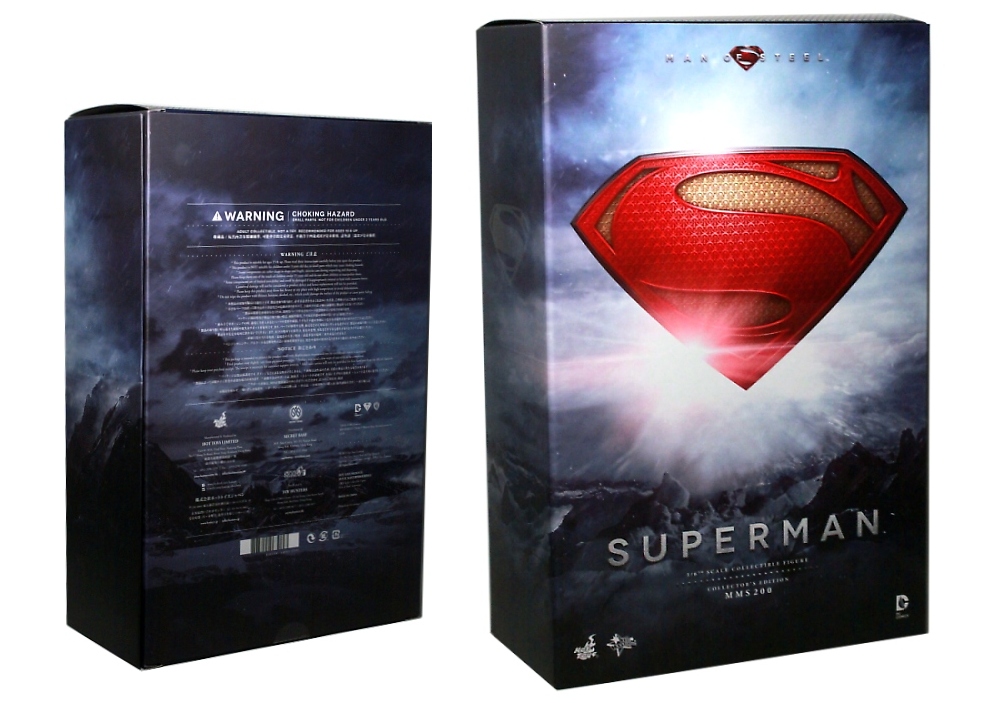 The packaging for Hot Toys' Movie Masterpieces have become quite standard now, which is perfectly adequate for what they're trying to accomplish. A magnetic flap opens up to reveal a window to see what's inside, but the box exterior doesn't tell you anything else, if at all. The box actually reminds me of the Richard Donner Superman one-sheet, with the "S" shield among the clouds. If that was their intent, then they hit their mark.
The whole thing is all very collector friendly, with plastic trays for each little accessory that can easily be removed or put back in. The genius thing about the plastic trays are how they're all layered so that the least amount of space is taken up, with the base directly underneath the figure tray. The difficult thing for me is how much space these Hot Toys boxes are now taking up in my closet since I refuse to throw any of them away.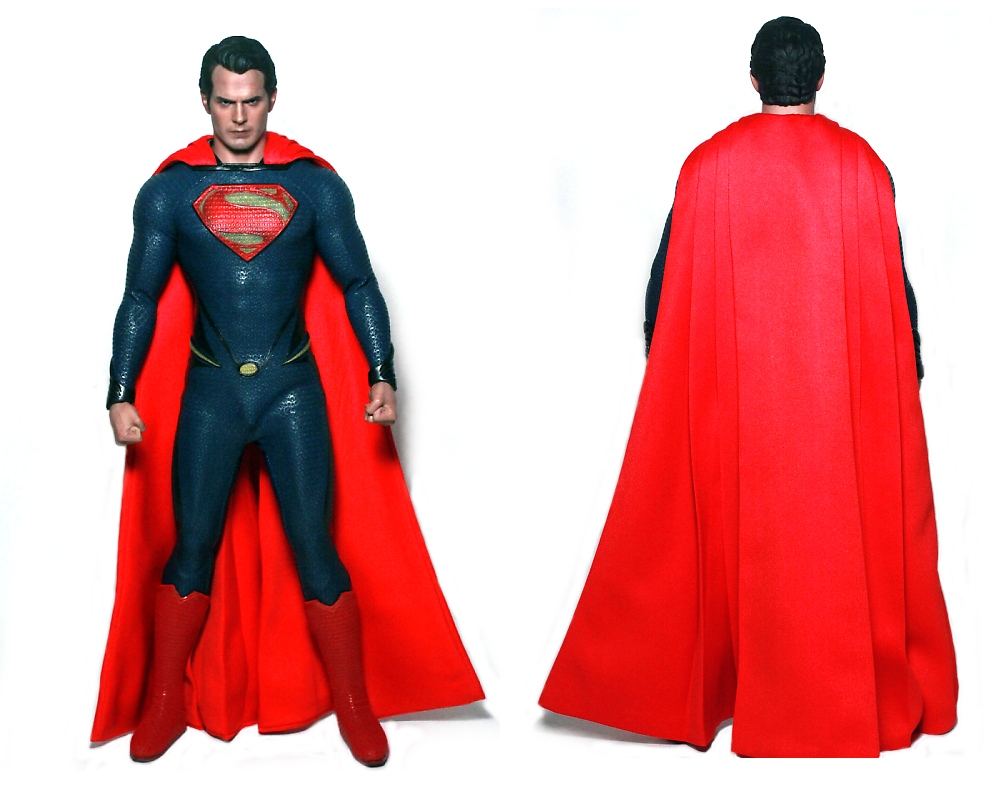 Sculpts have always been where Hot Toys really shines, and the sculpt of Henry Cavill was what I'd imagine a unique challenge for them. They managed to deliver a sculpt that at one angle, looks determined and almost worried, but lowered the head and he is ready to completely destroy General Zod. They've done a remarkable job here and it's one of those things that unfortunately isn't as convincing in photographs, where lighting plays a key role in how it looks. It's a sculpt I originally was not impressed with, but after toying around with it, I couldn't imagine it being any better.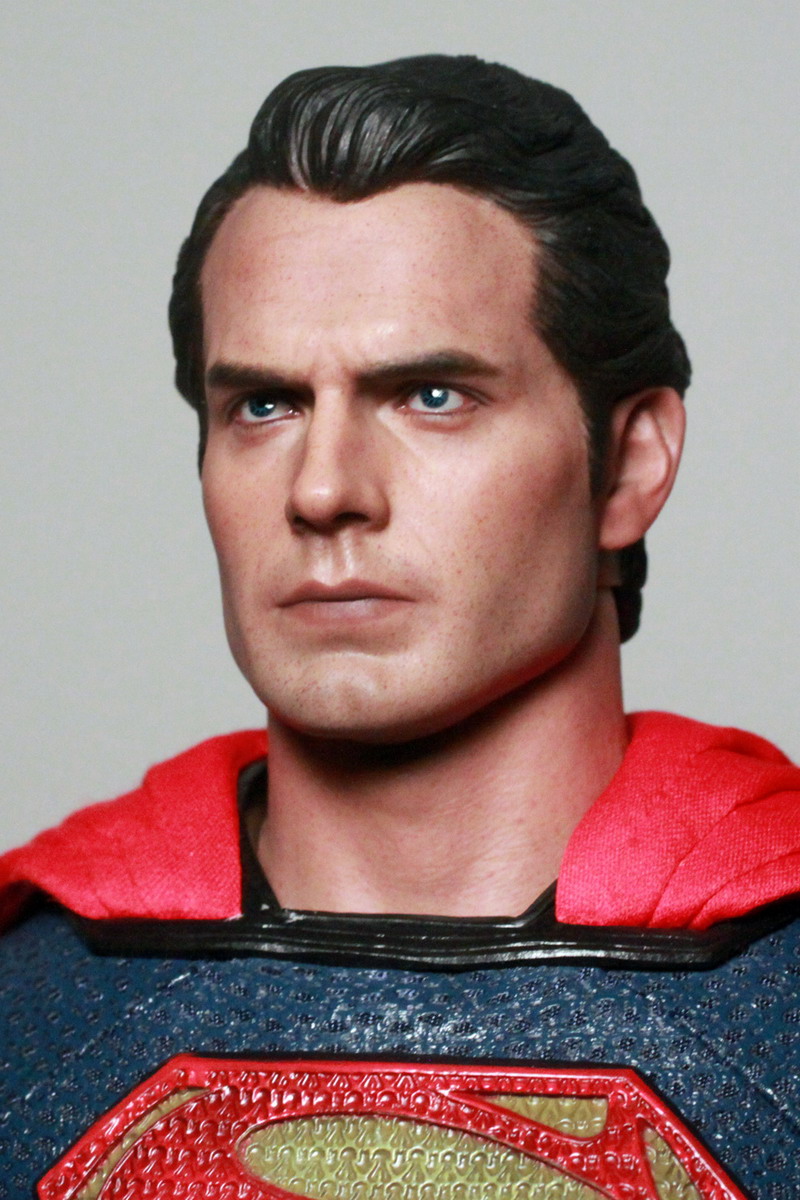 The head is hand-painted though and compared to the production photos, my Superman is definitely a lot more tanned than I'd want him to be. Skin tone wise, he's been spending a little too much time at the beach rather than living a more sheltered life in hiding. Watching the film again, he is definitely supposed to be a few shades lighter than he is here. Aside from that, the details, lines, eyes are all painted very realistically and the various interchangeable hands are matched correctly as well.
Superman is made with an all new muscular body with over 30 points of articulation. Of course it's all difficult to see under the outfit but sure enough, you can get your Man of Steel in just about any pose you want... although his outfit might be a little too tight to do
EVERY
thing.
Speaking of outfit, this is where you'll soon realize that the high price you pay all goes into the incredibly detailed costume that Superman is wearing. It's a one-piece blue costume with an embossed pattern, red cape, and boots.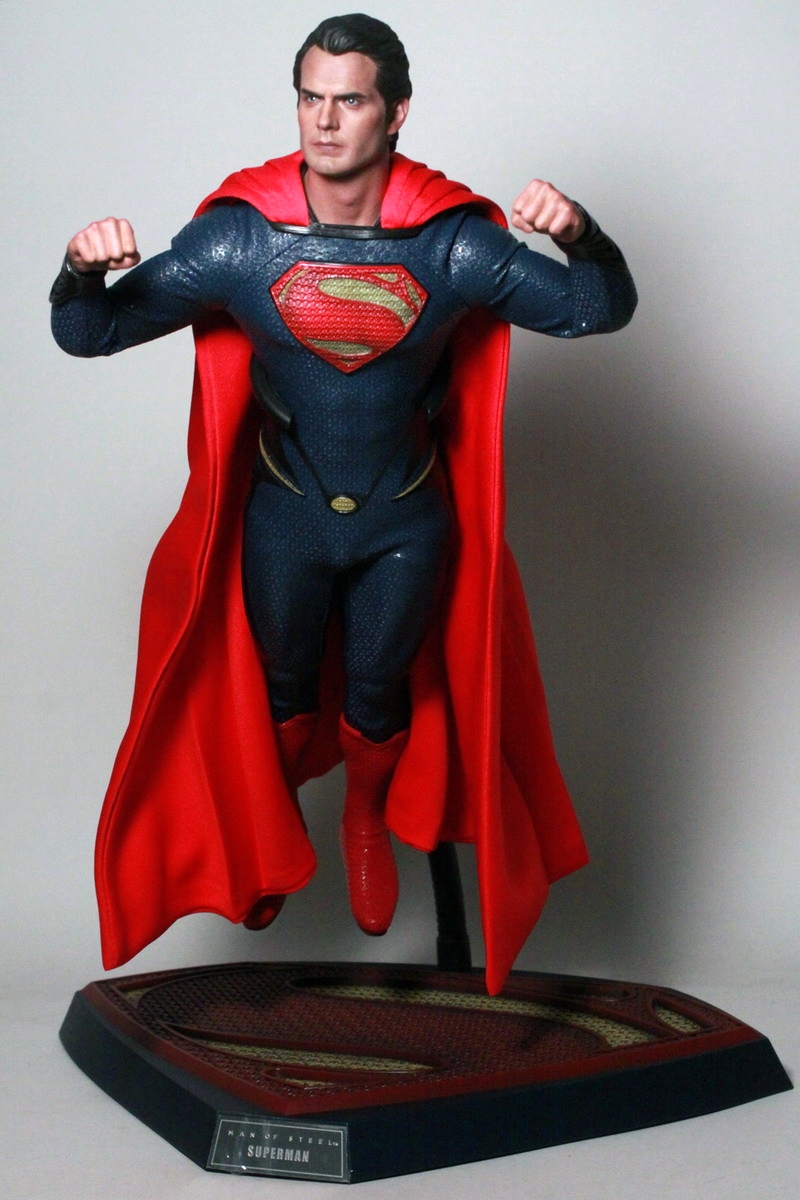 The boots are removable, but I would advise not to remove them as it could ruin the presentation of the figure's blue suit. The blue one-piece suit contains the Superman "S" logo on the chest and is very tight, making it rather difficult to achieve all of the great flying poses. Putting Superman's arms straight above for flight isn't very easy, but doable, but you may risk adding wrinkles or stress to the one-piece. The flowing cape behind him does not have any wires to pose it with, but because it has a lot of weight to it, your poses of Superman standing natural will look great.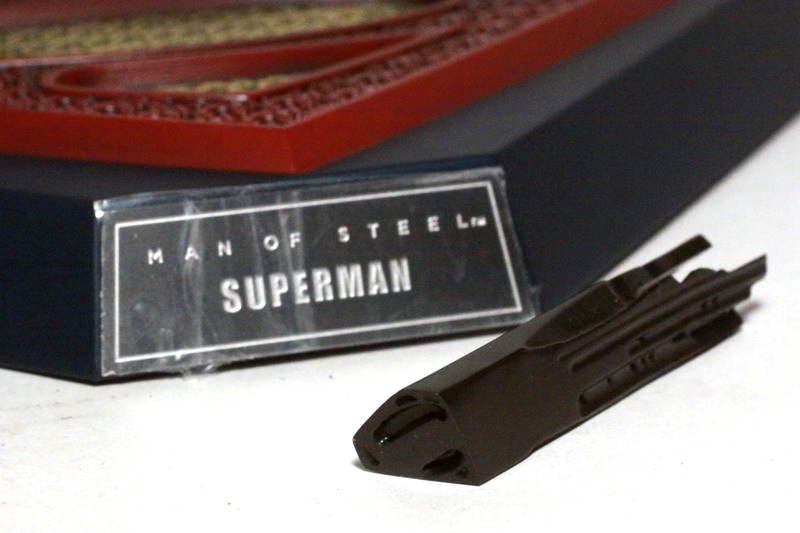 When it comes to accessories, Superman doesn't have a whole lot going on but he does come with a good amount of hands, a great diamond shaped figure base with adjustable stand, and a special Kryptonian Command Key replica in 1:1 scale. Translation: it's life-size.
Superman has four pairs of interchangeable hands, including a pair of relaxed hands, a pair of fists, a pair of open palms, and a pair of holding palms. Hot Toys also included two extra pegs in case the first two are good and stuck with other hands, which can happen from time to time.
The display base is impressive, showing us the Superman "S" with an adjustable stand to simulate flight. It's a bit too big for my tastes but it looks great.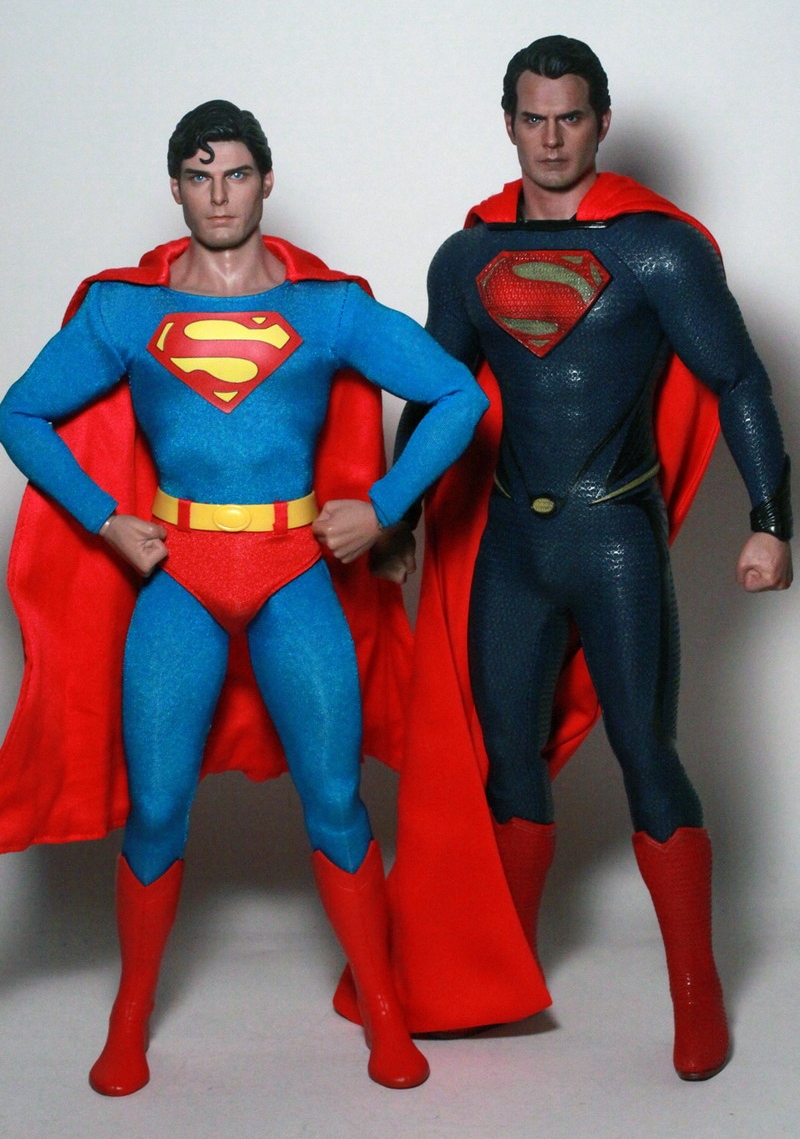 Overall, if you're a fan of Man of Steel and/or Superman, you need to pick this figure up. It's a great looking figure of Henry Cavill as Superman, even if it is much taller than the competition, completely dwarfing Hot Toys' Christopher Reeve Superman figure. Despite all of that, it's still a fantastic figure.
Review and Photography by David Yeh
Review Sample Courtesy of Hot Toys