Discussion Starter
·
#1
·
For every groan of "Not
another
Hot Toys Iron Man figure!" there is a celebrated cheer from passionate Iron Man collectors. While I'll be the first to admit that the recently announced
Tony Stark with Arc Reactor Creation Accessories
appears like an unnecessary release, Hot Toys' latest Iron Man armor duo - the
Heartbreaker Mark 17
and
Silver Centurion Mark 33
- are just what the doctor ordered for House Party Protocol enthusiasts. Both 1:6th scale action figures are currently available for purchase through Sideshow, the
Heartbreaker
and the
Silver Centurion
each priced at $249.99.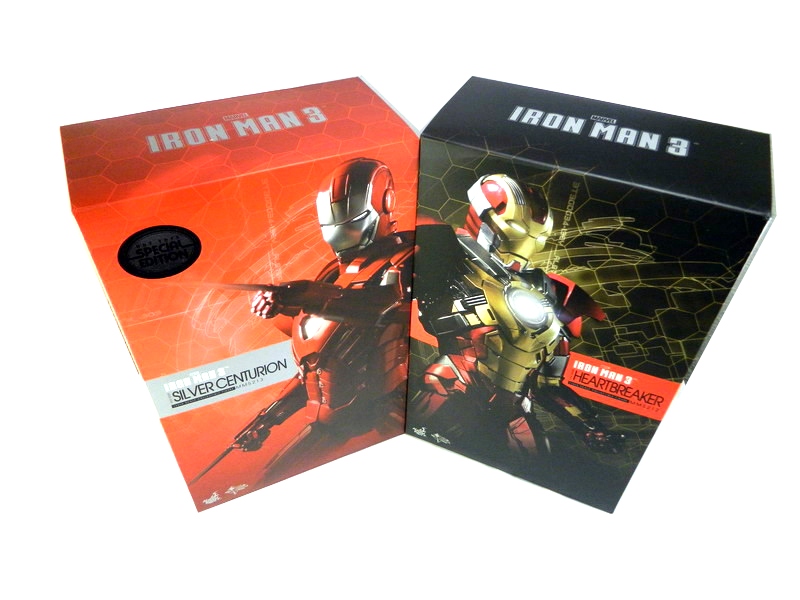 Fresh in design, the Heartbreaker and Silver Centurion come housed in large shoebox designed packaging. The covers are richly illustrated with an image of the Iron Man armor along with some stylishly rendered computer graphics. It all appears very high-tech and futuristic, just like Tony Stark's suits inside. Lifting the lid on each figure reveals a slipcover with the J.A.R.V.I.S. quote "The 'House Party' protocol, sir?" Why yes J.A.R.V.I.S., yes indeed. Removing the slipcover initiates the command by revealing the Heartbreaker and Silver Centurion in all their House Party Protocol glory.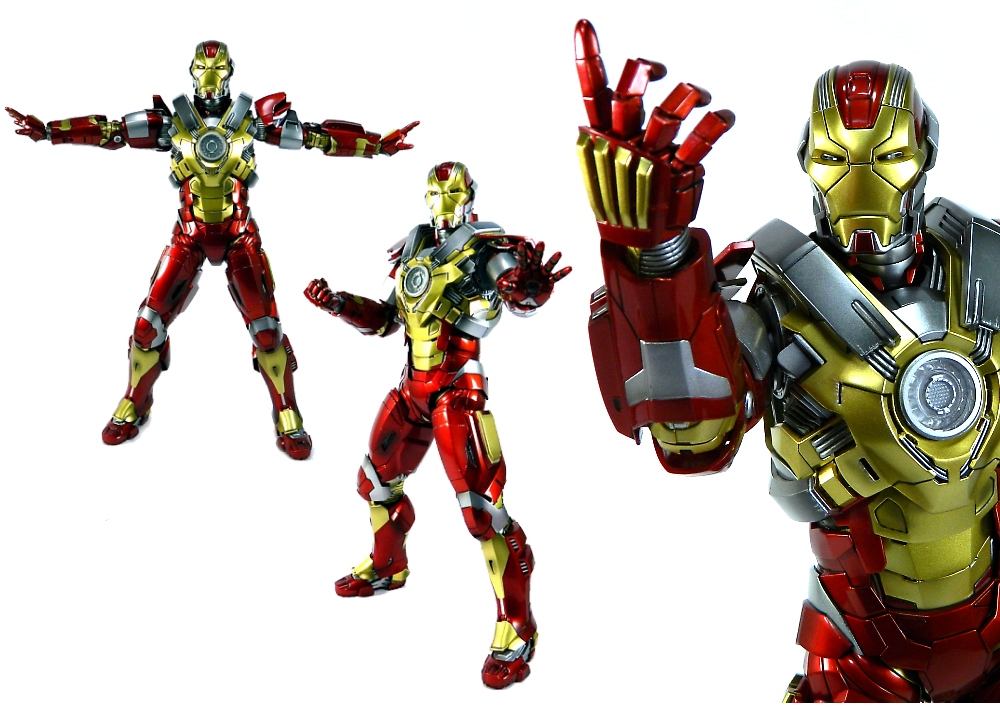 HEARTBREAKER MARK 17
​
While completists will no doubt be purchasing both of these figures, my money is on the Heartbreaker as the more fantastic of the two designs. A chunky Iron Man armor, the Heartbreaker is an Artillery Level RT Suit, its oversized chest Arc Reactor capable of powerful blasts. The Heartbreaker is also one of the most seen House Party Protocol suits in the film
Iron Man 3
, the armor being the first on the scene and one of the last to be destroyed (well, it's isn't shown, but it is implied).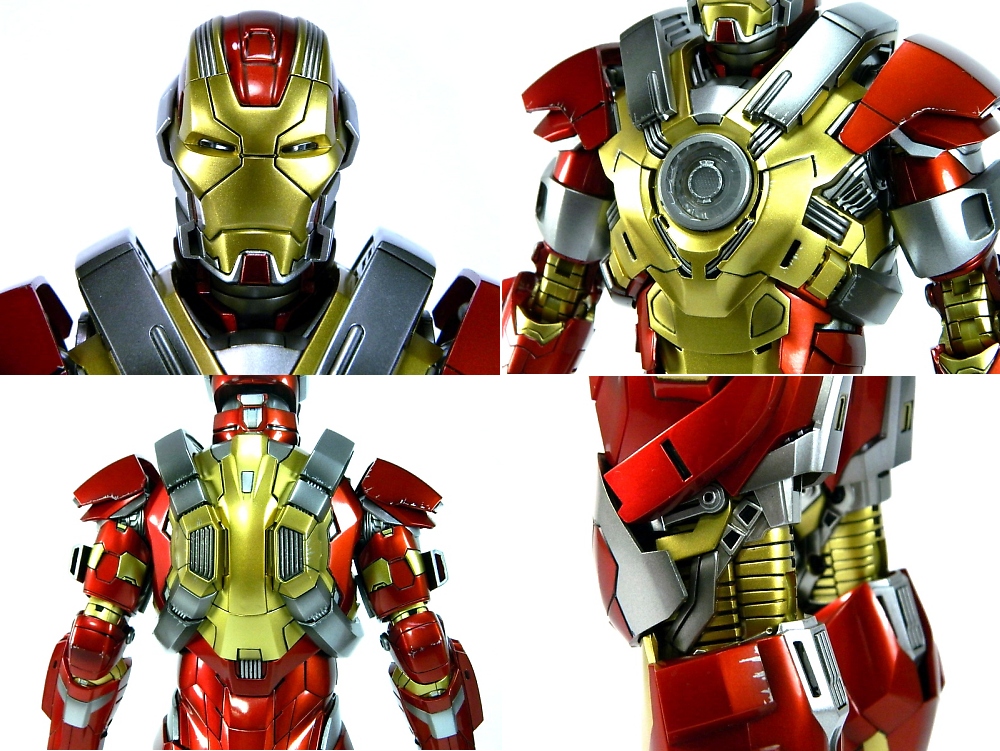 The detail on this figure reminds me of why Hot Toys is a leader in the 1:6th scale action figure market. Simply remarkable engineering and sculpt. While the figure appears to be crafted from very heavy metal, the toy is surprisingly lightweight; a wonderful illusion created by the intricate mechanical design. Hyper-realistic head sculpts may help sell Hot Toys' human collectibles, but it is the insane level of fabrication on their Iron Man armors that truly justify the cost of a Hot Toys 12 inch action figure.
Amazing sculpt aside, what really impressed me about the Heartbreaker - as well as the Silver Centurion - was the inclusion of multiple interchangeable hands. Fans receive a set that is fisted, a specifically designed pair bent at the wrist and splayed open for repulsor beam attacks, and coolest of all, a set of hands that feature fully articulated fingers! Hot Toys pretty much covered all display bases with just these three pairs of hands, the articulated set going a long way in achieving dynamic gestures and poses.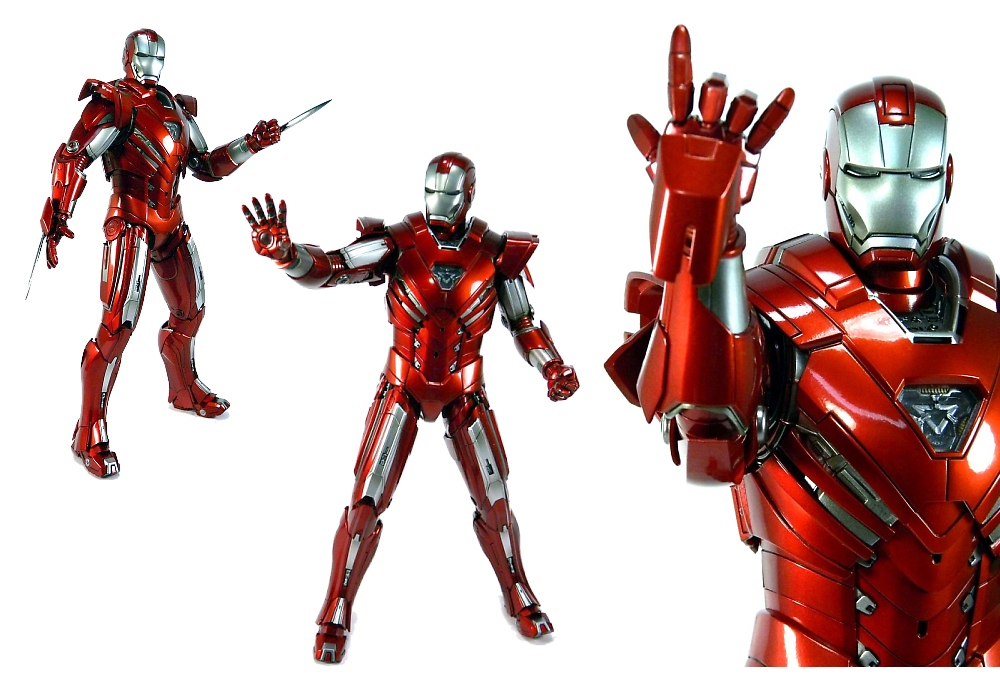 SILVER CENTURION MARK 33
​
Sleeker in design, the Silver Centurion Mark 33 is an Enhanced Energy Suit Upgrade starring a very angular and polygonal appearance. Like the Heartbreaker, the Silver Centurion saw its fair share of action in
Iron Man 3
, being the one House Party Protocol suit that Tony Stark actually wears in his rescue of Pepper Potts and his final fight against Aldrich. To accurately depict the Silver Centurion's multiple roles in the movie, Hot Toys has fully kitted out this figure, including an alternate battle damaged Tony Stark head sculpt, as well as a swap-out battle damaged chest plate.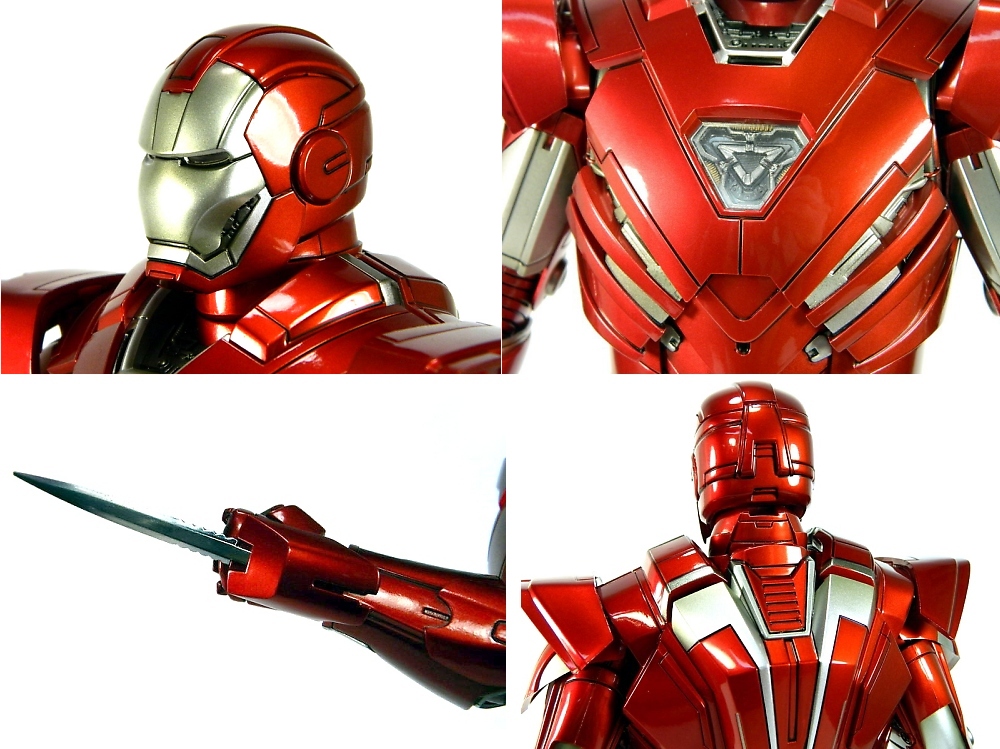 While I'm most fond of the intricate red and gold design of the Heartbreaker, the Silver Centurion is no slouch. Streamlined, the armor suit features an eye-catching metallic red and silver color scheme, similar to Tony Stark's older "suitcase armor". What makes it particular awesome is the addition of two
real metal
Vibranium Blades that can be inserted into the wrist of all three pairs of interchangeable hands: fisted, repulsor attack, and articulated. I always get excited when real metal is used in a toy, and Hot Toys' use of the material with these blades is no exception. Durable and lethal looking, the real metal goes the distance in making the Silver Centurion appear that much more authentic.
Other authentic details include that aforementioned battle damaged Tony Stark head and chest plate. Their inclusion is almost like having two figures in one. I wouldn't be surprised to see serious fans purchasing two Silver Centurions just to recreate both looks on their display shelves. For those that managed to get their hands on the Special Edition version of the Silver Centurion, a battle damaged Iron Man Mark XLII helmet is also included. This helmet cannot be worn, but it looks phenomenal with a translucent flame effect emitting from the right eye socket.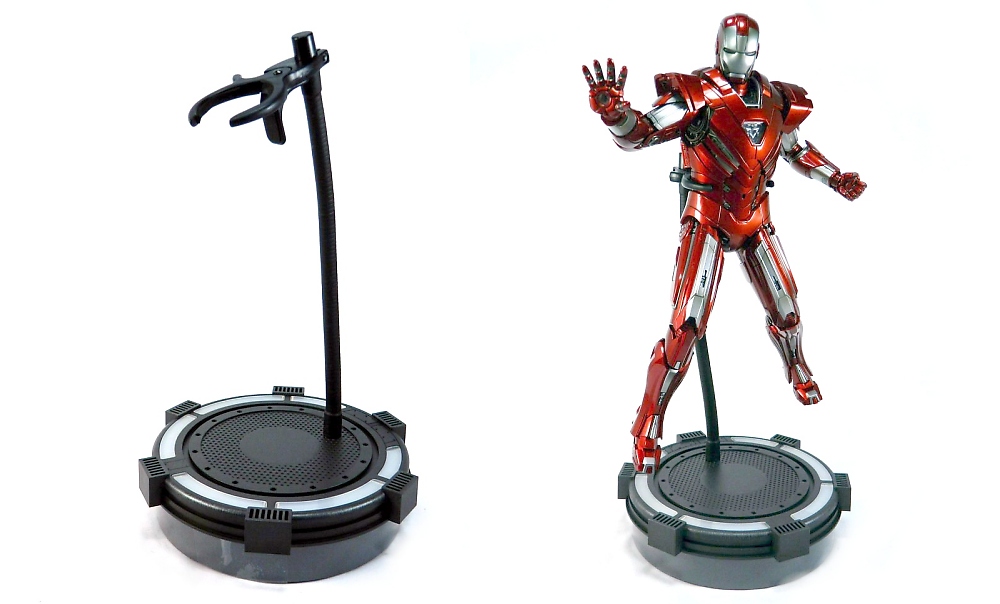 If all this detailed action figure wasn't already enough to blow your mind, Hot Toys packs in even more bang for your buck. Included with the Heartbreaker and Silver Centurion is a
very
nice display stand. The base consists of a circular figure stage with a flexible metal rod that screws into it. A padded vice grip allows you to safely display your action figure in all manner of cool flight or attack poses. I hope Hot Toys sees just how much a good thing they have here by selling these display stands separately! Another perk to both Iron Man action figures is their light-up functions. Button cell batteries, which are thankfully included, allow each figure's eyes, chest arc reactor AND hand repulsors (on both pairs of open hands) to illuminate with brilliant white light.
$249.99 isn't cheap, but with Hot Toys 1:6th scale action figures these days, the price has become the norm. With their Heartbreaker MK17 and Silver Centurion MK33, Hot Toys makes that new norm seem like a steal. There is a lot of value packed into each of these figures, from their extremely intricate mechanical sculpts, to the inclusion of incredible poseable hands, nifty light-up features and a solid flight display base. While every Hot Toys Iron Man release doesn't excite me (or strike me as necessary), I'm with the legions of passionate Iron Man fans on this pair or armors. The Heartbreaker and Silver Centurion are a must-have for House Party Protocol completists, and even on their own they stand as truly amazing Iron Man armors to proudly display.
Review and Photos by Jeff Saylor
Review Samples Courtesy of Hot Toys