Discussion Starter
·
#1
·
Review and Photos by Jorge Pelaez

The long-awaited final member of the Avengers sixth scale collection has finally been released and we couldn't be more excited about completing the entire team. The Mark VII Iron Man figure is the most robust and detailed figure to be released to date. Just when you think Hot Toys has accomplished the ultimate Iron Man figure, they go and deliver even more enhancements and display options with this amazing Mark VII sixth scale figure.

The packaging for the Mark VII follows in the tradition of all the other Avengers figures that have been released with an oversized image of Iron Man on the front of the outer box with a silver foil Avengers movie logo on the bottom right corner. The box is a solid Hot Rod Red and features the name of the character on top panel in a bold white font.

The figure and all it's interchangeable parts come carefully housed within two molded plastic trays that are layered on top of one another. The upper tray holds the figure, interchangeable hands and Tony Stark head portrait while the lower tray houses the interchangeable armor pieces, display stand and additional arms.



This particular Iron Man figure feature a plethora of interchangeable parts allowing collectors to display the figure in a clean pre-battle mode, battle-ravaged or semi damaged options. The interchangeable parts can be easily replaced by following the thorough instructions sheet included with the figure. Hot Toys has also conveniently included a specialized removal tool making it even easier to remove parts without damaging anything in the process.

The 1/6th scale Mark VII Limited Edition Collectible Figurine specially features:

- Authentic and detailed fully realized likeness of Mark VII in the movie
- Interchangeable head sculpt of Tony Stark with authentic likeness of Robert Downey Jr.
- Approximately 30 cm tall
- Over 36 points of articulations
- Special features on armor:
- LED-lighted eyes and circle-shaped RT on chest (white light, battery operated)
- One (1) interchangeable battle damaged mask
- One (1) pair of damaged shoulder armor
- One (1) removable chest armor
- One (1) damaged chest armor
- One (1) pair of detachable forearm rockets
- One (1) pair of wrist laser on forearm armor
- Two (2) pairs of interchangeable palms including:
- One (1) pair with improved articulations, movable fingers and light-up repulsors (white light, battery operated)
- One (1) pair of forceful fists
- Improved articulations on waist armor which allow flexible movement
- Three (3) sets of interchangeable thigh armor (missile, armor & normal styles)
- Fully deployed air flaps at back of the armor with built-in metal flaps
- Articulated flaps at the back of armor on left and right legs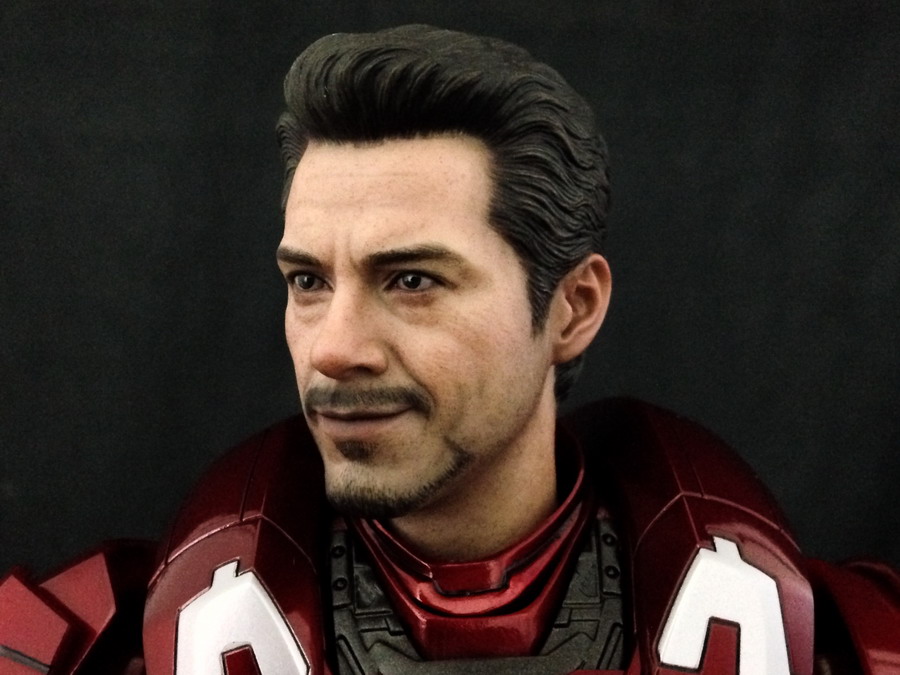 The paint application on the Mark VII figure is flawless and visually stunning with a vibrant blend of metallic gold, red and silver parts. The battle-damaged parts are painted incredibly well giving a vividly-realistic look to this Iron Man figure.


Review and Photos by Jorge Pelaez

Review Sample Courtesy of Hot Toys