Hi everybody,
I present you what could probably be THE most pimped out M4 with RIS II rail in the 1/6 world,
equipped with the latest technology in gun optics. It is also a show case of what can be accomplished today with 3D design and printing, in regard to gun accessories and the creation of HSLD "weapon systems" for modern mil enthusiasts.
In this context, I want to give a shout out to our member here,
Delusional
whom I asked to make in 3D the main item that did not exist at all in 1/6 scale, the
Leupold Mark 8 Close Quarters Battle Sniper Scope (CQBSS)
with variable 1.1-8X24 magnification, used by SOCOM and "other government entities". And he kindly obliged! :dancing:dancing
This scope is now available for everybody on Shapeways through
Delusional's shop
and is a 1/6 foray into a scope range that emerged as a high end "do-all" alternative for warfighters of the DOD and other Government Organizations, since it is very capable both at close range engagements AND out to more than 800 yards.
This kind of scope is also very expensive in the real world going with an MSRP of around 4.700$ in its high end reticle configurations.
Another shout out must go to
Delusional
and
General Sam
for the development of 3D offset rails and
Aimpoint T1 Red-dot sights
that can be mounted on them ( with two different base configurations) , and "couple" with the longer range scopes.
There is a manufacturer provided T1+ offset rail combo available from the latest Easy & Simple M110 carbine sets, but it must be noted as a
warning to fellow collectors, that this combo is not compatible with most big scopes out there because it does not have enough clearance
and the scope turrets interfere with using the T1, and so do not create a realistic result. However they work perfectly well with the ACOG range of scopes and "leaner scopes" with really small turrets.
Anyway here are the photos of my "Gucci" M4 rifle and I hope you enjoy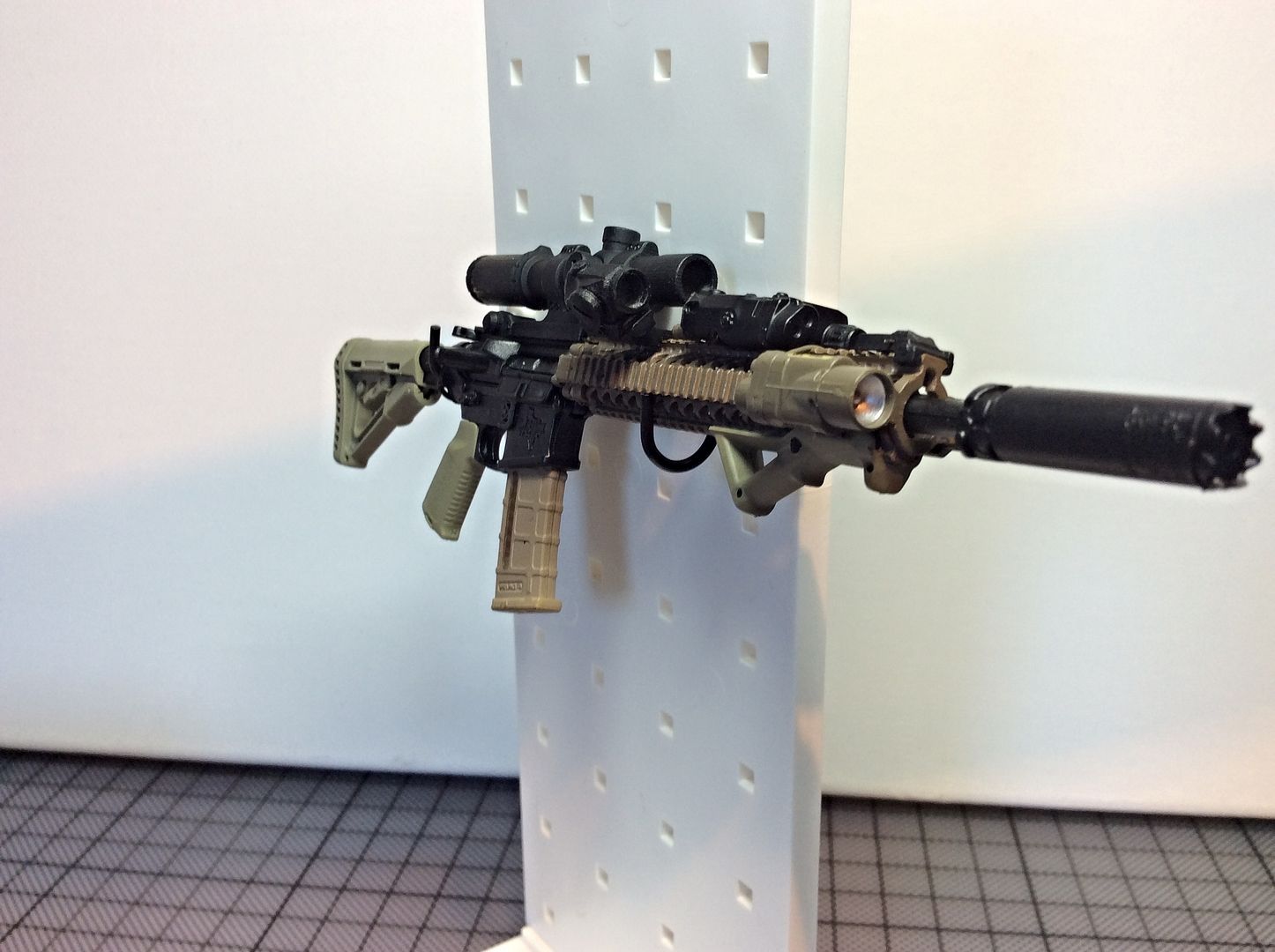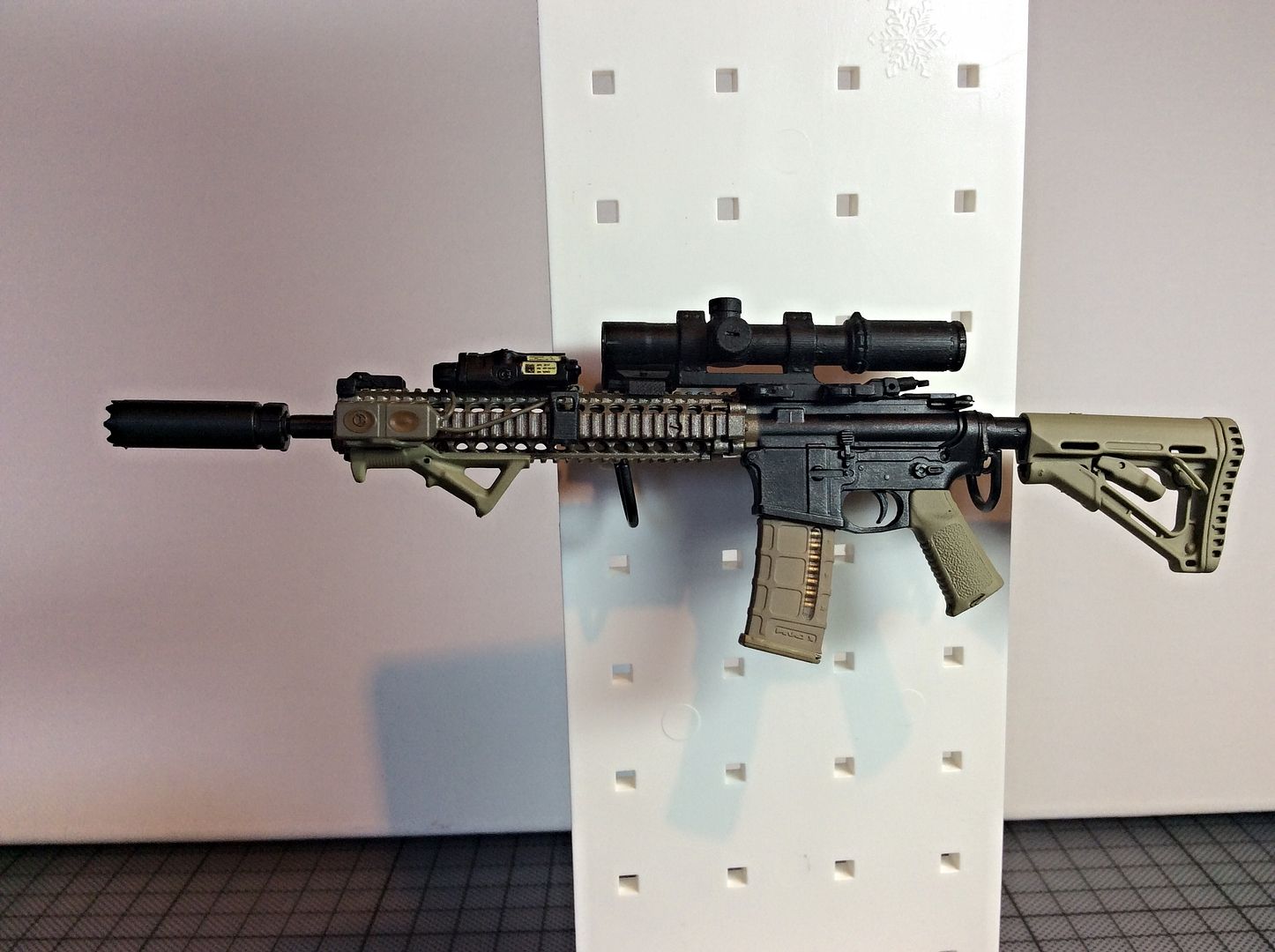 As a base rifle, I used the La Rue AR-15/M4 with SOPMOD Block II (RIS II) Rail and Magpul furniture, (I just love the CTR stock version with the enhanced rubber butt-stock and the MIAD grip) made by Very Cool for their Female Shooter figure.
This in order to recreate a state of the art SOPMOD II "clone" with aftermarket furniture worthy of an OGA/CIA Operative. It also has a Surefire "monster" suppressor with serrated edges to break easily through windshields and windows.
The end result also showcases one of the reasons rail handguards started getting longer and longer, something that looks cool on the range (and makes the rifle heavier) but can be essential in certain warfighting/defense scenarios, like a longer duration mission that transcends from daylight to darkness.
The gun is equipped with a full suite of equipment, for medium range precision and short range rapid engagement, day and night fighting (PEQ and flashlight), remote switches, plus back up iron sights, an angled forward grip and rail sling mount.
It has a 14.5 inch barrel and is configured like a light -DMR weapon suitable for head shots out to 200-300 yards (common occurrence in urban settings), due to the CQBSS high magnification, while also quite capable for house entry and surprise CQB reflexive shooting.
Total weight in real life, with this configuration would be around 11 lbs 6 oz, (5,16 kg) putting it in the same weight class with an AK-47. Not light mind you, but compact and with not too much weight at the front, especially without the suppressor, that weights about 17.5 oz!
I also shot some photos "in the wild"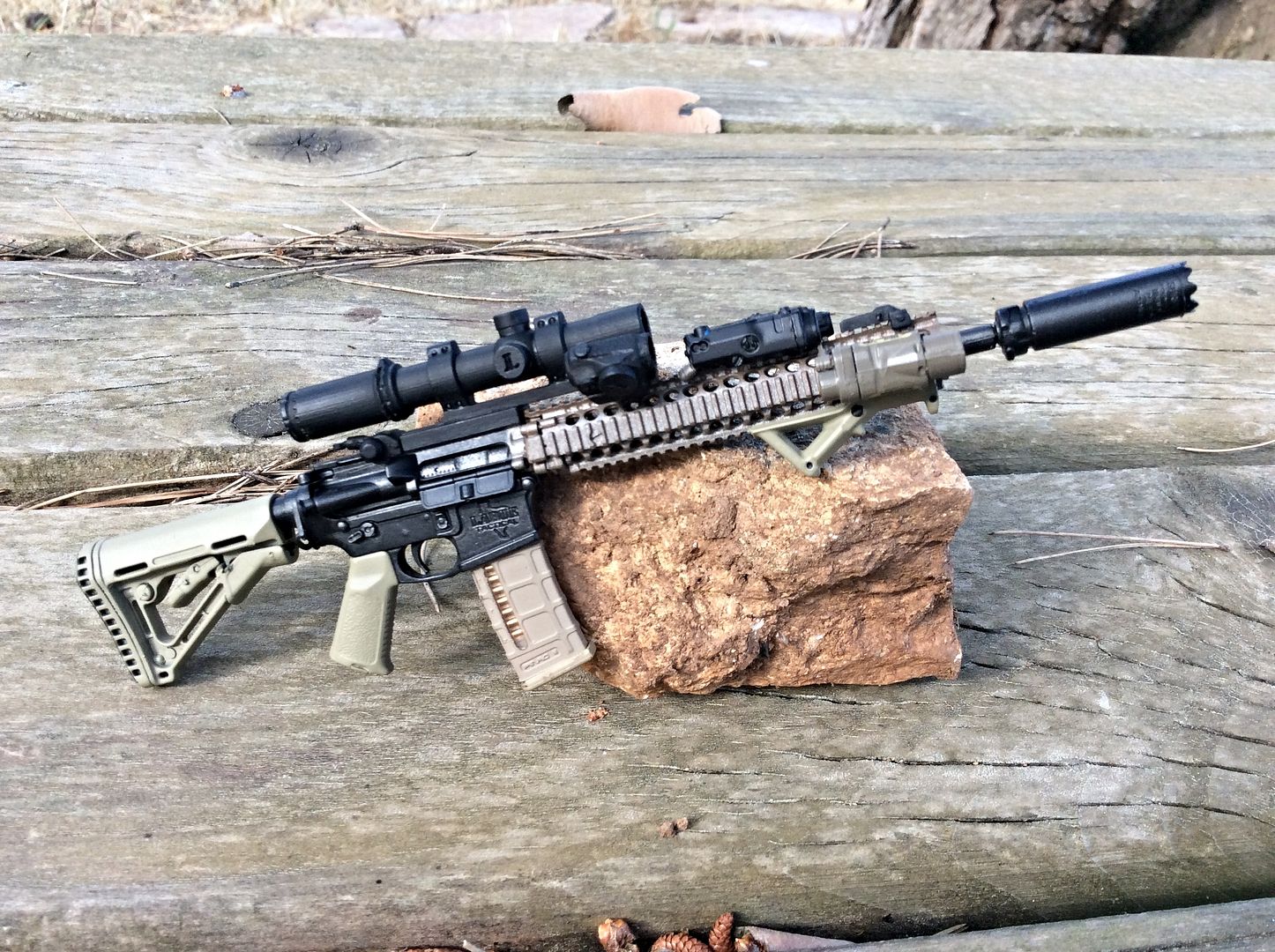 Please note, that the setup chosen for the accessories, is influenced by
Kyle Lamb
(ex-CAG Sergeant Major and owner of Viking Tactics) teachings and latest "trends".
Only the optics switch and the sling attachment are on the left hand side of the rails, so that a right handed shooter can use it over a car bonnet or a barricade in an almost
90 degree cant
, in order not to expose himself. And the weapon is configured to offer relaxed very forward gripping of the handguard.
Note that the sling attachment used is not the one that comes with the Very Cool rifle. It is again a Magpul Picatinny sling mount, 3D designed and printed by Delusional and does not protrude to the left as the original does.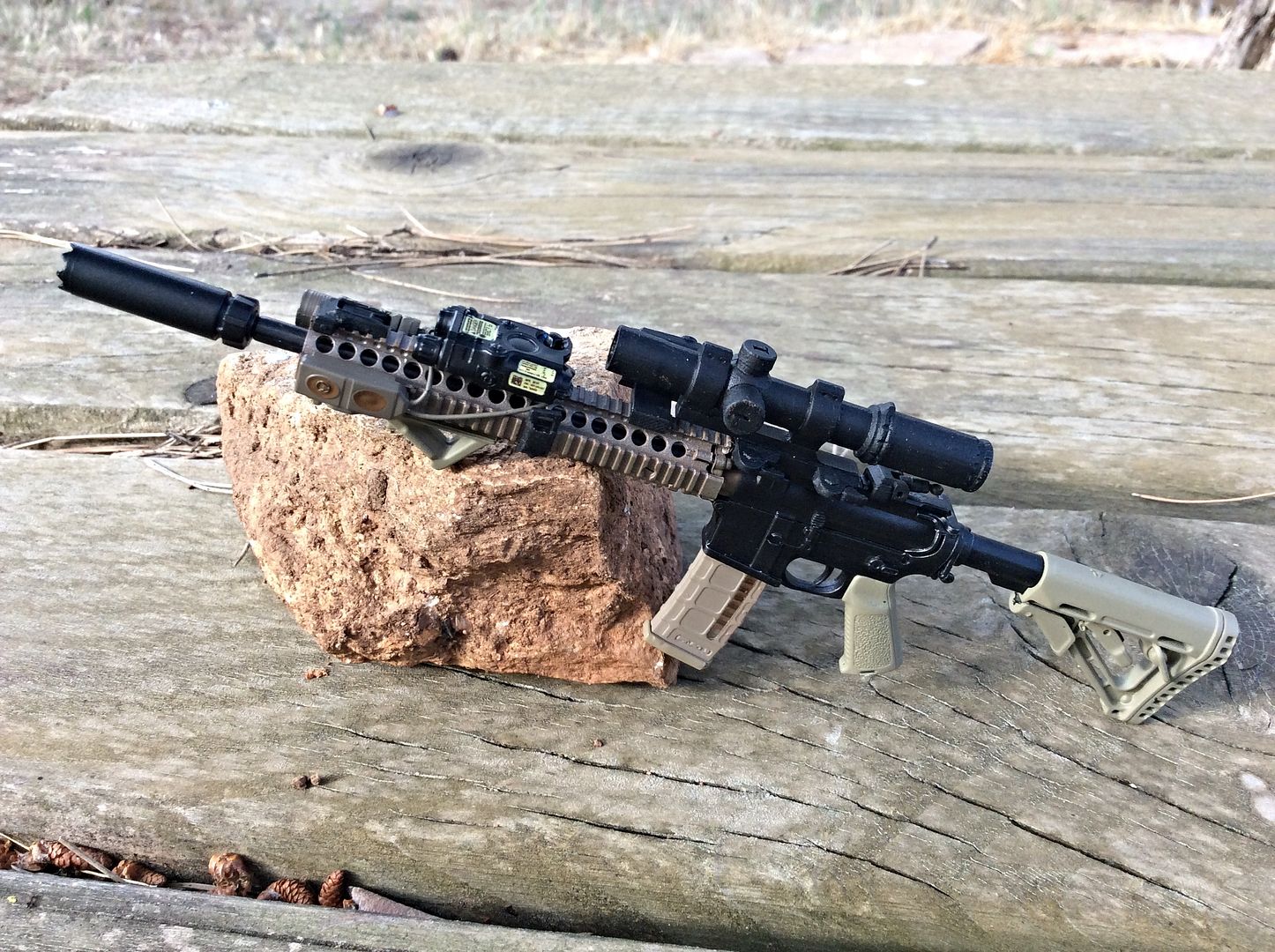 Last but not least, the rifle modelled by an "OGA Operative" that I had bashed as a test bed, but is way far from being finished. :bag