Another one of those obscure footnotes in U.S. history, the Utah Expedition was President Buchanan's use of military force to remove Brigham Young as acting Governor and impose Federal power. While it ended up being a bloodless confrontation of forces, there were outsider civilian casualties in several incidents. The 2,500 troops, including the 5th Infantry, were stalled from entering Salt Lake City with harassment and interception of supplies.
This is a private of the 5th Infantry in the winter of '57-'58. The troops were uniformed with mounted-style jackets instead of the 1851 frock coats, old-style 1839 forage caps, and they were issued mufflers, heavy boots and mittens. The troops were also issued the latest rifled-musket, the Model 1855. This weapon had the Maynard tape primer system, consisting of a hinged door on the lockplate that protected the tape primers - a roll of paper caps like we used in our cap pistols as kids. This system proved unreliable, particularly in damp weather, and copper percussion caps were still issued, with a cap pouch for the belt. The newer rifle being in .58 caliber, the 1855 cartridge box was smaller than that for the .69 caliber smooth-bore Model 1842 musket. Leather accoutrements were now in black after 1851, though belts were still of buff leather. Many of the older accoutrments were dyed from white to black.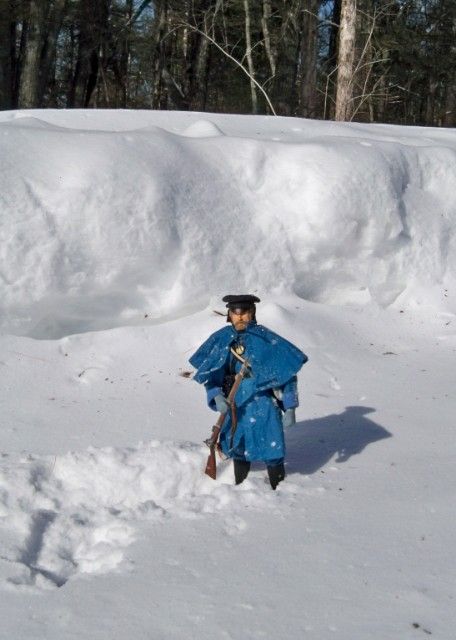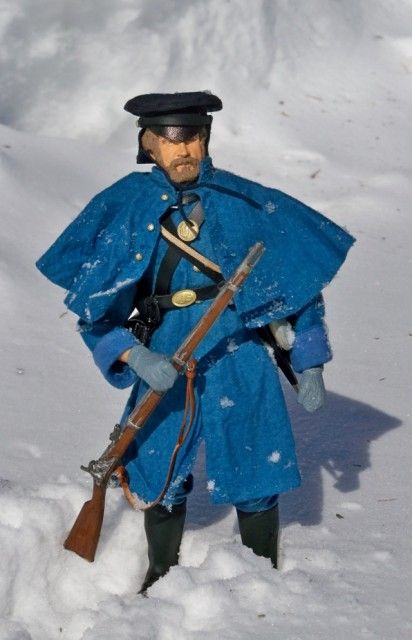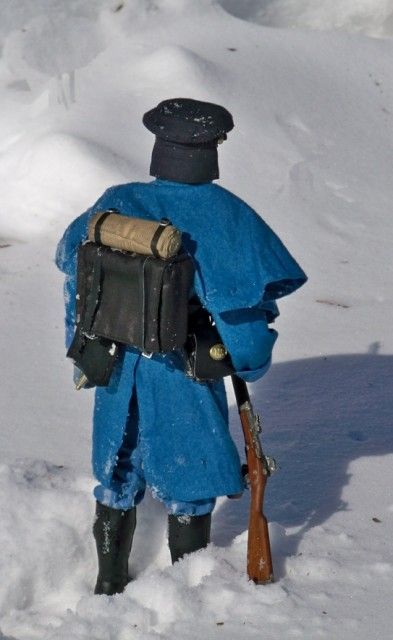 Like my 1850 private (who shared the same snow bank), this soldier has a modified DML hs and body. His greatcoat is a modified BGT, as well as his cap, boots, cartridge box, cap pouch, belt plate and bayonet. The musket, trousers, back-pack, canteen and haversack are SST.
Here is a clolse-up of the 1855 rifled-musket, made from a SST 1861.
Again, if anyone has a spare BGT 1839 cap like this one, I would like to buy or trade. PM me.