In the Treaties of Payne's Landing (1832) and Fort Gibson (1833) the Seminoles of Florida had agreed to give up their lands, but they refused to move out. Following the arrest and release of Osceola, one of their leader, in 1835, Seminole depredations rapidly increased. These culminated on 28 December in the massacre of Major Francis L. Dade's detachment of 108 Regulars (2 companies of the 2nd Artillery and elements of the 4th Infantry) enroute from Fort Brooke to Fort King. Brig. Gen. Duncan L. Clinch, commanding Fort King, took the offensive immediately with 200 men and on 31 December, 1835 defeated the Indians on the Withlacoochee River.
The War Department, meanwhile, had ordered Brig. Gen. Winfield Scott, commander of the Eastern Department, to Florida to direct operations against the Seminoles. Most of the hostilities had occurred in General Gaines' Western Department, but the War Department expected impending troubles in Texas to keep Gaines occupied. Nevertheless, Gaines had quickly raised about 1,000 men in New Orleans and, acting on his own authority, embarked for Florida in February 1836. Even after learning of Scott's appointment, Gaines seized supplies collected by Scott at Fort Drane and pressed forward until heavily attacked by Seminoles. He succeeded in extricating his force only with help from Scott's troops. Shortly thereafter Gaines returned to New Orleans.
Completion of preparations for Scott's proposed three-pronged offensive converging on the Withlacoochee were delayed by Gaines' use of Scott's supplies, expiration of volunteer enlistments, and temporary diversion of troops to deal with the Creeks who were then on the warpath in Georgia and Alabama. Before the campaign could get underway, Scott was recalled to Washington to face charges of dilatoriness and of casting slurs on the fighting qualities of volunteers. Beginning in December 1836, Maj. Gen. Thomas S. Jesup carried out a series of small actions against the Seminoles, and in September 1837 Osceola was captured. Colonel Zachary Taylor decisively defeated a sizeable Indian force near Lake Okeechobee in December 1837.
After Taylor's expedition no more large forces were assembled on either side. Numerous small expeditions were carried out chiefly by Regular troops commanded successively by Jesup, Taylor, and Brig. Gen. Walker A. Armistead, and many posts and roads were constructed. Col. William J. Worth finally conceived a plan which consisted of campaigning during the enervating summer seasons with the object of destroying the Indian's crops. This plan was successful in driving a sufficient number of Seminoles from their swampy retreats to permit official termination of the war on 10 May 1842.
During the long and difficult campaign some 5,000 Regulars had been employed (including elements of the 1st, 2d, 4th, 5th, 6th, 7th, and 8th Infantry, and all four regiments of Artillery) with a loss of nearly 1,500 killed. Nearly 20,000 volunteers also participated in the war which cost some thirty-five million dollars and resulted in the removal of some 3,500 Seminoles to the Indian Territory.
The final campaign against the remnants of the Seminoles in Florida consisted mainly of a series of skirmishes between small, roving Indian bands and the 4th Artillery which was stationed at Fort Brooke.
(source : US Army Center of Military History - slightly edited)
Companies of the 4th Infantry under the command of Lt-Col William S. Foster were to take part in all major engagements of the war, as well as "marching up and down, to and fro, hither and yon" through the jungles and swamps of Florida in search of the elusive Seminoles. In 1838, the Fourth was sent to Georgia to escort the Cherokee's transfert to Arkansas Territory, but the regiment came back in 1841 for the last campaigns of the war.
Soldiers fought in the pattern of 1833 sky blue wool fatigue uniform, distinguished with white buttons and trim for Infantry, or its white drill equivalent during the summer months. The folding leather cap was adopted the same year, its only ornament being the 1-in high company letter, again in white metal for the Infantry. The equipment consisted in buff crossbelts with the round brass M1826 'Eagle' plate, a white linen haversack for the rations and a blue-painted wooden waterbottle. The 'Eagle-stamped' cartridge box, with its ornate flap design, was issued between 1832 and 1839, when replaced by a simpler pattern. He is armed with a M1816 flintlock musket with its 16-in blade bayonet.
As all 19th C. uniforms, it was not ideally suited to hard campaigning, particularly in the type of fighting dictated by the Seminoles. Blackened belts were issued later in the war to reduce visibility, but no other concessions were made to the terrain and climate.
DML HS & body, the head has been repainted and 'hair' added (my T-shirt became hairier than my chest doing this. The 'hair' comes from one of my hairdresser's 'hair dye catalogue' - thanks for this, Marc
). The body was thinned on chest and shoulders. Sideshow provided the hands (repainted), the crossbelt plate (repainted), and the musket and bayonet. The musket is originally a M1842 (thanks Andy :thumb ), heavily reworked, repainted, with a Tony Barton lock and custom leather sling. The waterbottle and boots come from DiD Dick, the former reworked and painted, with a custom leather sling.
Everything else (cap, fatigue uniform, shirt, buff crossbelts, cartridge box, bayonet scabbard, 'pick & brush', and haversack) is scratchbuilt, using pictures or descriptions of original artefacts.
The weathering is intended to show the 'wear and tear' and other effects of campaigning in the wet terrain of Florida's Everglades. I have used gloss brown paint on the boots and bottom of trousers.
Finally, a big thank to Jim K. for his historical advice.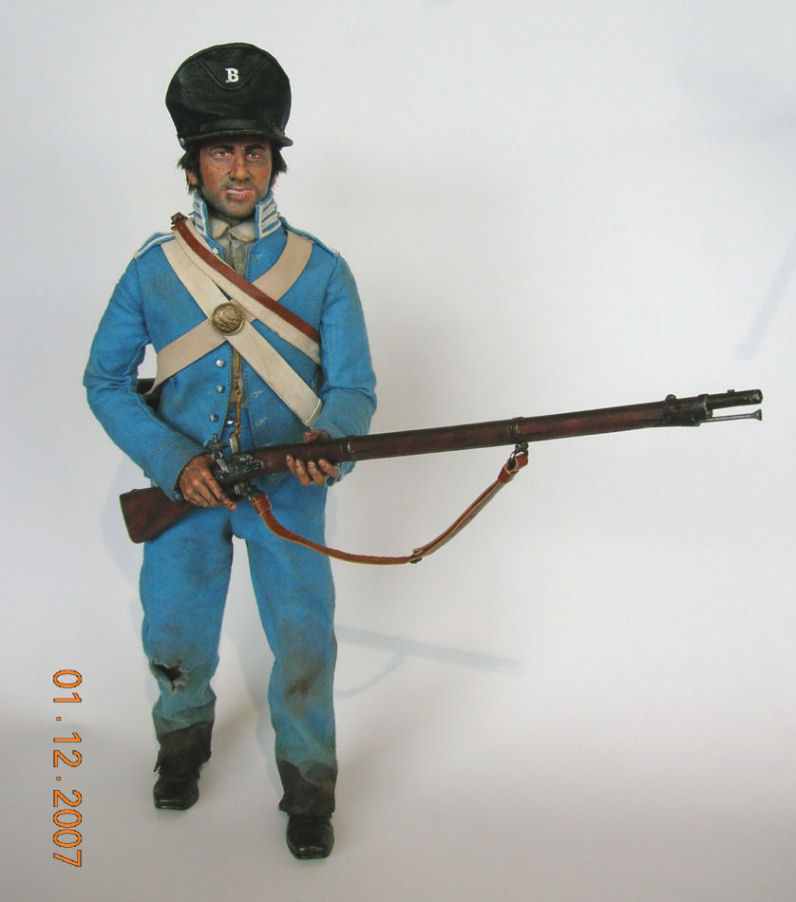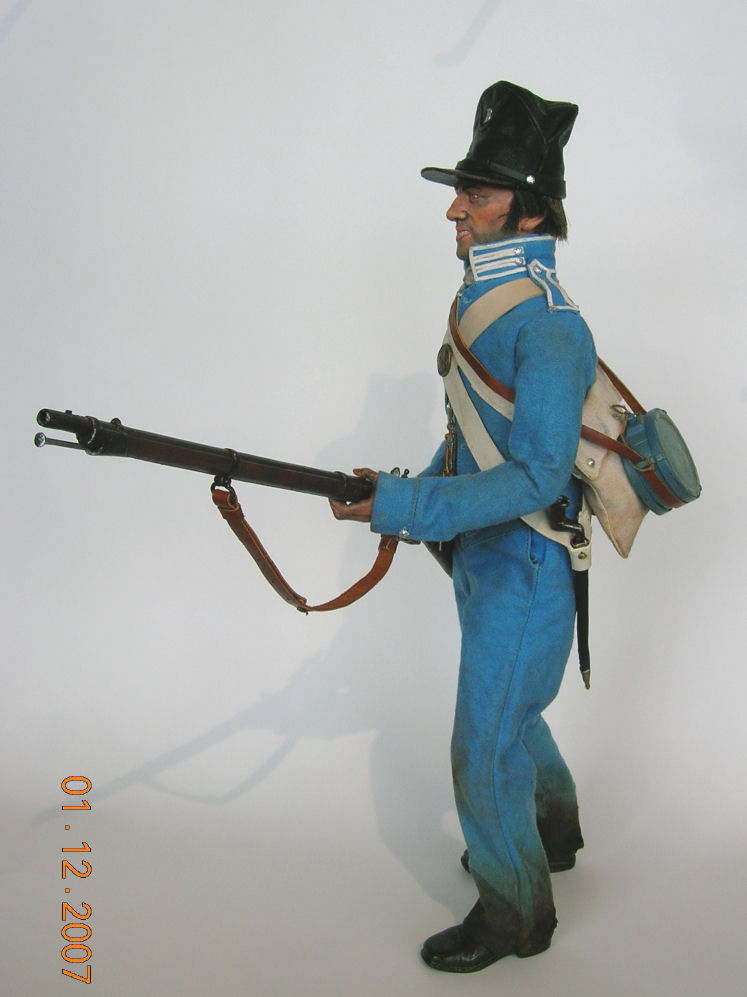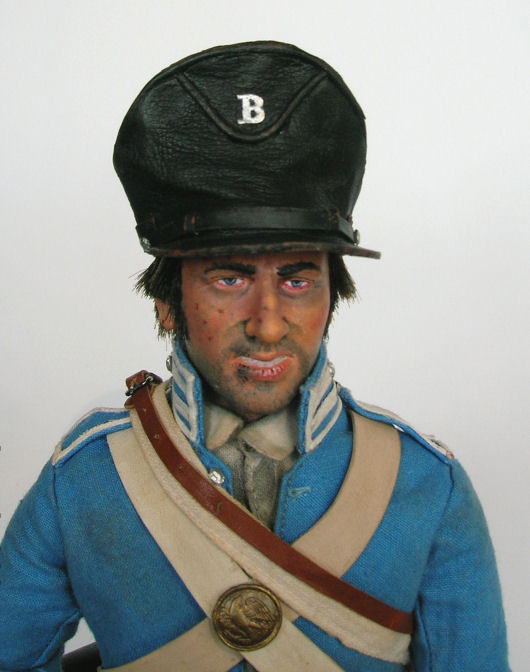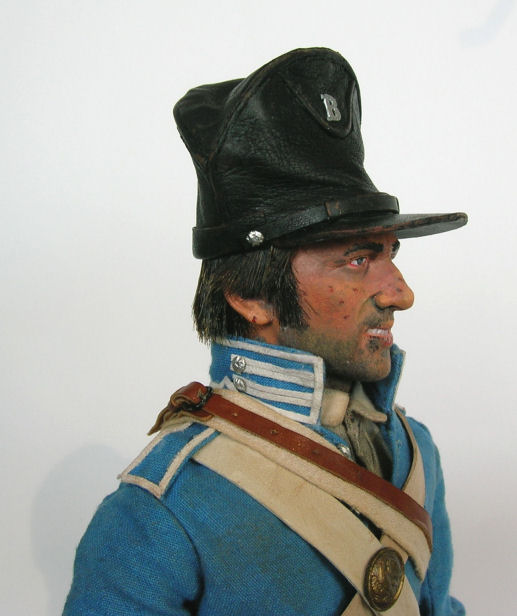 Finally, a pic of the original Sideshow M1842 musket and my M1816 :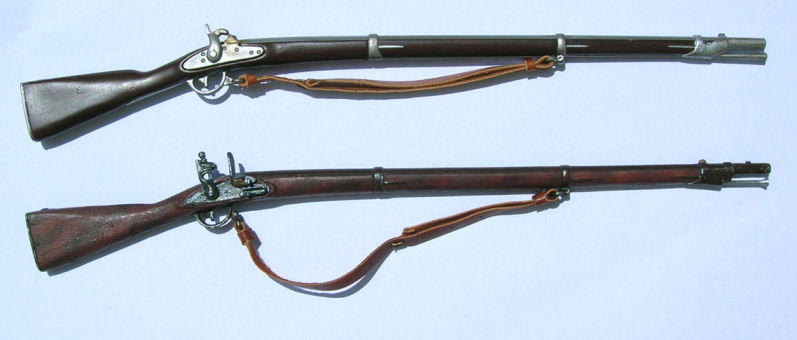 I've been working on this figure on and off for more than a year - and thinking about it even more, as part of my US Army in the XIXth Century timeline (it's the seventh to date)- so I hope you'll like it.
Eric