Ive always been dissatisfied with my predator scar figure, the hair was one of the main things that bothered me, the lil bit oversized head and the ski color looked ridiculous along with the uncomfortable looking bodyarmor.
I havent been into the 1.6 community for about 1 year but ecently purchased the prdator 2 elder which i am 110% satisfied, this prompted me to fuxup the scar predator that had been sitting in my cabitet untouched and unlooked at for so long.
I started with removing the metal wiring in each hair strand. i twisted the hair and slipped each wire through a set of holes along each dreadlock. i previously attempted to open the head up t see if there was another way and slipping the wire through the holes ended up being the best way.
Now removing the wire alone is not enough to help the hair stay in a natural gratational way, it will still look like a freakshow. So in order have the hair flow downward, I then cut a triangle chunk out of each dreadlock. then i was able to bend the hair without any excess buldge of the rubber locks and glue them down with a tab of crazyglue. i did each dread lock individully and angled each chunk i cut accordingly to the way i wanted the hair to flow.
There are minor blemishes of the cut away rubber locks but it looks way better to me then the way the crazy hair did. and i think this alone added a much more likeable factor to my own predator.
I also ended up painting the whole body as i hated these yellow patches on black skin of the original predator body. I also did different washes and tints of darker and lighter shades on the whole entire armor of the figure. as it looked to dark or boring to me. I repainted the helmet silver with darker tints around the eyebrows of the helmet. repainted the bone necklace more white and added a longer brown color skirt for the front of his crotch.
the armor on the shoulders i pulled off and reglued. gluing the shoulder plate just below the body armor. then the tricep or mid armor i glued it alot lower to cover more of the arms like in the movie. this helped a great deal in making the predator look better.
here are the photos.
1 before photo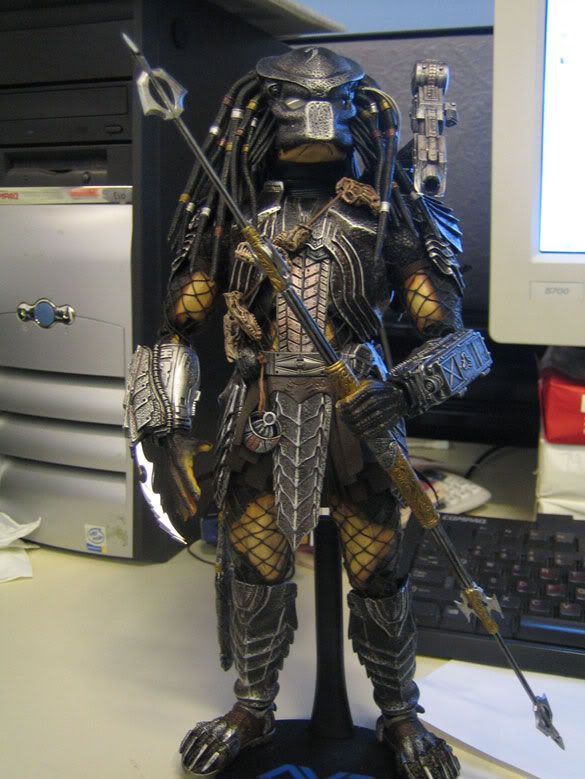 After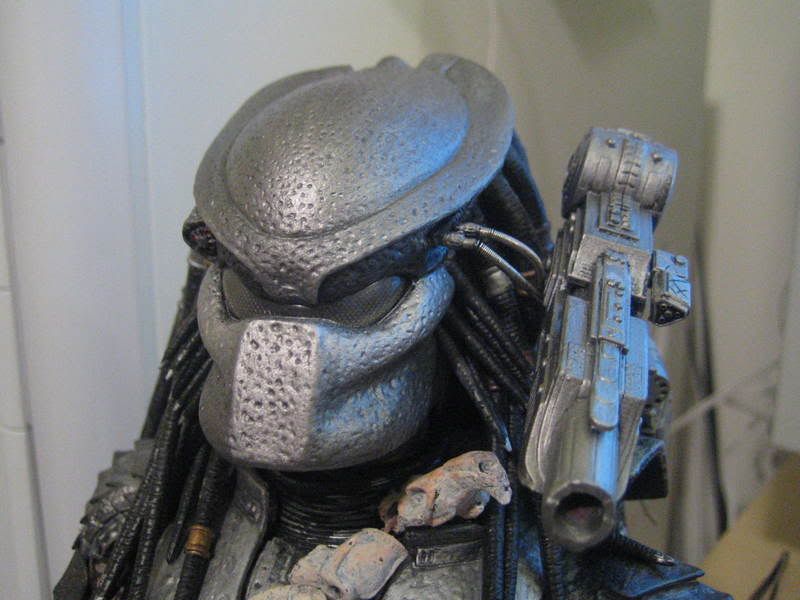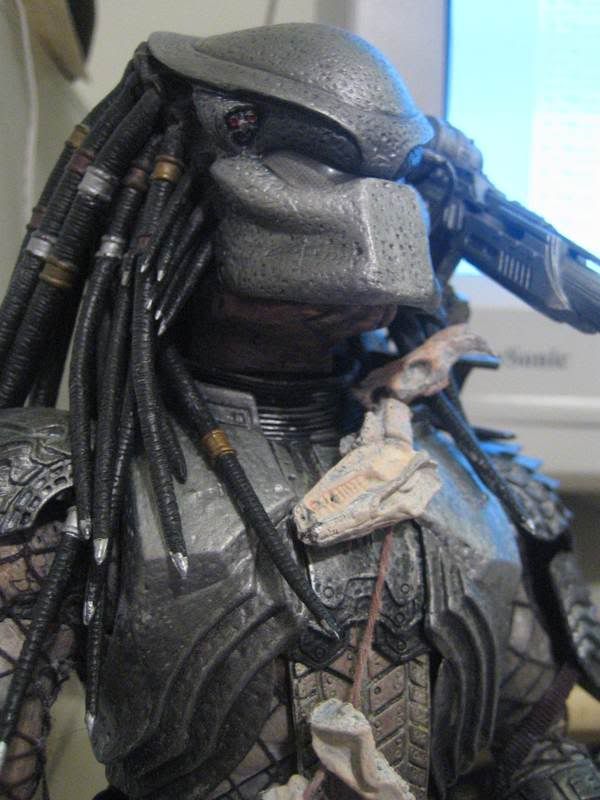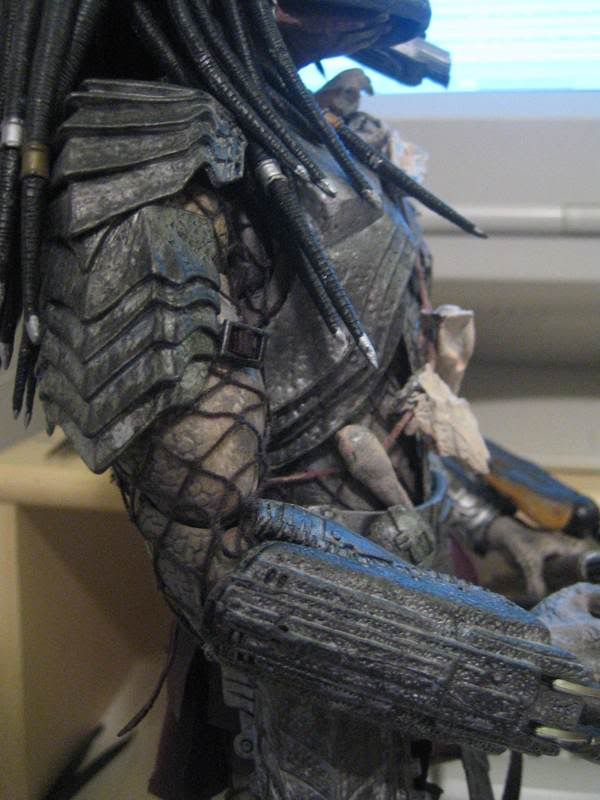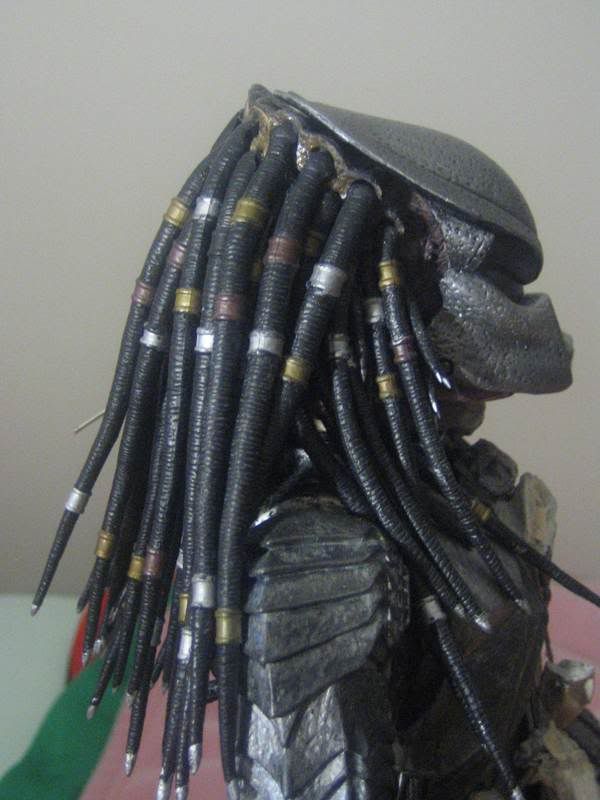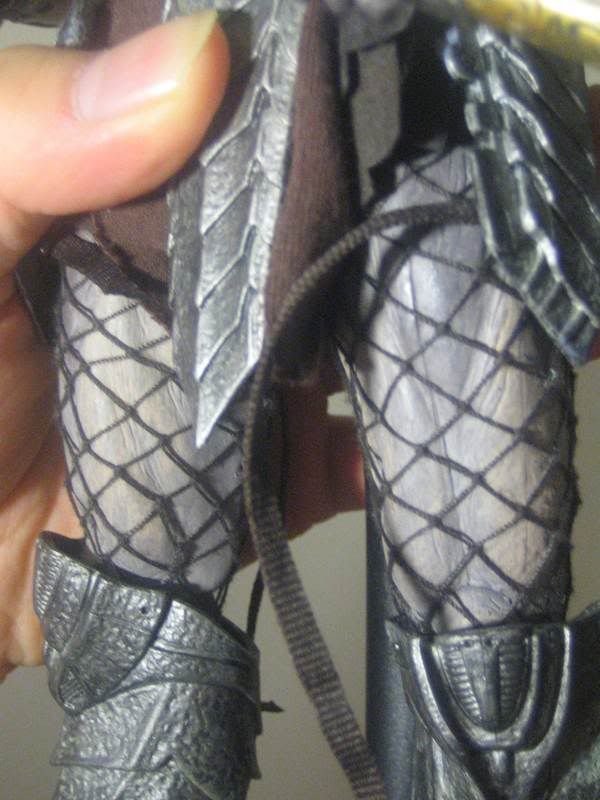 A simple Diagram of what to do