Hi all,
Star of this thread is a new high speed low drag optics "system", the ECOS-O used by SOCOM, presented here on a pimped out 16 inch M110K1 carbine by Easy & Simple.
This optics system is comprised by a Leupold MK6 3-18X44 variable scope, a Leupold cantilever scope base, and an Aimpoint Micro T-1 red dot sight, on a top mounted rail.
To give a little background info, in 2013 Leupold with Aimpoint won a huge SOCOM wide contract for the Enhanced Combat Optical Sight - Optimized (ECOS-O), as the primary optics system to satisfy "
the operational need for a system that will allow SOF operators to engage targets in close quarter battle situations as well as providing a long-range high-powered optic system to engage targets at the full range of the weapon system's capability"
. That is, out to 1000+ meters mounted primarily on 7.62 platforms.
You can find more info here
SOCOM ECOS-O optic contract awarded to Leupold and Aimpoint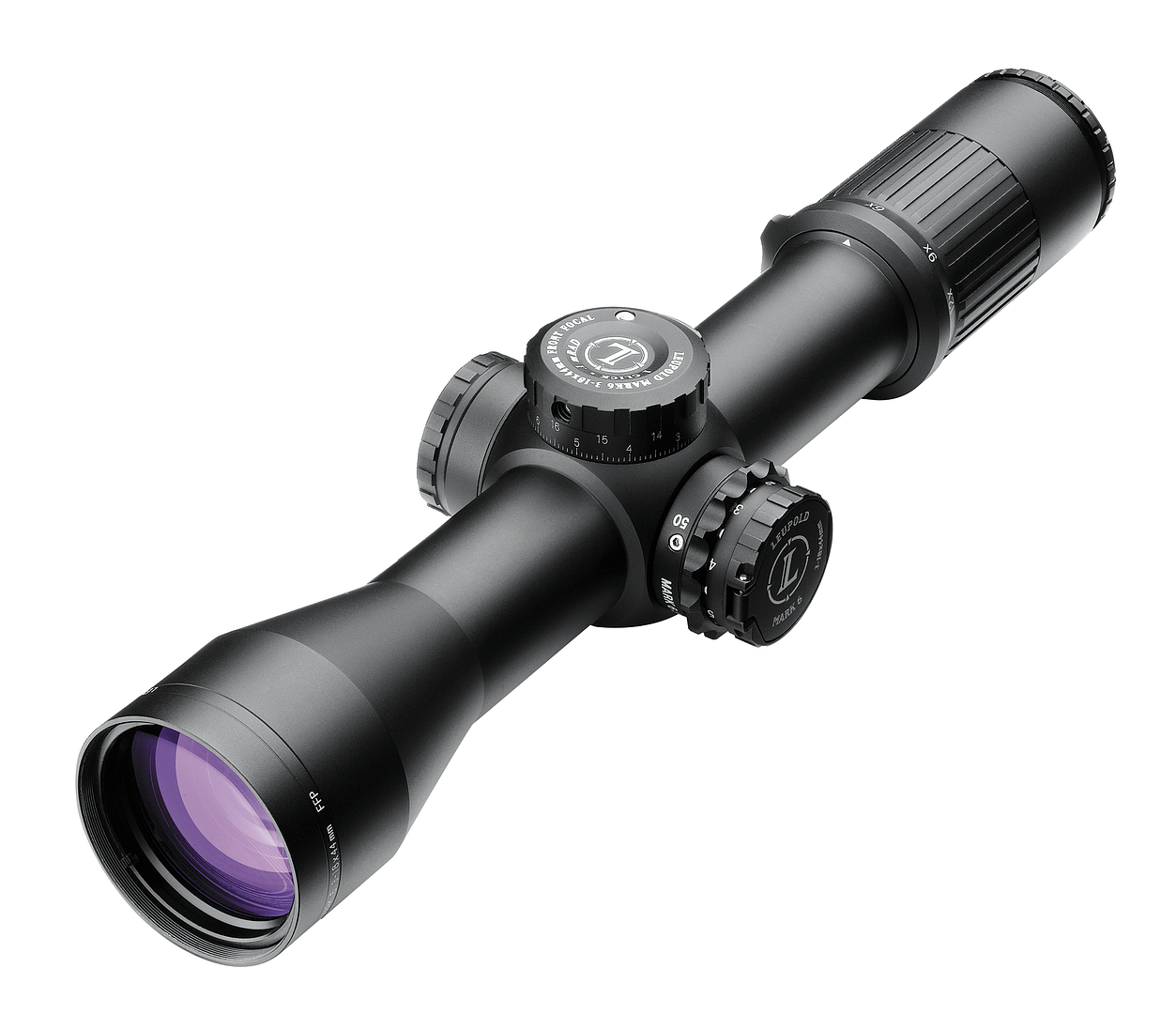 This really "top of the line" optics system (In 2014 the MK6 won an FBI contract for the famous
HRT
unit and is also used by big city SWAT teams) is now available to 1/6 hobbyists, thanks to our OSW member
Delusional
who designed it in 3D according to the detailed 1:1 specifications and photos that I provided.
And he did a great job! :clap:clap This is the finished scope system, painted in grey/black with a hint of metallic, to show the details, complete with sticker lenses.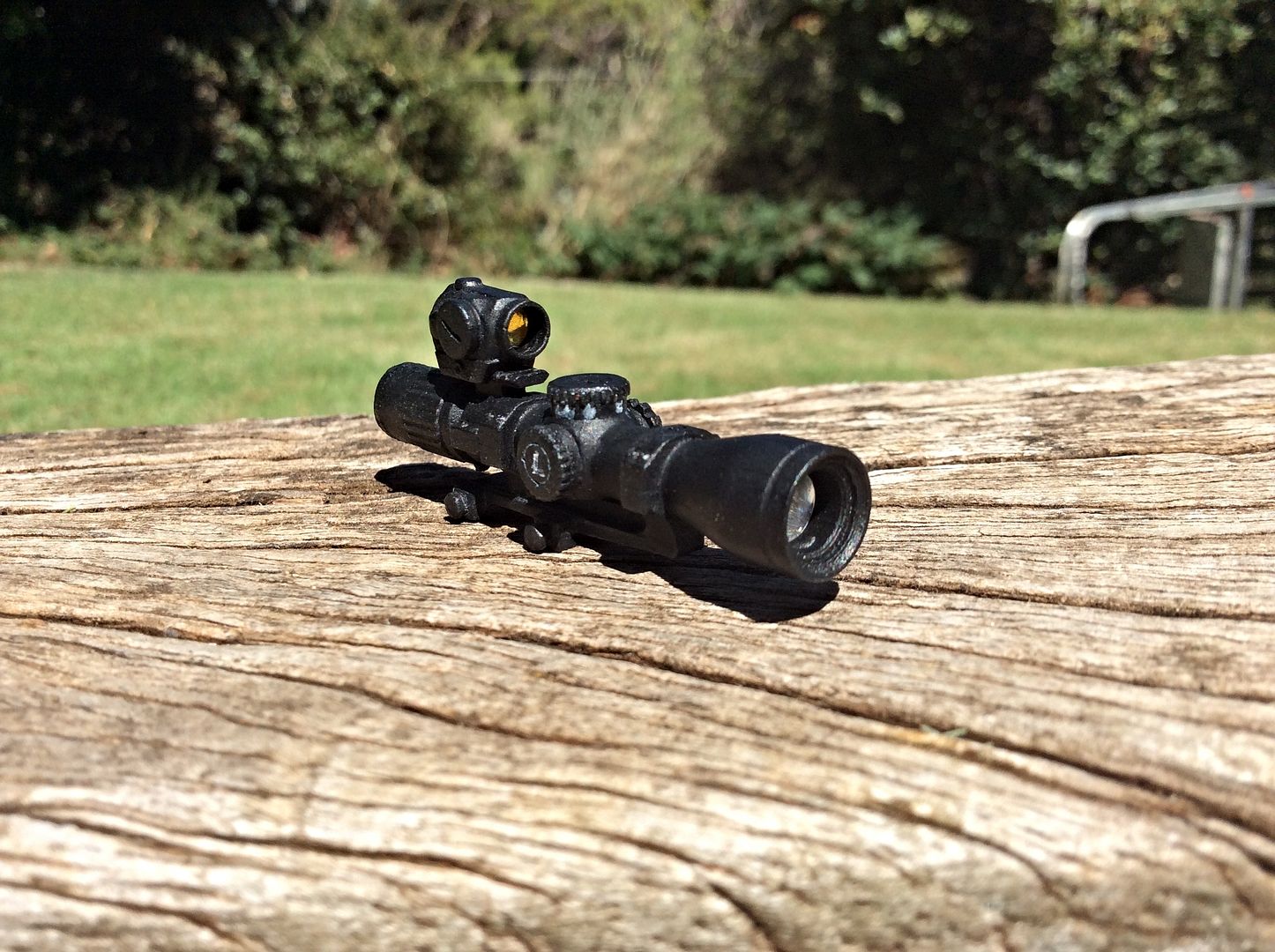 The ECOS-O is an optics system that really suits the M110K platform, instead of the combination of ACOG and offset T-1, that E&S provided. To put it simply, the ACOG has fixed magnification and surely not enough for the effective range of the rifle which is about 800 yards, even with the 16 inch barrel. The ECOS on the other hand, has a very wide margin of magnification, (3-18), is compact for its power (12 inches in length), and was specially designed to place the T-1 at minimum height over the scope to help the shooter transition smoothly and quickly between the two.
This M110 carbine configuration has a quick detach and very flexible (it swivels in all directions and the legs move independently to 45 degree angles)
Atlas
bipod, (from E&S HK417 as included in the DEVGRU HALO boxed figure), a Surefire light, a PEQ-15 and a quick detach short vertical foregrip, (E&S) to complete a real
7.62 "Recce/sniper" rifle
look.
Here it is with the ECOS-O mounted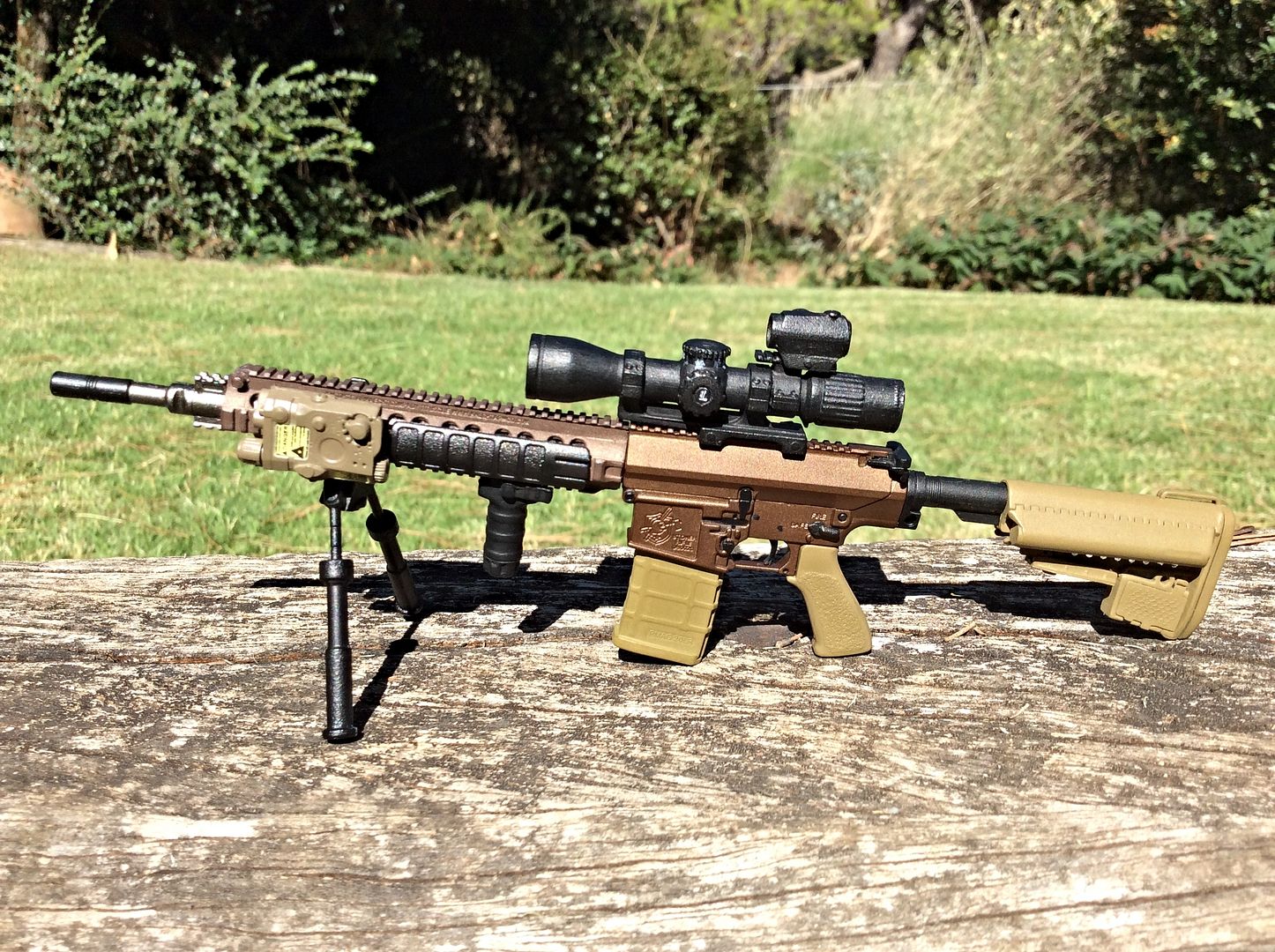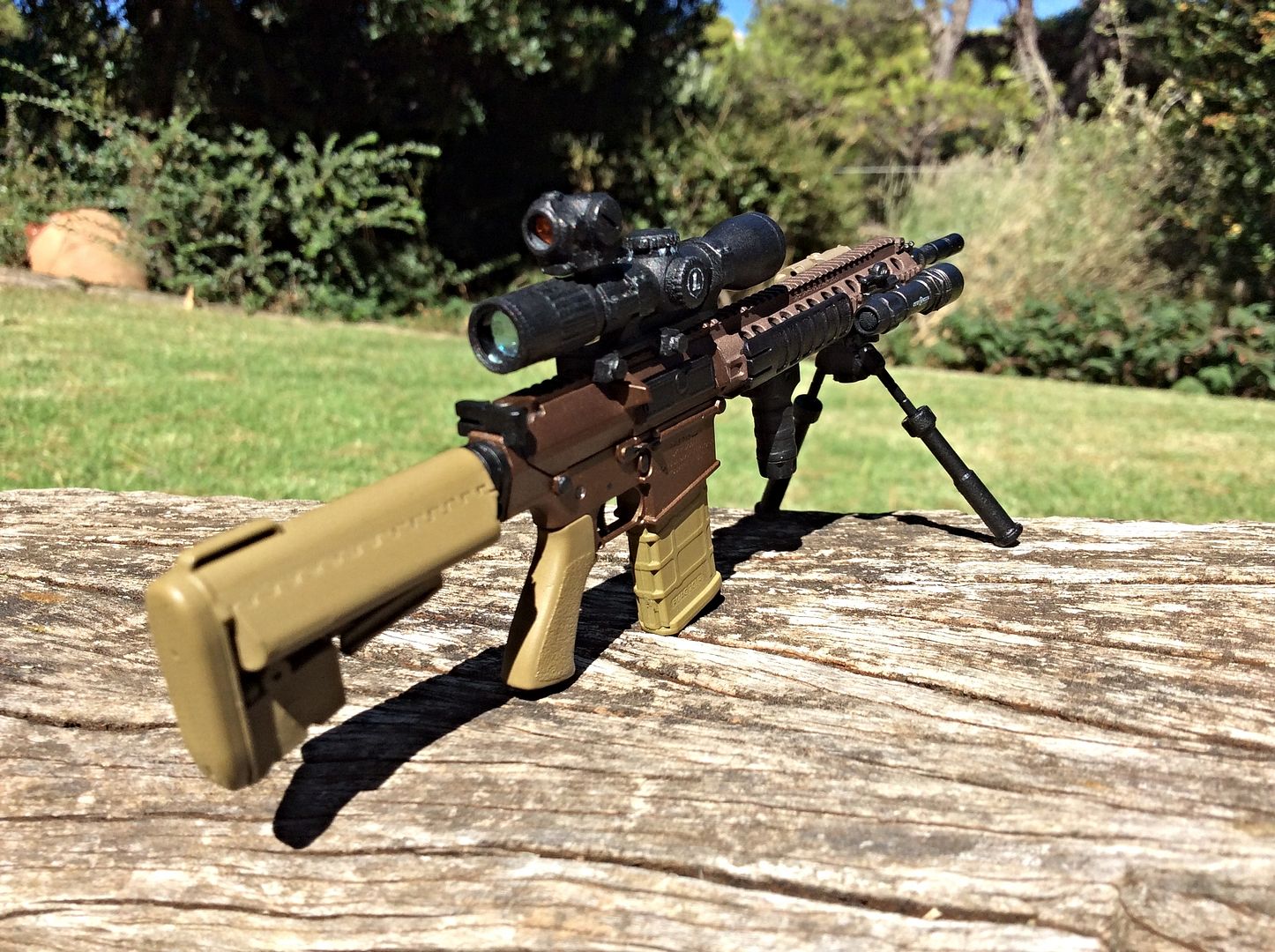 The ECOS-O is available for everybody on Delusional's Shapeways Store here.
https://www.shapeways.com/product/3...aimpoint-an?li=shop-results&optionId=57487267
It comes like this.
So you will need to paint it in black or the camo scheme you prefer. It will easily fit premium 1/6 rifle rails (SS, DAM, E&S etc) and you can get sticker lenses in various diameters to complete the look. Note that the scope has engraved "notches" for the logos so that if you wish, you can also paint the Leupold "L" as I did.
All in all I want to give a big shout out to Delusional for kindly providing another one of my 1/6 "unicorns" :thanks:thanks and making it available to any hobbyist interested.
Hope you enjoyed this, feedback, comments and suggestions are most welcomed.