These are my favorite Phicen/TBLeague bodies so far, all suntan skin tone, from left to right: S12D, S17B, S23B, 21B, S29B, S33B.

S12, S17B, 23B, and S21B all have the same height, with S29B is the shortest and S33 is the tallest, both within half an inch taller or shorter than the rest at 10.25 inches tall.
View attachment 404126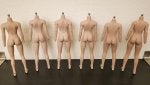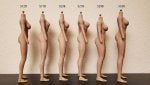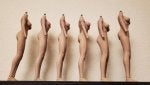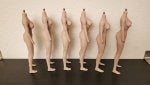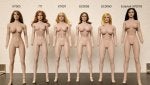 You can find that Kristen Stewart head sculpt with the following name "Estartek XY001B" on AliExpress, Ebay sellers won't bother to add the item model #, only preferenced as "American female head sculpt."
Also, I can't find the model number of the 2nd head sculpt. Let me know if you guys know which one is it.
NOT FOR THE FAINT OF HEART, YOU'VE BEEN WARNED:
Put these fine mesh stocking on my Phicen with seamless feet for 2-3 years and now they're fused together, stock & skin are now one. :urp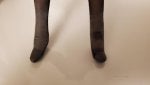 Left a black jumpsuit on this body a while back. Both arms are now stained. Well, at least it's not the body! :dizzy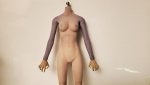 Oh, and finally, just some casual skin tearing.