I recently purchased Hercules to keep Red Sonja company and thought I'd review him in case anyone else was interested in picking one up.
The box front features some nice artwork of Steve Reeves as Hercules, it reminds me of a vintage movie poster and the back has a great shot of the actor and a description for both the character he portrayed and himself. The box is shrink-wrapped so that's the first thing to go.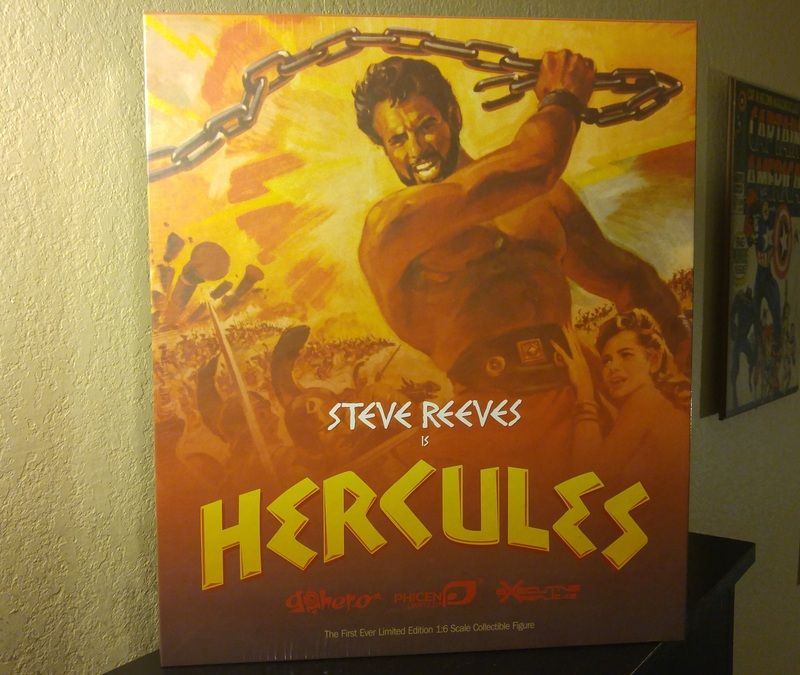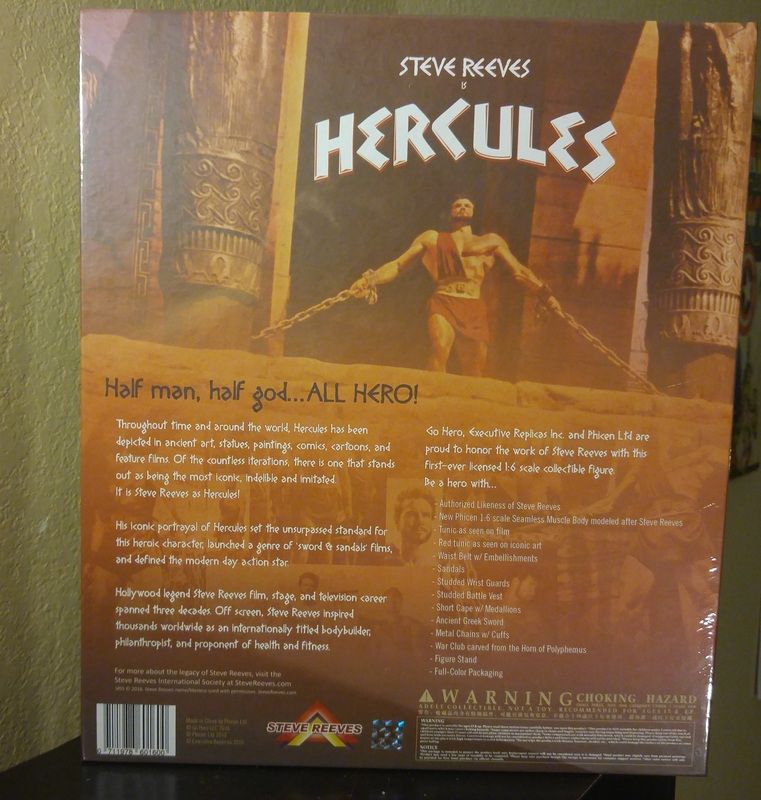 Opening the box you're greeted with the body, head, armor and other pieces securely in a foam tray. Nothing fell out, which was nice lol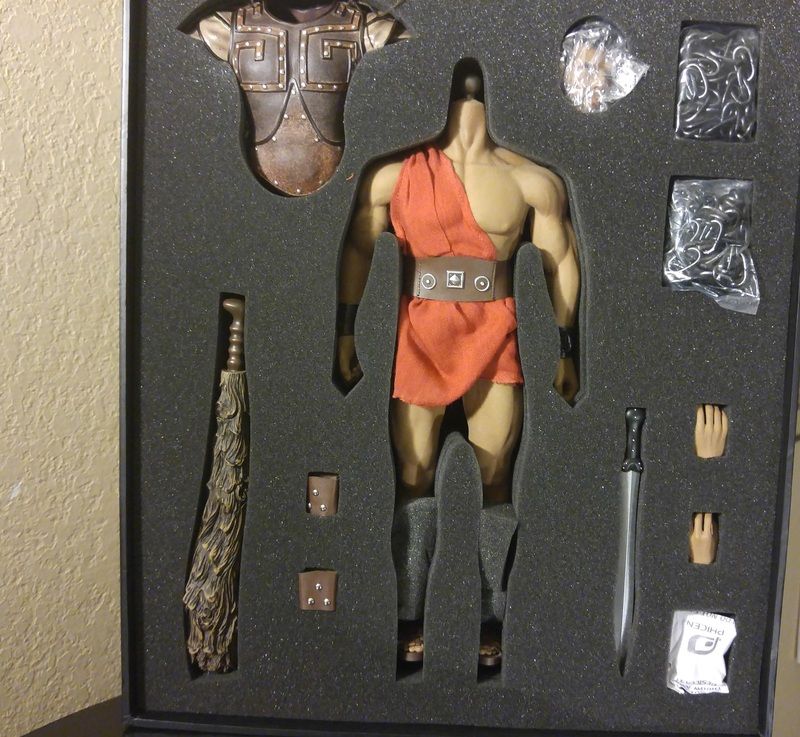 Behind the first tray is Herc's cape and his second tunic (those fall out immediately lol)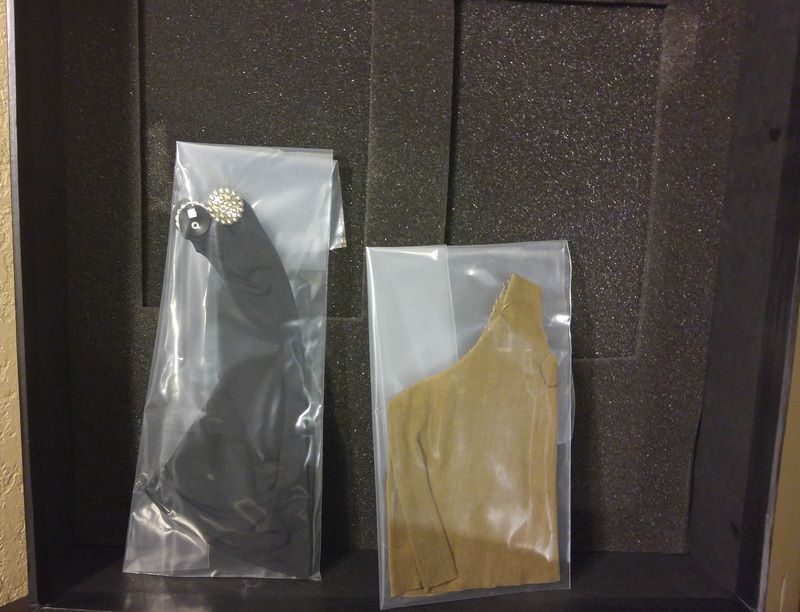 Here is the cape, armor, tunic and cuffs. The cape is made from a thin fabric with wires running through it so it can be posed. The armor is a soft plastic, painted up to resemble leather, the tunic is a very thin material and the cuffs are pleather with straps on the side and silver adornments.
Here are his accessories. He comes with a second set of hands, two long, metal chains (only photographed the one though), a plastic club and plastic sword.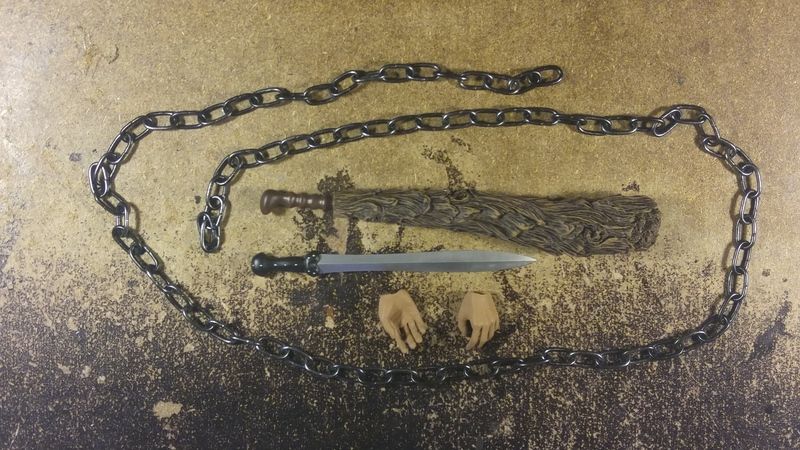 The man himself straight out of the box without any futzing. He's a nicely solid figure and uses the M30 body. His head sits nicely on his body and his hands are easy (a little too easy maybe? More later!) to remove. He stands well without any problems so that's a plus. His clothes consist of two metal cuffs with hooks on the side, a thin red tunic, his sandals and a pleather belt with studs on the front.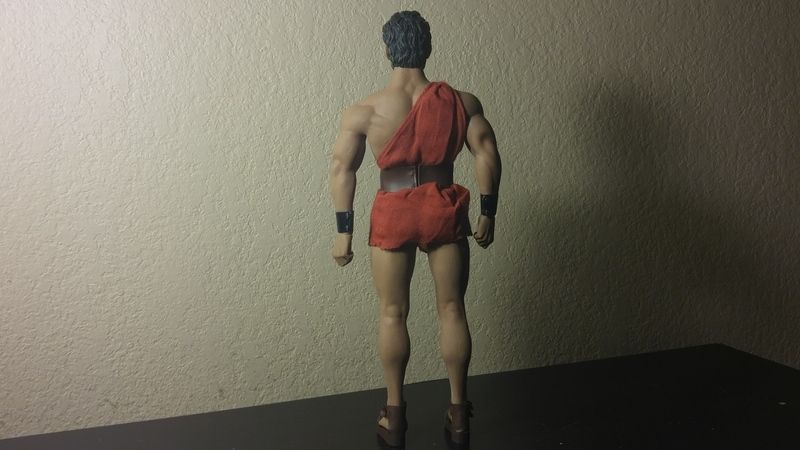 Herc's wearing sandals on his feet, they're a mix of pleather on top and plastic on the bottom with a bit of a thicker sole, which I think was used to give him some extra height.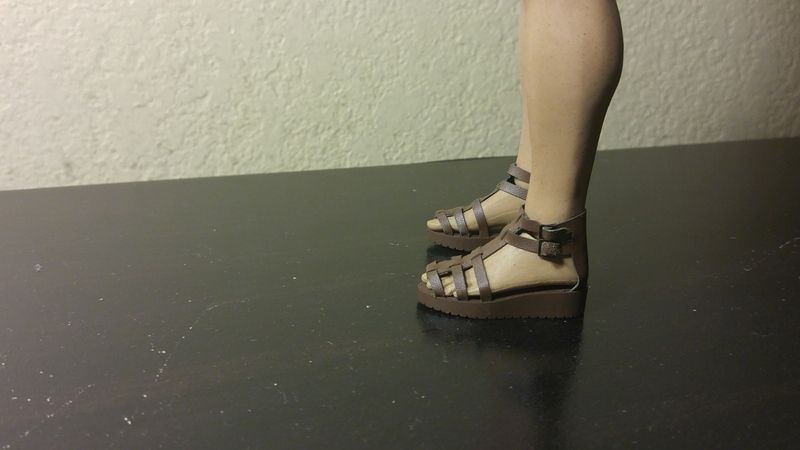 The shackles, like I mentioned are metal and feature hooks to loop the chains around so he can pose with them. They're nicely done and easy to remove as they just slip right off once you remove the hands.
The pleather belt is kept on using little hooks sewn into the fabric, they're not buttons so you can't pull it apart you have to slide the hooks off of the little loop to remove the belt.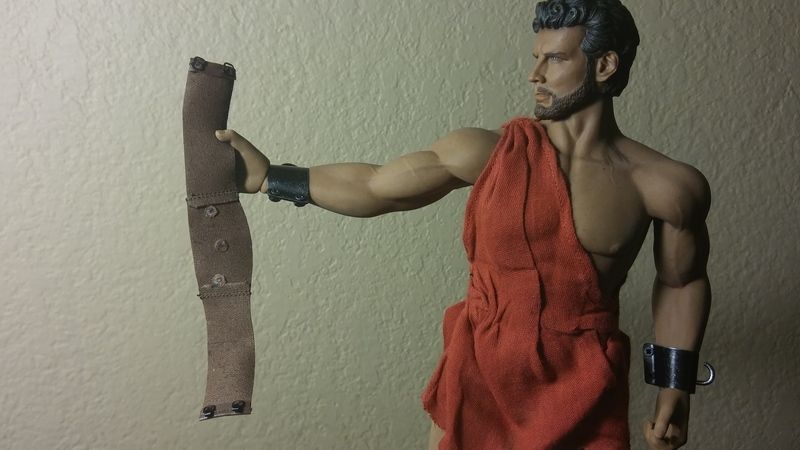 The tunic has buttons on either side, you have to unbutton them first to remove the outfit as it cinches a bit around his waist.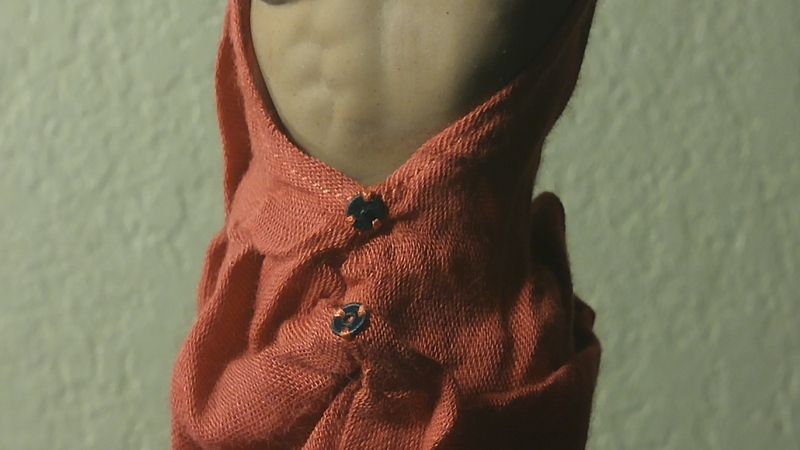 And now, the head. To me eye, it doesn't resemble Reeves at all. It's decently sculpted but I feel as though it's a few years too late. The eyes are a slightly unnatural blue but glossed well so they catch light nicely. The hair is sculpted really well (that beard, not so much) and while I think they were going for a strong and stoic look, he seems to convey more a kind of sour disapproval. I wish it was done better.
Underneath the clothing is a pair of black underwear, I didn't check for staining, but I won't be removing mine so it wasn't an issue for me.
Here he is with one of the chains, I wanted to get at least one shot of them. The chains like I said are pretty long and have a decent weight to them.
He'd look good replicating any one of these poses with the chains
http://www.usawa.com/wp-content/uploads/2013/10/hercules2.jpg
or
http://shop.stevereeves.com/images/Her 8 small_a2bcf93761c06098.jpg
Here he is in the second tunic, it's much looser and I feel a bit thinner than the red one. Saran Wrap was used to slide the tunic on over his head.
It was touch and go there for a minute, trying to slide it down even with the Saran Wrap helping out. I was afraid the stitches would pop as the material is really thin.
That's all for
part one
! I've got work in a couple minutes. When I get back tonight I'll conclude the review!
Part two!
Here Hercules stands decked out in his armor and alternate tunic. As mentioned before, the armor is made of a softer, slightly pliable plastic with ties at the tops and sides (more on that in a bit!).
The pleather wrist cuffs have straps that one could use to hypothetically tighten on the figures wrist, but as is, they slide right on.
Now, back to that armor. What a pain! I think the armor was meant to be put on by untying the top of the armor and sliding it over and down the figures body. Mine came with the strings knotted at the top, making untying it impossible, so my only course of action was untying it at the sides and trying to fit it on that way. Let's just say it wasn't an enjoyable experience. There are two sets of ties on both sides and they both need to be untied in order to put the armor onto the body. The string or twine or whatever it is, is sealed at both ends to make threading it through the holes easier. Which would be the case if when attempting to thread it though, it didn't unravel. Also, if you have to put the armor on this way, watch the string because it has a tendency to slip from the holes and fall out. It's very thin so it could be easily lost. I tried to tie it as tightly as I could so that both ends of the armor would come together without gaps but given the thickness of the plastic, it was hard to do and the gaps are evident.
The chest piece also features two small slots for the prongs on the cape to fit in to. You have to kind of slide them in with a bit of force in order for them to stay put. I was worried that I was going to break them, but with a bit of "gentle nudging" I was able to get the prongs to stay inside. You can also see the aforementioned knots there at the top of the image.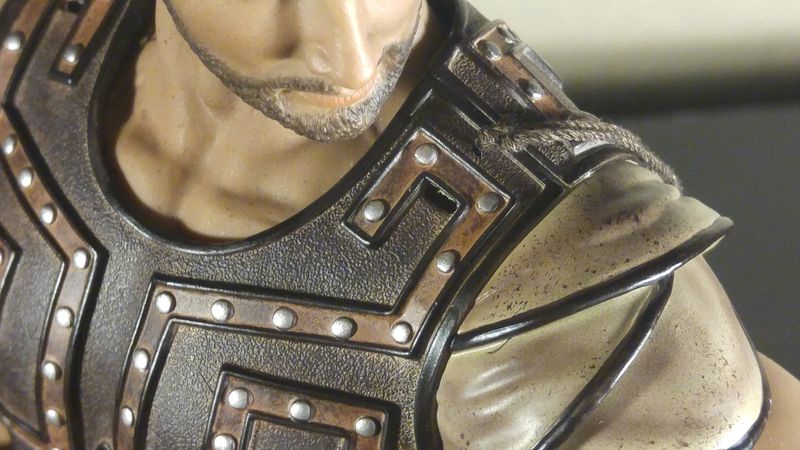 The cape is wired throughout so that you can give Herc some really dynamic poses with it. It's a thin, light fabric with some slight stretch.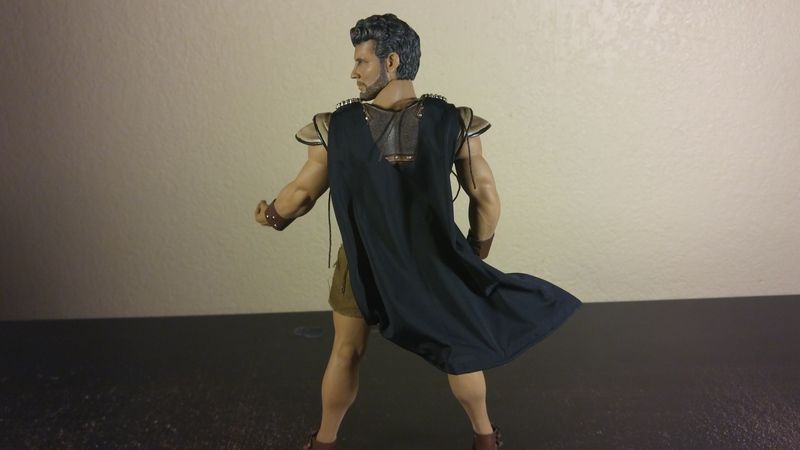 Hercules comes with a sword, the entire thing is made from plastic and painted to resemble a real bladed weapon. The plastic itself is decently sturdy with a bit of bend in it, but it's not terrible.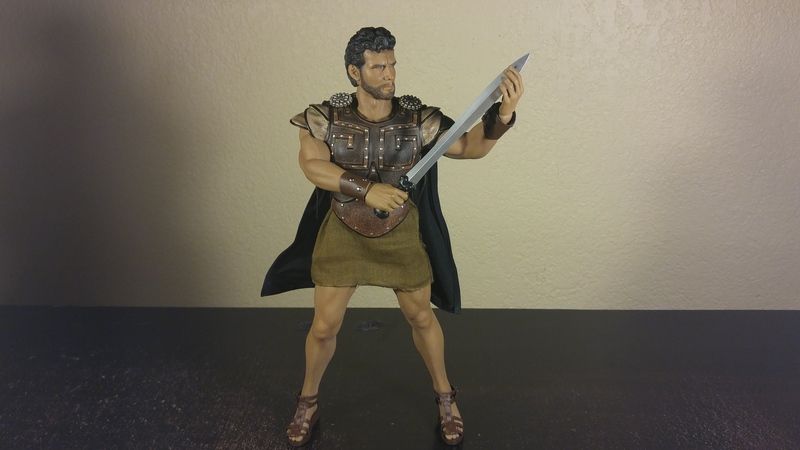 The club that the figure comes with is a piece with a nice bit of weight to it. Trouble is, it's too heavy for Hercules (oh, the irony!) to hold in any real dynamic pose. The weight of the club just swivels his hand around, he can't hold it upright. The only way for him to really hold it, is over the shoulder.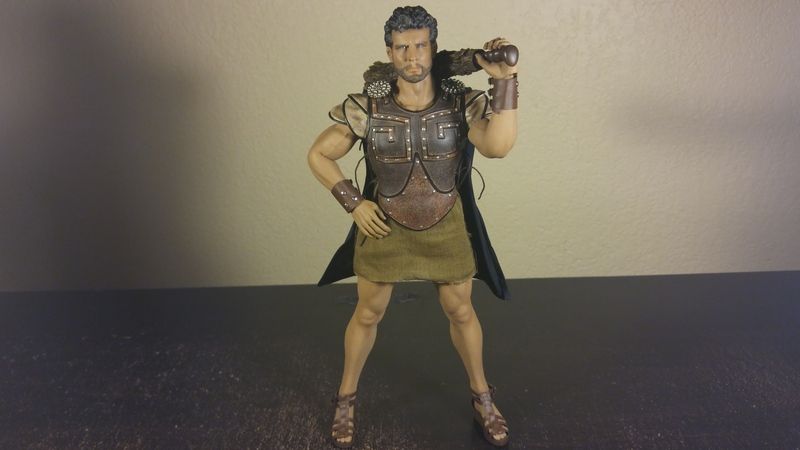 So that's it for Hercules.
He's a decent figure if you wanted a sword and sandals character, but he's no 'Steve Reeves as Hercules' figure, like what was advertised.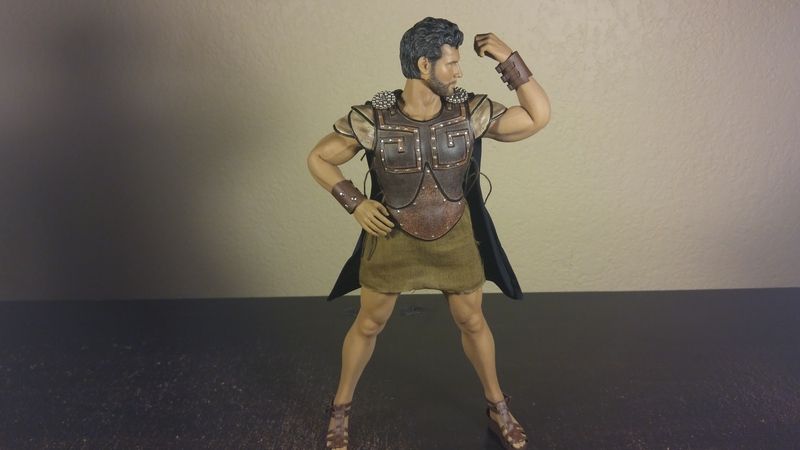 But he poses well and I think he'd make a nice addition to any barbarian/warrior shelf.
The only thing I wish is that maybe he had more accessories, at least more hands.
So, I think that's about it. There's really nothing else of note.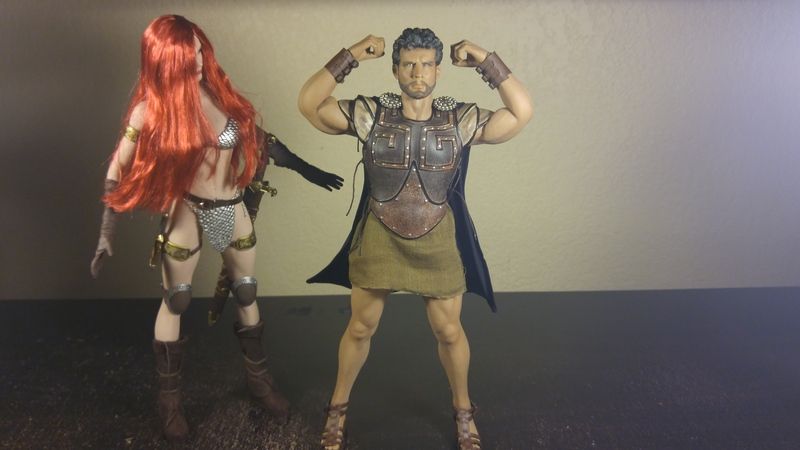 Oh. Wait, there is. I think Sonja's noticed the "issue."
He's short!
Since he uses the M30 body, he's not as tall as other figures.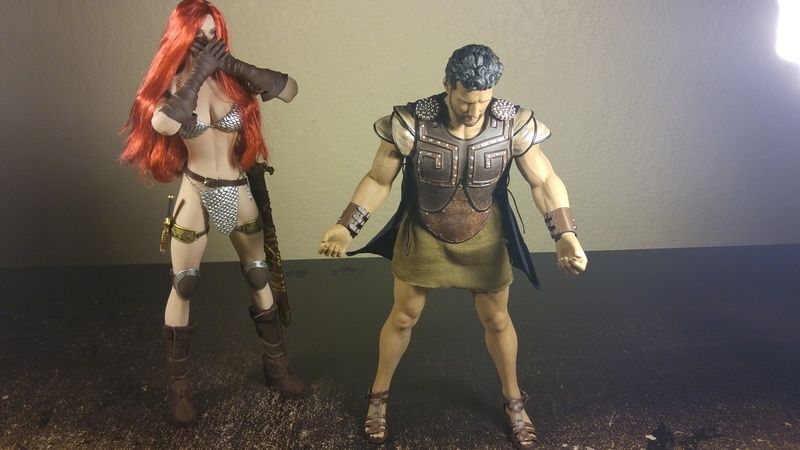 He makes for a...less than impressive demigod
But I was prepared for that eventuality. I bought some "extenders" on ebay for him. Specifically, these:
http://www.ebay.com/itm/172320238171?_trksid=p2057872.m2749.l2649&ssPageName=STRK:MEBIDX:IT
Hopefully it'll improve his outlook.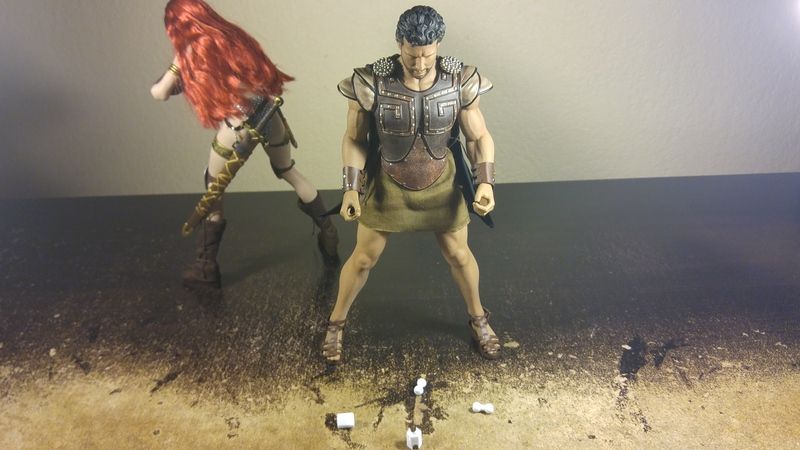 Success! They work! They make standing him a little "loose" but not too bad. But they're more than a little unsightly. What to do?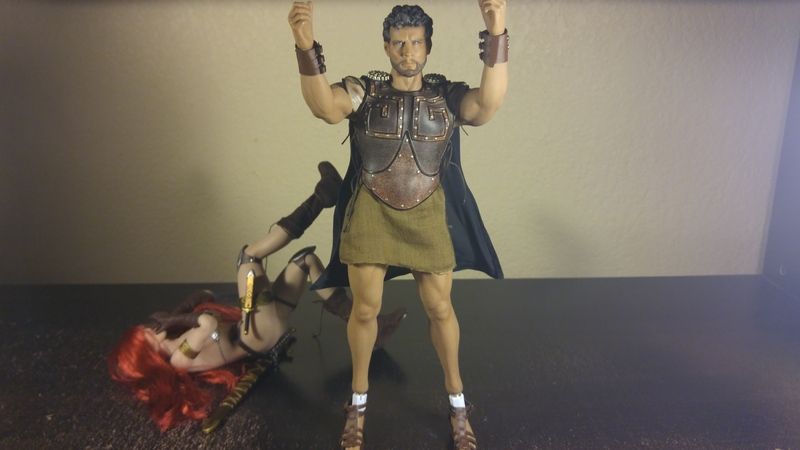 Got that covered! Literally!
I also picked up CM Toys' leg armor from their Roman Gladiator figure. It'll have to do for now. I'll get him the leggings and futz with it later.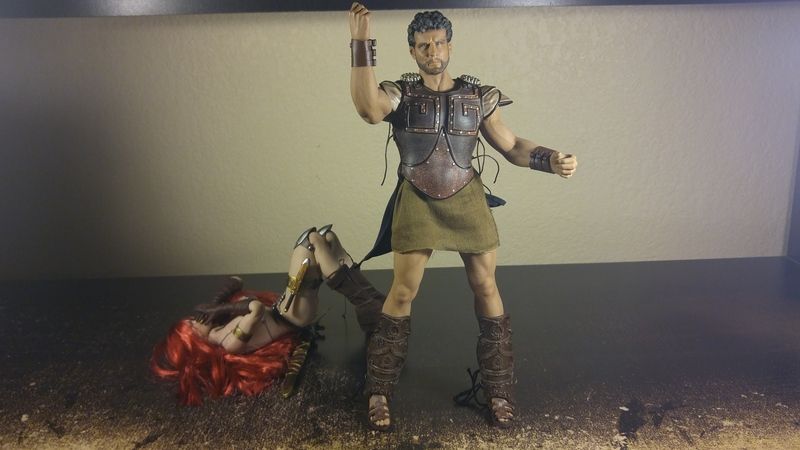 Now he can measure up with the other figures without ridicule.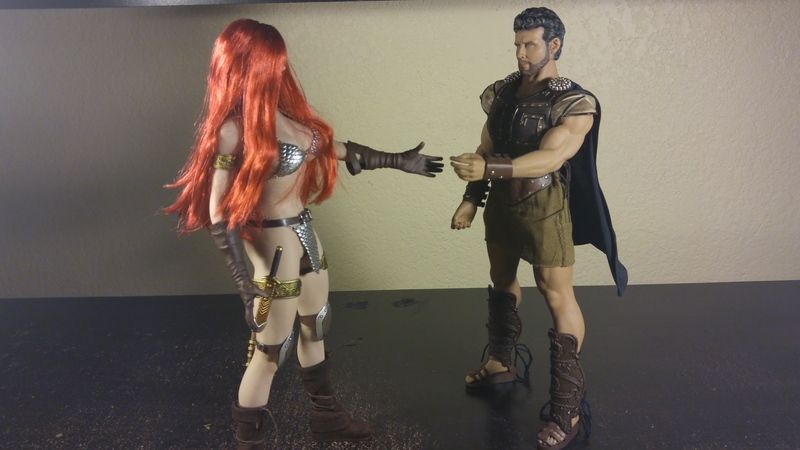 Looks like everything worked out, now that he's "standing tall" on the shelf and so that concludes my review!