Recently, I found a seller on ebay who was listing a few derelict Sideshow Civil War figures. .They were mostly switched into uniforms from other Sideshow sets, and all were missing parts, especially hats and muskets. .I was startled to recognize a figure that was still attached to a base as one I had admired eight years ago on the old Sixth Brigade Forum. .This was the first forum I had joined, and it was still very active. .There were many talented bashers who helped steer a novice toward creating better figures, and I remember their encouragement and advise. .Among these was a man who went by "Billto", and these were his figures being sold. .He left the forum the year I joined with the cryptic thread, "It's Been Fun", and wished us all well. The figure I recognized was his "69th New York at Fredericksburg", and it depicts a private of the famed "Irish Brigade" moving at the "double-quick" up a slope - obviously on the way to the vain assault on Marye's Heights.
And here is a link to a year-end thread Billto had posted with his figures:
Looking Back at 2008 in The Campfire Archive 08 Forum
The figures came from an estate sale, but the seller had not bought them direct, so he couldn't shed any light on Billto. Here was the original figure at a very reasonable price, so I clicked "Buy It Now", and this is what arrived:
The figure is the Sideshow Army of Northern Virginia Infantry Officer with the 100th Pennsylvania greatcoat and trousers, which had faded almost to white (as the Sideshow blues tend to do). Billto had enhanced the hs by gluing fine "hair" onto the molded hair and beard, and this had also faded to white. The hair was darkened with a paint marker from Michael's, and the uniform was replaced with one I had already re-dyed, as this one will be. He retained his belt, cap pouch, bayonet, canteen, haversack and cup, just as Billto had arranged them, but he got a new BGT cartridge box and cloth kepi. The kepi got a new chin strap with buckle and small buttons, as well as the Infantry horn insignia. Most importantly, I recreated the sprig of boxwood on the cap, because Billto was obviously also inspired by Don Troiani, who tells us that the staff passed out the boxwood because only one regiment in the Irish Brigade still had a usable green flag, so all the men could go into battle "beneath the green". Last, but not least, he was re-armed with a re-painted Sideshow 1842 Springfield musket.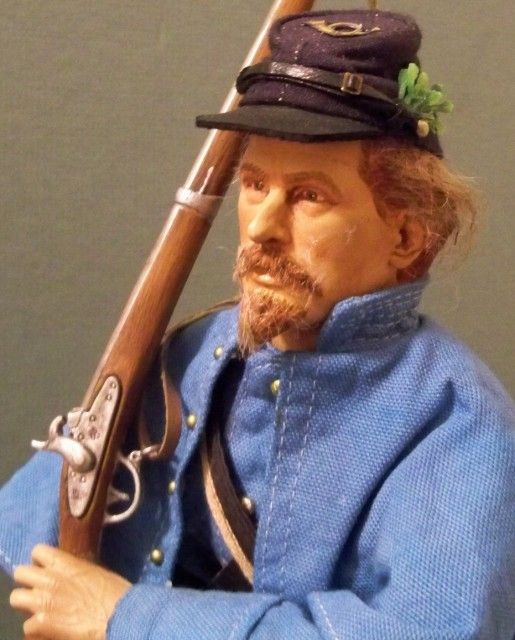 Billto had not glued him into his pose, but I did, so he could stand for a long time to come. I didn't get the pose exact, but Billto's bent right foot still pushes him up the heights at the "double-quick". He is now screwed into the clay sloped base with Billto's original foliage, and the whole thing is glued onto a new wooden base. The greatcoat was soaked and shaped, and a length of wire was pushed up the seam of his coat tail to keep Billto's movement. So here is Billto's enhanced "69th New York at Frederickburg":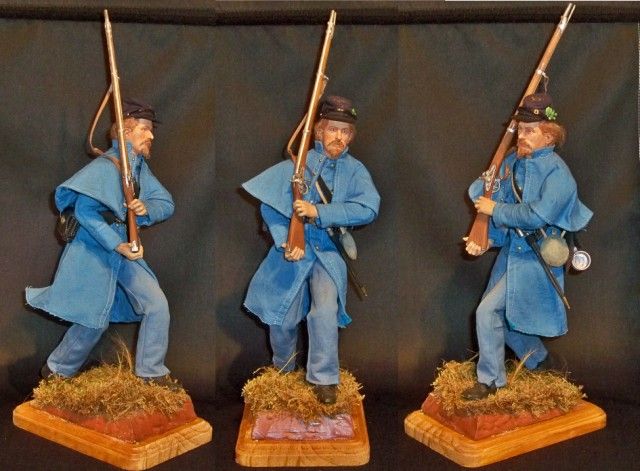 Now that he is back the way it was intended, he will have a permanent home in Gettysburg. He will be donated to the Lincoln Train Museum, with full credit to Billto, who's real name was provided by snake2698. Thanks for helping me get started, Bill!