Discussion Starter
·
#1
·

NEWS FROM THE FRONT
I never would have thought that we would be offering as many MADE IN AMERICA items as we are now. When we started this quest a few years back, we only had one person - Bobby out of Tennessee, who made our decals, and Ray out of Rhode Island, who did our fuzzy head flocking. Kathy Ellis (of JOELANTA fame), came on board next, making her super-cool Snowstorm Survival Sets. Then we did some limited editions from noted custom maker Mark Cole. Soon, we added a woman who lives near our home office in Freeland, who made shirt dickies, knit caps, and socks. We then contacted Rob with Firebase Ryan to bring back his sandbags and other great diorama items. Murray with Corrigan Holsters soon followed with his fantastic leather pistol holsters. Scott over in Missouri popped on our radar with some of his resin cast items around that time too. Sean in New England with his 3D printed creations never ceases to amaze us, and Keith in Texas keeps cranking out 3D-printed hover pods and dogtags. Christine in Washington came on board last year with her Classic Collection-sized jumpsuits and various ponchos, with Joyce and her crew from Alaska making a splash with their Santa and Elf outfits this Christmas.
Now, we're excited to announce that we're carrying some truly awesome vintage-style pieces from 6 Scale USA out of Pennsylvania. Check them out below. We're also in talks with another resin caster in Texas as well as a vacu-former in Georgia. The list keeps growing and growing.
Of course, this wouldn't have happened if it wasn't for the support from all of you, our customers. Thanks for your help in nurturing this program and making it grow to what it is today.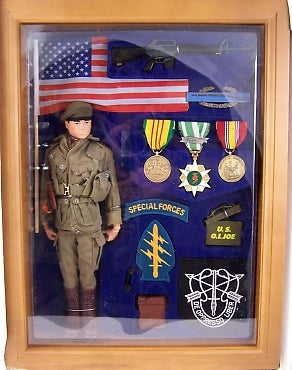 BLAST FROM THE PAST
FAO Schwarz Exclusive Green Beret
Released exclusively by FAO Schwarz in 1998. Exceptional G.I. Joe Green Beret figure and accessories in a 14x18" display case that can be mounted on a wall! A reproduction of the 1966 G.I. Joe Green Beret is flanked by a U.S. flag, patches, medals, and pins that are representative of our Army's Special Forces. Equipment includes: U.S. pistol w/holster, Grenades, Dog tag, M16 rifle, Knife, flashlight, Shovel w/cover, Mine bag, Canteen, Harness, Smoke grenades, Ammo case, and Field telephone.
BUY NOW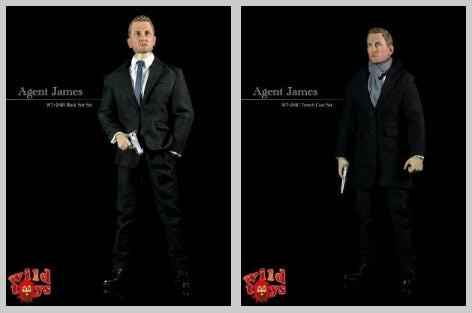 WEEKLY SPECIAL
Wild Toys Agent James Figure Set Sale
Choose a Dress Suit or Overcoat Version
$63.99 Each!
Click
HERE
for details.
Offer Expires: February 21st, 2018 at 6:00 pm (central). Cannot be combined with any other special or discounted pricing. Sorry - No Backorders or Rainchecks.
​
[HR][/HR]
NEW PRODUCTS ANNOUNCED!
INCOMING!
[HR][/HR]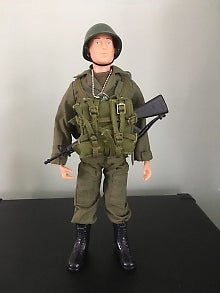 CUSTOM FIGURE OF THE WEEK
Vietnam War Army Paratrooper by Jay Greenough
For larger picture, click
HERE
.​