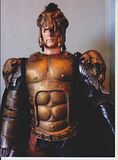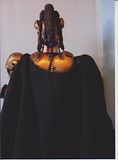 Click to enlarge pic's.
The body and sword are from the Sideshow Kurgan, everything else is modified by me.
The base head is the Clancy Brown/Kurgan sculpt from Hero Heads.
I enlarged the helmet from the 7" Neca figure and the shoulder armour is 2 helmets that i cut down.
The fangs on the helmet are made from wooden tooth picks, plume is made from cotton wool and painted with black acrylics.
Chest and shin armour are from Cotswold ( heavily modified )
Brown chaps from Newline
Armour plates on chaps are from the Dastan belt,
Modified leather jack boots, Leather trousers and jacket,
Marx knight armour,
Ignite roman belt,
Flamma Gladiator cloak.
Pleated armour on left leg and arm is made from black electrical tape.