fire03 and I have very similar interests, the difference being is that he produces a lot more of his than I do. Back in December of 2013, he posted "The First Shot at Gettysburg" and I continued to leave mine simmering somewhere. Unfortunately, his photos are not there anymore to even compare. I didn't save them either, so I did not consciously copy him. Mark, I hope you can get them back up some day, but here is my version.
Lt. Marcellus Jones, of Company E, 8th Illinois Cavalry, is widely credited with firing the first shot at the Confederates marching on Gettysburg. Here is a link with a more detailed history, as well as the controversy such claims started more than once in the re-telling of the battle history:
First Shot Controversy at Gettysburg
He also personally erected a monument to this feat at the location of his picket post on the Chambersburg Road 20 years later, which still stands today. On the monument he is listed as Captain Jones and the man who supplied him with the Sharps carbine is listed as Sergeant Shafer. These were the ranks they attained later, but as of June 30th, they were carried on the roles as 2nd Lieutenant Jones and Corporal Shafer. Here are some details of the monument:
First Shot at Gettysburg Marker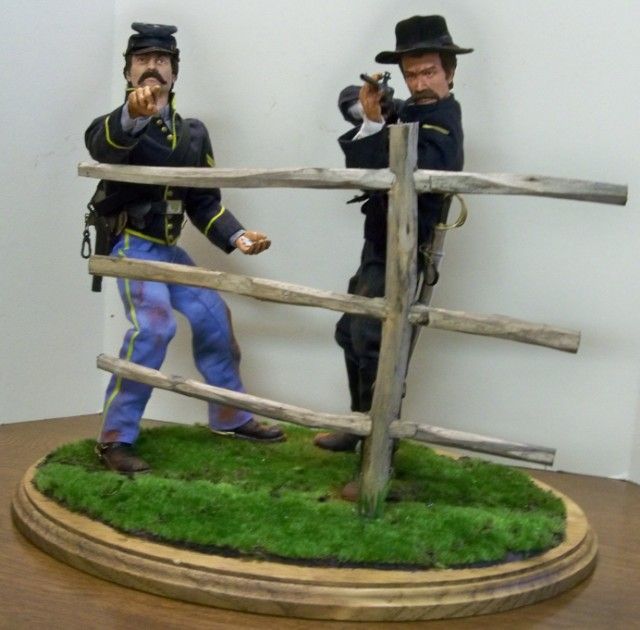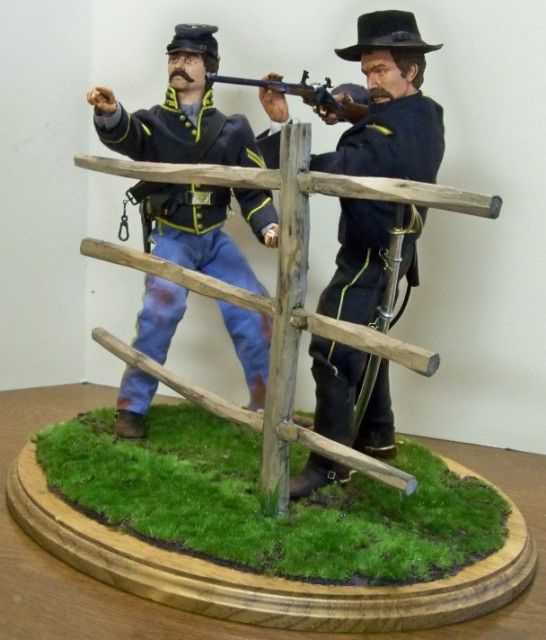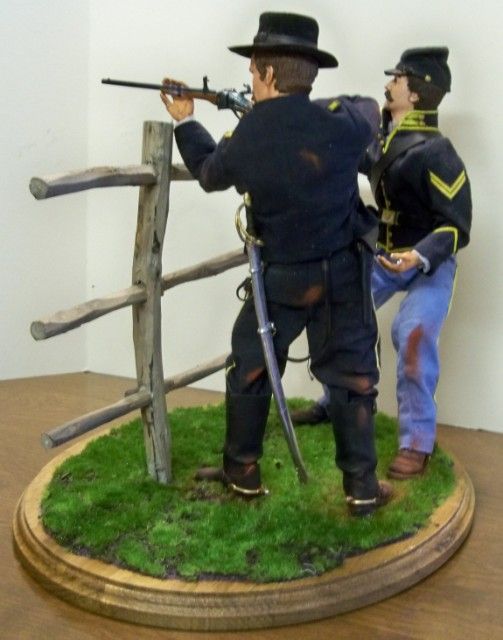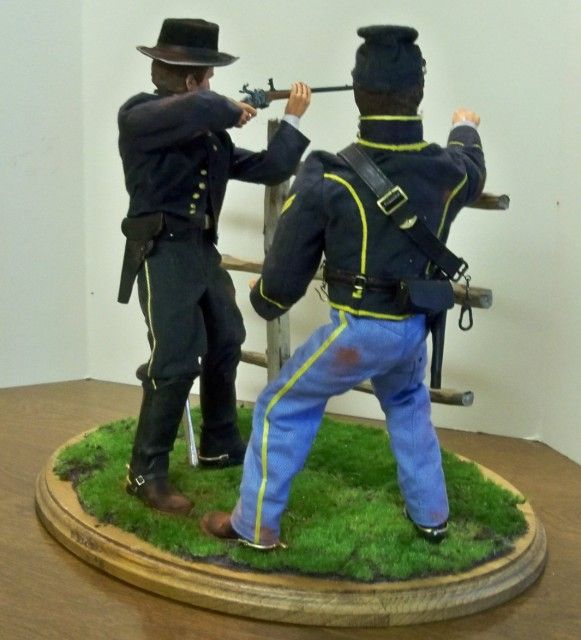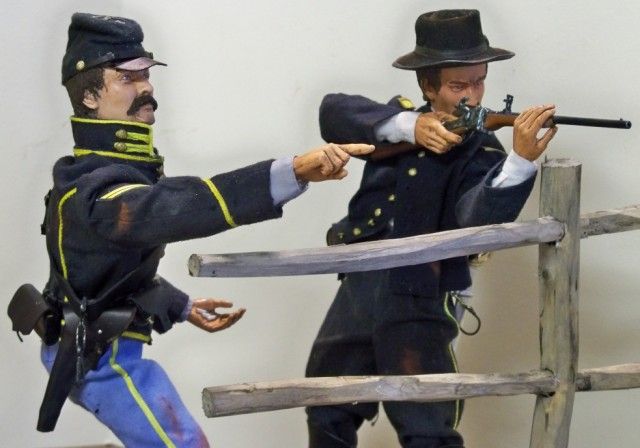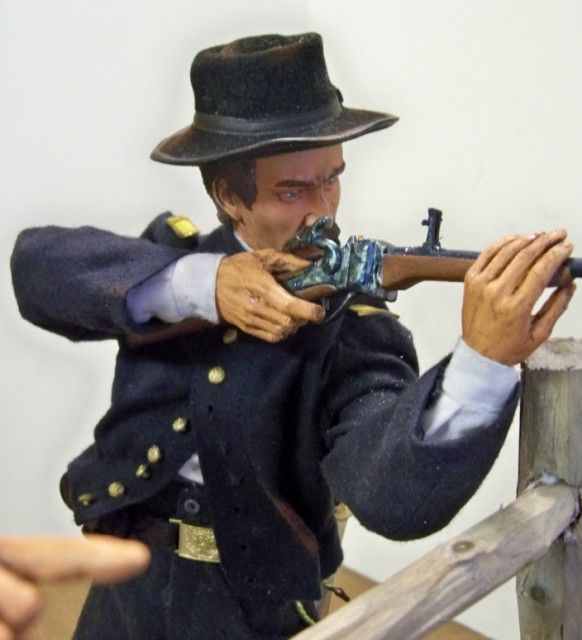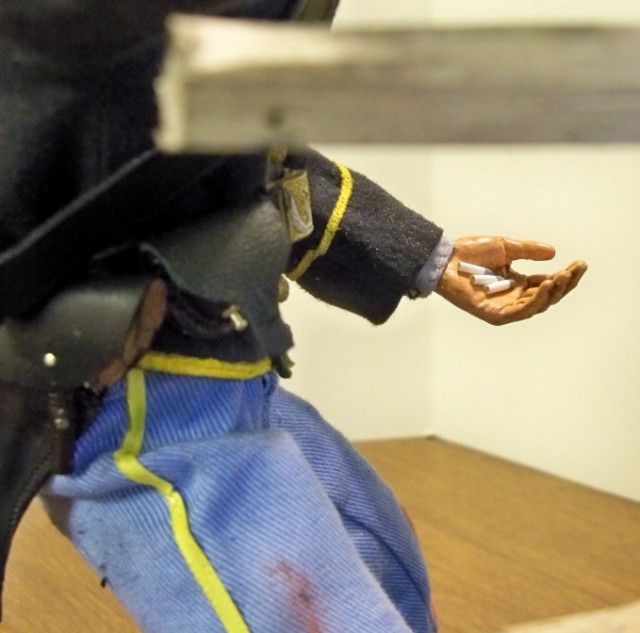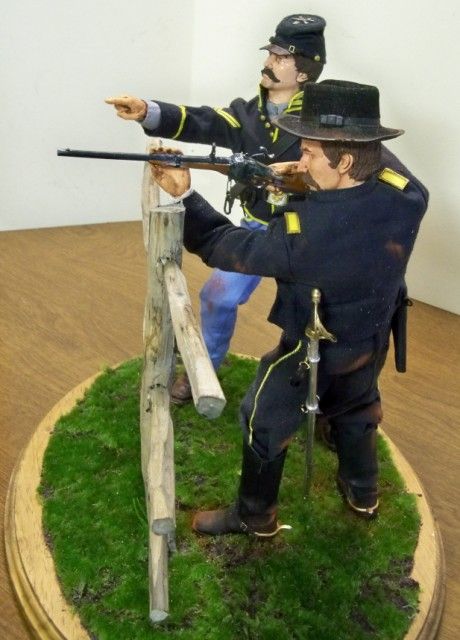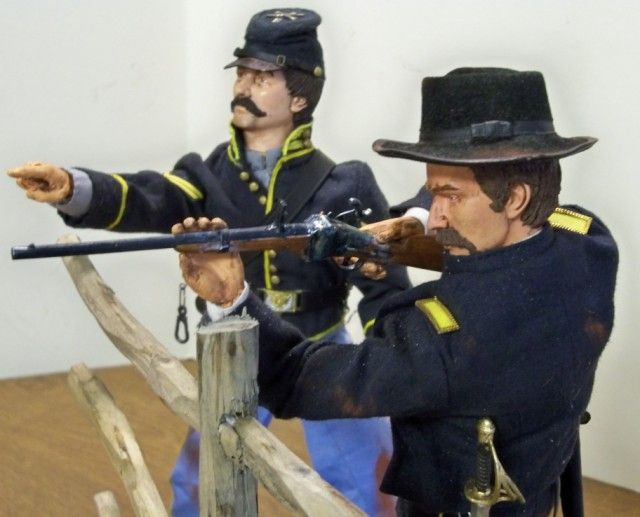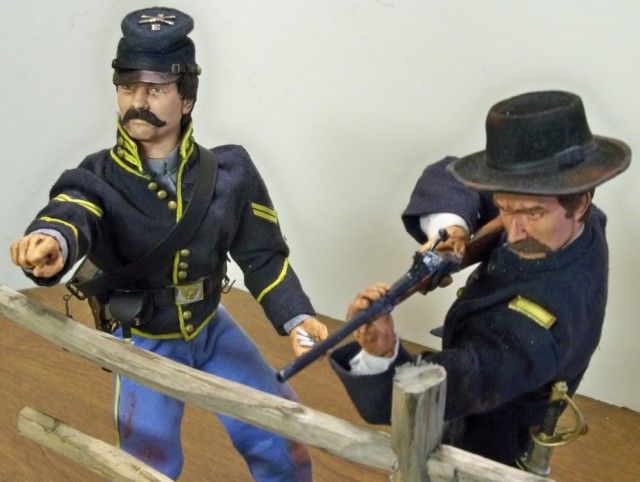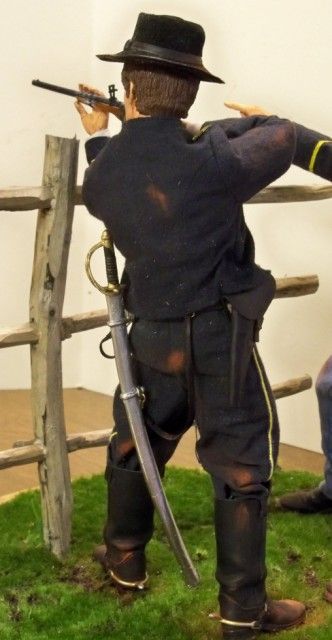 The figures are shortened DML with Apoxie Sculpt hair. The lieutenant is wearing BGT jacket, trousers, boots, spurs, belt plate, cap pouch and Colt Navy revolver. His shoulder straps and accoutrements are scratch-built and the saber is a modified SST. His shirt and hat are also SST. The sergeant has a BGT cap, jacket, chevrons, cap pouch and belt plate. The 8th Illinois was issued Sharp's 1859 carbines and Colt 1860 revolvers - SST and CXR, respectively. His shirt and trousers are DS and the boots are NLM. His accoutrements are also scratch-built, as are his cap insignia.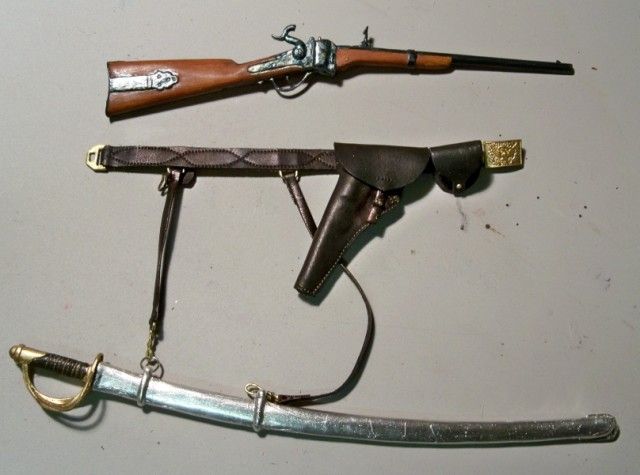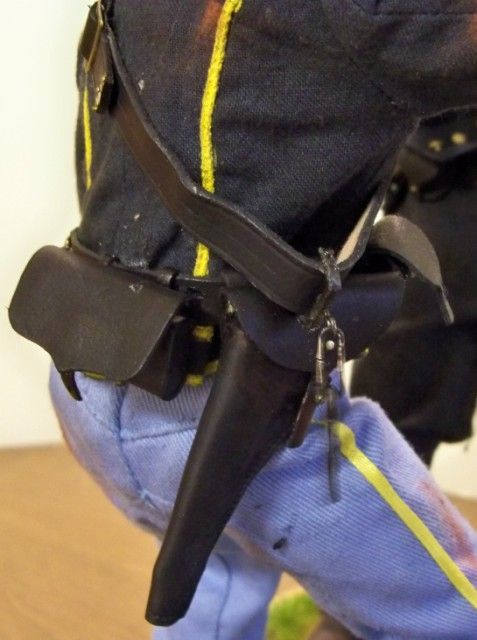 I used a little artistic license for this, obviously. Jones is just bringing Shafer's carbine to bear and has not rested it on the fence rail yet. Although he only fired one shot, Shafer is holding 3 Sharps paper or linen cartridges for him, and has his cartridge box and cap pouch open. The Sharps was a dependable breech-loading carbine and the linen-wrapped bullet and powder were slid into the chamber. When you closed the action, the block sheared off the end of the linen and cardboard plug, exposing the powder. A copper cap had to be in place to ignite the powder when the hammer fell.
This diorama was built as a gift for a special friend. I met him through work, and as a licensed Gettysburg tour guide, he inspired my interest in the battle, and he has made our family welcome many times. He now owns two museums, the Gettysburg History Center - home to a massive 1/72nd scale diorama of the entire battlefield - and the Lincoln Train Museum. This and my 45th New York and 20th Georgia figures will be displayed in one or both of these museums.