Over two years ago, I posted pics of a John Wayne figure as Tom Doniphan from the John Ford film, "The Man Who Shot Liberty Valance".
http://www.onesixthwarriors.com/forum/sixth-scale-action-figure-news-reviews-discussion/759231-john-wayne-man-who-shot-liberty-valance.html
At the time I said it would be awhile before Liberty was worth posting, but now I think he is, and he has some more company.
"Liberty Valance" is the story of an Eastern lawyer, Ransome Stoddard (Jimmy Stewart) who arrives in the town of Shinbone after being robbed and beaten during a stage holdup by outlaw Liberty Valance (Lee Marvin). Valance is also a hired gun for the Northern cattle barons who are opposed to statehood, where power would go to the more numerous voting "sodbusters". Stoddard is rescued by Doniphan - the only man "south of the 'Picketwire'" who isn't afraid of Valance - , and brought to Peter's Restaurant. At Peter's, he takes a job as a waiter and meets Doniphan's girl, Hallie (Vera Miles), and he becomes the center of a dramatic confrontation between the two gunmen. Valance and Doniphan size each other up while Stoddard diffuses the situation, asking, "Is everyone around here kill crazy?" You'll have to watch the movie for the rest, but the three men's lives - and deaths - become intertwined for years to come.
Tom Doniphan had two distinct looks in the film - his Saturday night go-to-town frock coat and tie, and his classic bib-front shirt working attire. I decided to show both with two figures, put together almost entirely with BGT items and using the DML Kit Carson hs. His 1892 Winchester is made from one of the original smaller BGT Winchesters.
I haven't found a Jimmy Stewart hs, but bashed his figure with a DML "Jurgen Baer" hs (with new sculpted hair), BGT clothes, NLM boots and a home made apron. I think Ford put Stoddard in a long skirt-like apron to make him look even weaker against Valance's menacing masculinity.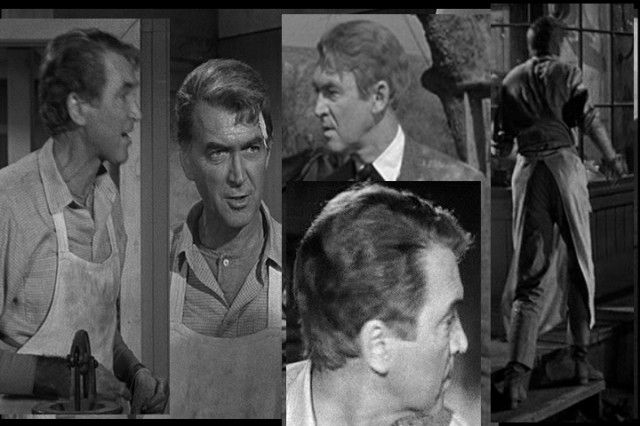 Liberty Valance became yet another obsession after I got hold of a SST WWI US Officer figure. I quickly decided on the BGT shirt and pin striped trousers and a SST Wyatt Earp hat, but spent the next two years piecing together the many parts of his eye-catching wardrobe.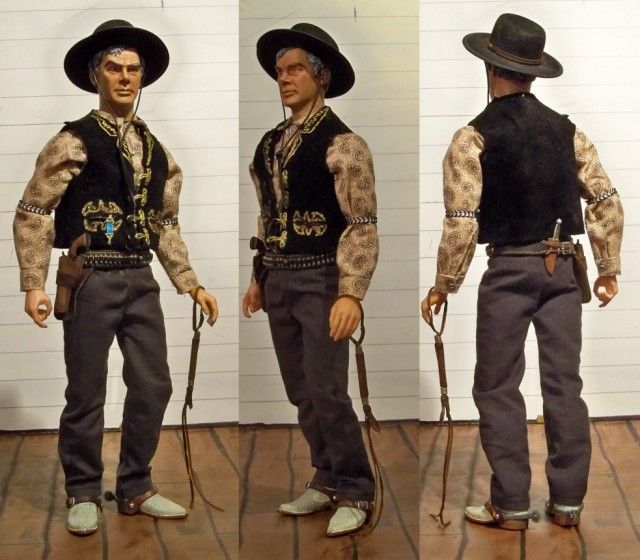 The snake skin boots are from Monkey Depot, off some gangster figure (re-painted), and the spurs are from the BBK Jonah Hex. The break-through came when I found a gold marker fine enough to draw the designs on his vest, which I made from the rough-out side of some leather. I lined it in red, including the pockets, and made a stencil to keep the pocket designs close in size. All of the detail came from screen caps and finding the original vest on an auction site. The oblong buttons are from a DML coat, and the gold button loops were made from different gold notions from Joanne's. The little pendant in his vest pocket is either a tobacco pouch or watch fob, and I bashed it as well as I could from the poor photos available.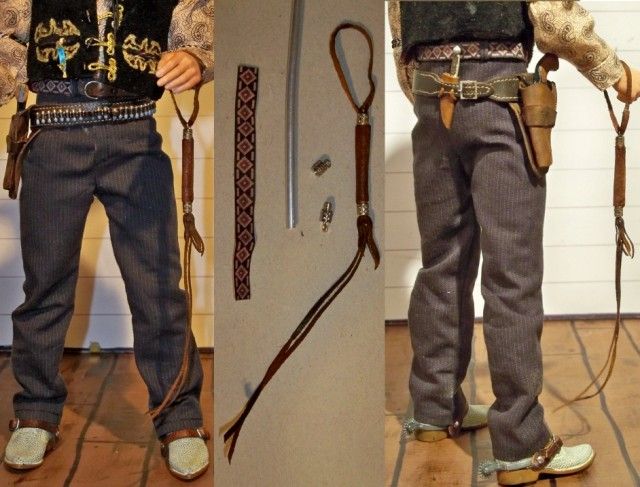 The gun belt is pieced together from two BGT belts (with 2 empty loops as in the movie). I didn't change the billet arrangement to exactly match, but I built the small knife and looped it through the buckle holes like the original. The reverse-draw holster is scratch built, as is his diamond-pattern belt, made from printed cloth and leather, with a wire buckle. Liberty's signature quirt (Stoddard recognized him from the holdup by his "silver-handled whip") was made from necklace screw posts from a local craft shop, a piece of aluminum K&S tube and some fine leather.
Here is the deadly confrontation in Peter's, after Valance trips Stoddard, who was bringing Doniphan his steak.
And here are Doniphan and Valance, taking aim with the shots that will seal all of their fates.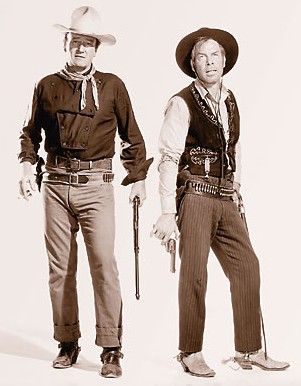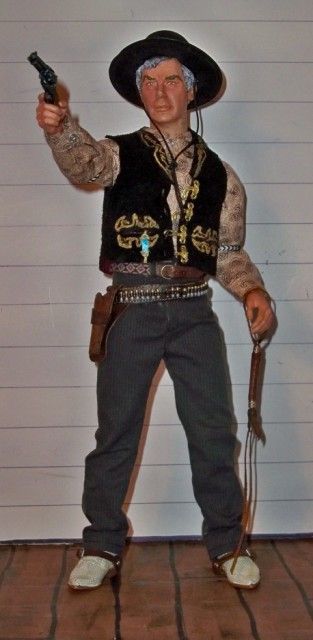 This was a long time coming, but Lee Marvin's Liberty Valance deserved some extra effort. Maybe someday I'll add a Vera Miles Hallie and a Woody Strode Pompey. As they are these are some new favorites in my collection. I hope you like them, too!