Discussion Starter
·
#1
·
Hi all,
its been a long while since i posted a custom, this time around another game character is completed - Lara Croft of Tomb Raider Legend! ...again, but this time Lara is accurate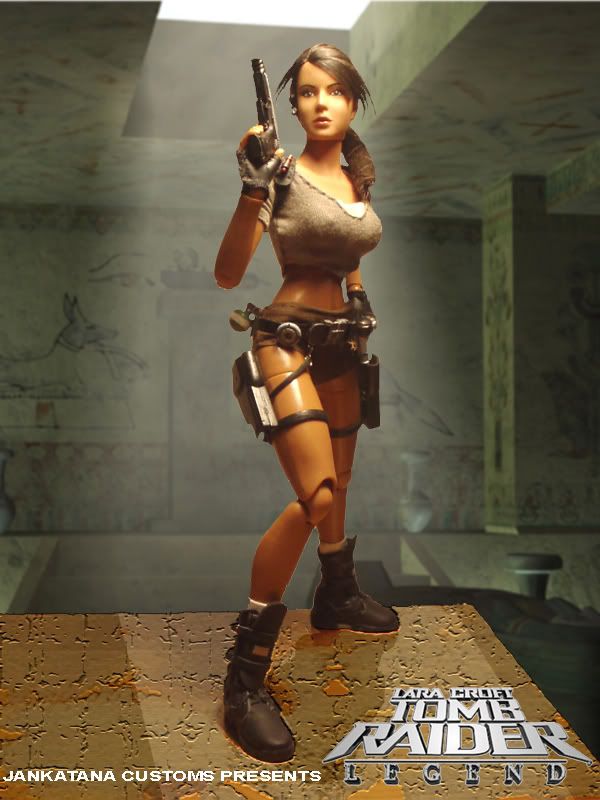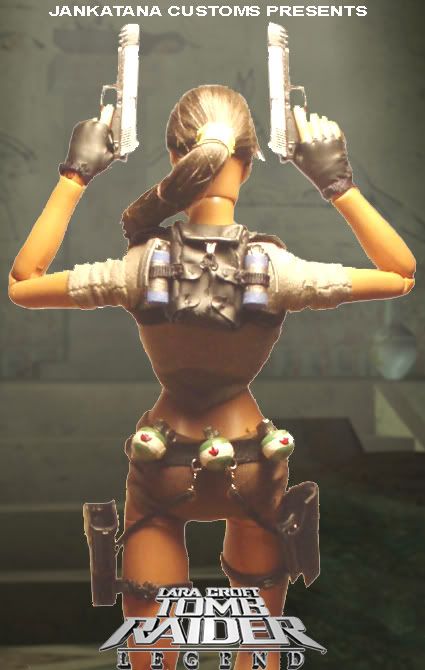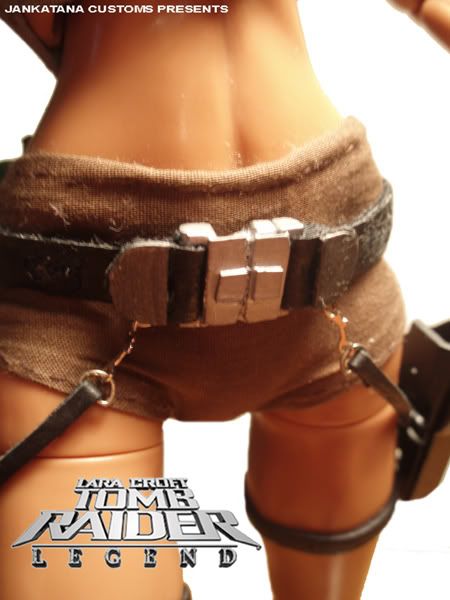 Ok so heres the recipe:
Body
BI Perfect Body Hispanic version 2. Wet the hair, add hair gel, tie into pony tail and cut n style. Add yellow ribbon for the scunchie thingy.
Communication ear piece
Black twisties, glued together with small snips of tubing on the tips. Painted.
Shirt
This material was insanely hard to find. I needed a green / gray that could stretch, this was as close as i could get.
Backpack
Made from a super stretchy material described as "water proof"? Its pretty amazing stuff, found it in my local fabric shop. Flap opens via simple hook and loop. Straps are black elastic with shoulder pads made from an old spectacles case i found in the street.(its strange what you find) The shoulder lamp sadly this time does not light-up due to the backpack being much smaller than before(
first version
) Smoke grenades taken again from previous.
Gloves
Again "water proof" material with webbing cuffs.
Shorts
Basic non-stretchy brown material. Nothing special, but did have to literally sew them on to the body so that they would be tight!
Holster gear
Belt made from cut out leather piece. Buckle made with plasticard front plate, painted. O-rings used to clip the tiny hooks. Holsters that came with the USP pistols, both are right handed but one reversed (thanks for the tip Anti-Personnel) with the holes filled in with miliput and painted. The holster had to be mod with open bottoms so the pistols could slide down.
Grenades
Nothing new here, used the same ones from the previous figure.
Socks and Boots
Used the same boots from before but added a padded plate on the front(same material as the shoulder pads) with Rio Rondo buckles and leather straps. The socks are simple sock sleeves.
Pistols, PDA, Magnetic Grapple Hook
The pistols were surprisingly easy to do. Plasticard bit on the bottom with miliput extention thingy, then painted. The PDA is plasticard with transparent plastic screen used from a clam shell package, the display is a printed picture of lara PDA taken from google images. The grapple hooks is made entirely from tiny bits n bobs salvaged from inside the pump mechanism of a simple spray bottle. The PDA and Grapple attach to the belt via tiny hidden magnets.
So there you have it, all done. I was tempted to do the Sword, but simply couldn't be arsed.
Next im working on the movie accurate Angelina Jolie version, and also the classic Anniversary version too. Lots of work ahead
Hope you like.