Hey guys,
Here is the KAC 7.62 semi auto Advanced Sniper rifle (military designation
M-110A2
), with 3D designed/printed 15 inch long URX 4 Keymod hand guard,
20 inch
barrel with MAMS muzzle brake, Knights QDC suppressor and other goodies
Same with the
KAC Advanced Precision Carbine
, this is a 3D
upgrade kit
for the E&S KAC M110 Carbine rifles, by
Uramegak
and myself, available now to every interested collector through Shapeways.
This is the 1:1 model. You can find more info about it
here on Knights site
And this is the 1/6 rifle upgraded with URX 4 hand guard and 20 inch heavy barrel with MAMS brake , plus the addition of a Soldier Story Magpul ACS retractable stock ( from
General Sam's armory
) in place of the original VLTOR stock and KAC BUIS from the DAM SR-25.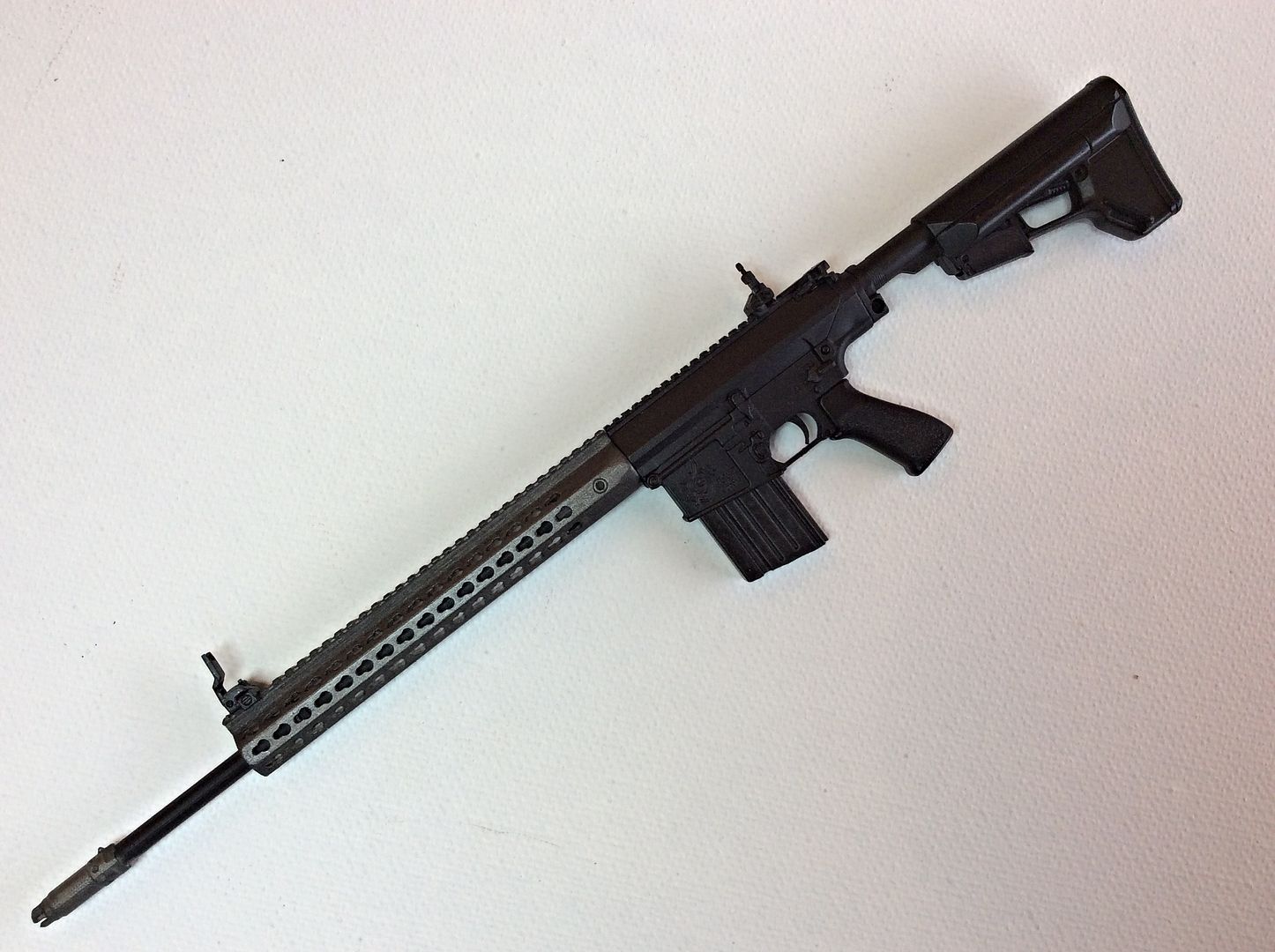 Enhanced with an E&S Harris bipod and the new
ECOS-O
system comprised by a Leupold MK6 3-18x44 scope with an Aimpoint T-1 Micro red dot sight (3D designed by our OSW member
delusional
) to represent a light sniper/spotter version. Bipod is on one of the 3D designed KAC specific Picatinny rails.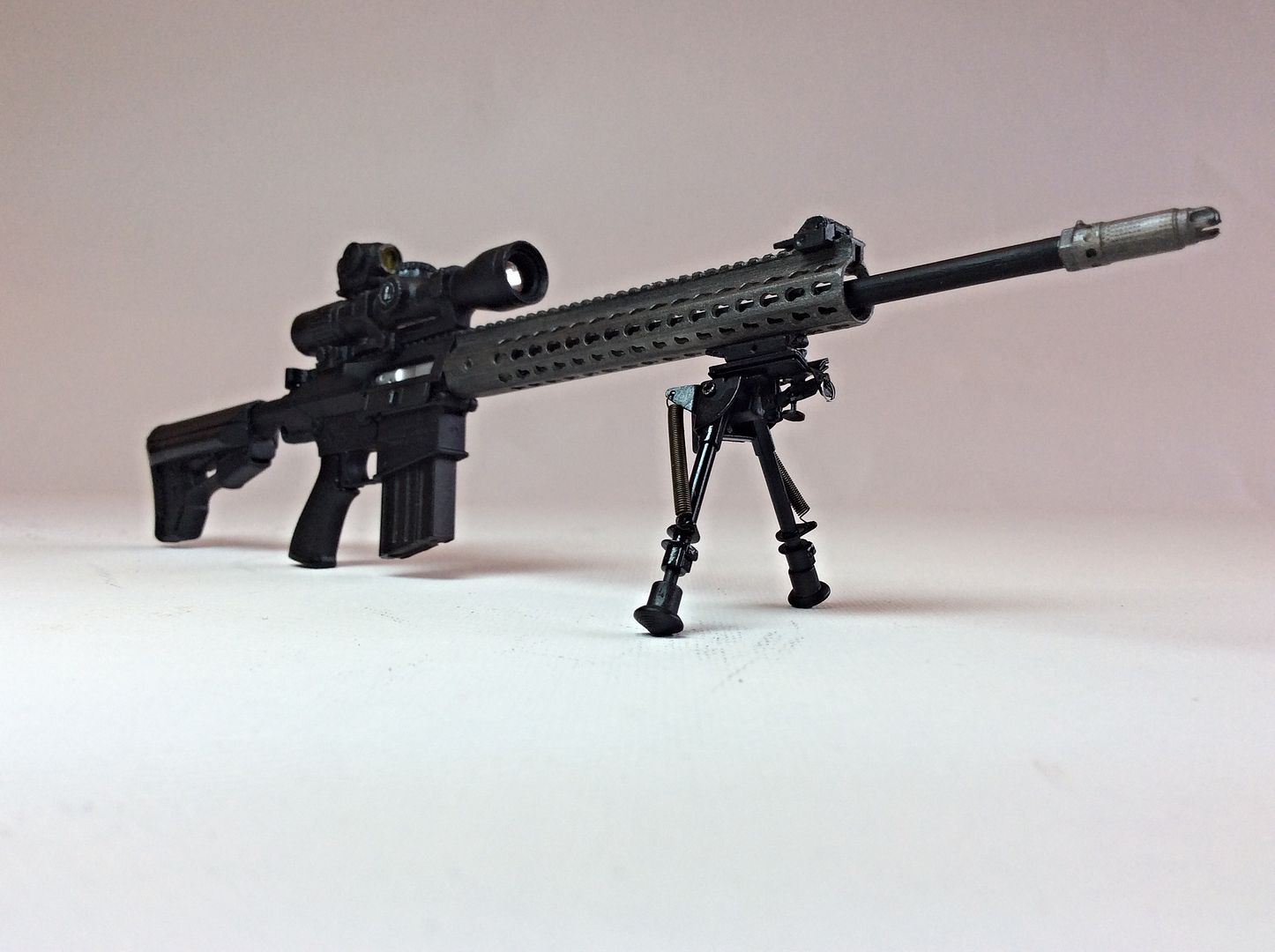 And this is a "night stalking" version built around the sniper version of the E&S boxed sets with the Magpul PRS stock. This is a heavier rifle full of extras that represents a more static sniper configuration, due to the overall weight of the rifle and accessories and the NVD at the front.
Note the 3D designed KAC
QDC suppressor
on top of the MAMS brake, the 3D designed
modular cover panels
and also that accessories are mounted on KAC specific modular Picatinny rails, all from the upgrade kit.
Scope is a new HSLD Schmidt & Bender 3-20X50 with a CNVD-LR in front (both from the E&S SCAR MK-17 set A). Other accessories include MFT forward grip (from E&S ZERT HK416 rifle), and a 3D designed low base T-1 mounted on an offset rail (both 3D designed by delusional), plus a PEQ device.
The hand guard was
painted
with a mix of MIG "Gunmetal" and Italeri "Flat Black", the later also used on the barrel and suppressor, while the MAMS brake was painted with Vallejo "Gunmetal Gray". Then two layers of Vallejo "Matte Acrylic Varnish".
Now, since we are at it, here is a comparison of the M110A2 advanced version with his older brothers, the M-110 sets that E&S provides, to get a feel of the "real world" differences, besides the more advanced internal components.
As you can see the URX-4 handguard is not only lighter, (and sexier IMHO
) it also offers much more "real estate" for comfortable mounting of the accessories in various points. And the new Quick Detach QDC suppressor is easier to use, shorter than the older "barrel sleeve" type with the gate latch, much lighter (almost half the weight) and same in sound reduction! Third difference, you get the MAMS brake instead of the old style flash suppressor, for much better recoil and muzzle climb control :shades
.