One of the things I spend a lot of my 1/6 time on is matching hs (mostly DML) to my figures. Whether it's a historical figure, like a particular officer, an existing painting, or a film actor, I enjoy going through my boxes of heads to find the right match. As I haven't exactly mastered face painting, my bashes are usually limited to adding hair with Apoxie Sculpt. The results vary - sometimes it's a "hit" and sometimes it's a decided "miss" - but the search often brings me to a hs that will work for an unplanned figure. Recently I bought a couple of hs to use for figures in my John Ford Cavalry Trilogy series. I also picked up a couple that had a good look to them, and one in particular stood out for an actor I hadn't planned to do - the bugler (John Ford's term, he would actually be a TRUMPETER) from "She Wore a Yellow Ribbon". I will be posting some of the other figures, but this "minor" figure has an interesting story that makes him deserving of his own thread.
In the Old Army, a trumpeter had a tough duty. He had to be up before everyone else, and turn in after taps, and always be at his commanders side to play the appropriate calls or to relay messages or hold his horse. In "Yellow Ribbon" (SWAYR), the bugler is featured in the dramatic scene where Capt Brittles rides out to rescue the Paradise River Patrol, and he sounds "Recall" to bring them to Brittles' skirmish line. He and John Wayne are framed in front of one of the massive spires of Monument Valley, mounted, in their great coats. When Brittles comes out of his quarters to go on the last patrol, the bugler is standing to horse, waiting for him. Brittles turns to his bugler and says, "Well, once again, Derice, eh?", and Derice replies, "Yes sir." But when I checked the cast list of the film, "Derice" is not found. Instead, actor and stuntman Frank McGrath is listed as "Bugler / Indian (Uncredited)". Checking the list from Ford's "Fort Apache", we find Frank McGrath listed as "Cpl. Derice (Uncredited)", and in the film we see Ward Bond's Sgt. Major O'Rourke saying, "Derice, sound 'Officer's Call.'" Same character, same name, same everything! I got me a "two-fer"! As Derice was uncredited, and ad lib-ing happened a lot in Ford's films, I wonder if this wasn't something John Wayne threw in as a nod to Frank McGrath. They worked together a lot, and McGrath also did stunts in "Rio Grande" and "The Searchers", and is best known as the cook, "Charlie Wooster" in the TV show, "Wagon Train".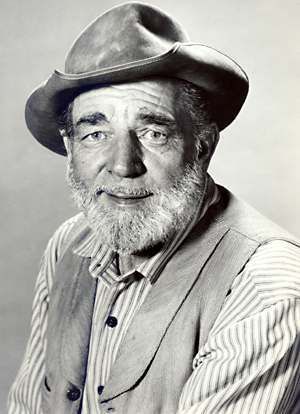 Here are some links to bios on Frank McGrath:
Frank McGrath - IMDb
Frank McGrath (actor) - Wikipedia, the free encyclopedia
And here are some shots from "SWAYR":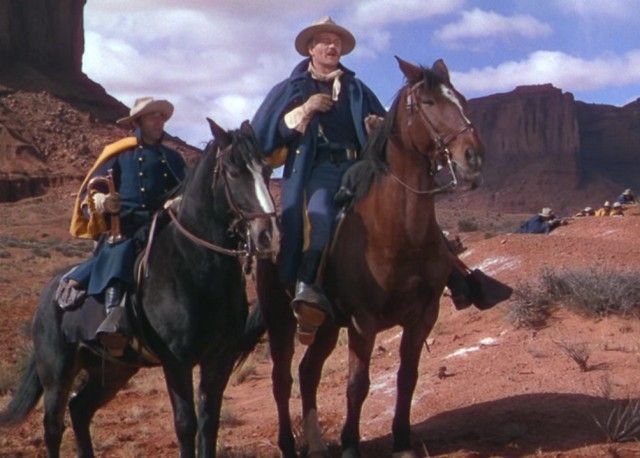 "Bugler Derice" will be showing up in other threads, but today is his day to shine: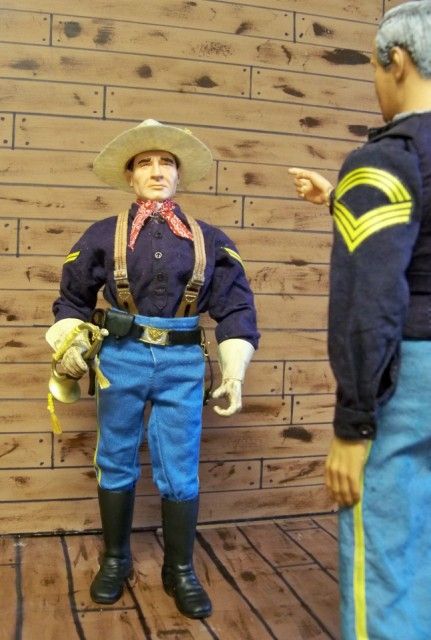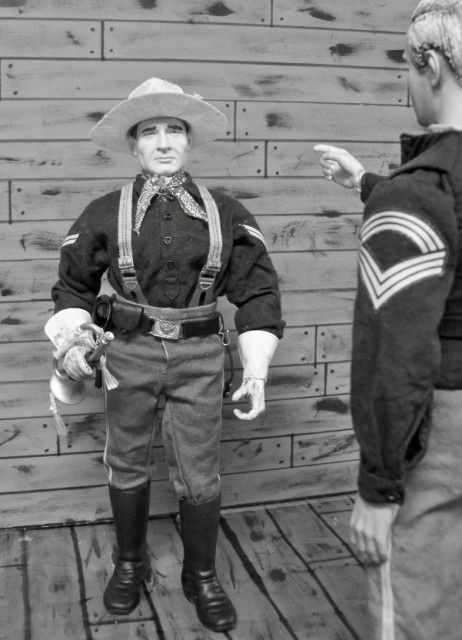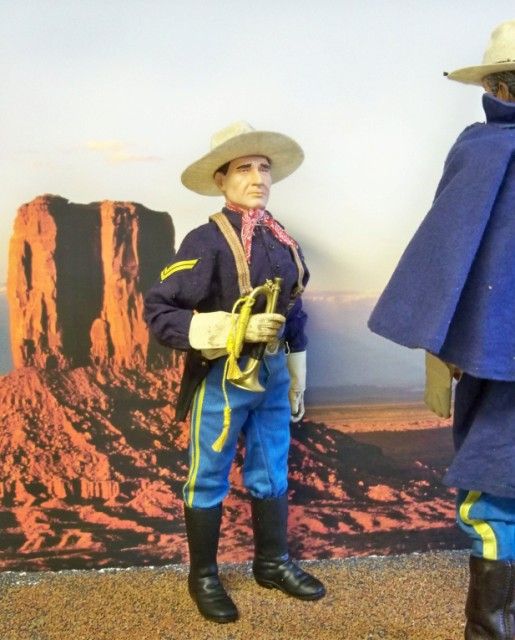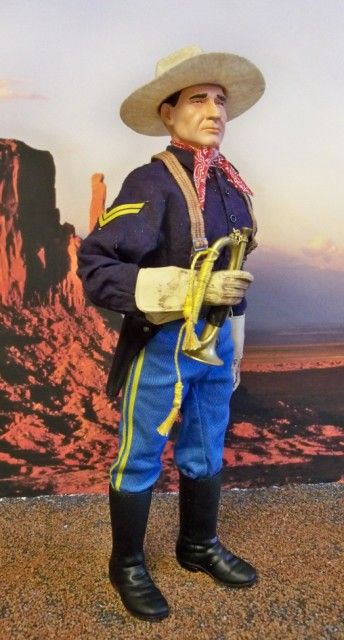 As mentioned, the hs is DML, and I only painted the hair. His hat, shirt, chevrons, braces, boots, trumpet and belt plate are BGT. Trousers are DS, with double 1/2" stripes for a trumpeter added, though this was not regulation until the 1880's. The bandana is from A J Clothiers. His gauntlets are DML gloved hands with added cuffs, his belt equipments are scratch-built, and he hangs his trumpet from the saber hook on his belt..
His braces and trumpet are modified to match the film versions. I don't know if the leather band was added to the trumpet because it got hot in the Monument Valley sun, or was too slippery when he was wearing gauntlets. Hope you like him.
Here are some links to other Cavalry Trilogy figures:
http://www.onesixthwarriors.com/forum/sixth-scale-action-figure-news-reviews-discussion/682081-ward-bond-2-sgt-major-orourke-fort-apache.html
http://www.onesixthwarriors.com/forum/sixth-scale-action-figure-news-reviews-discussion/756461-pedro-armendariz-sgt-beaufort-fort-apache.html
http://www.onesixthwarriors.com/forum/sixth-scale-action-figure-news-reviews-discussion/677632-ben-johnson-sgt-tyree-she-wore-yellow-ribbon.html
http://www.onesixthwarriors.com/forum/sixth-scale-action-figure-news-reviews-discussion/728331-sir-would-you-take-look-trooper-smith.html