This is one of my latest figures, the first of three in a small three part-series called 'Italy Divided" that I'm working on...
Part 1 - The Blackshirt
Immediately after the Allied invasion of Italy in September 1943, Mussolini was deposed and the new Italian government switched sides. The German occupying forces swiftly freed Il Duce and ruthlessy disarmed the Italian Royal Army; and from then until the end of the war in April 1945 Italian troops fought on both sides - with the forces of the new Fascist 'Salo Republic' - RSI, in the Allied 'Co-Belligerent Forces' and in the Partisan movement. During 1943-45 a brutal fratricidal war raged in Italy and today this time in Italian history is simply known as the "Civil War".

This figure represents a soldier who chose to remain with the Axis and fight on for 'Italy's honor' - that is from the Fascist point of view. He is a member of the newly formed Republican National Guard(GNR), a militia which fought the growing Partisan movement and consisted of the all the best and worst elements of the Social Republic if you will- decorated heroes, child mascots, common criminals, opportunists and idealists. Many GNR men had previously served in Greece, Africa and on the Eastern Front and for the vast majority of them, when Italy switched sides in September 1943, there was no hesitation - they chose to fight on for the Axis cause. Many were killed during the Civil War, and many more were executed after the war.
This particular soldier is almost identical to the pre-RSI era Blackshirt militiaman; with a few exceptions. He's wearing the very symbol of Fascism - a black shirt. These were mandatory for all GNR members. He's wearing a pair of continental 'grey-green' cavalry breeches, along with a pair of puttees tucked into a pair of heavy woolen socks. The boots are either German, Italian or civilian. He's wearing a regular Italian grey-green army belt along with a grey-green holster for his Beretta pistol. He's also wearing another symbol of Fascism on his belt - the dagger. This item was also mandatory for all GNR members. It was also widely worn by other RSI units. He's tucked a pair of German grenades into his belt. On his head he's wearing a regular Italian army M33 helmet, with some strings attached to hold foliage. He's is armed with the trustworthy Beretta MAB, a very common weapon with the GNR and other RSI forces. He also sports a ring with a small Death's head; another symbol of Fascism. Symbolism was very important with the RSI, and it seemed like every unit tried to outdo the other, like a bizarre contest to see which unit were the 'most Fascist'. He also sports a beard, pretty common with Italian soldiers - particulary 'elite' ones - during the war.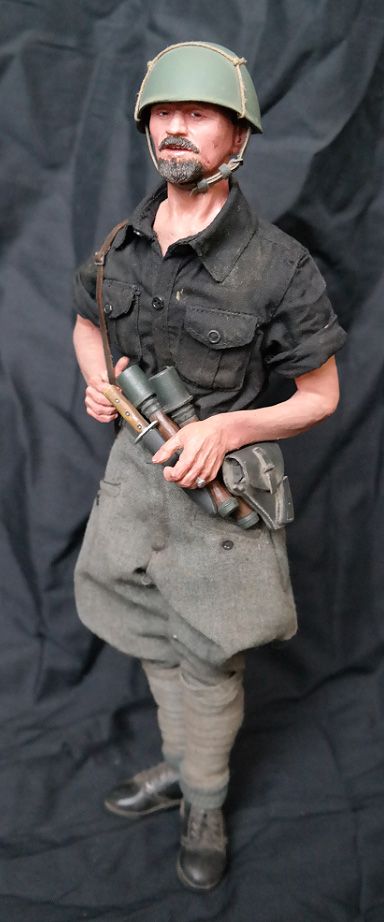 The GNR, along with the Black Brigades, gained a reputation as brutal fighters. With their backs to the wall and their futures looking increasingly uncertain, they were responsible for many atrocities, and most of them were to pay the ultimate price of defeat.
See part 2 - the partisan, here;
http://www.onesixthwarriors.com/for...ion/741871-italy-divided-part-2-partisan.html