Discussion Starter
·
#1
·
Did a crude Photoshop of the Mk 35 "Red Snapper" with other Iron Man figures, but this Red Snapper has his claws switched out for Mk 4 arms and the Mk 35 shoulder. This is what it would look like to scale if someone did this. I think that Hot Toys should include additional arms that are 112.5% larger than original Iron Man arms. This would put the arms to scale with his slightly bigger body.
With Original Mk4 Arms
I think he would look so amazing with no claws.
Scaled Mk4 arms.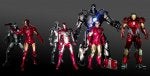 Does anybody else think so?
Collection credit goes to: Xenom Orph