Discussion Starter
·
#1
·
Armed in customized Mandalorian armor, dangerous weaponry and highly trained combat skills, Boba Fett has earned a notorious reputation as one of the deadliest bounty hunters in the galaxy as he takes on contracts from the criminal underworld and the Galactic Empire. Joining their Star Wars: The Empire Strikes Back 40th Anniversary Collection, Hot Toys is pleased to re-introduce the 1/6th scale Boba Fett collectible figure!
Based on his famous appearance in the beloved film, the Boba Fett collectible figure features a meticulously crafted Mandalorian helmet and armor with distressed effects, his iconic jetpack, a cape, detailed blasters, and a display stand!
Furthermore, this 1/6th scale collectible figure features an alternative version of Boba Fett's armor including a range of interchangeable parts such as helmet, jetpack, gauntlets, cape, and a number of gloved hands all packaged in specially designed retro style packaging!
Release date: Approximately Q1 - Q2, 2021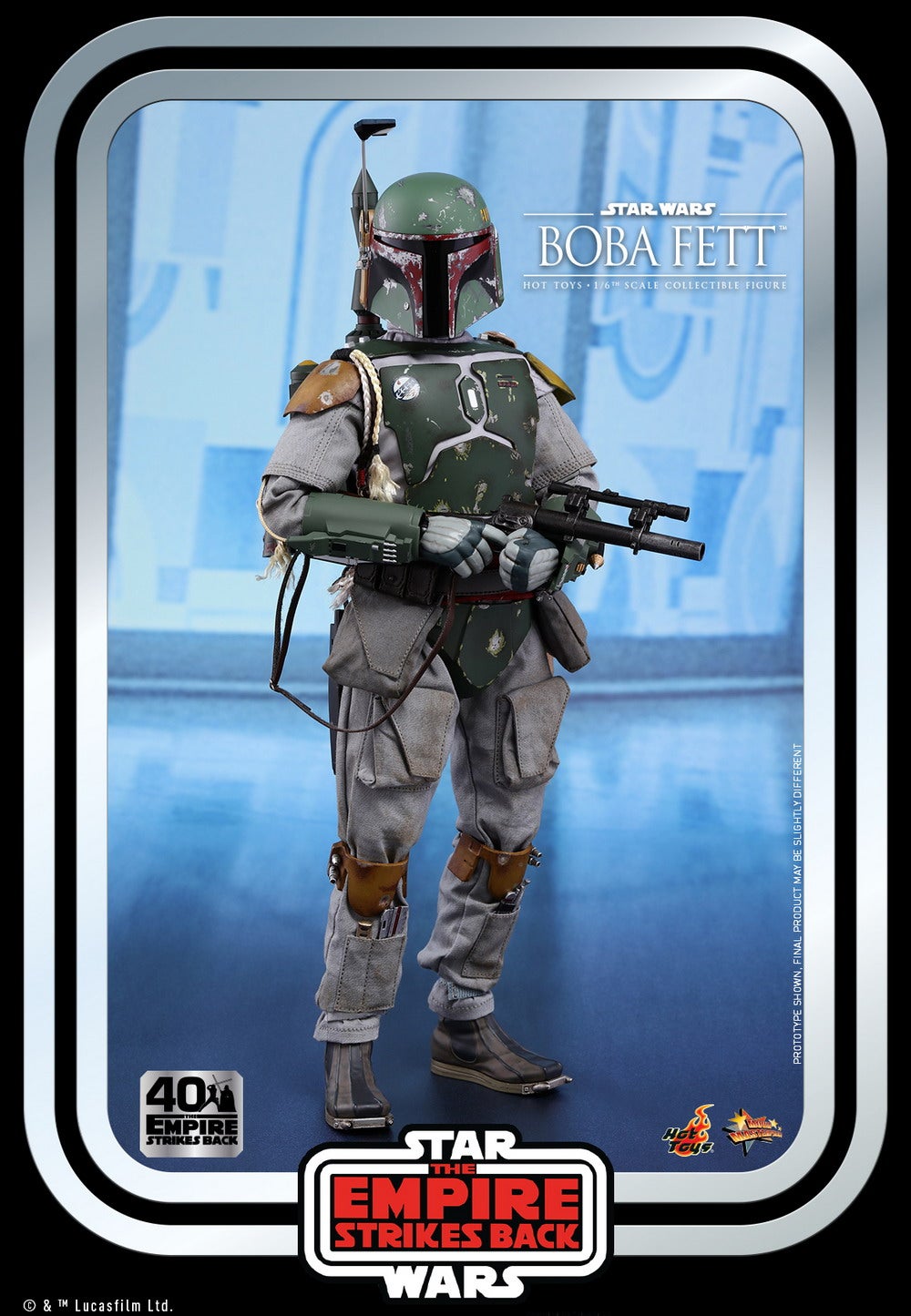 Hot Toys - [MMS574] - Star Wars: The Empire Strikes Back - 1/6th scale Boba Fett Collectible Figure (Star Wars: The Empire Strikes Back 40th Anniversary Collection)
- Authentic and detailed likeness of Boba Fett in Star Wars: Episode V The Empire Strikes Back
- Meticulously crafted Boba Fett Mandalorian helmet with articulated rangefinder
- Specially applied distress effects on armor, weapons and accessories
- Body with over 30 points of articulations
- Approximately 30 cm tall
- Seven (7) pieces of blue-colored interchangeable gloved hands including:
- One (1) pair of fists
- One (1) pair of hands for holding weapons
- One (1) pair of gesture hands
- One (1) relaxed left hand
- Special package design with Star Wars: The Empire Strikes Back 40th Anniversary logo
Costume:
- One (1) Boba Fett's Mandalorian armor with weathering effect
- One (1) gray flight suit
- One (1) yellow cape
- One (1) leather-like brown belt with pouches
- One (1) pair of green gauntlets
- One (1) pair of yellow knee guards
- One (1) pair of brown boots
Weapons:
- One (1) blaster rifle with battle-damaged effect
- One (1) blaster sidearm with leather-like holster
Accessories:
- One (1) jetpack with weathering effect (equipped with magnetic feature)
- One (1) survival knife
- One (1) sonic beam weapon
- One (1) anti-security blade
- One (1) jetpack adjustment tool
- Specially designed figure stand with Boba Fett's nameplate and Star Wars logo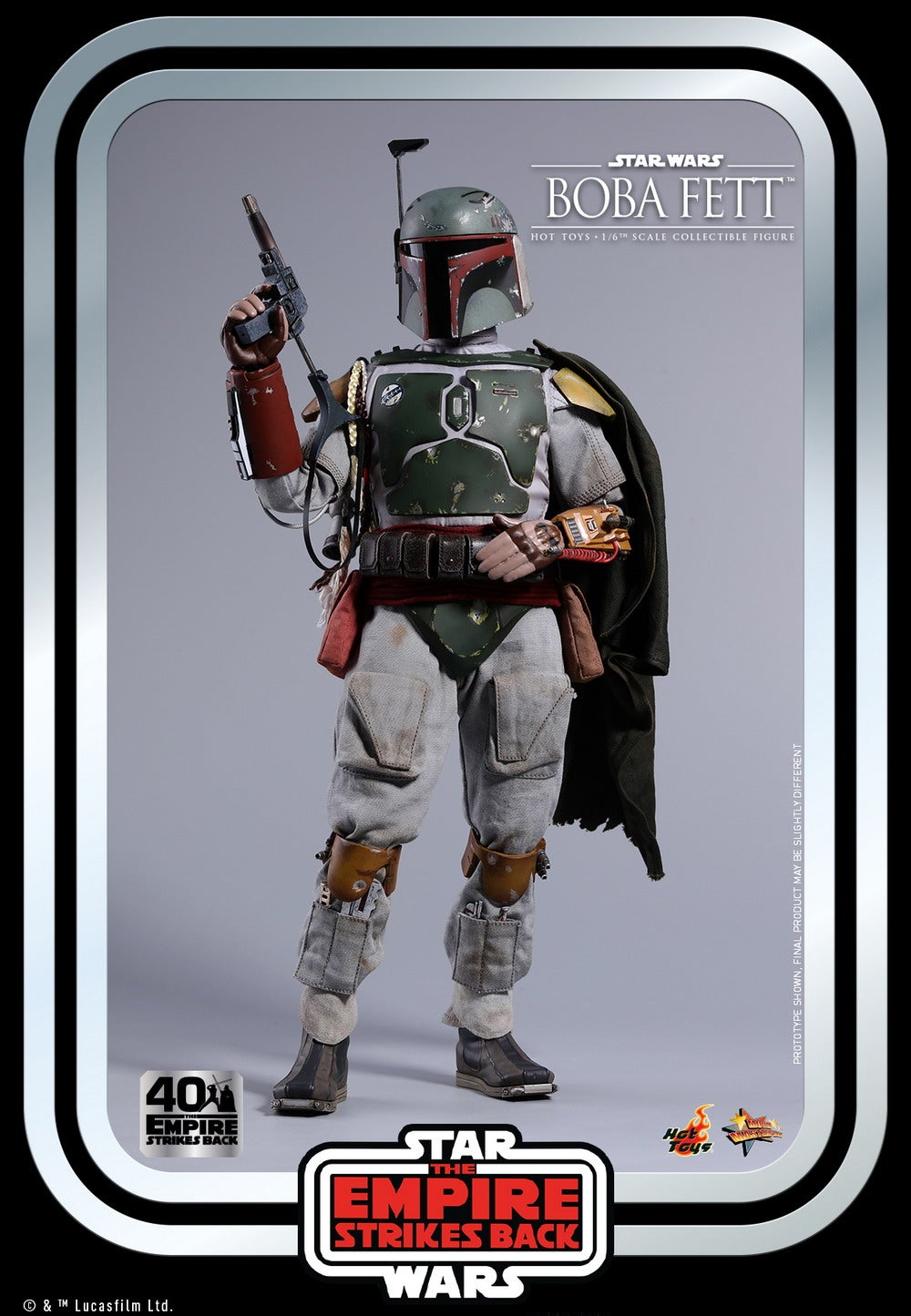 The "Alternate Version Boba Fett Armor" parts feature:
- An interchangeable Boba Fett's Mandalorian helmet with unique markings and articulated rangefinder
- Seven (7) pieces of dark red and light brown colored interchangeable gloved hands including:
- One (1) pair of fists
- One (1) pair of hands for holding weapons
- One (1) pair of gesture hands
- One (1) relaxed left hand
Costume:
- One (1) green colored cape with weathering effect
- One (1) light brown colored pouch (attachable top the belt)
- One (1) red-orange colored pouch (attachable top the belt)
- One (1) yellow colored left arm gauntlet
- One (1) red colored right arm gauntlet
- One (1) pair of spats
Weapon:
- One (1) blaster pistol with stock
Accessory:
- One (1) green, yellow and white color jetpack with weathering effect (equipped with magnetic feature)
Artists:
- Figure Painted by Lok Ho
- Figure Art Directed by JC. Hong
** Prototype shown, final product may be slightly different
** Product details are subject to change without further notice