Discussion Starter
·
#1
·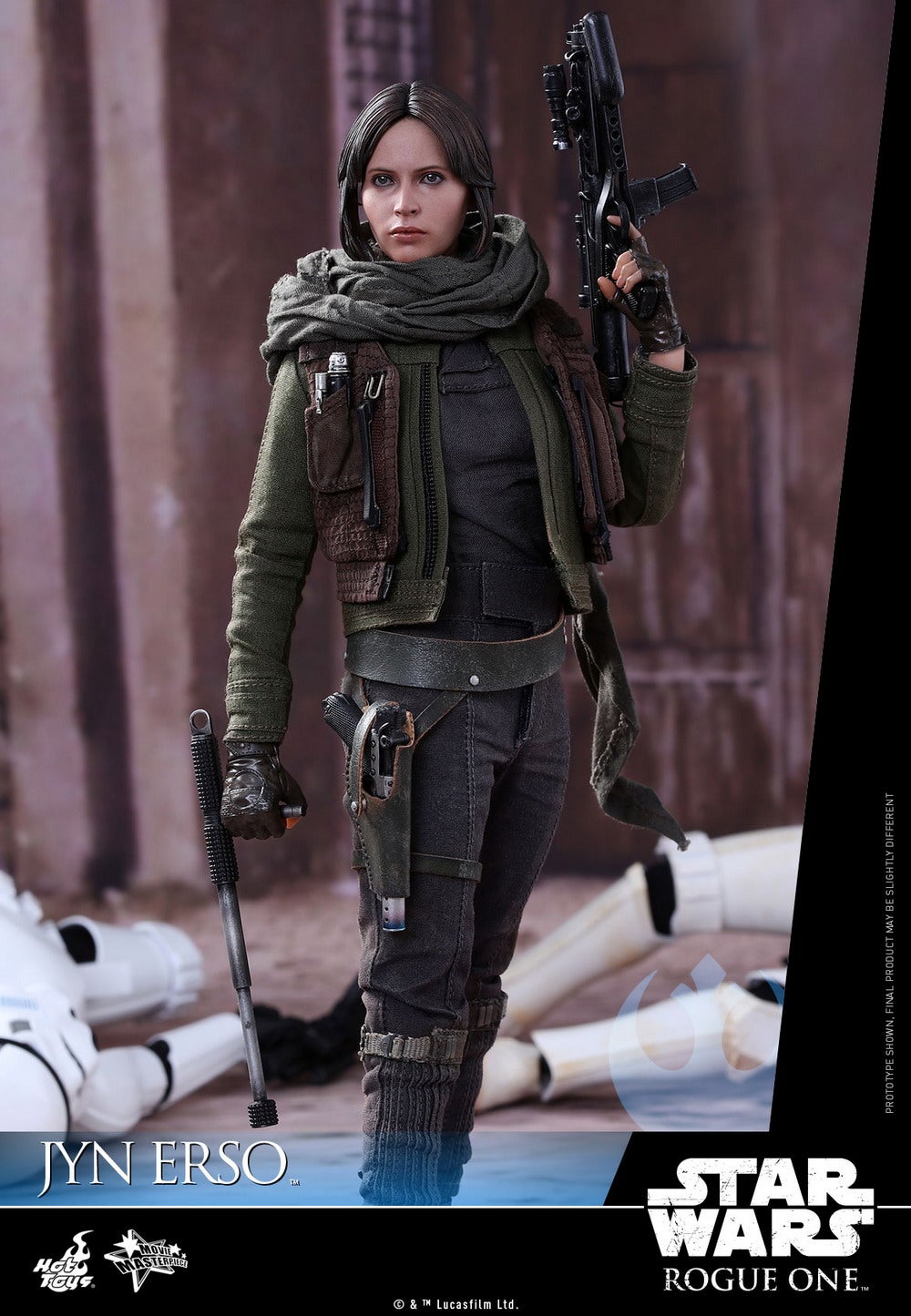 A new chapter of the Star Wars galaxy will unfold in the widely anticipated Rogue One: A Star Wars Story starring the courageous new character named Jyn Erso. Putting behind a checkered past by lending her skills to a greater cause, Jyn Erso is impetuous, defiant, and eager to bring the battle to the Empire. Used to operating alone, she finds higher purpose by taking on a desperate mission for the Rebel Alliance.
Today Hot Toys presents a 1/6th scale collectible figure of this new heroine! Expertly crafted based on the appearance of Felicity Jones as Jyn Erso in the film, the highly accurate collectible figure features a newly developed head sculpt, sophisticatedly tailored multiple layers costume, detailed weapons and accessories including a blaster pistol, a fighting baton, E-11 blaster rifle, as well as a specially designed figure stand.
Also available will be a Deluxe Version of Jyn Erso. This Deluxe Version will exclusively feature an additional costume including a poncho with bandolier, a breathing mask, hat with goggles, quadnoculars, and additional blaster parts for Jyn's unique blaster that can be combined into multiple modes.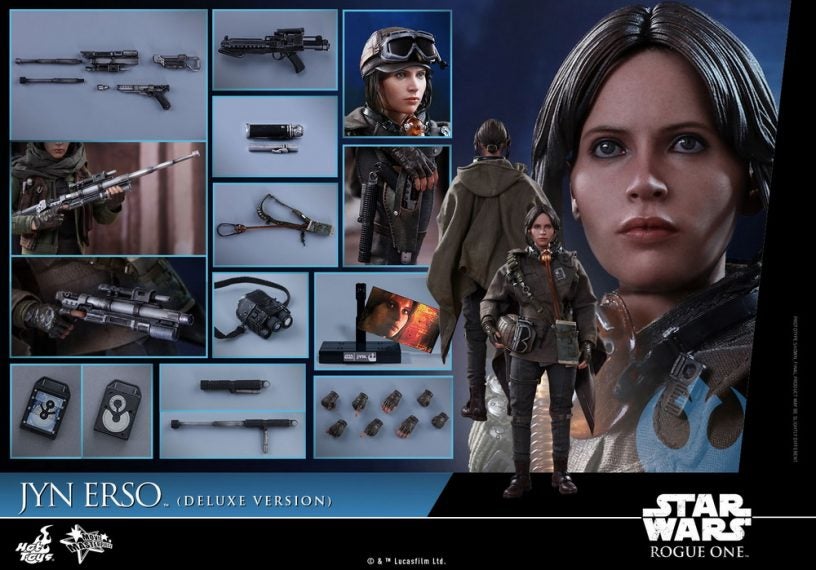 Special features of the 1/6th scale Jyn Erso Collectible Figure (Standard and Deluxe Version):
- Authentic and detailed likeness of Felicity Jones as Jyn Erso in Rogue One: A Star Wars Story
- Movie-accurate facial expression with detailed skin texture
- Approximately 27cm tall
- Body with over 30 points of articulations
- Eight (8) pieces of interchangeable gloved hands including:
- One (1) pair of fists
- One (1) pair of hands for holding blasters
- One (1) pair of hands for holding accessories
- One (1) relaxed left hand
- One (1) right hand for holding baton
Costumes:
- One (1) gray colored top
- One (1) brown vest with pockets and accessories
- One (1) olive-green jacket
- One (1) dark green scarf
- One (1) holster with belt and straps
- One (1) pair of light-black pants
- One (1) pair of brown boots
-
One (1) poncho ***
-
One (1) bandolier with 5 cartridges ***
-
One (1) aviator hat with goggles ***
Weapons:
- One (1) blaster pistol
-
Four (4) blaster parts combinable with the basic blaster pistol to form a blaster rifle ***
- One (1) E-11 blaster rifle
- One (1) baton (can be displayed in closed or extended mode)
Accessories:
-
One (1) pair of quadnoculars ***
-
One (1) breathing mask ***
- One (1) portable case
- Specially designed figure stand with Star Wars logo
***Exclusive to Deluxe Version
Artists:
- Head Sculpted by Yulli
- 3D Design by Kyoung-geon, Kim and Hyeon-jeong, Kim
- Body Sculpted by Ha-young, Kang
- Painted by JC. Hong and E-Lee
- Art Direction by JC. Hong
Release date:
Q2 - Q3, 2017
**Prototypes shown, final product may be slightly different
**Product details are subject to change without further notice