UPDATE:
PRE-ORDER'S NOW OPEN
: Hot Toys Elder Predator - $224.99 and expected to ship July 2014!​
Despite his brief screen time in
Predator 2
, the
Elder Predator
has been one of the most popular Predators among fans of the series. His cool look as well as his code of honor and respect for fellow warriors all contributed to make him a fan favorite.
Following the release of Celtic Predator (see
HERE
), Hot Toys is proud to present the new
1/6th scale Elder Predator Collectible Figure
from the Predator 2 movie. The movie-accurate Elder Predator collectible is specially crafted based on his image in the film, featuring his highly detailed body armor, weapons and accessories.
The 1/6th scale MMS233 Elder Predator Collectible Figure features:
- Authentic and detailed fully realized likeness of Elder Predator in the Predator 2 movie
- Realistic and accurate 1/6th scale of approximately 14 inches/ 35 cm tall
- Over 22 points of articulations
- Net on body and legs
- Blue rubber hair with tribal accessories
- Six (6) pieces of interchangeable palms including:
. One (1) pair of fists
. One (1) pair of open palms
. One (1) left palm for holding sword
. One (1) right palm for holding gun
Weapons:
- One (1) articulated shoulder cannon
- One (1) sword with sheath
- One (1) pair of blades attachable to forearm armor
- One (1) pistol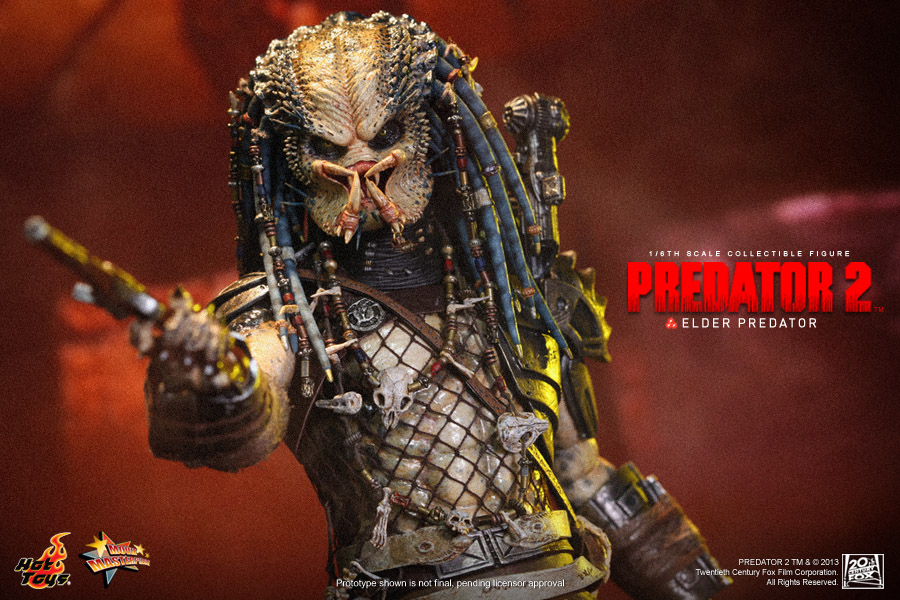 Accessories:
- One (1) pair of forearm armor
- Armor on shoulder, waist, thighs, knees and legs
- Leather-like waist bands
- Two (2) skull necklaces
- Figure stand with Elder Predator nameplate and the movie logo
Artists:
- Figure Sculpted by Joseph Tsang
- Figure Painted by Joseph Tsang
Release Date:
Q2-Q3, 2014