Discussion Starter
·
#1
·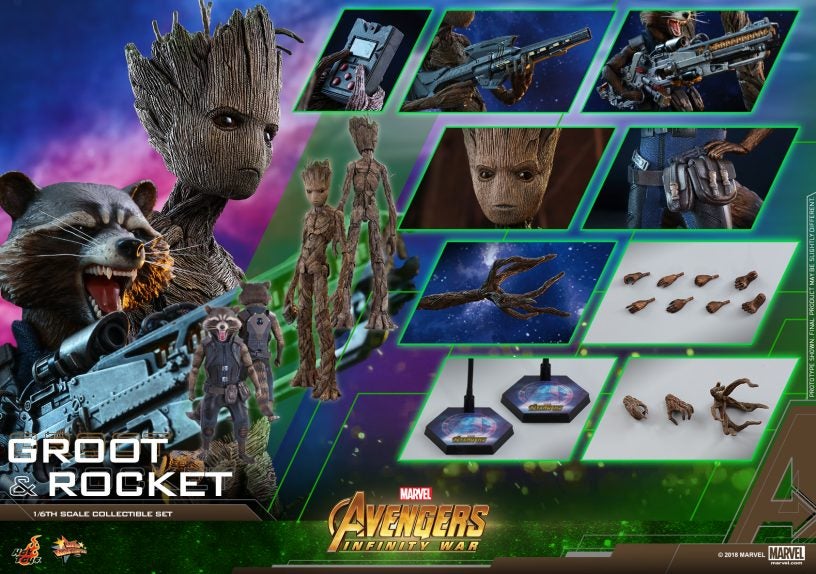 Get ready for the return of
Rocket
and
Groot
in
Avengers: Infinity War
, which will unveil a first look of the Guardians teaming up with the Avengers! Fans are eagerly anticipating on how Groot continues to prove himself as a dependable hero while battling alongside with his comrade Rocket!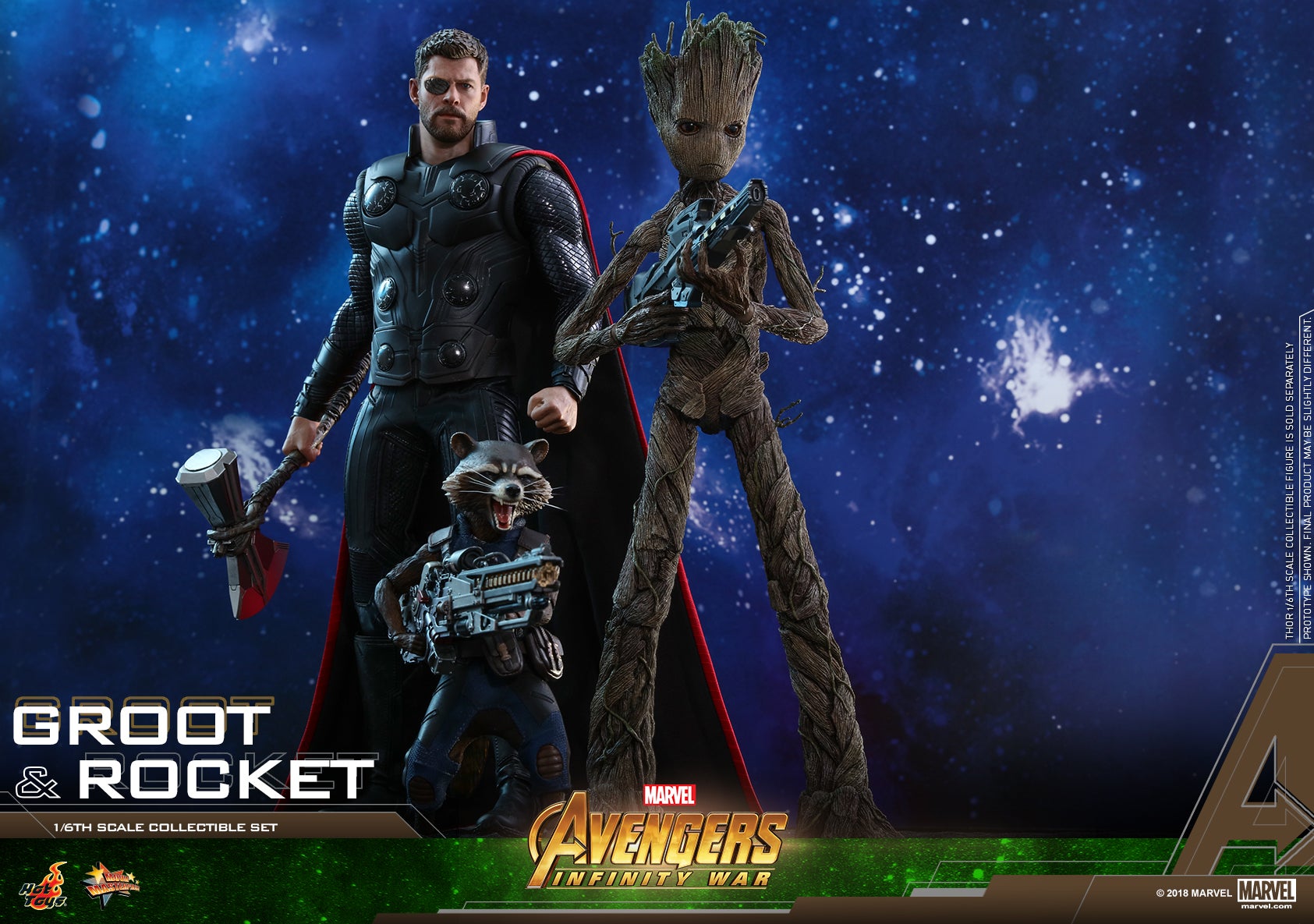 Today, Hot Toys presents 1/6th scale collectible figures of the two Guardians. Groot will be sold by himself (MMS475), as well as in a set including Rocket (MMS476).
The newly developed Groot is expertly crafted based on his appearance in the film, featuring a finely sculpted head with 2 interchangeable face sculpts, impressive paint application on his body reflecting his distinctive appearance, blaster rifle, handheld game console and a movie-themed figure stand with movie logo.
The movie- accurate Rocket is specially crafted based on his unique physique in the film, it features a newly painted head portraying his roaring expression with remarkable likeness, specially tailored combat suit, interchangeable hands and feet, all-new highly detailed blaster rifle, and a specially designed movie-themed figure with movie logo.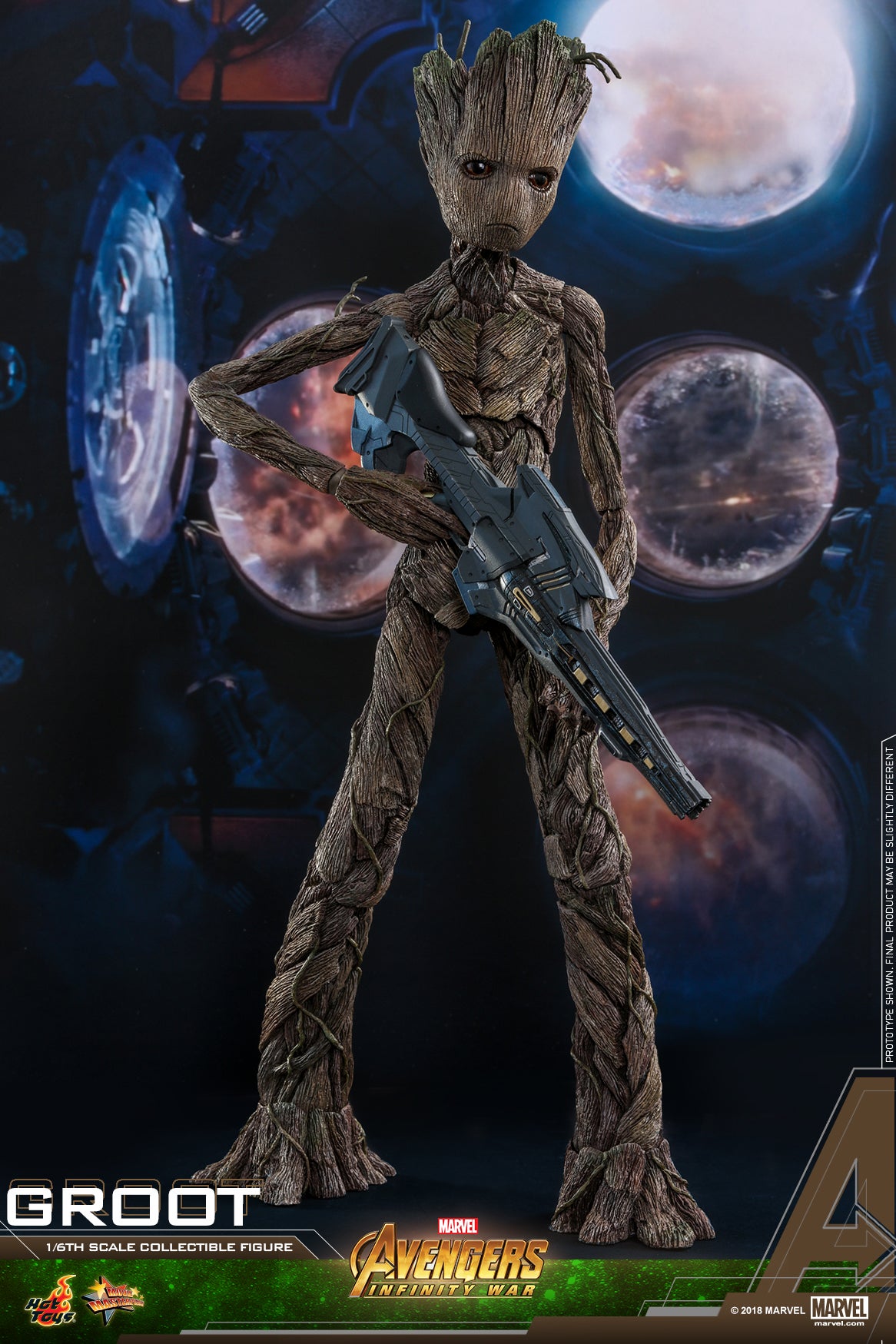 The 1/6th scale Groot Collectible Figure specially features:
- Authentic and detailed likeness of Groot in Marvel Studios' Avengers: Infinity War
- Two (2) newly developed interchangeable face sculpts with movie-accurate facial expression and tree texture
- Approximately 29.5 cm tall
- Newly developed unique body with over 15 points of articulations
- Five (5) pieces of interchangeable hands including:
. One (1) pair of relaxed hands
. One (1) partially clenched left hand
. One (1) weapon holding right hand
. One (1) attacking right hand
Weapon:
- One (1) blaster rifle
Accessories:
- One (1) handheld game console
- Specially designed movie-themed figure stand movie logo
Artists:
- Figure Sculpted by Joseph Tsang
- Figure Painted by Lok Ho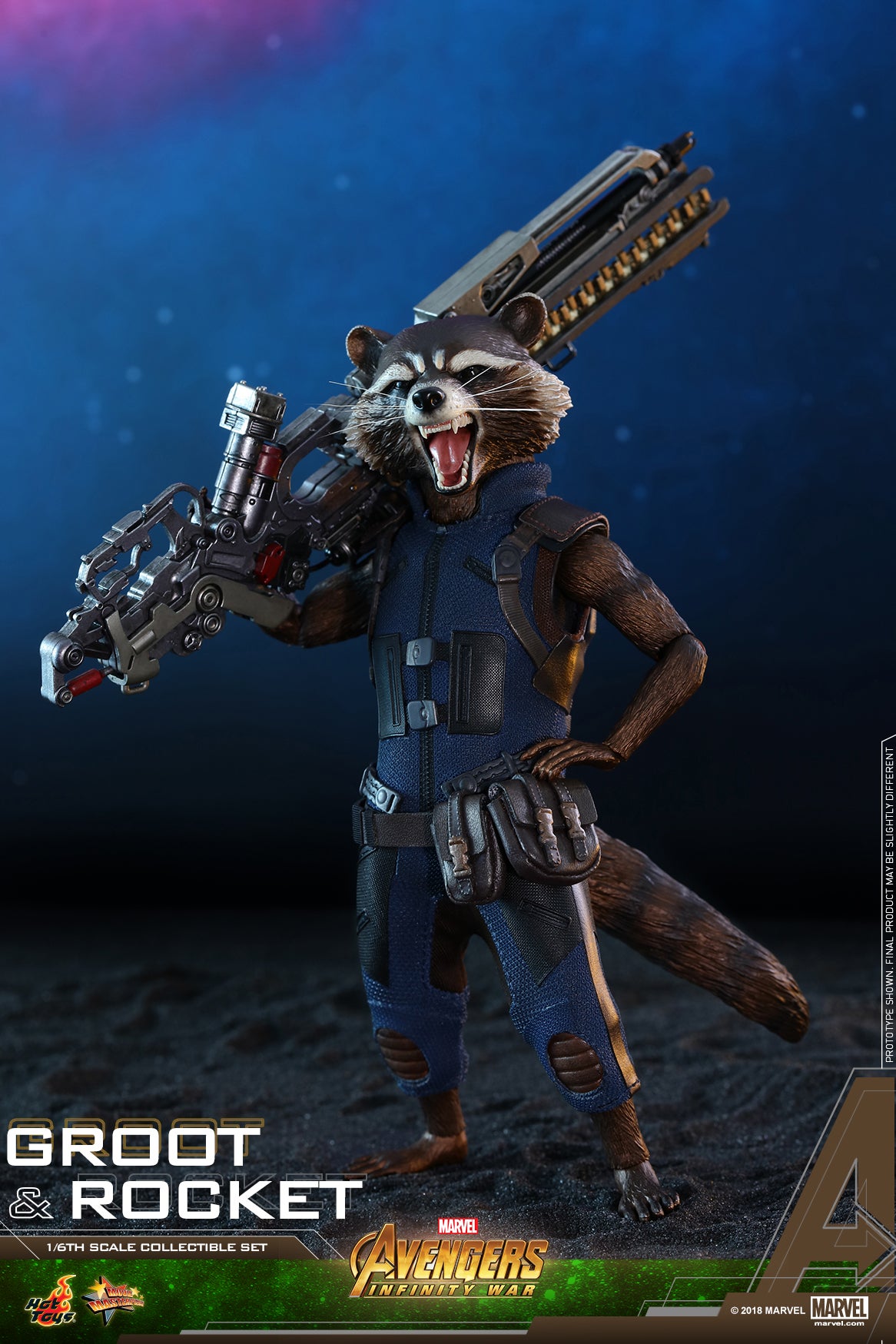 The 1/6th scale Rocket Collectible Figure specially features:
- Newly painted roaring expression head sculpt with authentic and detailed likeness of Rocket from Avengers: Infinity War
- Movie-accurate facial expression and detail fur texture
- Approximately 16 cm tall
- Specialized body with over 17 points of articulations
- Three (3) pairs of interchangeable hands including:
. One (1) pair of relaxed hands
. One (1) pair of fists
. One (1) pair of hands for holding blaster rifle
- Two (2) pairs of interchangeable feet including:
. One (1) pair of feet for standing
. One (1) pair of feet in a flying stance
Costume:
- One (1) navy blue space suit
- One (1) utility belt with pouches
- One (1) gun strap (wearable on the back)
Weapon:
- One (1) blaster rifle
Accessory:
- Specially designed movie-themed figure stand movie logo
Artists:
- Head Sculpted by So-young, Lee
- Painted by JC. Hong
- Head Art Directed by JC. Hong
Release date:
Approximately Q4, 2018 - Q1, 2019
**Prototype shown, final product may be slightly different
**Product details are subject to change without further notice