Discussion Starter
·
#1
·
Got my HT Harley Quinn! So happy with this figure, but of course, I need to give her rooted hair or else she looks a bit strange next to my Joker....




I didn't want to work on the official head, so I got one of those wonky-jawed KO heads off ebay.

I planned on just a reroot and repaint, and then thought, what the hell, it's a cheap headsculpt. I may as well try something ambitious....

Yeah, I decided to give her moveable eyes as well.

So far, I've gotten the head prepped for eyes and hair, and did a full repaint.
(The KO headsculpt had a noticeably greyish tinge to it, so for anybody wondering about it, no, it does not match the official Harley body skintone. You're gonna need to repaint it)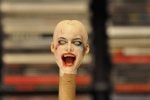 Dyed some blonde wool for the reroot, managed to hit that perfect turquoise on the first try, and hit the bubblegum pink on the 2nd try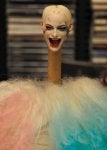 Did a full repaint on it to match the skintone, and gave her messier makeup as well (and a cut on her forehead
)
Eyeballs are in progress, I'm hoping to be finished customizing her after next weekend, wish me luck!
I'll post more pics when I'm done the next wave of work.