Discussion Starter
·
#1
·
From 1995's Batman Forever comes two new 1/6th scale action figures from Hot Toys: Batman (Sonar Suit) and Robin!
The movie-accurate Batman collectible figure features a newly developed masked head sculpt with separate rolling eyeballs design; skillfully tailored Sonar Batsuit and cape; detail recreations of Batman's gadgets and weapons including Sonic Batarang, underwater thruster, Batarang launcher, Bat clamp launcher, a pair of Bat Sonar lenses; and a figure base.
The highly-accurate Robin figure features a newly developed head sculpt with stunning likeness perfectly translating the details including the face mask, a specialized body portraying his muscular body, detail recreation of Robin's iconic costume with an "R" logo with a subtle metallic shimmer, also a figure base for display.
Release date: Approximately Q2 - Q3, 2022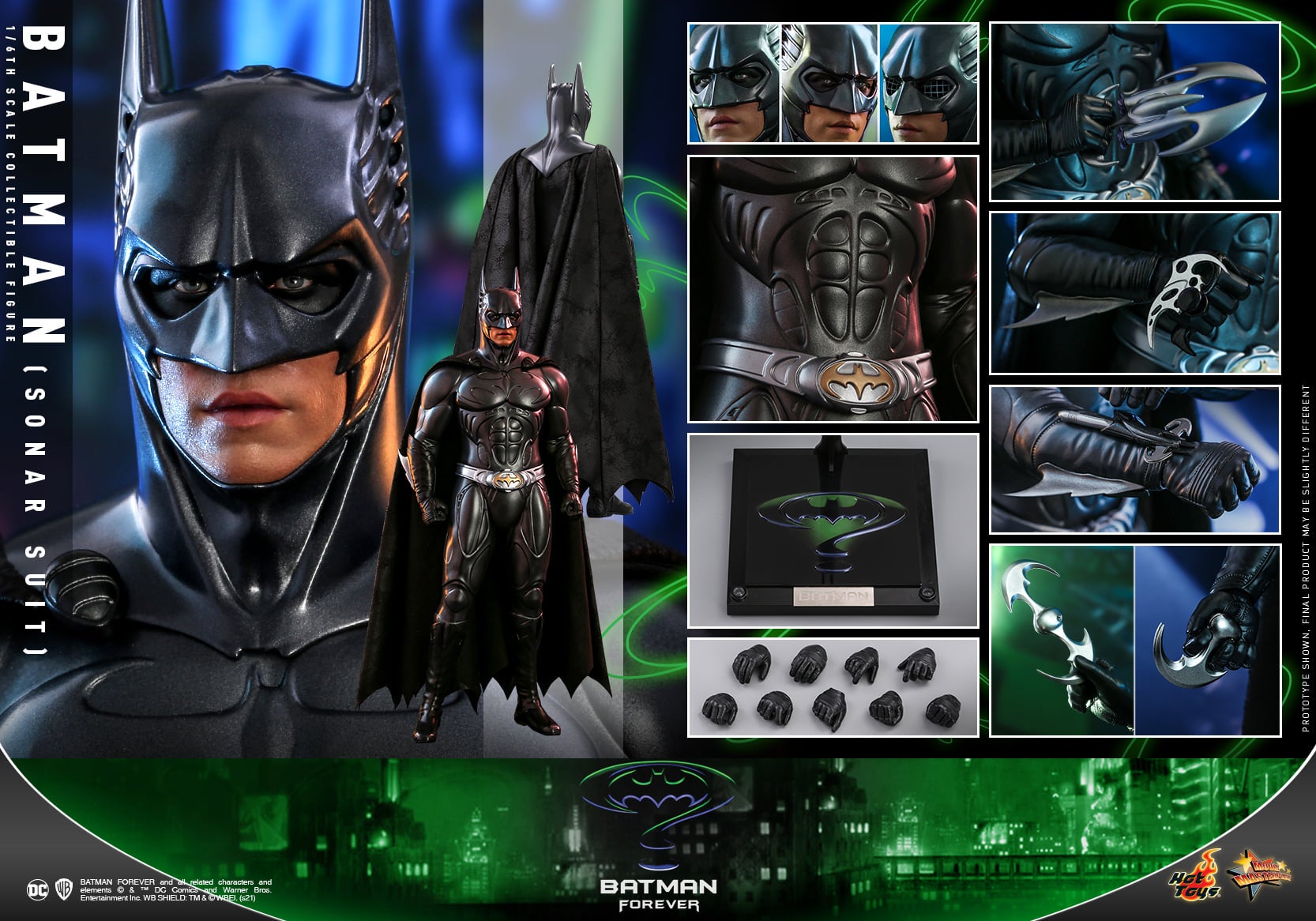 Hot Toys - MMS593 - Batman Forever - 1/6th scale Batman (Sonar Suit) Collectible Figure
- Authentic and detailed likeness of Batman in Batman Forever
- Newly developed Batman helmeted head sculpt with separate rolling eyeballs features
- Movie-accurate facial expression and detailed skin texture
- Approximately 32 cm tall
- Body with 30 points of articulation
- Nine (9) pieces of interchangeable gloved hands including:
- One (1) pair of fists
- One (1) pair of relax hands
- One (1) pair of gesture hands
- Three (3) hands for holding weapons
Costume:
- One (1) Sonar Batsuit with metallic gold belt buckle
- One (1) black colored cape
- One (1) utility belt with metallic gold colored buckle
- One (1) pair of black colored forearm gauntlets
- One (1) pair of black colored boots
Weapons:
- One (1) underwater thruster
- One (1) Sonic Batarang (foldable)
- One (1) Batarang launcher with interchangeable modes (attachable to forearm)
- One (1) Bat clamp launcher
Accessories:
- One (1) pair of Bat Sonar lenses (attachable to head sculpt)
- Specially painted figure stand with movie logo and character nameplate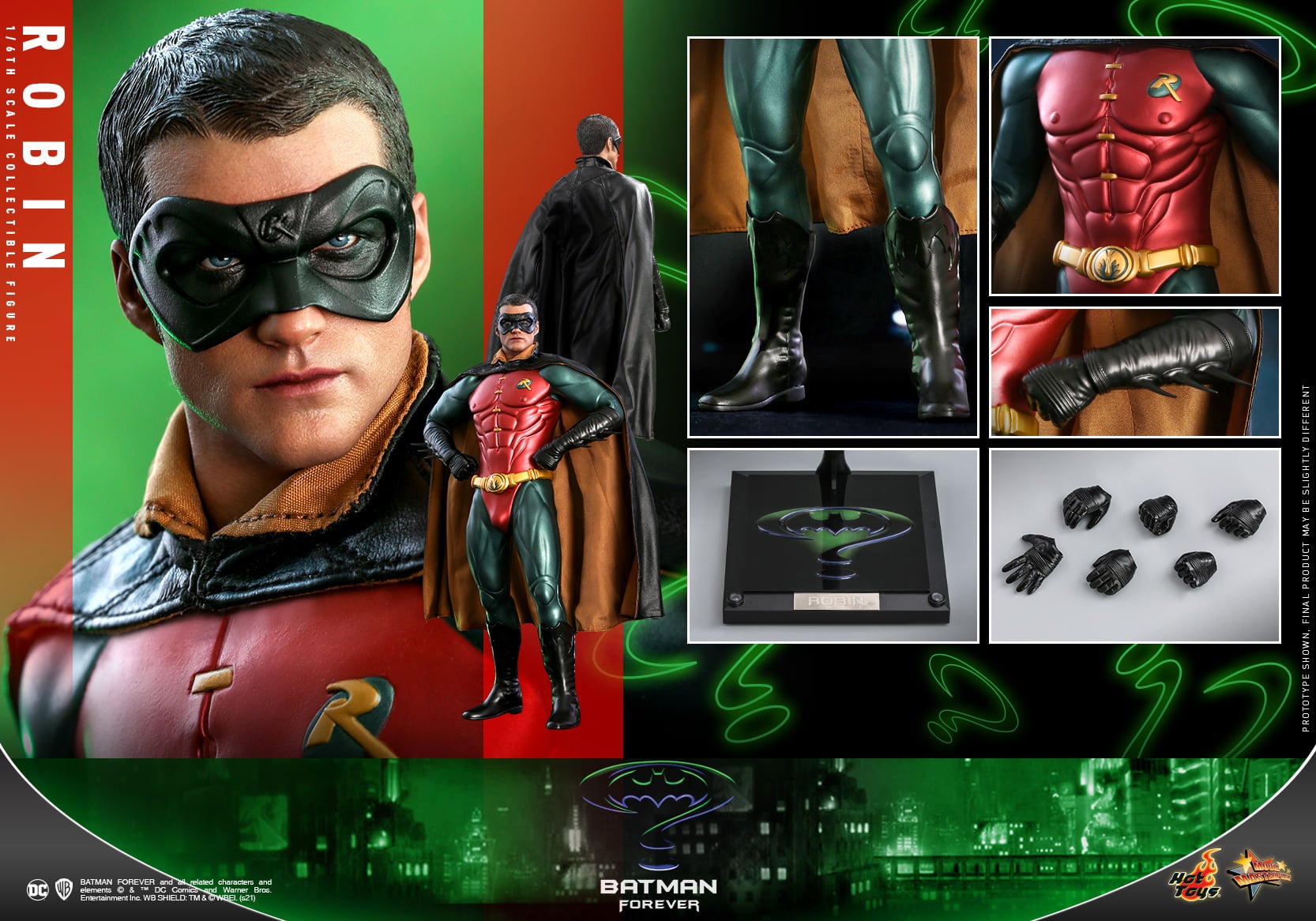 Hot Toys - MMS594 - Batman Forever - 1/6th scale Robin Collectible Figure
- Authentic and detailed likeness of Robin in Batman Forever
- Newly developed head sculpt with movie-accurate facial expression, detailed skin texture and face mask
- Approximately 30 cm tall
- Specialized body with 30 points of articulation
- Six (6) pieces of interchangeable gloved hands including:
- One (1) pair of fists
- One (1) pair of relax hands
- One (1) pair of gesture hands
Costume:
- One (1) metallic red and green suit with gold utility belt and Robin logo
- One (1) black cape with collar, yellowish brown colored lining (with bendable wire)
- One (1) pair of black forearm gauntlets
- One (1) pair of black boots
Accessory:
- Specially painted figure stand with character nameplate and movie logo
* Prototype shown, final product may be slightly different
** Product details could be subjected to change without further notice