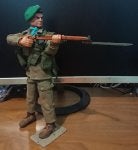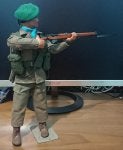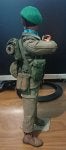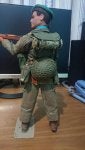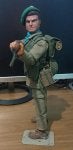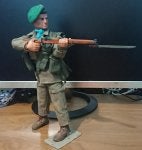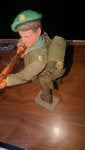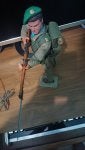 I posted pics of this figure when he was partway done. Now he's a lot further along with just one further things to attempt.
I've used an Action Man (the British version of GI Joe) because this is what first got me hooked on 1/6 back when I was just 5 years old. I wanted to see just how far I could push a Joe into realism. SO here he is, complete with fuzzy head, moving eagle eyes and lobster claw hands.
Changes since my first posting on this bash include:
He now has a correct for period, Lee Enfield Mk 3.

The sling has been Blancoed. He's holding it in a hasty sling wrapped around his left hand and left elbow to brace the rifle for greater shooting accuracy.
I've attached a sword bayonet. I've got a belt carrier for a scabbard - but I can't find a scabbard for a sword bayonet for sale. So I guess my next project is trying to make one.


Toned down the stitching on the scabbard of his knife - previously a rather bright white - I applied some brown show polish
Applied another coat of Blanco (actually the tarrago method) to all of his web gear. There's kit from 4 different manufacturers now, originally in a variety of colours and finishes so Blancoing it really ties it all together.
For those that haven't seen my earlier post, I've weathered his uniform.
Sandpapered knees, elbows, butt for a worn look.
Used paint and chalk to give a fraying affect on his hem, cuffs, pocket flaps, pocket corners.
Drybrushed all of his uniform to give a dusty effect
Drybrushed knees, elbows, butt and a few other locations to add some light mud.
Used diluted black acrylic paint to add sweat under his armpits, under his waist belt, down his back, etc
Added brass webbing tab ends to some pieces that were missing it (some of them already had it)
Inserted lead weights inside his pack, pouches and ammo sling to get them to hang properly (otherwise they tend to float a bit). Unfortunately this makes him a bit top heavy so he HAS to have a stand.
Faded the beret with chalk to simulate lots of washing in soap and water
Added the ribbons at the back of his beret
If you want to know more, you can find the original post here...
Action Man (GI Joe) Indochine Kitbash
Comments welcome.