Discussion Starter
·
#1
·
The Future Of Law Enforcement On A New Scale...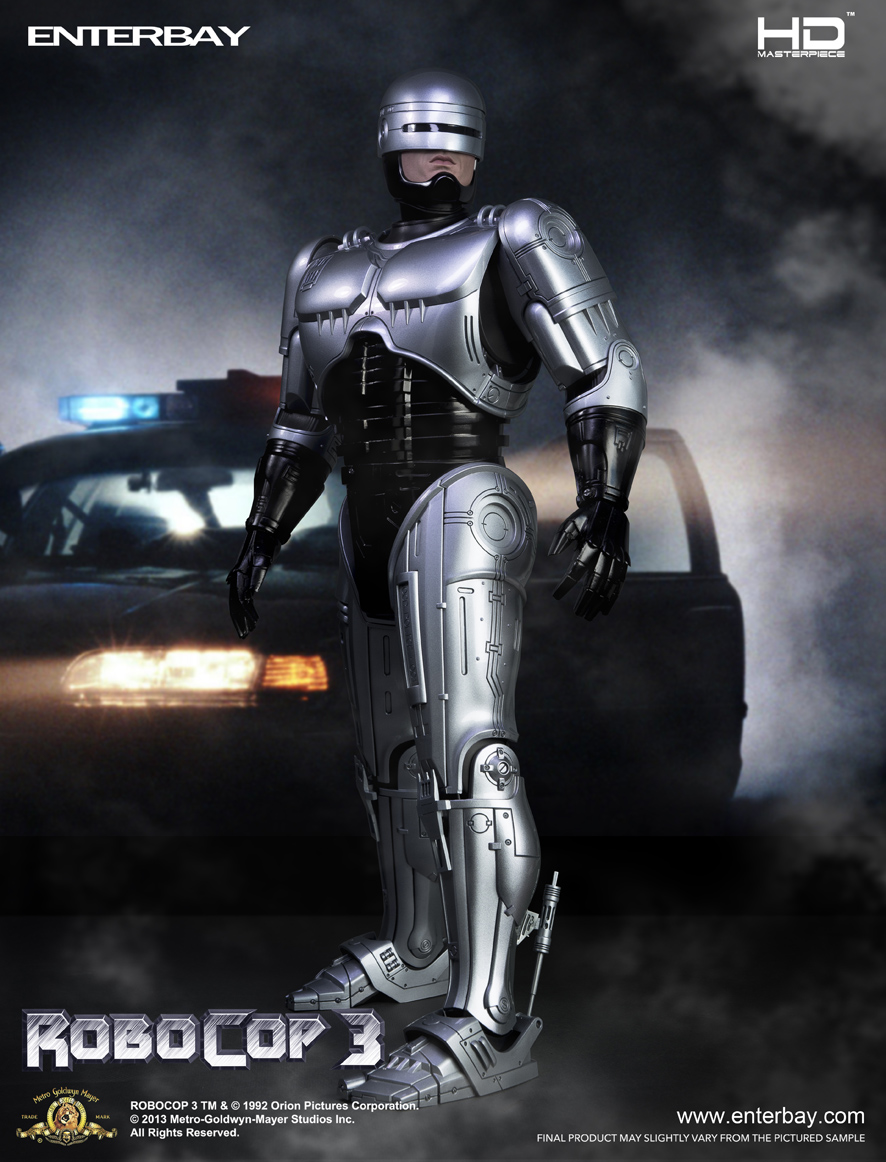 Enterbay
presents their latest HD Masterpiece quarter scale figure,
ROBOCOP
, based on Robert John Burke as the future crime-fighter in the movie
RoboCop 3
. Priced at $500 (HKD3,888), Enterbay's RoboCop is screen-accurate down to his the unique armor color. To accurately reproduce the blue-steel armor color, Enterbay applied premium grade industrial "Chameleon" metallic paint via an advanced spray-painting technique. The figure's armor is then finished with a crystal metallic coating which reflects colors under different light sources. Other parts of the armor including the neck, forearms, inner body, waist, and lower body are mainly in softer pure black plastic for better flexibility.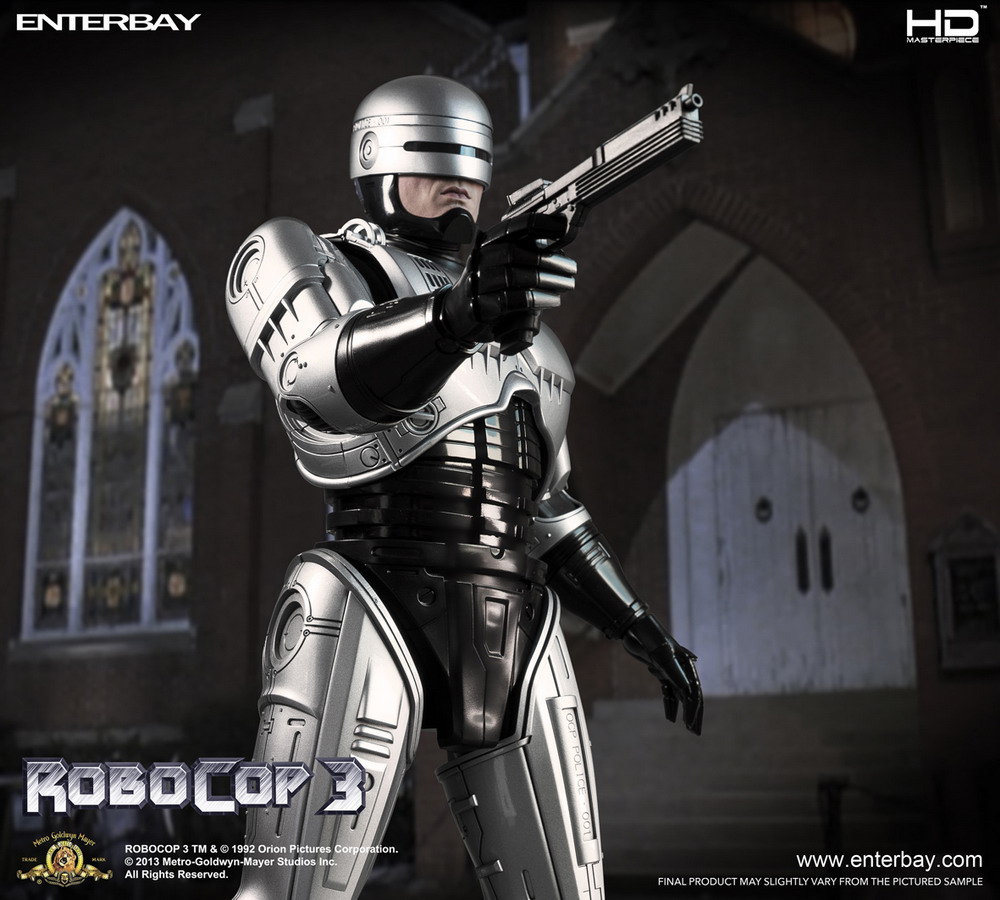 Another new innovation is an incorporated remote control function that brings RoboCop to life. Collectors will have the ability to turn RoboCop's helmet head sculpt to the left or right
*
as well as open and close his leg gun holster
*
- all with a few simple clicks on the included remote control. The compact remote control - which features the OCP logo in 3D - can also trigger movie voice effects, such as "You are under arrest.", "You have the right to remain silent.", and "Dead or alive you are coming with me." These loop in sequential order. Not to mention the more than 15 points of manual articulation.
*
NOTE:
Only the Helmet Head Sculpt can turn to left & right accordingly with the remote control. Do Not use your hand to twist or turn the Helmet Head Sculpt or open/close the Leg Gun Holster, as it will damage the electronic component inside. Please read the product manual included in the packing for more details before usage.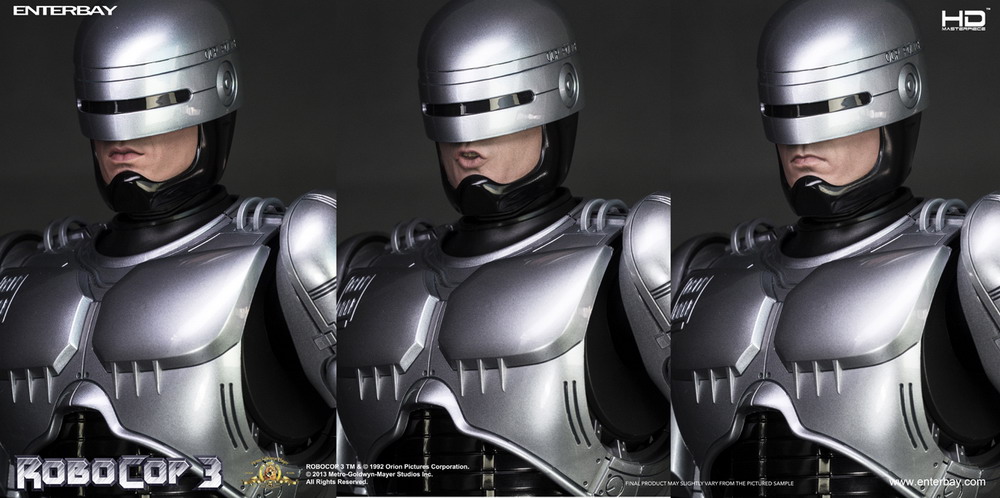 Accessories include two authentic head sculpts. One is a helmet head sculpt with three (3) interchangeable facial expressions. The other head sculpt shows the human face of RoboCop (actor Robert John Burke). This exposed head sculpt is perfect for recreating the scene where RoboCop undergoes repair. Please note that the Robert John Burke head sculpt cannot turn to left or right when installed to RoboCop or it will damage the electronic components of the figure.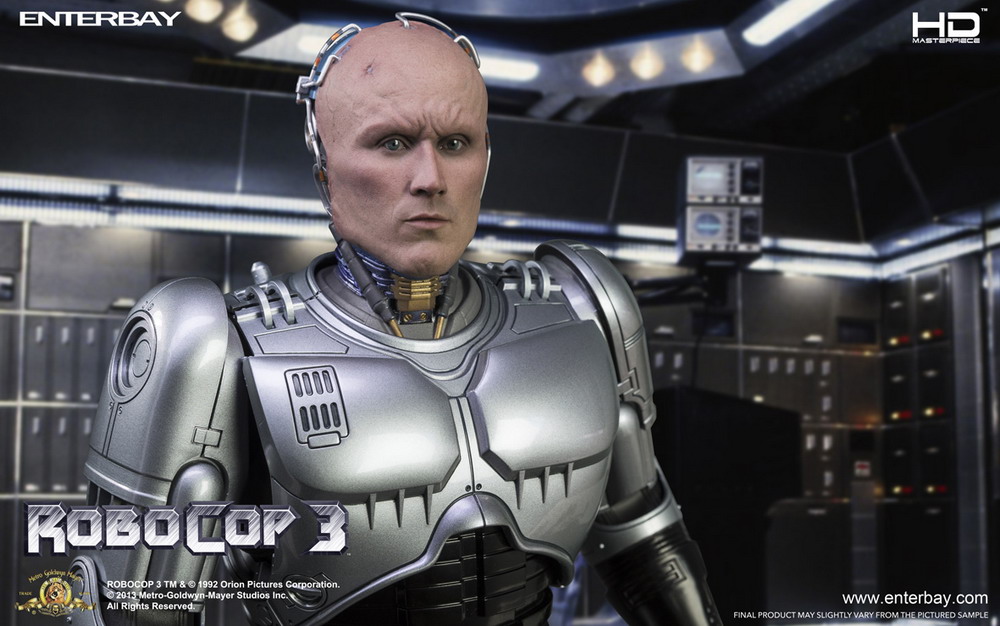 Other accessories and features of
Enterbay's HD Masterpiece Quarter Scale ROBOCOP
include:
- HD-14 ABS action body with more than 15 points of articulation, with 3 x size AAA batteries included for remote control functions (for Left/Right Head Turning, Open/Close Leg Gun Holster, and Voice Over effects)
- 3D OCP Logo Remote Control with 2 x size AAA batteries included
- Auto-9 gun, which can be placed inside the leg gun holster, when opened by the remote control
- Interchangeable Battle Damaged Front Armor
- 8 interchangeable hands: including 1 pair of fist, 1 pair of relax hands (of which the fingers are moveable), 1 pair of gun holding hands, 1 right hand with a pointing index finger, and 1 right hand with needle weapon interface
- Interchangeable left gun arm
- Quarter scale Jet Pack with mechanic moveable parts, detailed pipes, and wires
- Custom made RoboCop figure stand with the OCP logo engraved
Body and Head sculpted by : SCUDERIA
Head Art Directed by : YJ
Paint Art Directed by : YJ
Production and manufacturing: ENTERBAY