One of my personal favorites among Don Troiani's individual portraits is his Private of the 45th NY Volunteer Infantry at Gettysburg. Besides being a NY regiment with their distinctive jacket, they carried the 1841 "Mississippi" Rifle with sword bayonet. The artist captured the Germanic pose of a veteran campaigner, puffing on his pipe while waiting for the command to fall in.
The 45th served the Union well, starting as the 5th German Rifles. At Gettysburg, they helped cover the retreat of the XI Corps to Cemetery Hill. Here is their monument on Howard Ave., north of town, and some links to their history.
Monument to the 45th New York at Gettysburg
45th New York Volunteer Infantry Regiment - Wikipedia
Here is Troiani's handsome painting, followed by my 6th scale tribute: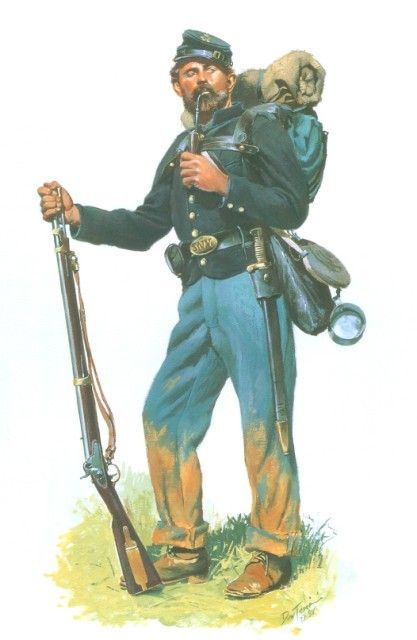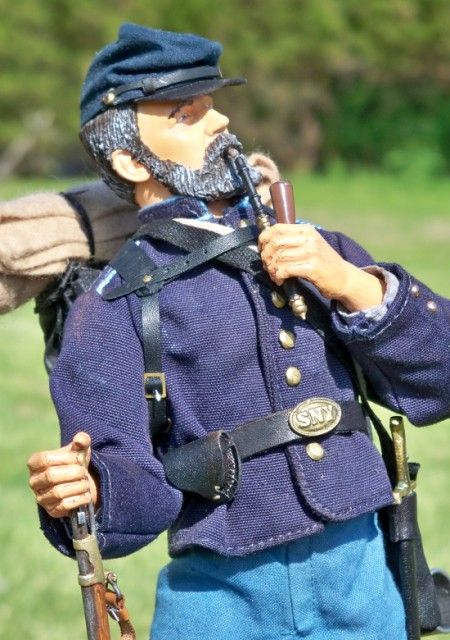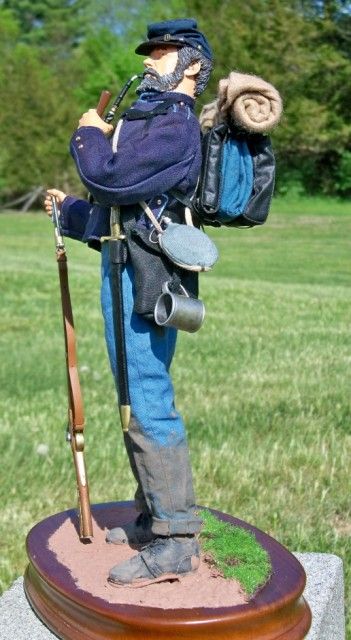 I had planned on this ever since I got one of the SST 88th NY carded sets with the NY jacket. Whoever did the Herman Goering figure with the long German pipe made it that much easier. I went thru several possible hs before settling on this one. Some new Apoxie Sculpt hair and repainting the eyes made it that much closer.
The equipment was the hardest part. I had already repainted a BGT Mississippi rifle, but had to add the sword bayonet stud. The bayonet started as one of Cesar Dubon's Krag bayonets, and I used a saber blade for the body, which was wrapped in leather. The hilt detail is done with decals. The BGT cartridge box had to be reduced for the box issued with this rifle, and I added a smaller "US" plate made from leather stamped with my US stamp. The "bullseye" canteen was made from a mold using a SST canteen, then adding "rings" made from wire, then vacu-forming the two halves. The spout and strap brackets are metal.
The uniforms should have been easier, but the SST NY jacket didn't quite work for this figure, as the single belt loop was too far forward. So I re-dyed a Confederate SST jacket, added the loop and the blue piping, and made some NY buttons using metal brads with metal foil labels printed on the computer. The BGT kepi chin strap was narrowed to take my brass buckle and metal foil numbers & letters were added. The trousers, brogans, belt plate, cap pouch, and fantastic pack are all BGT. The haversack, cup, jacket and socks are all SST, with another sock used to cover the canteen. Everything was weathered with a couple of solutions I borrowed from Egonzinc's tutorials, and some pastel powders.