Discussion Starter
·
#1
·
I saw a killer bed posted on Etsy but the cost was prohibitive. My solution was to build my own.
Its made from all things - Knitting needles. They are at every thrift store and come in a variety of diameters measured in mm. I made a jig from 3/4" plywood to do the bending. The side rails are metal taken from hanging file folders.
I used a pipe cutter and a hacksaw to do the cutting and LEPAGE - EPOXY STEEL epoxy to glue everything together.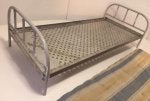 The base of the bed was made from an old thrift store pizza pan. I cut it rough to shape with a miter saw w/carbide blade and sanded to final size.
The mattress is made from closed foam with channels cut into it like chocolate squares. The channels were way over done so that it would print through the worn fabric from some old pajamas. I put hot glue randomly in some of the channels and pressed the fabric in as I build the mattress to it looked more lumpy. Super pleased with the results.
It needs a paint job but even unpainted looks pretty good. I'll do an antique white that has been distressed/weathered.