Discussion Starter
·
#1
·
hi all. these are my custom kerberos panzer cops. i had no idea what i was doing when i started, but through trial and error i came up with these
mark 1 armour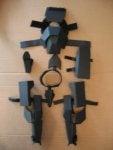 first attempt. very blocky, the action man didnt work well either. the upper leg plates above the knee pads actually moved as the knees were bent and straightened. the wrist shield concealed a pistol
mark 2 armour
my second attempt
much improved, no restriction of movement. working wrist shield holster.
mark 3 armour
third try
better leg armour, better wrist shield (stores gun), back pack has slot for bullet belt so the belt can be put all the way in and pulled out when nessecary, while the pegs on top hold gun in place. need to redo parts as it isnt great. (mask is from a model kit)
ive since made more so i will post when i take pictures
these are my first customs, so criticisms/questions/commendations/suggestions are all welcome!