Discussion Starter
·
#1
·
Been collecting Hot Toys for a couple of years, but never tried to make a custom figure. When I saw the Headplay "Clint" head I couldn't resist. Used the headplay head, a Hot Toys True Type TTM18 body and kitbashed most of the other stuff from the DC Direct 1/6 Jonah Hex Figure. Bought the rest on ebay to make an Outlaw Josey Wales outfit and an outfit like what Clint Eastwood wore in The Good, The Bad and The Ugly series.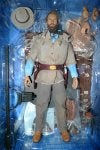 Here is some of the artwork I did for the box. I used the Jonah Hex Box and superglued the new art over the old, it came out really good.
This is the picture I used for the front of the box:
Overall, very happy with how it came out, need to find a better cowboy hat though.